Wallpaper Trends for 2020
Keeping up, or in this case, staying ahead of the Joneses is no easy task. Every interior design and home decor blog has their "expert opinions" on what the wallpaper trends will be for the year 2020. The happy news for us is that wallpaper itself is without question an interior trend that has been growing and will continue to grow by all accounts. We have no crystal ball but we've done the tireless reading for you and compiled the consensus on 2020 wallpaper trends.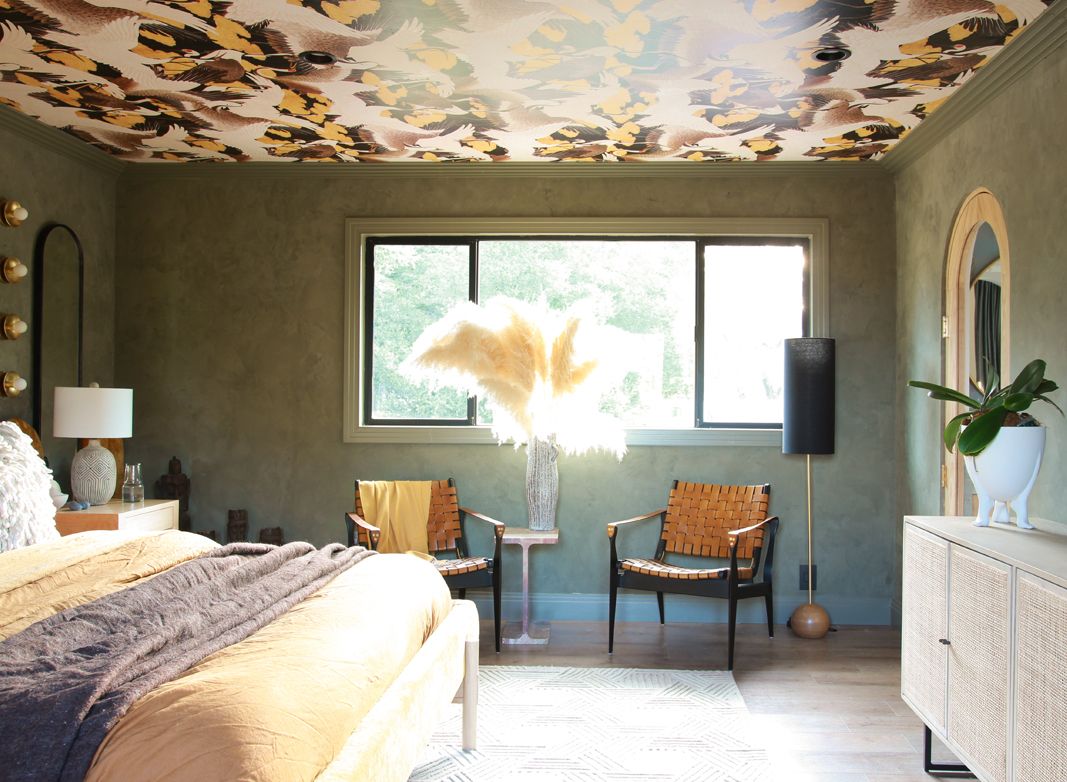 Wallpaper Design Trends
Bold Maximalism is in and boring is out. The type of wallpaper that sits quietly in the background is taking a back seat in 2020. It will be a year for bold statements when it comes to your decor. Here are a few of the projected trends.
Colors
Wallpaper trends in 2020 will present colors that are warm and inviting. Cool greys and blues will find themselves out in the cold. Make way for corals, terracottas, sage greens and warm greys. Browns, mustards, golds and certain red tones in both wallpaper and decor accents will also be making a comeback in 2020. Pair these colors with the design styles below and you have yourself a winning combination.
UPDATE: Pantone has announced their color of the year, Classic Blue. This flies in the face of all the 2020 trend predictions that we've gathered from various interior design sources. However, we felt it was important to keep you up to speed on the latest interior fashion trends. To read more about Pantone's announcement, click here.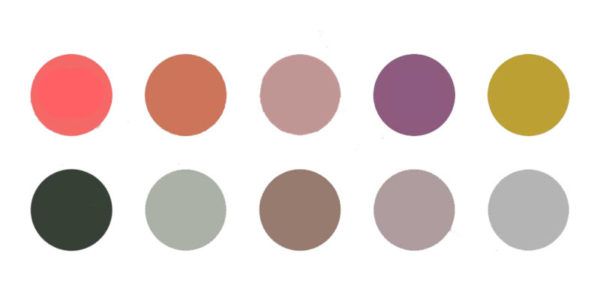 Chintzy Wallpaper
The chintz style that features bold florals climbing your walls like a slat of lattice will be on trend in 2020.  This is a vintage idea done in an eye-capturing and modern way. It brings color and sophistication to your interior without being gaudy. The Plum Blossom Wallpaper design pictured below makes use of the chintzy style on a warm light sage background.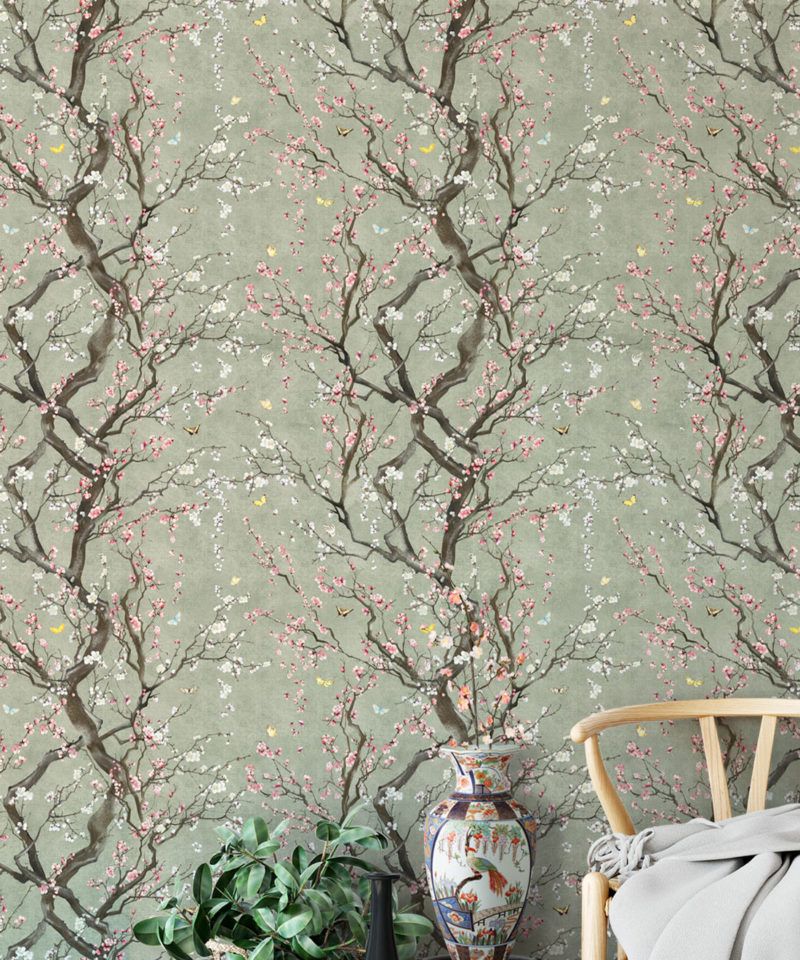 Tropical & Nature Wallpaper
In an effort to become a part of a more sustainable world, merging nature and humanity will be all the rage. This includes everything from tropical wallpapers to botanical wallpapers. Bringing in a natural feel to your home can help you feel more connected to nature. It makes you more aware that we're all in it together on this floating marble. Pictured here, you can see interior designer Dabito and his install of the Travelers Palm Wallpaper in Chartreuse. Notice the other warm colors in the pillows and area rug.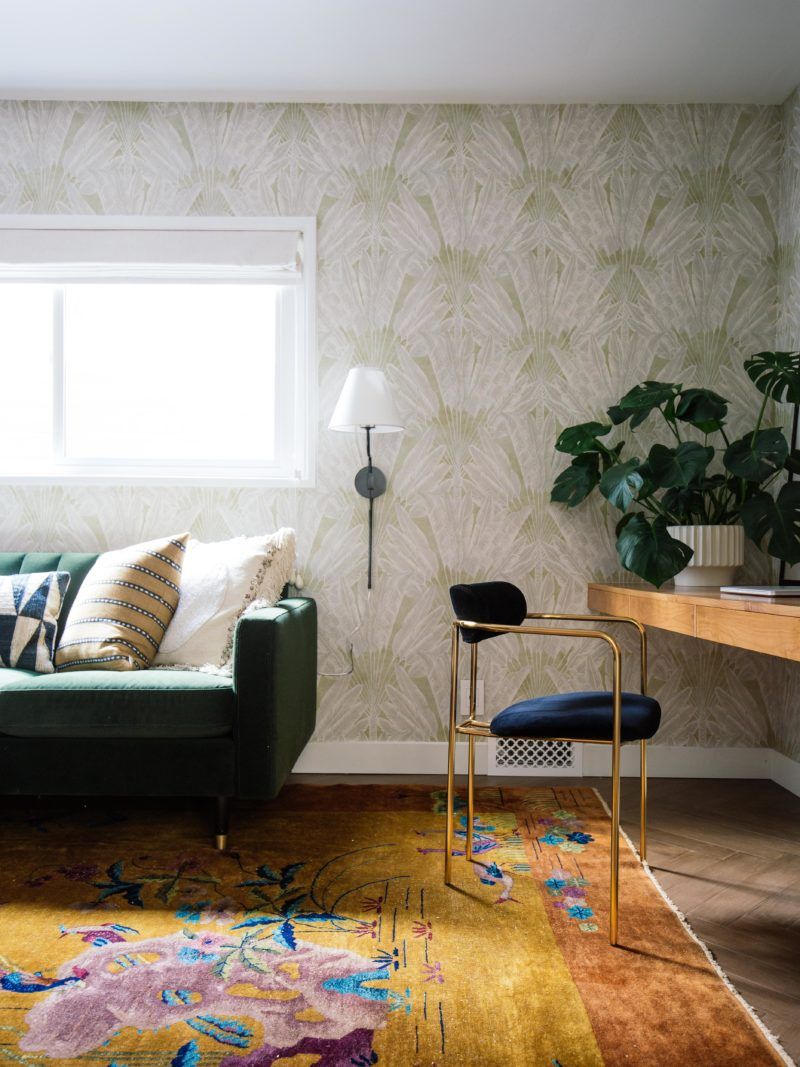 3-D Wallpaper
3 Dimensional wallpaper is edgy and bold. And for those with more contemporary spaces, this may be your jam in 2020. It can provide a sense of realism and texture to your interior. The 3-D effect can include everything from realistic brick and wood wallpapers to geometric designs that play on the eyes. The new Geometric Illusion Wallpaper creates an eye twisting effect in a warm grey color tone.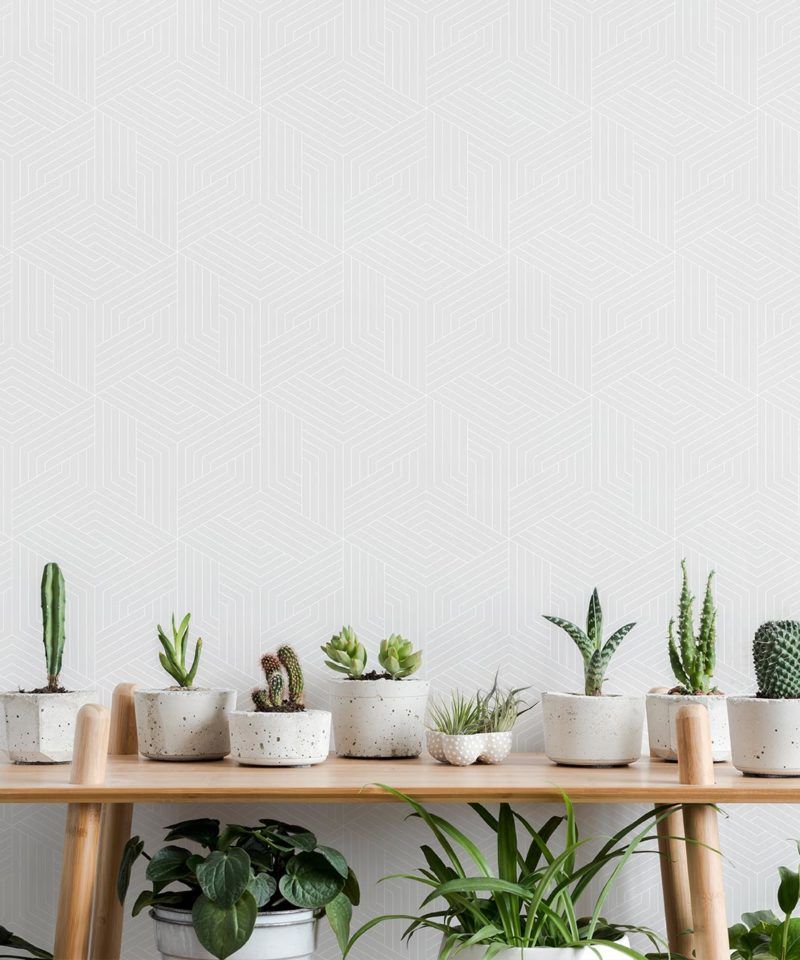 Metal
Metal-like designs take the industrial wallpapers theme to a whole new level. It is contemporary, bold but unpretentious. Metal wallpaper is perfect for those that like to be creative and take risks. The Bronze & Copper Wallpaper accomplishes that luxurious metal look in a warming colorway that goes from gold to marbled teals.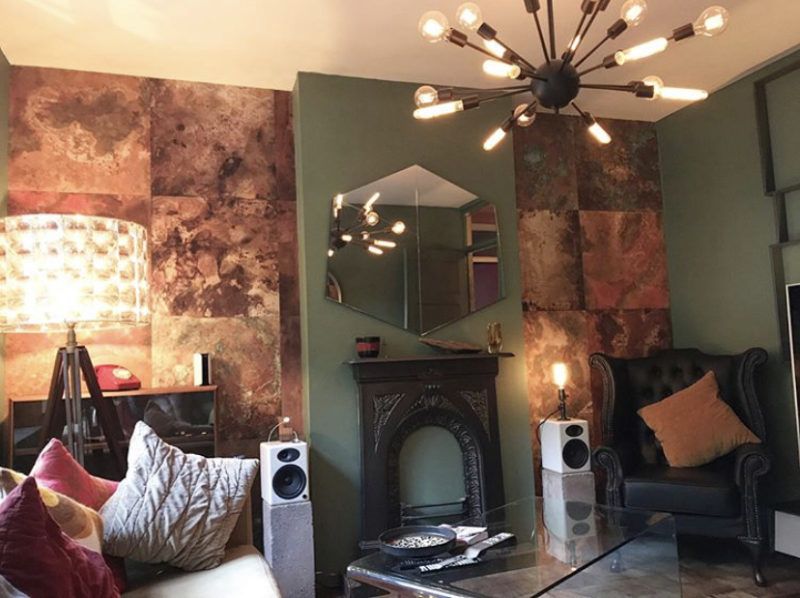 Gradient Wallpaper
Gradient Wallpapers are both modern and transitional. For those that are resistant to the maximalism trend of 2020, gradient designs give those with more minimal tastes something interesting to strive for in the new year. The Kalder Wallpaper from our Sheridan collection offers a design that goes from a lighter grey to a darker carbon.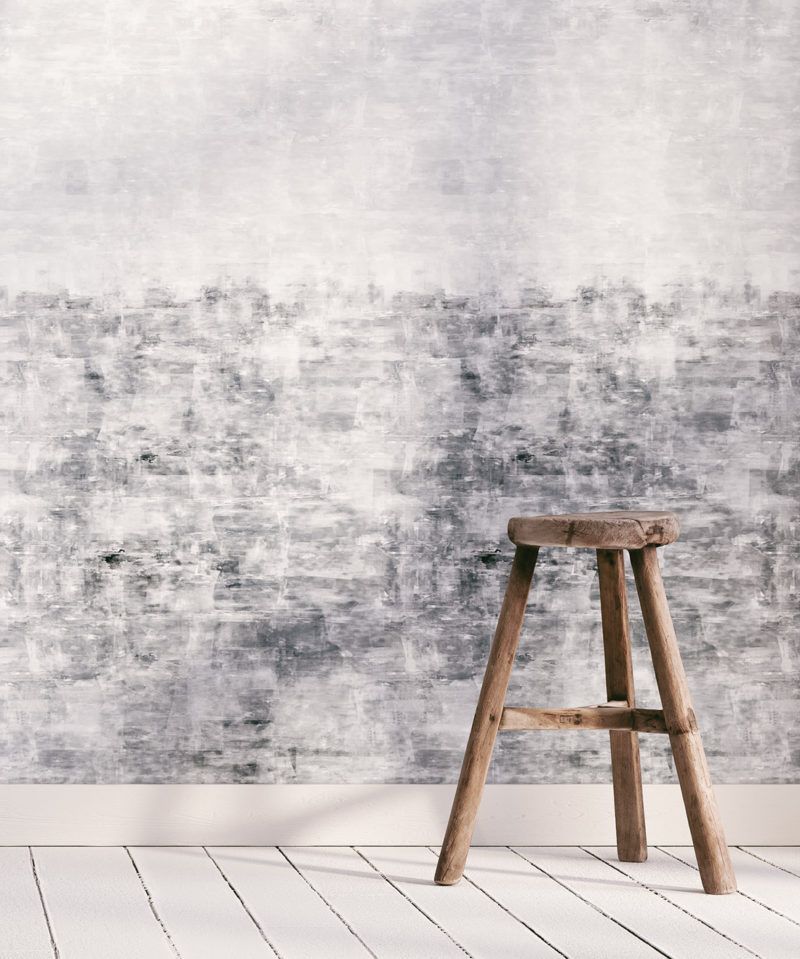 Retro Art Deco Wallpaper
Retro wallpaper has always had its place in design trends. But mid-century modern is giving away to it's older sibling, Art Deco. In 2020, you will see art deco wallpaper designs making a comeback. Luxurious and fun, these 1920's inspired designs will be combined with warmer colors resulting in a style that is glamorous yet comforting. Below is the La Fontaine Wallpaper in the Paris colorway, which gives you the art deco style in a warm color option.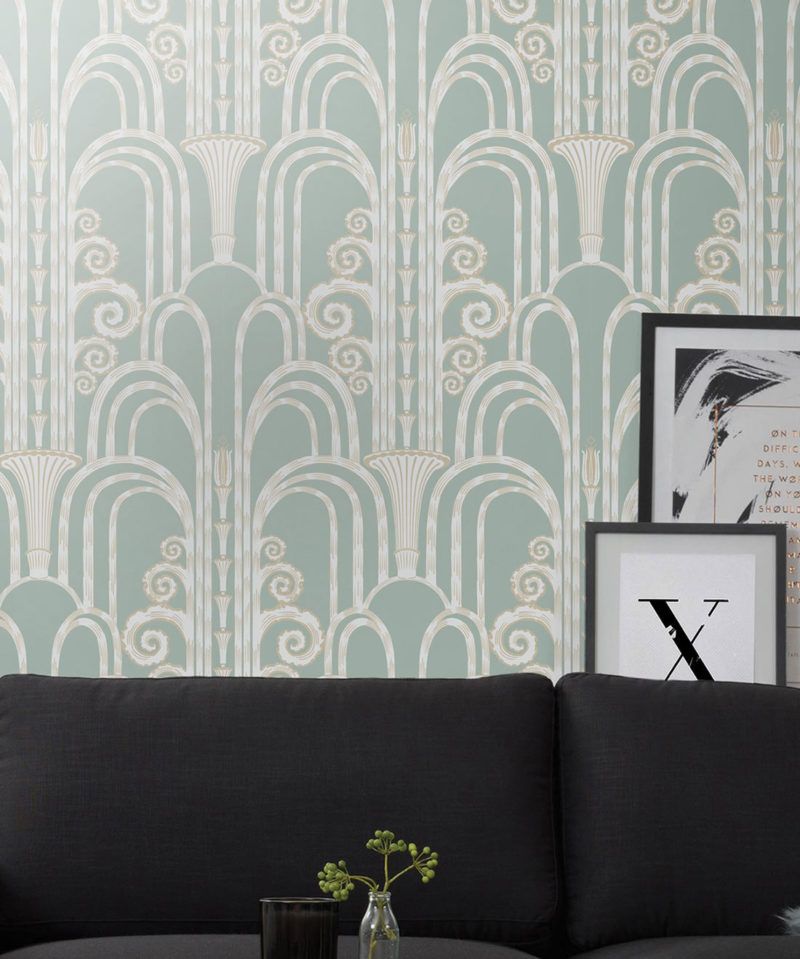 Prospective wallpaper trends in 2020 lean toward both maximalism in design and warmth in colors. Blues, cool greys and coastal styles seem to be in the rearview mirror for now. There is a bit of crossover from 2019 with colors like coral and terra-cotta. Geometric designs seem to always have a place from year to year as well. But it will be exciting to see if the every day homemaker will be eager to bring in some bold designs and colors into the home as the interior soothsayers expect. If so, it will make 2020 a bold and colorful year.
---