Wallpaper In The Bathroom
We spend so much time in our bathrooms. From bathing, to hair and make up, to the selfie photo sesh, the time can fly right by. It's so much better when the environment is a nice place to be. Wallpaper might cross your mind as a possible decor item for sprucing up the bathroom. But this leads to the inevitable question, can I put wallpaper in the bathroom? The short answer is "yes". But there are important things that you should take into account before you install bathroom wallpaper. We'll also dive into the types and styles you might consider. So put down your hairbrush microphone and read on.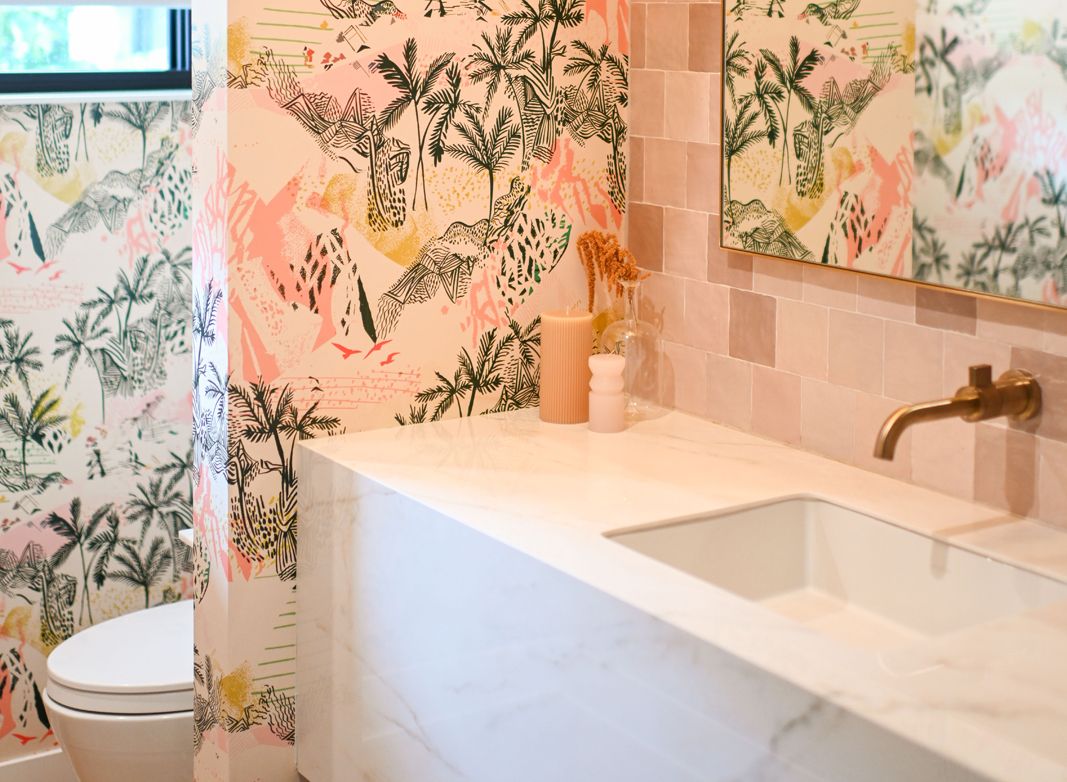 Will Wallpaper Work In The Bathroom?
Depending on where you live, the bathroom can mean a few different things. Some people will call any room with a toilet a bathroom. But if there isn't a bathing aspect, meaning a shower or bath, then it is technically considered a powder room. We do not recommend the removable, peel and stick wallpaper. Bathroom environments can vary drastically. Water splashing, humidity and ventilation are all factors that may affect your wallpaper. The adhesive, regardless of the type of wallpaper, can be negatively affected by water if you don't wipe down the wallpaper as most adhesives are water-based. Sitting water can soak through the paper and weaken the paste, causing the wallpaper to lift and peel over time.
Your best wallpaper choice in a bathroom environment is a traditional-style, non-woven, paste-the-wall wallpaper. Non-woven wallpapers are known for being breathable products which makes them perfect for bathrooms. Non-woven refers to the backing of the wallpaper which is made from a combination of natural and synthetic fibers. This technology creates a stable, breathable paper that won't expand or contract when wet with paste or when drying on the wall. Milton & King only sells non-woven wallpapers.
But there is more. In addition to using a non-woven wallpaper, you will want to pay attention to the paste you use. Most pastes will do just fine. Roman 838 is a highly recommended paste for all applications. However, a mold and mildew inhibiting paste like Roman 543 is best suited for a harsher bathroom environment where the there is poor ventilation and the room steams up heavily. These pastes also tend to be stronger and not strippable like the type you may use in a bedroom or living room. With the right paper and paste, you'll be good to go, but that isn't a license to be careless. If water is splashed on the wallpaper, we recommend quickly wiping dry with a soft cloth. And if you can open a window or leave the door open to circulate the air and release the humidity, that will certainly help the situation.
If you want to take additional steps to waterproof your wallpaper, take a look at our How To Waterproof Your Wallpaper blog.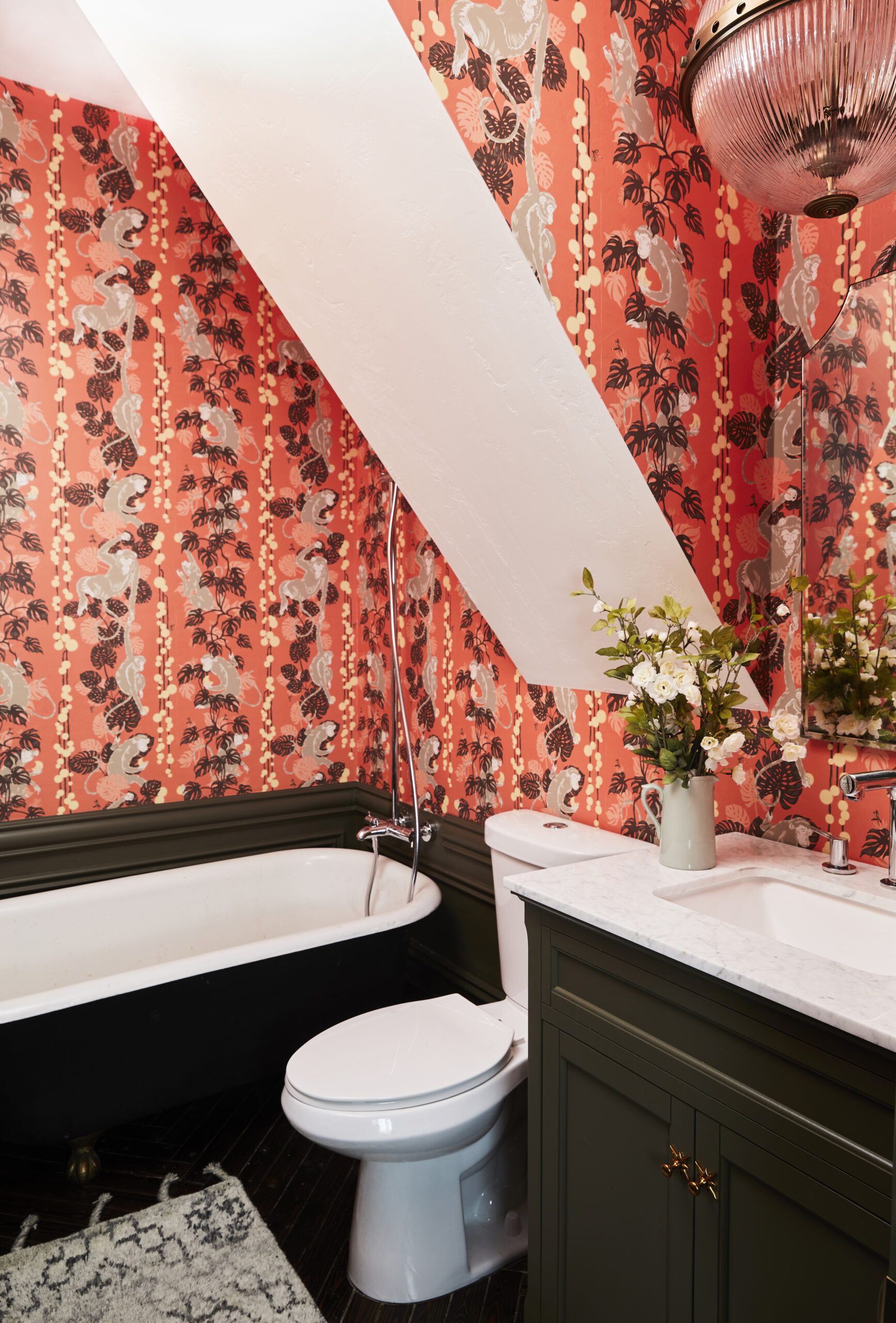 So what styles are best for the bathroom?
You can do what you want. It's your life and your bathroom. But for those who aren't sold on their style, here are a few suggestions that make for beautiful bathroom wallpapers.
TILES
First, we have the faux look. This takes normal materials that you would associate with a bathroom but done in a wallpaper. Subway Tiles and Pink Tiles are both popular aesthetics you might see in a bathroom. Now you can get the look for a fraction of the cost and effort. Check out this install of White Subway Tiles Wallpaper by Sierra Joseph from @withlovewithsierra on Instagram.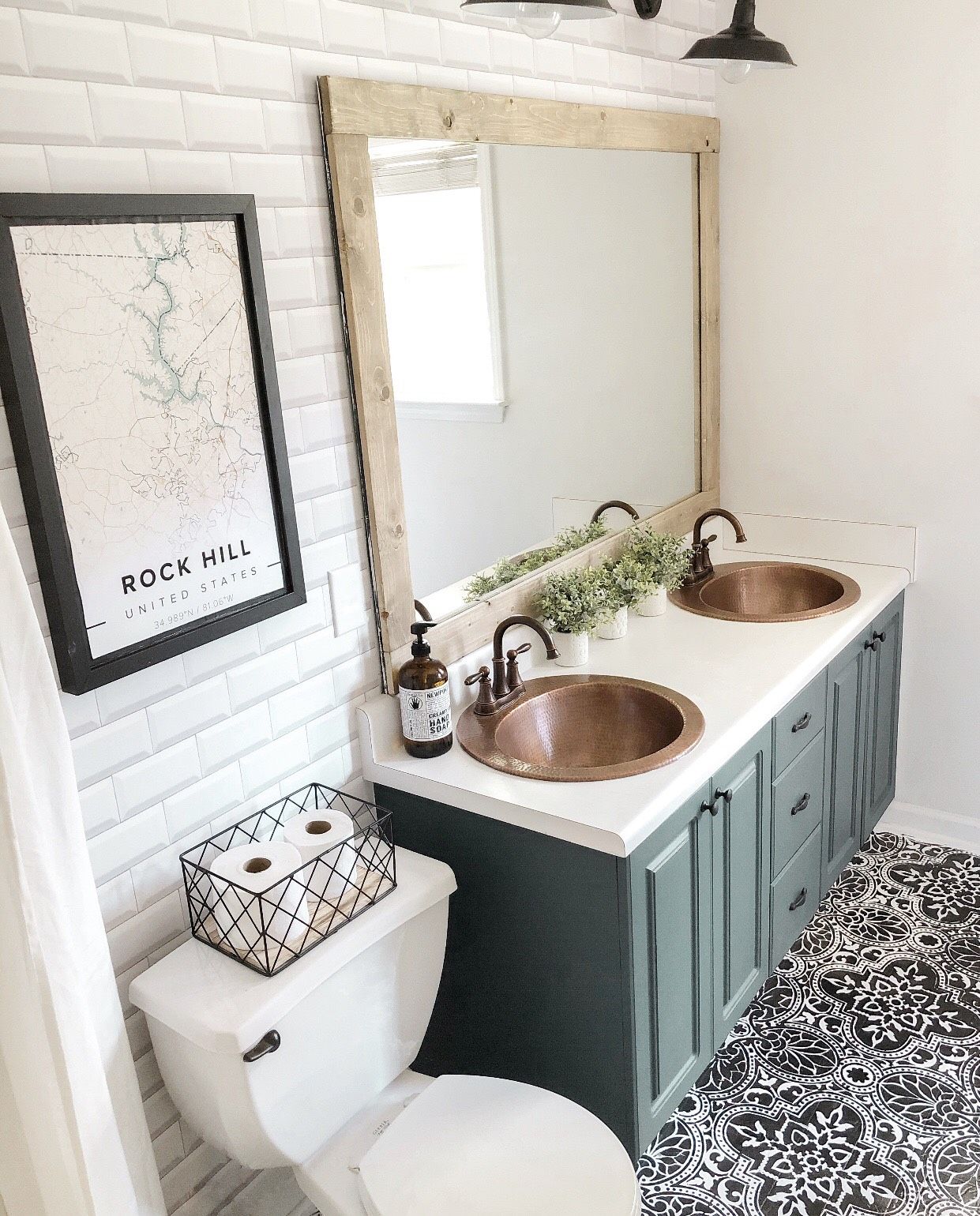 The Pink Tiles Wallpaper can help you achieve that retro vibe without the headache of scrubbing the grout. Now you can put in your hair rollers and feel oh so 1950's.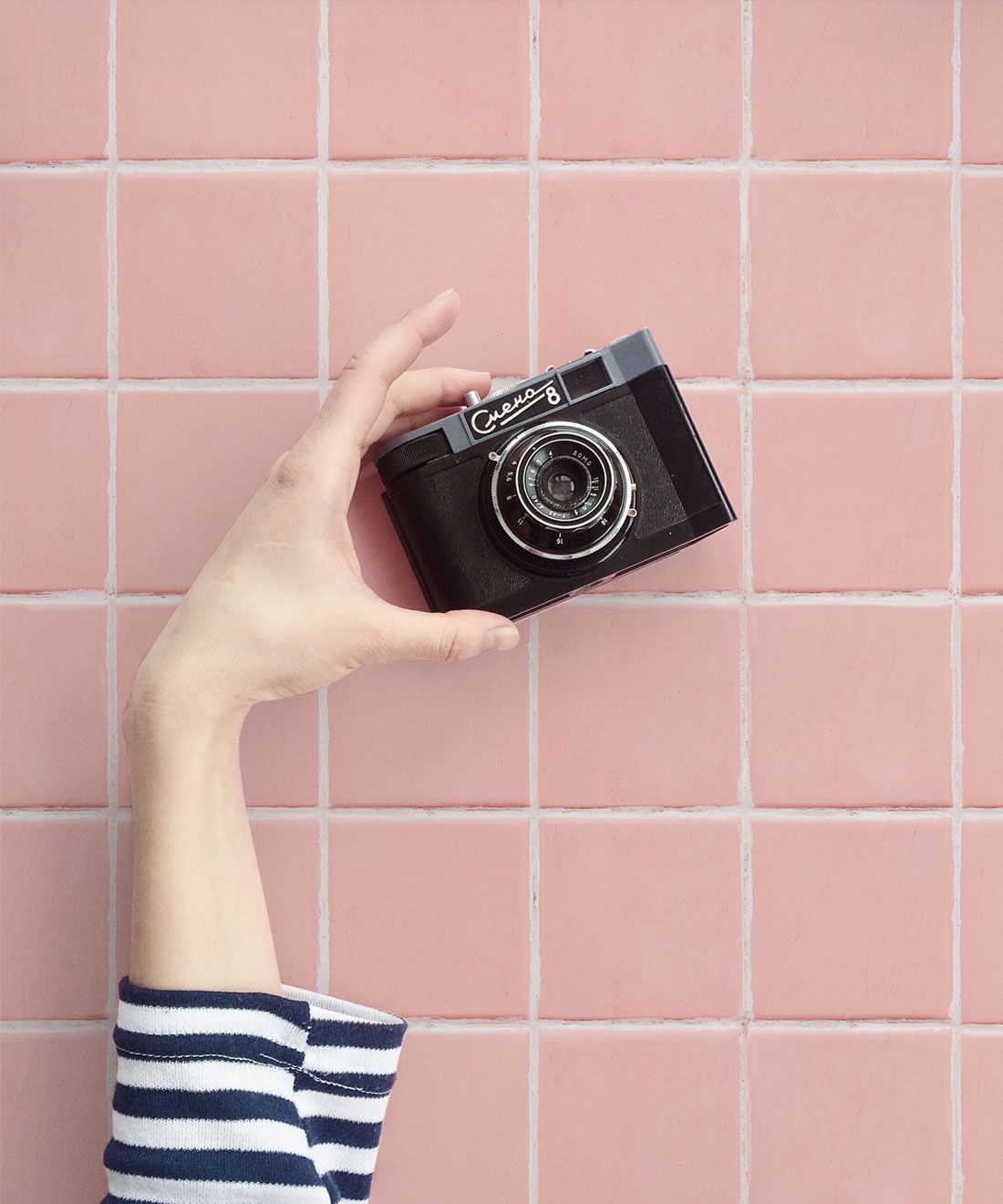 Herringbone is another popular design which you can achieve with a herringbone wallpaper called Tile Progress. You can see the install from Lisa Marie of @blairhomedecor on Instagram using the Tile Progress Wallpaper for a clean look with plenty of interest.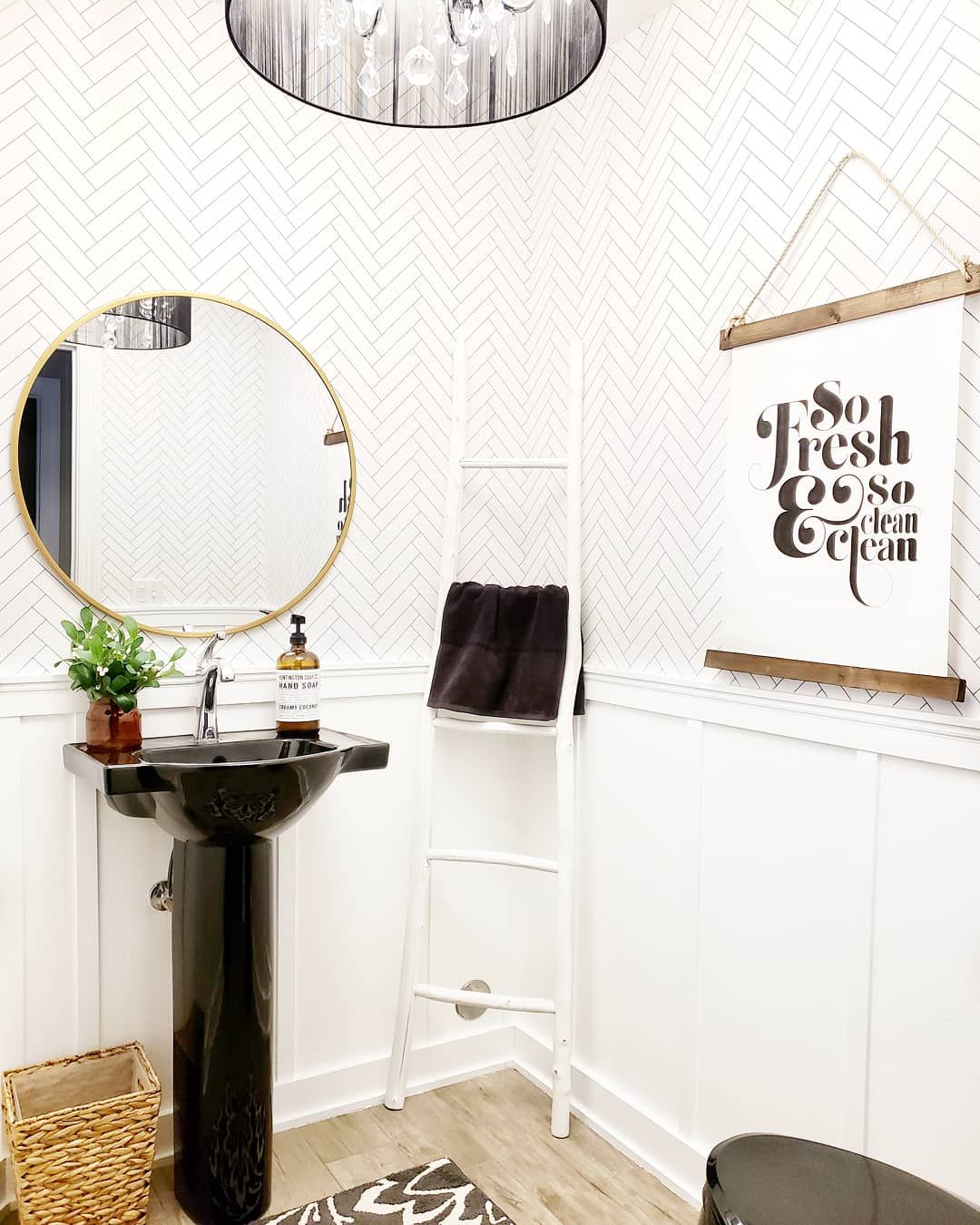 If you want something that accomplishes the tile look but need bathroom decor that wows, check out the Heritage Tiles Wallpaper. This will help you get to your Mediterranean bathroom goals quickly. Look in awe at the install from Julie of The Design Twins.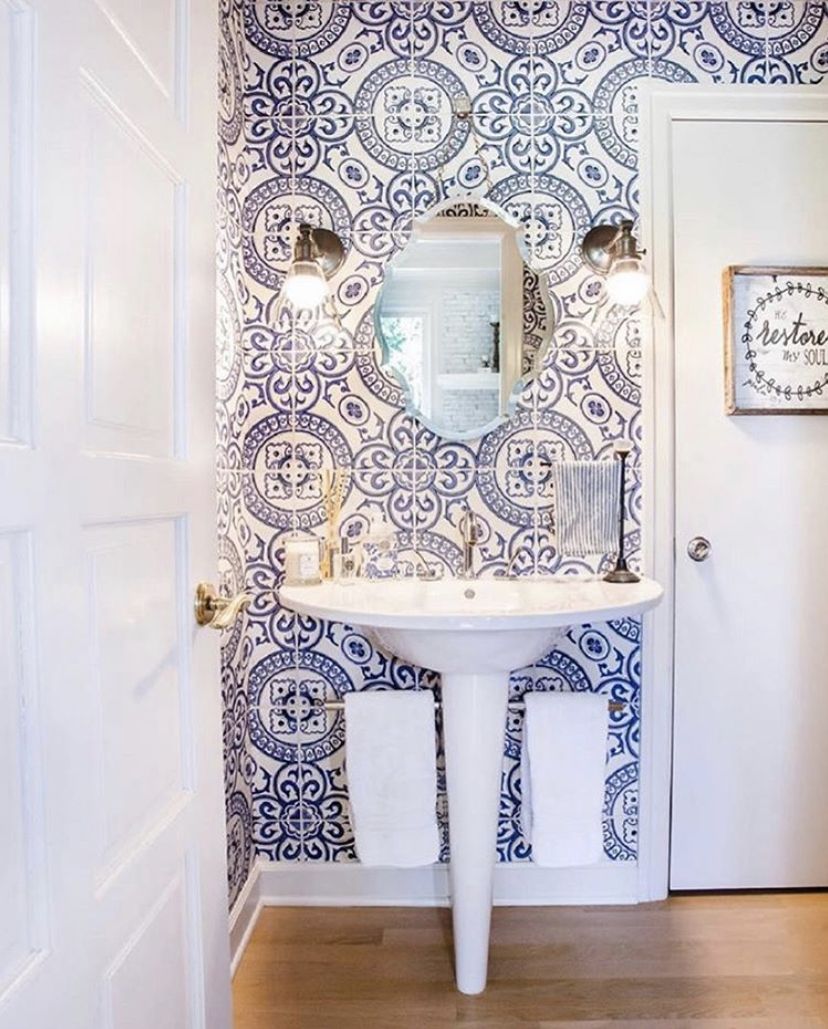 Capture all the luxury of a chic, Italian bathroom without having to fly to Rome or import heavy, expensive stones. Now you can feel like a Greek goddess in your own private Parthenon with the Marble Wallpaper.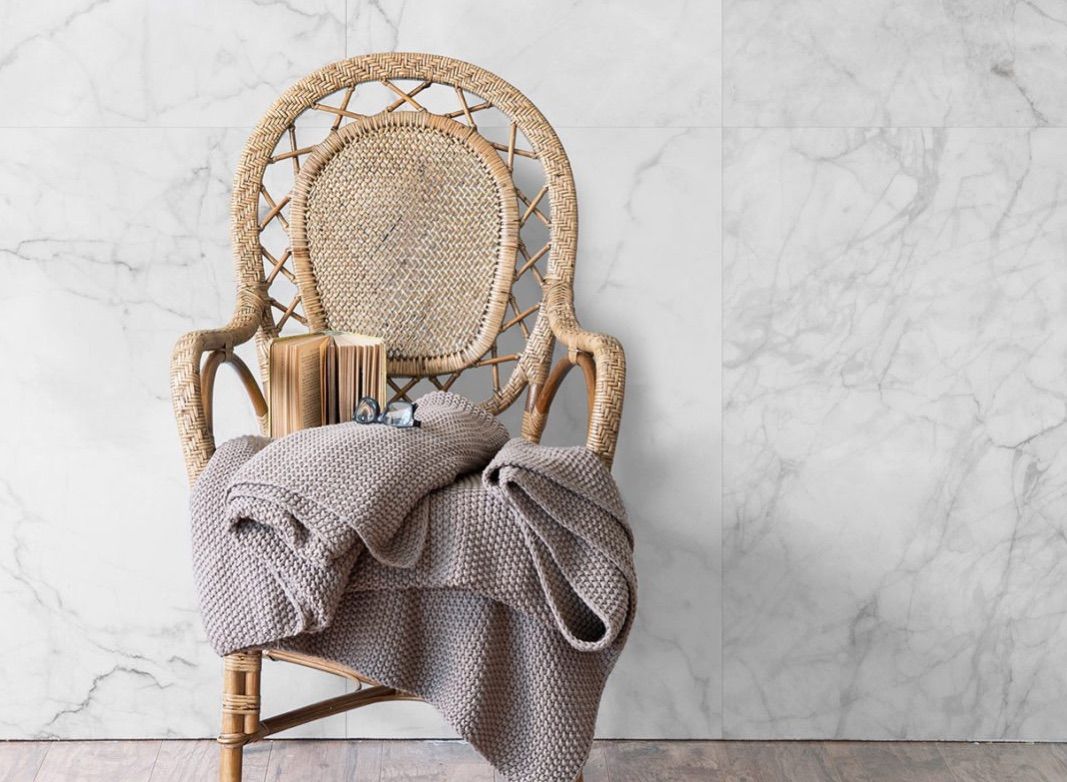 Finally, if you like the look of small squares or grid patterns, the Contact Grid and Contact Grid 55 gives you two size options for a squares wallpaper design. It's a perfect solution for the fan of minimal decor. It is interesting without being overbearing.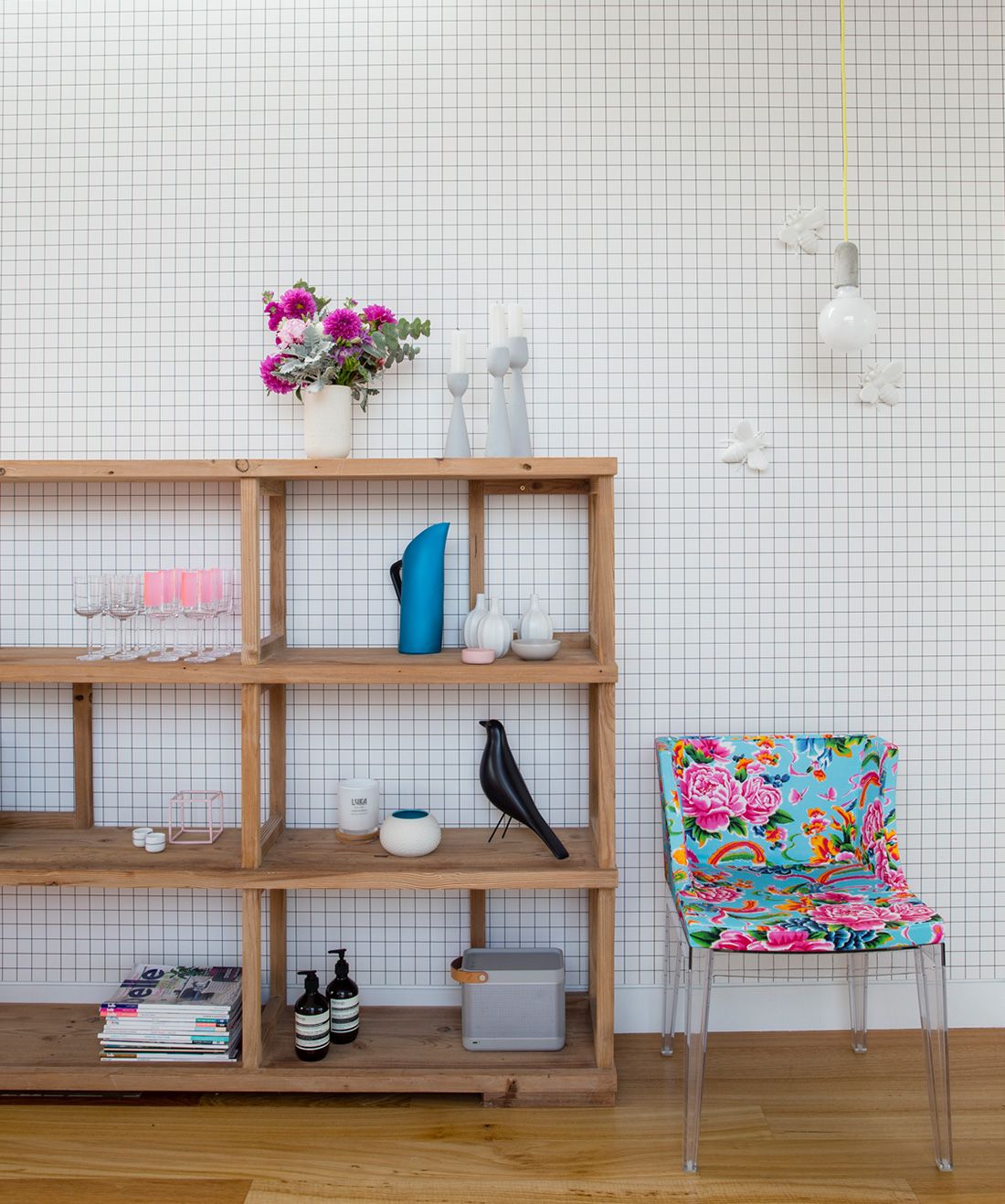 FLORALS
Next, florals are popular aesthetics for bathrooms. It must be something about the sweet scents we associate with flowers and the same aromas in a lot of our body washes and shampoos. Floral Wallpaper can provide you with a range of options that are versatile in both style and color. For instance, check out this vintage floral wallpaper called Chevallier installed by Kirsten Yanasak @brightyellowdoor. It offers a beautiful scrolling design in yellow-gold with gorgeous blue flowers and brown foliage.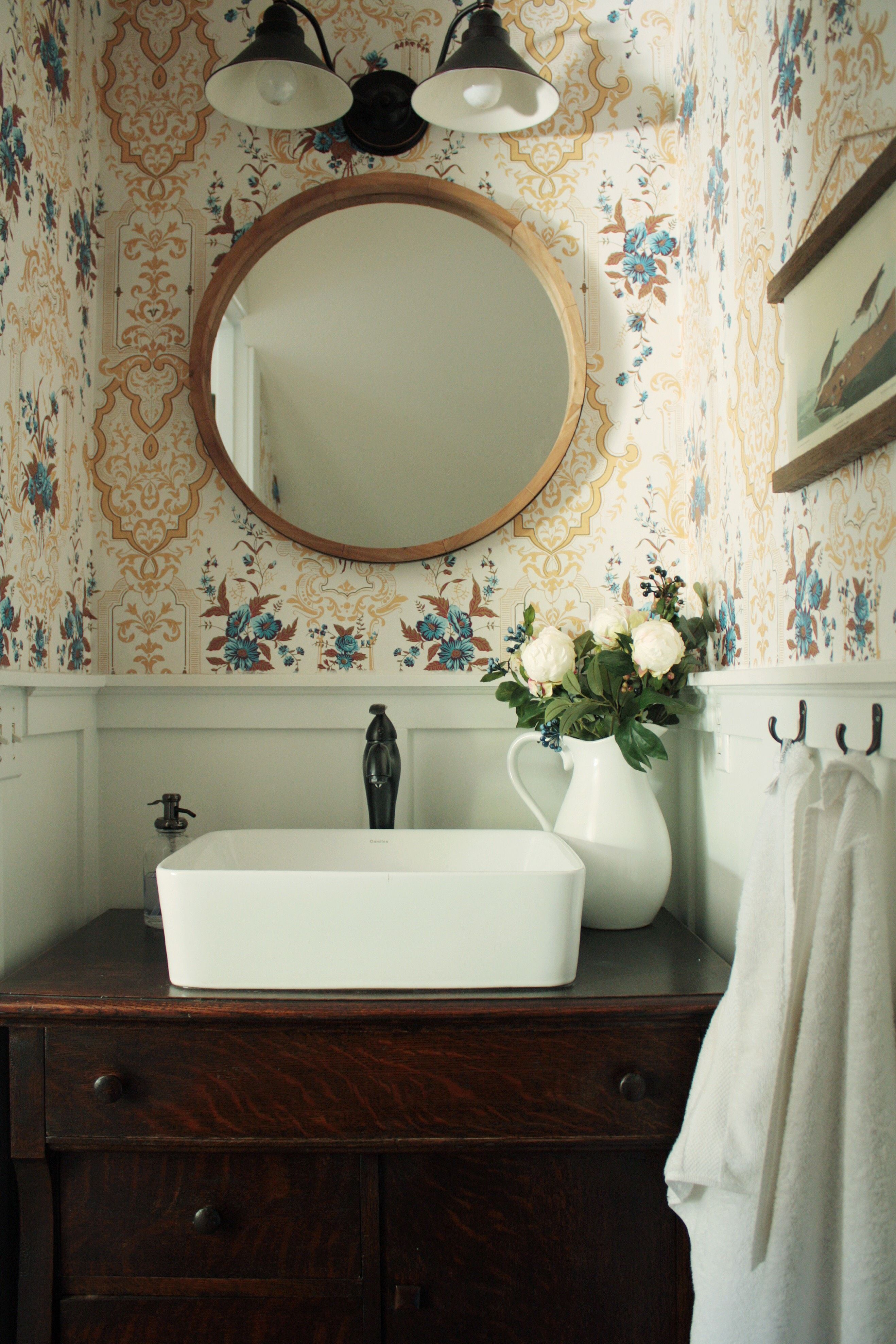 You can also use floral wallpaper to create a country cottage bathroom like this one using our Governors Rose Wallpaper.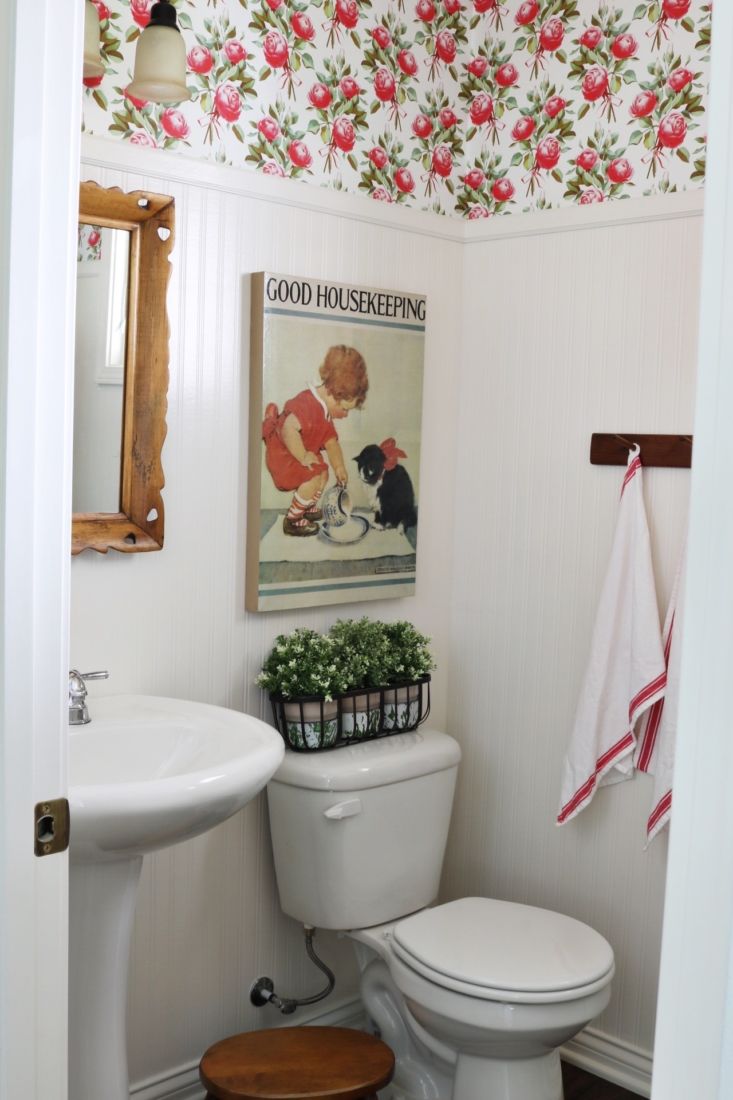 MODERN
But if faux decor is an interior faux pas and florals are so yesteryear, bathroom wallpaper can be contemporary and exciting as well. It can make a statement. Check out the modern wallpaper chosen by Shavonda Gardener @sgardnerstyle. She wanted that art deco Valentino look. Using the Leopard Wallpaper, she brought out a fierce confidence that says, "hear me roar." It's impossible to not feel sexy in this space.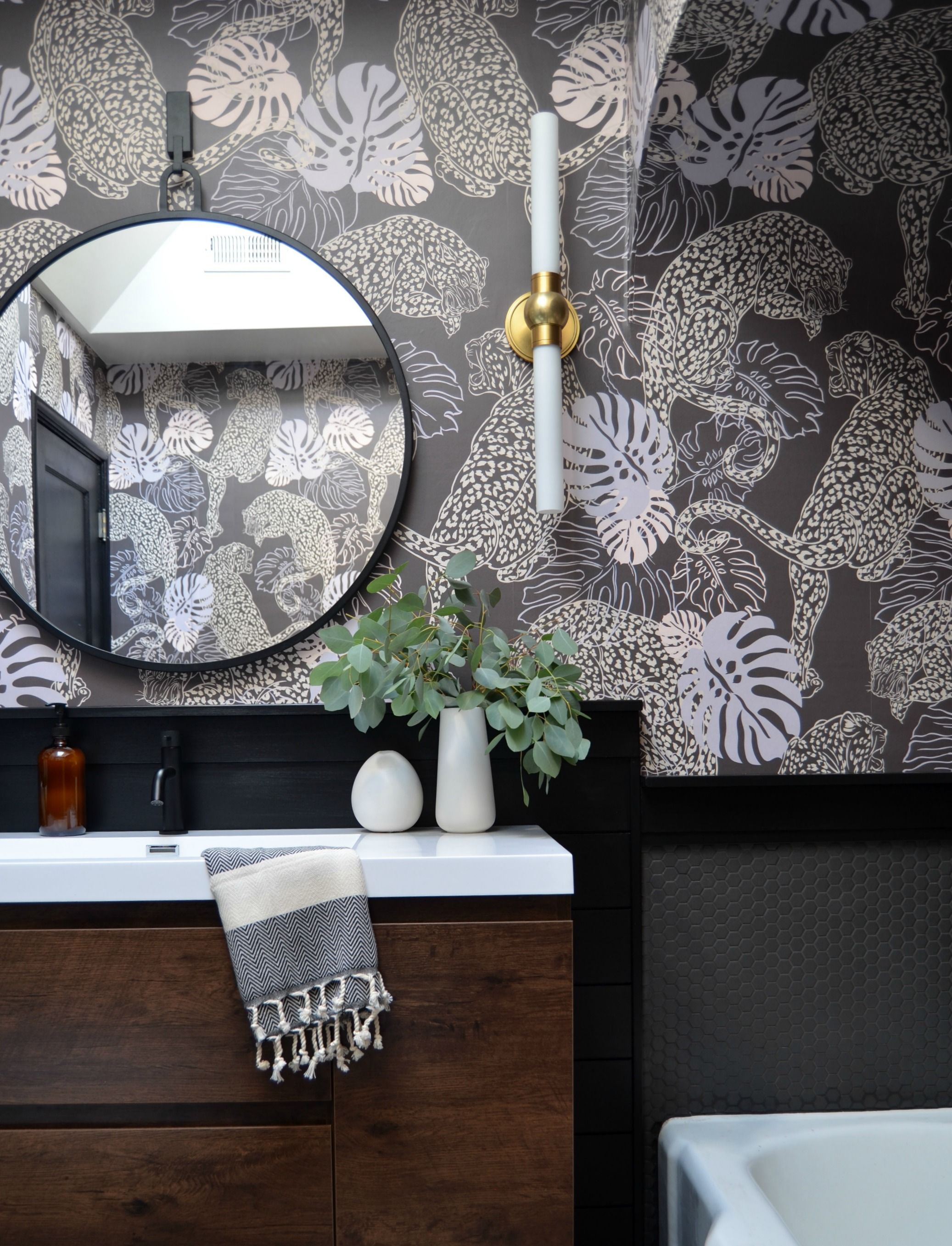 When all else fails, you may just have to rely on your personality to set the tone. The place you live can express who you are so that when a guest enters your space, it is obviously YOUR space. You can still impress while putting your stamp on the wall, so to speak. Take it from Courtney Equall from @girlandgrey. She used a quirky fun wallpaper called Ostrich Strut. If you're not having fun here, you're not having fun anywhere.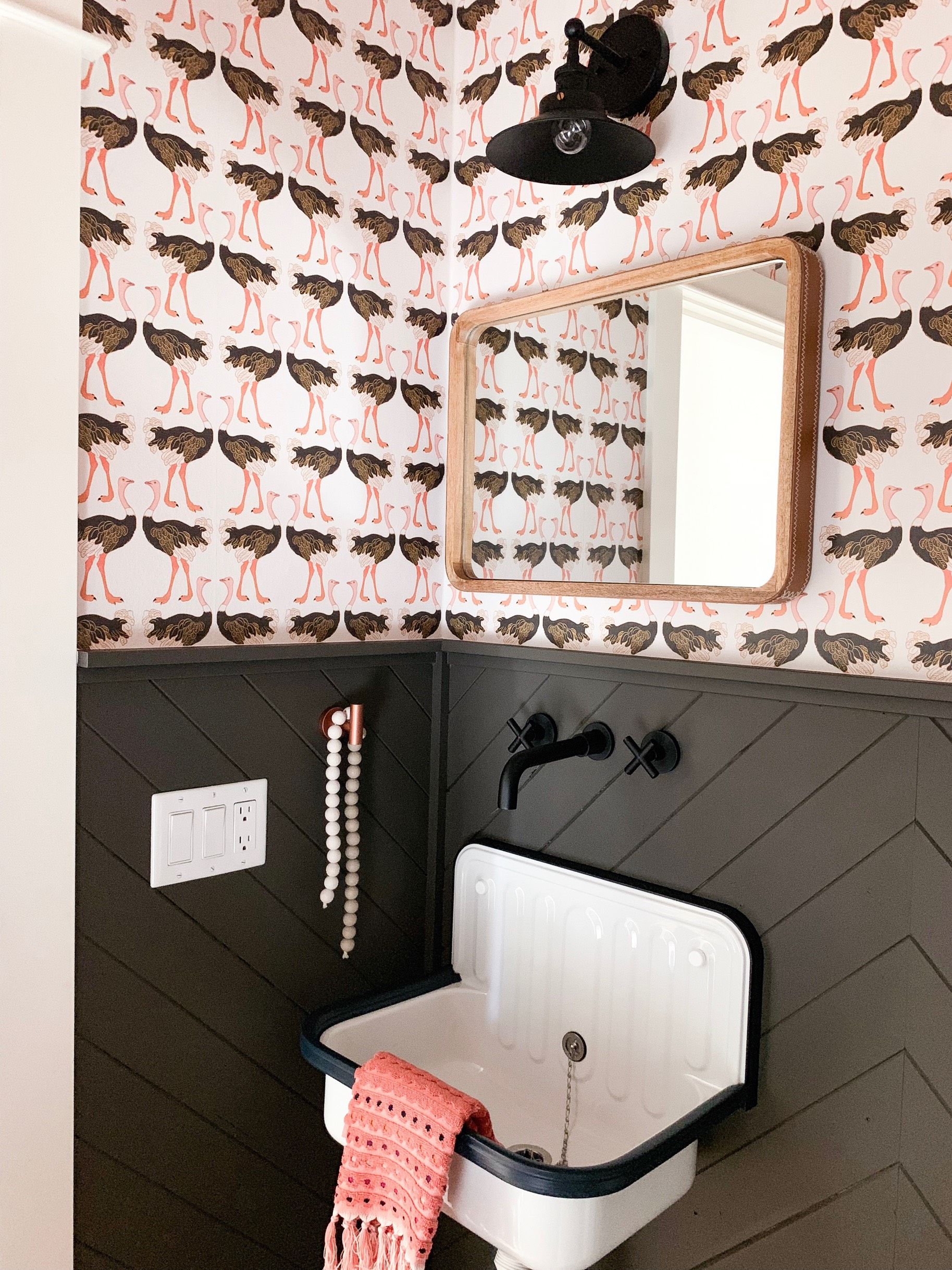 Yes, you can use wallpaper in the bathroom. Make sure you use a non-woven wallpaper, which is breathable. Use the traditional paste-the-wall style of wallpaper that will handle the elements of heat, cold and humidity. You should use a mold and mildew inhibiting paste. Finally, bathroom wallpaper can mimic real materials like tile. It can also be floral, vintage and/or modern. And it can be an opportunity to reflect your personality in your decor. Have it your way. It's your stage, Miss Madonna Karaoke. Get to decorating! Then grab your phone, put on your best duckface and snap a pic of your beautiful self in your gorgeous bathroom.
Bathroom Wallpaper
Shop Bathroom Wallpaper
---