How To Waterproof Your Wallpaper
Wallpaper looks amazing almost anywhere. But some places can be a bit more problematic than others. Maybe you're wanting to use wallpaper as a backsplash in the kitchen where it will get sprayed with grease. This will require regular wipe-downs which may be harsh on the paper over time. Or maybe you want to hang wallpaper in the bathroom but you're worried about the lack of ventilation and the water splashing onto the walls. Milton & King wallpaper is durable and often used as both backsplashes and bathroom decor without the need for extra treatments. But, no two spaces are identical. Some bathrooms are more ideal for wallpaper than others. Likewise, some kitchen backsplashes aren't as prone to the same level of hazard. We're going to show you how to waterproof your wallpaper and give it an extra layer of protection for those problem environments.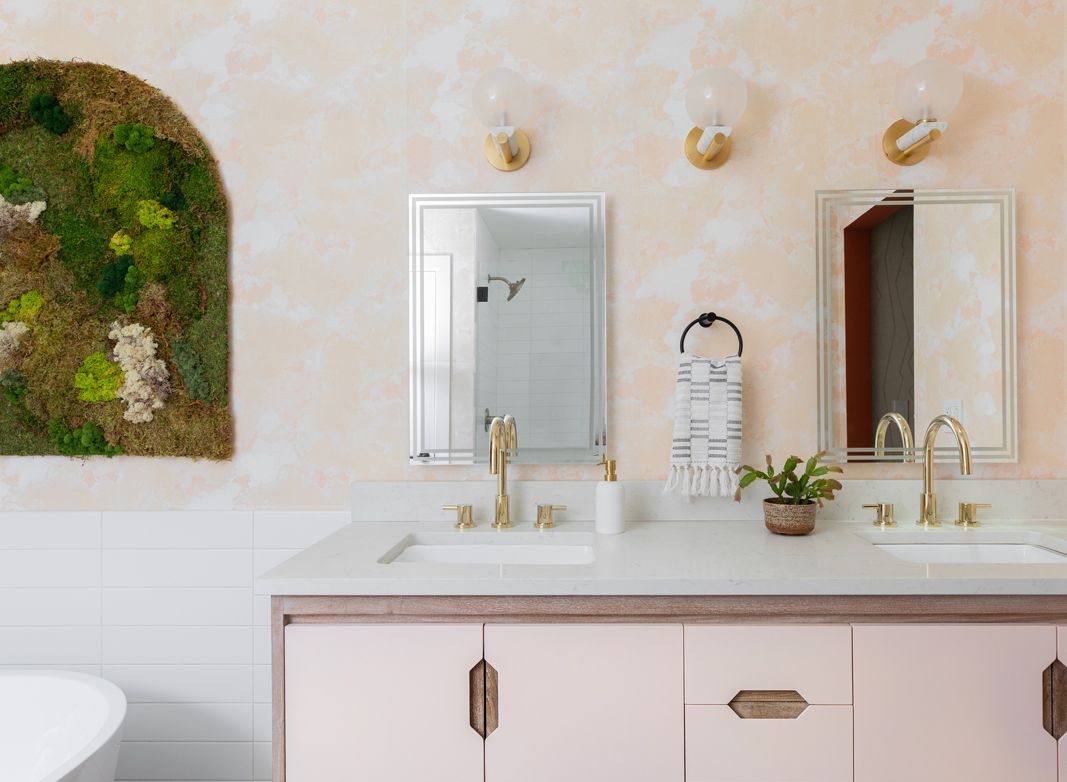 After you have installed your wallpaper, you want to be able to enjoy it in its most pristine condition for as long as possible. First, you will want to wait until the wallpaper and paste has fully dried. Allow 24 to 48 hours for your wallpaper to completely dry before taking any further steps. Avoid using the kitchen or bathroom so that you aren't damaging the wallpaper before you can protect it.
Once the wallpaper is dry, you can apply a decorators varnish. A decorators varnish is similar to a wood furniture or hardwood floor varnish but it is made for other types of surfaces including wallpaper. Applying a varnish will protect it from water damage, stains and will help stop mould as well.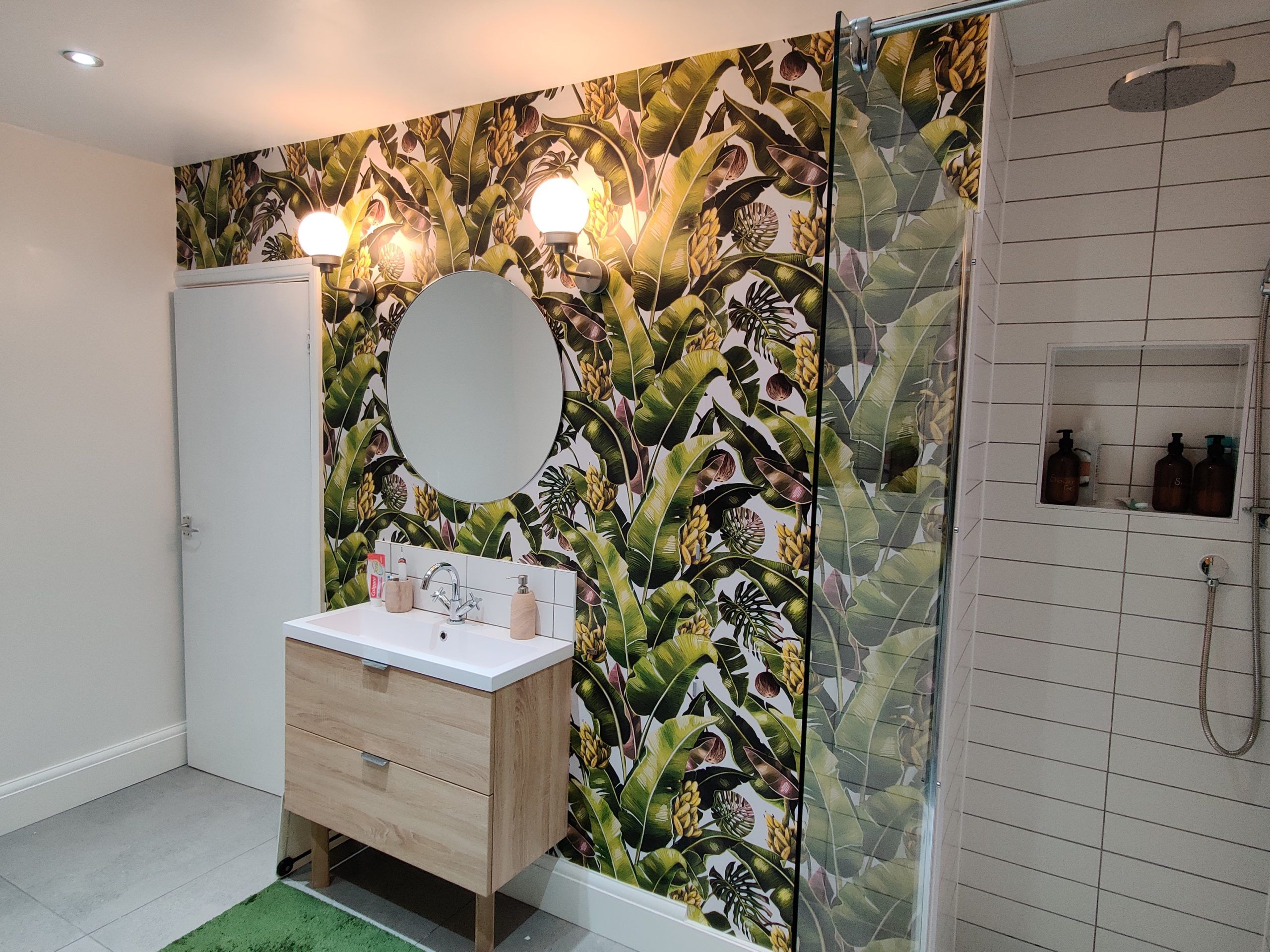 Photo courtesy of Michaela Livingstone-Banks
We spoke to Andrew Dillon from Andrew Dillon Decorating with thirty years of experience as a professional painter and decorator out of Oxford, UK. He told us about a recent project he did using the Kingdom Palm Wallpaper from Milton & King. It was being installed in his clients bathroom. Using a fine brush to apply the varnish as to not discolor the wallpaper, he applied three coats of deadflat matte varnish to create an invisible seal over the wallpaper. These decorator varnishes come in high gloss, satin or dead flat finishes depending on your personal taste. The Polyvine Deadflat Varnish is practically invisible allowing the true surface of the wallpaper to show through. A Dead Flat Varnish by Modern Masters is also available through Amazon.Com
A representative of Polyvine on YouTube actually suggests that for maximum protection, you can apply one coat of satin and a couple of more coats of dead-flat. Apparently the satin offers a bit more protection than the deadflat. This will give you a subtle shine finish with a strong barrier of protection. Then you can add a few more layers of the deadflat varnish without adding to the shine.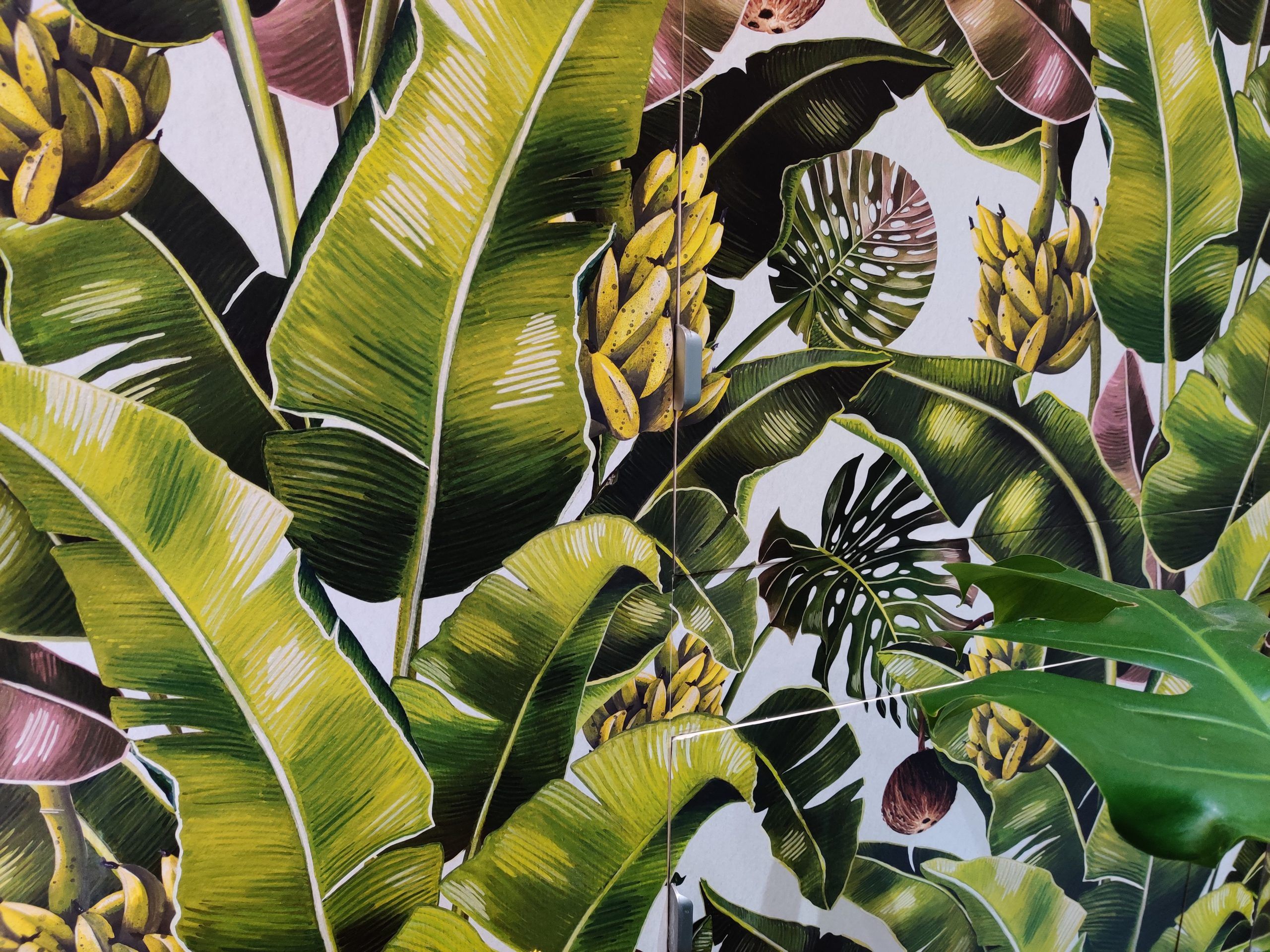 Photo courtesy of Michaela Livingstone-Banks
Non-woven wallpaper is desirable because it is breathable which makes it suitable for humid environments. However, it's important to note that the breathability is also what makes it susceptible to water. Any sitting water can soak through the paper and cause the paste beneath it to weaken so the wallpaper starts to lift over time. So it's important to note that waterproofing your wallpaper will inherently make your wallpaper no longer breathable or as removable. So, if you're going to waterproof your wallpaper, be sure to use a mold-resistant paste and expect that the removal process is going to be much more difficult.
Learning how to waterproof your wallpaper is easy. However, If your bathroom is like most, where the wallpaper doesn't come into direct contact with water and there is always an open door or window for ventilation, you shouldn't run into any issues. Though, if some peace of mind comes from simply adding a few layers of varnish, we definitely recommend using a decorators varnish.  This will ensure that you will be able to enjoy the beauty of your wallpaper for years to come.
---