Wallpaper For Beginners
Are you one of the many who can appreciate a beautifully styled room but have absolutely no confidence in making the same thing happen for yourself?

Have you taken a jab at your own interior and come out of it less than satisfied?

Why doesn't your makeover look as good as those on Instagram? Perhaps we can consider this a Wallpaper For Beginners type blog post. I'm not trying to be insulting, but we've all heard of those manuals that can teach almost anything to the novice. So hopefully a few tidbits of info can help you avoid some simple mistakes and help you go from having no clue to having a bit more confidence in your next interior attempt. This is not going to tell you How To Wallpaper. For that you can visit this link. This blog will give you something to think about before you even get started.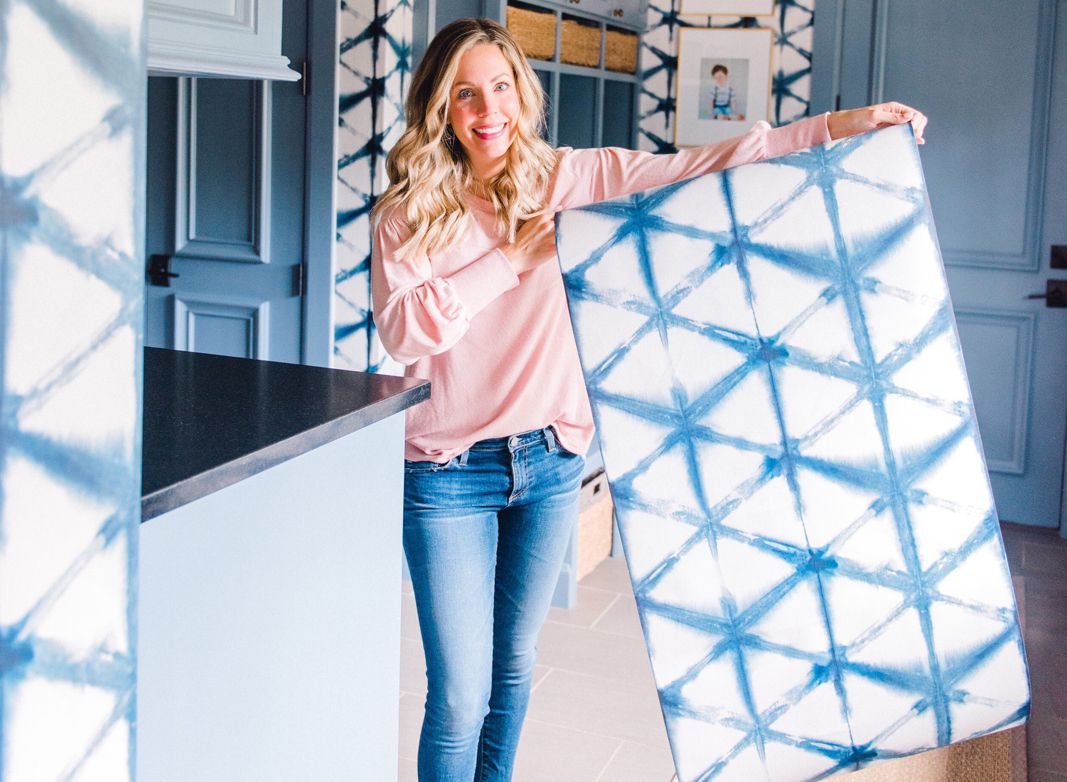 First, wallpaper should be a part of a holistic approach to your interior. And by holistic, I don't mean anything remotely new age.  We're beginners, not hippies here.  But it must be understood that throwing wallpaper up in some random room isn't going to be some magic ingredient that makes everything come together. Just because you think a wallpaper design looks pretty, doesn't mean it is going to transform the rest of your room.  Don't get me wrong, wallpaper is hugely transformative. But it's not going to make your old ripped up sofa look brand new. And it's certainly not going to change the color of your floor or the surrounding walls. Therefore, understand that wallpaper, while a huge component, shouldn't be the only consideration when designing your space.
You'll notice the pictures below use the same Marble & Copper Wallpaper from Milton & King. In the first photo, the off-white flooring looks aged compared to the wallpaper. Also, everything from the floor to the counter tops look all very square or rectangular which seems to clash with the hexagon shape in the wallpaper. In the second photo, Instagram influencer, Jaclyn Hodge brought out the copper outline of the wallpaper and the hexagon shape in the design with pendant lamps that matched in color and geometric aesthetic. While both selected a geometric neutral wallpaper, the second photo shows a much more thought out attempt and, therefore, a better result for it.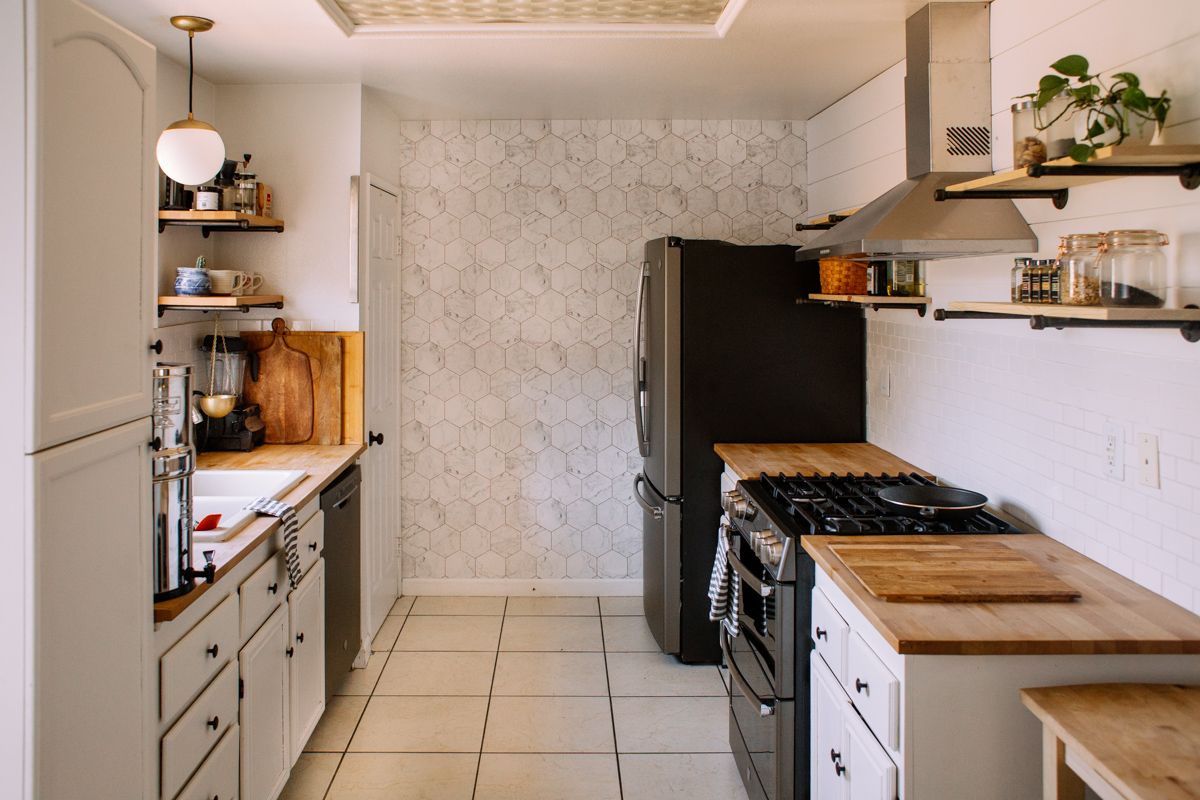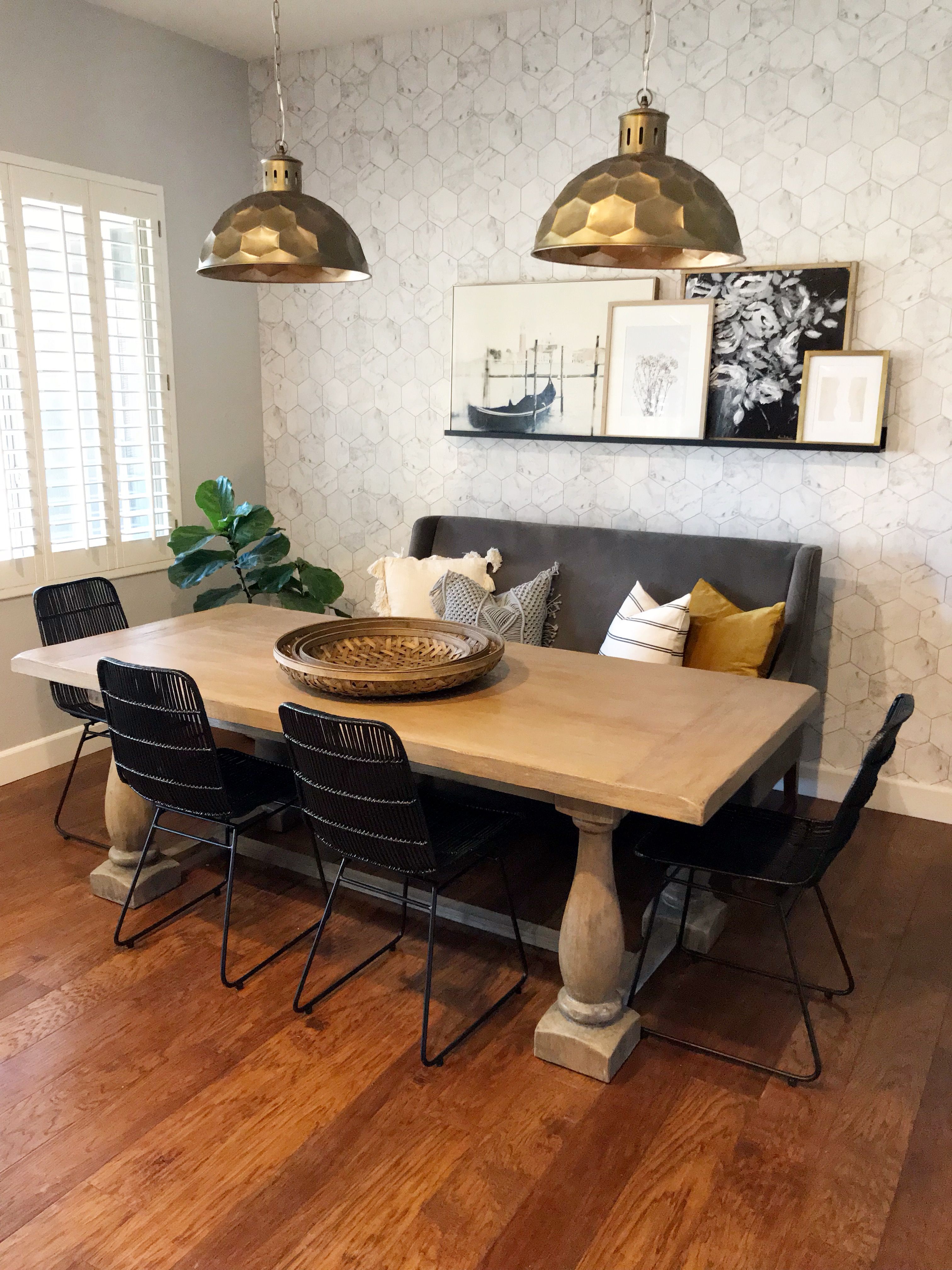 Second, consider the colors! Color is probably the biggest consideration in interior design in our Wallpaper For Beginners blog. Pro tip: very often wallpaper is an interior designer's first decision. He or she will then base upholstery, paint, trim and other accents based on colors that exist in the wallpaper design. But what if you're not changing anything else in the room and wallpaper is your only change? Then you should consider the existing colors in your space when choosing the wallpaper. Don't just go with a pretty design. If you have yellow throw pillows on your green sofa, maybe choose a wallpaper with some yellow accents in it as well and some shade of green in the background design. The wallpaper should make sense with the other colors you have in the room.
Below you can see influencer Jewel Marlowe coordinating the Viva Tropicana wallpaper with the fabric, picture frames and other accents in the room. Jewel is a blogger to keep your eye on if you want inspiration for bold colors and bold decor.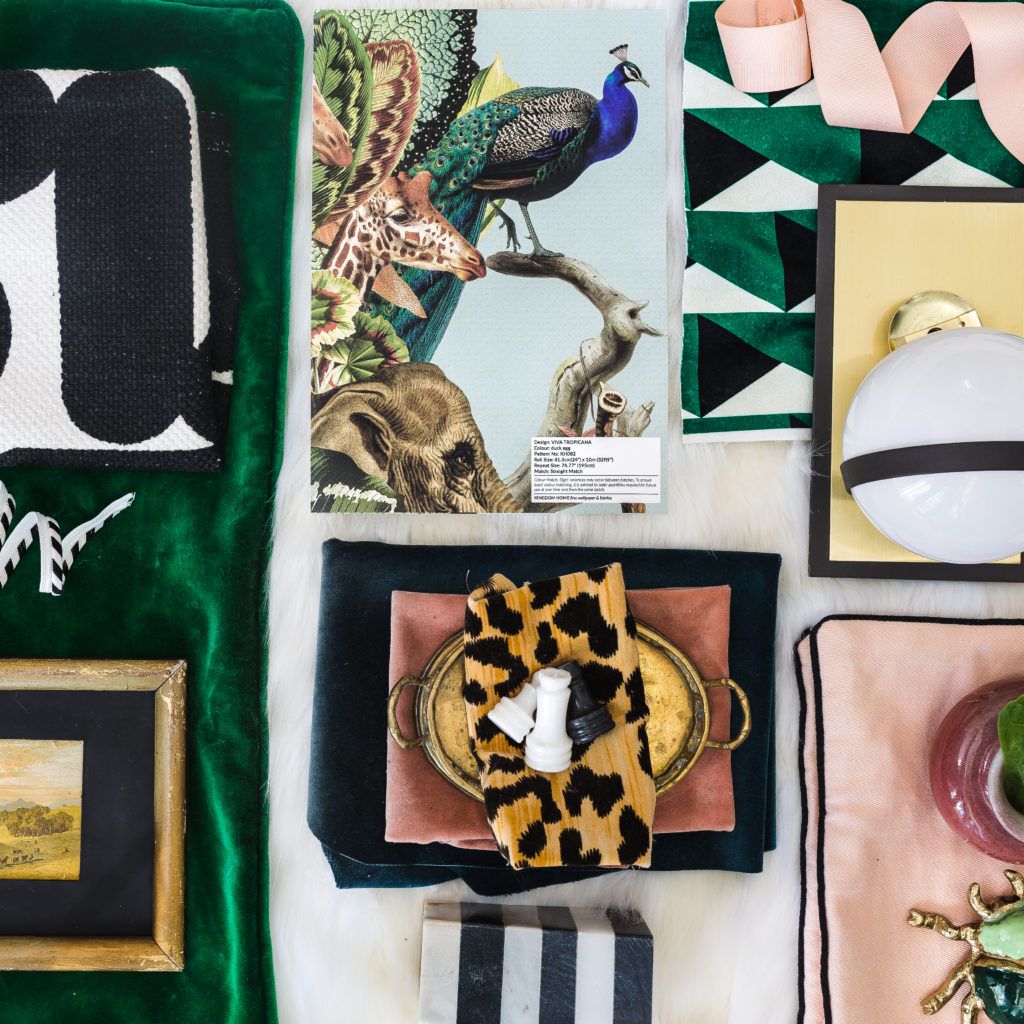 Take into account the color of your walls. Pro-tip: sometimes a coat of fresh paint is in order on the walls that don't have wallpaper. If you're choosing a wallpaper that has a white background, but your walls are painted white and 15 years old, a fresh sheet of white wallpaper is going to make your existing white walls look dirty, especially when doing a feature wall where 3 other walls are exposed. Painting will also just give the whole room a fresh feeling. I have seen cases where someone has chosen a wallpaper with an off-white to beige background and it looks pretty bad next to a white wall. Therefore, consider the colors in the room, be it the walls, the furniture or the flooring. A more color coordinated room will help you go from amateur to pro.
In the photo below, Ashley from Curls and Cashmere had cabinetry painted with Sherwin Williams Bracing Blue. It matches her Shibori Star blue wallpaper beautifully.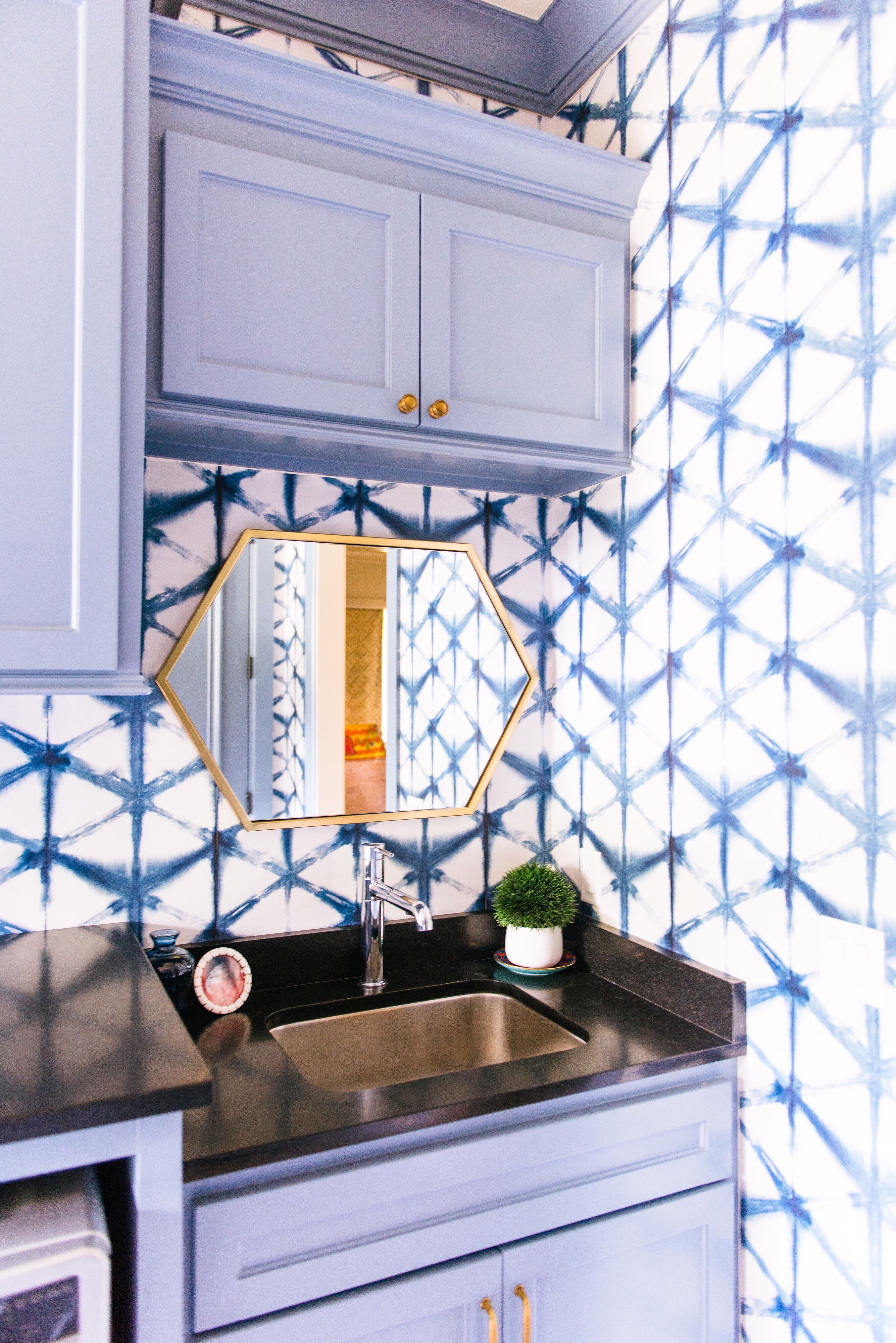 Third, consider style. Maybe you love the rustic look, but you want to put it in a media room. And this media room is filled with all sorts of modern gadgets that have sleek designs. It might be a big aesthetic clash to have your 2019 curved LED LCD TV mounted to a weathered timber wallpaper. Televisions are usually either black or silver and you may want to carry that monochrome feel throughout the rest of the room or at least on the wall where all this technology is mounted. Perhaps try your rustic farmhouse decor dreams on the opposing wall, or maybe a different room altogether. I'm not saying that it can't work. But if you're wondering what might separate your set up from your favorite Insta Interior Designer, aesthetics will certainly be on the list.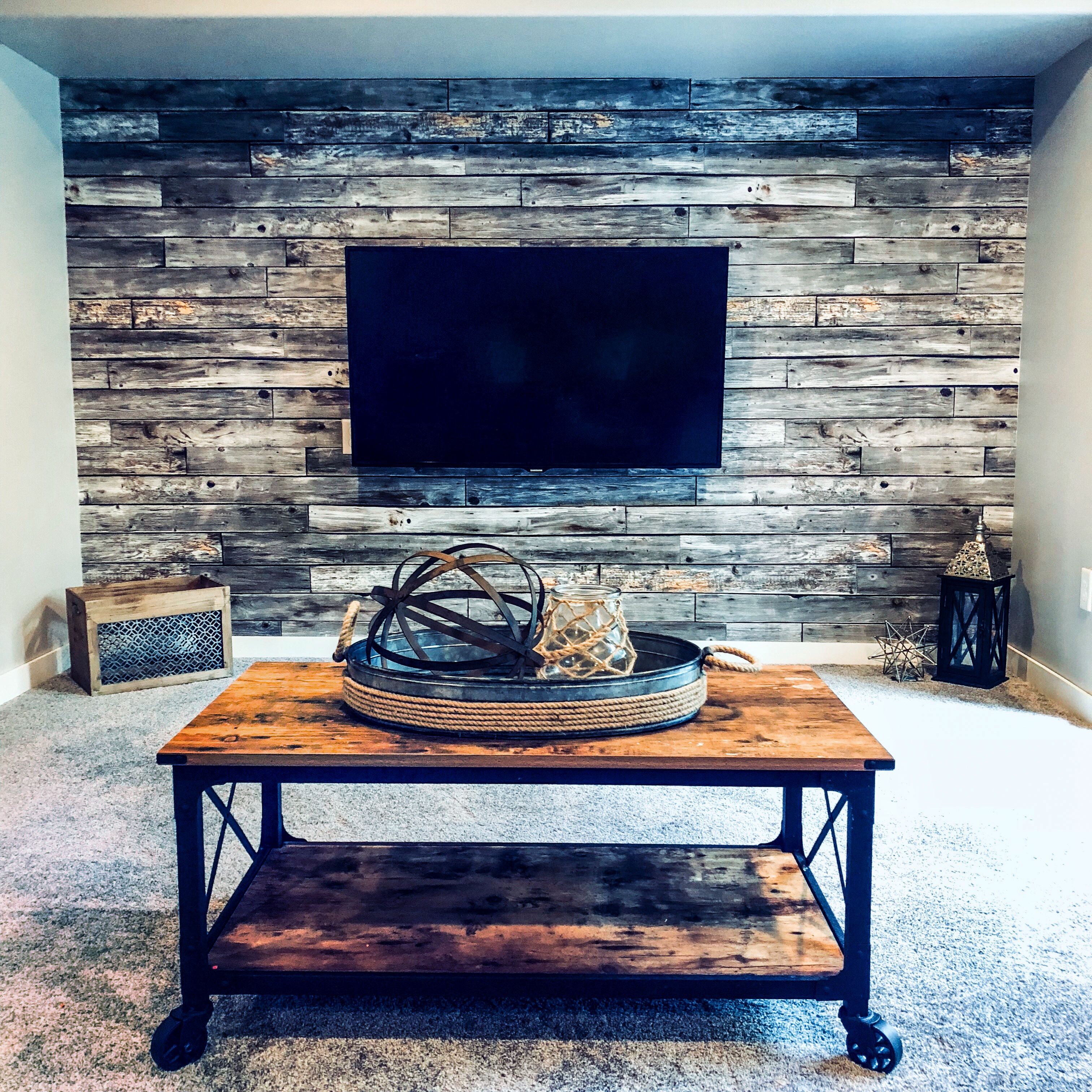 Fourth, choose the right type of wallpaper. Removable aka peel and stick wallpaper is all the rage at the moment. It is assumed that the removable wallpaper is fundamentally an easier type of wallpaper to deal with. This is not always the case. While it may take fewer tools to install, the sticky backing can make it far more difficult. The traditional wallpaper is more malleable and therefore more forgiving when you're installing wallpaper. Non-woven, paste-the-wall type wallpaper is a superior quality product. For more on this, visit the blog dedicated to discussing Traditional Wallpaper vs. Removable Wallpaper.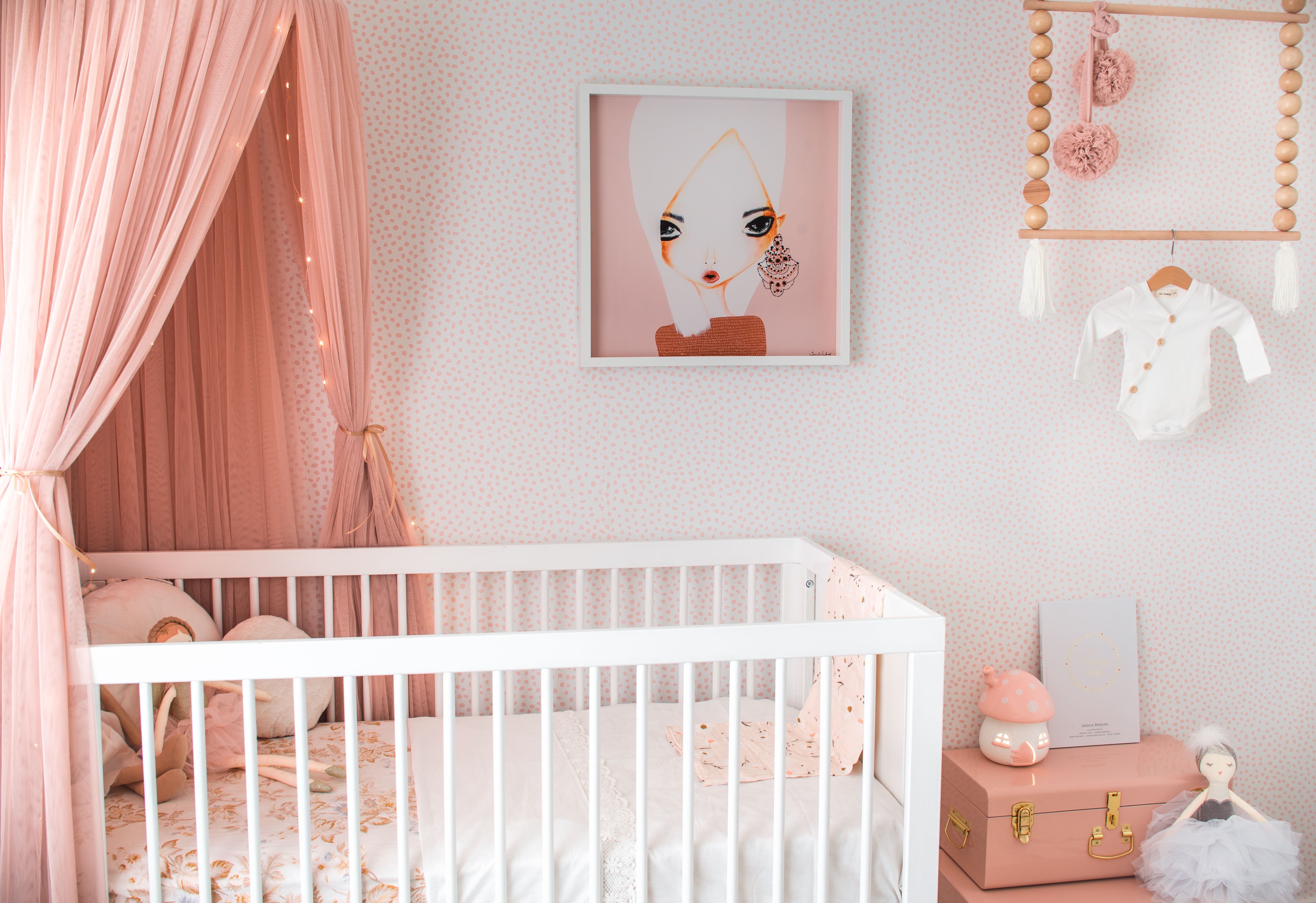 To sum up wallpaper for beginners:
1.  Use a holistic approach to designing your space.
2. Consider the color of the walls, floors and furniture.
3. Think about the style. Aesthetics matter
4. Consider the type of wallpaper: traditional vs. peel and stick.
My mother always told me, anything worth doing is worth doing well. So if you're going to spend time and money on your home, make sure you take the necessary steps to do a good job. It only takes a bit of extra effort to consider the elements that are contingent to your design choices. That bit of extra brain power will have you going from reading a Wallpaper For Beginners blog post to writing about your own experience from an expert perspective.
---