Traditional Wallpaper vs Removable Wallpaper
It's a battle royale, traditional wallpaper vs. removable wallpaper. Ever since the peel and stick option became available, largely due to the cost of traditional wallpaper and the cost on your time and patience when it came to installing and removing the wallpaper, the consumer is left with the predicament of figuring out which choice is the best choice. Well, it's not so black and white. It's much more nuanced. The question is "what is the best or right choice for you?" And what's right for you may not be the smart choice for the next person. The best way to figure it all out is to discuss the pros and cons of each paper and evaluate your individual situation.
First let's define the terms. When we say traditional, we're not talking about your grandmother's wallpaper. We mean the type of non-woven wallpaper that is not self-adhesive. Traditional wallpaper typically needs an adhesive that you must soak or paste onto the wall before you apply the paper. What is this non-woven stuff we're talking about? Well, many years ago, the public was demanding a solution to vinyl wallpaper because, while it was durable, it was very difficult to remove, it would expand and contract and it would stain making it very difficult to clean. The wallpaper industry answered.
Non-woven refers to the backing of the wallpaper which contains a combination of natural and synthetic fibers. This makes the wallpaper more breathable, which reduces the risk of mold. It also reduces the amount that the wallpaper will expand or contract to almost nil. The non-woven backing also allows for it to be cleaned with a damp cloth. Finally, the biggest issue, it allowed it to be removed without the headache that previous wallpapers were known for.  Check out this GIF of Bryce, our Creative Director, removing some traditional wallpaper from a wall in our office.  Notice that he is using no tools or solutions.
Why Aren't Traditional Wallpapers Called Removable?
So if it's easy to remove, why aren't traditional wallpapers called removable? That's a good question. It's largely a matter of both intention and reputation. While traditional non-woven wallpaper can be removed, often pretty easily in one piece, it's not created with the intention of being removed. It's made to withstand high-traffic areas as well as indoor elements of heat and cold. As long as you want the wallpaper to stay up, it will stay up.
However, though newer non-woven products can be removed quite easily, the reputation of traditional wallpaper removal is a dark mark it still carries. Moreover, once removed, it can't be reused as the paper would likely sustain some damage during removal. So when it comes off the wall, it goes in the trash. This brings us to another positive aspect of traditional paper.  Traditional non-woven wallpaper was made to be much more environmentally friendly than old vinyl wallpaper which required chemicals that polluted the air. No chemicals are required for the creation of traditional non-woven wallpaper.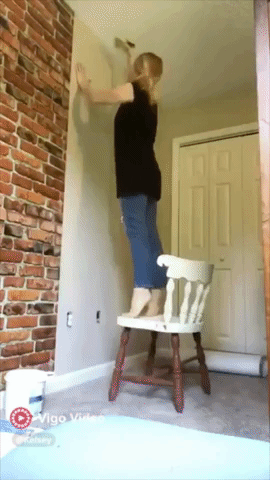 As was helpful before, defining the terms is important. What is often termed removable is also synonymous with reusable and self-adhesive, otherwise known as peel-and-stick. Because traditional wallpaper was such a permanent option that was often a headache to remove and often caused damage to walls, the industry created an alternative that sought to remove the difficulty from all aspects of wallpapering. Applying requires no soaking or pasting. The adhesive is already on the back just like any decal.  All you have to do is peel off the backing. Want to remove it? No problem. Just peel it off the wall with ease. Your work is done. No extra cleaning of excess paste or scraping of paper that didn't quite rip off.
Perhaps the most interesting aspect is that you can reapply it. Do you have two wallpapers that you like to change with the season? Remove the wallpaper, put up something else and bring it back next season.  Are you renting your home or apartment with strict rules from your landlord? Or perhaps you don't want spend money on decorating if you have to move in a year. Removable wallpaper answered those issues with something you can take with you wherever you go and reapply it. Of course, sizing issues may occur if the size of the walls are different. The term renters wallpaper has also been used in place of removable wallpaper because its target market seems to be those in temporary living situations.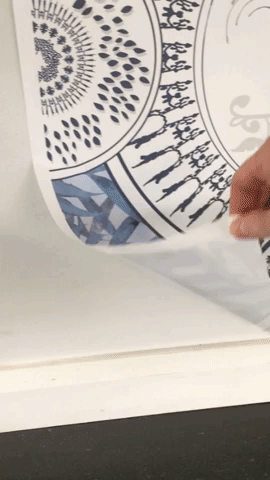 Installation: traditional wallpaper vs. removable wallpaper
Since we have established that both papers in our modern age have removable qualities, one area where we can really separate the two is in their installation. This may seem a little nuanced, but it is a factor which may sway you one way or the other. As we mentioned before, traditional wallpaper will require paste and a roller brush to apply the paste to the wall. Removable wallpaper won't require any of those tools. You just peel off the backing and apply the wallpaper. This results in a less messy experience. Both types of wallpaper will require you to cut the paper to fit your wall, use a level to draw a plumb line so you wallpaper is straight and a pencil for marking.
But I think the most important distinction is when you apply the paper to the wall. With traditional wallpaper, because there is a paste on the wall, you are able to move the wallpaper after you apply it and manipulate the paper to get it straight or to get it right up against the edge.  Essentially, traditional allows you to not be perfect with your application because you have a window to adjust the paper before the paste dries. This also makes it much easier to smooth out the wrinkles. With removable peel and stick wallpaper, since the back is sticky, you can't push the paper up or down after you apply it. If you aren't straight or if there are wrinkles, you need to peel it off and try again. So in that sense, removable is not as forgiving.
Durability
There is one criticism of removable wallpaper that is worth considering. It isn't nearly as durable as traditional wallpaper. The peel & stick paper can peel, seemingly on its own and you will have to stick it back on the wall. The adhesion is not quite as strong as paste, but that should be expected considering its purpose, which is easy removal. It is more susceptible to heat, cold and humidity, which makes it not ideal for humid bathrooms or hot laundry rooms. It may be a common issue that you'll walk into a room and find the corner of your removable wallpaper hanging down, but it's a cinch to fix by smoothing the paper back in its proper position. If you're that annoyed at having to fix hanging wallpaper, perhaps the paste-the-wall wallpaper is the better choice. For more on Removable Wallpaper, check our blog all about it.
There is no right or wrong answer when it comes to deciding which wallpaper is the best when discussing traditional wallpaper vs removable wallpaper. It really comes down to which choice has the aspects and qualities that you are looking for. If you have temporary tastes or a temporary living situation, removable maybe the way to go. However, if you're going to be staying put for a few years, or the temperatures in the room are more extreme from hot to cold, the more durable traditional wallpaper might be better suited for your situation. If you have any questions, please let us know. And if you've had any recent experiences with non-woven or peel and stick wallpaper, we would love to hear about it in the comments.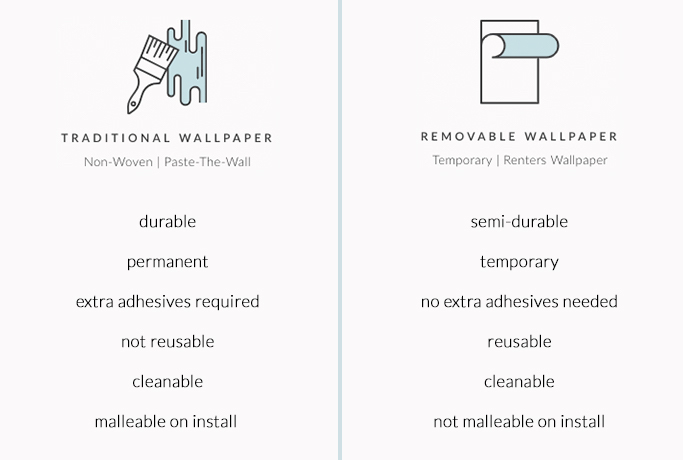 ---