New Whimsical Wallpapers by Fleur Harris
Imaginative…Whimsical…Fantastical. These are words you will likely hear when it comes to our brand new collection of wallpapers by Fleur Harris. She has a unique way of capturing the innocent wonder of childlike perspectives. She brings to life the the world around us, both real and dreamed. Fleur takes us to magical places filled with creatures of fiction; even common animals are illustrated with fanciful novelty. We take a closer look at these nine new gorgeous designs and unravel some of the mystery of the mind from which they were created.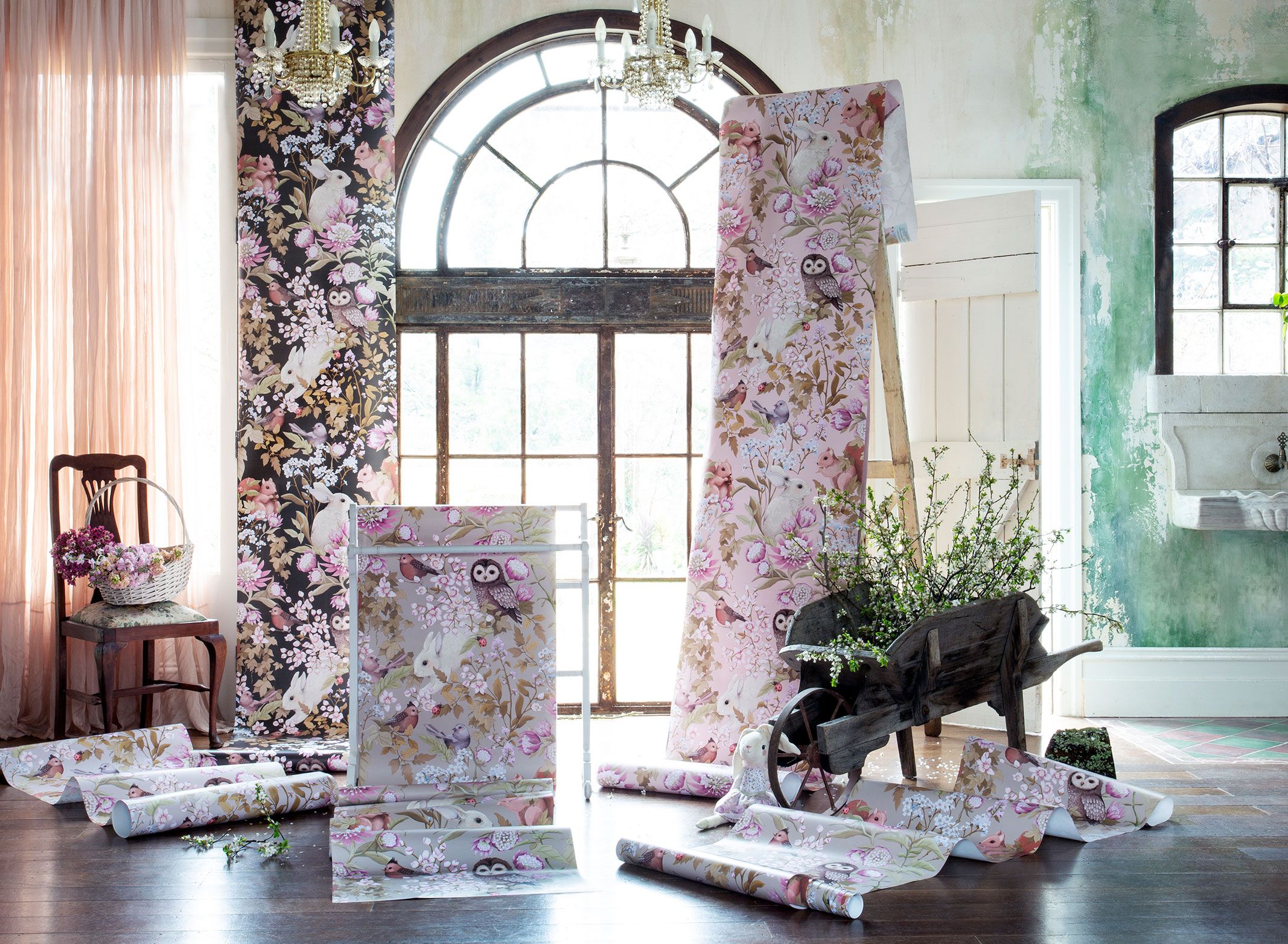 Fleur Harris is an Australian artist from Melbourne, Victoria. When she was just 7 years old, she moved from Sydney to Mornington Peninsula in Victoria where her family started a vineyard. She recalls, "It was a very peaceful, beautiful place to grow up. Growing up on the vineyard, we spent a lot of time outside playing make believe games, and this inspired a lot of creative and fantastical thinking that I still cary with me."
She continues, "Our vineyard was surrounded by pine forests and bushlands, so we'd not only play amongst the vines but we would also squeeze through the boundary fence and head into the forests, it was like stepping into a new world, the floor a soft bed of pine needles and it was dark and cool amongst the trees. Our adventures were always laced with discovery and excitement amongst nature, and that most certainly inspires my work today."
Let's have a look at some of the designs that grew out of this inspirational time.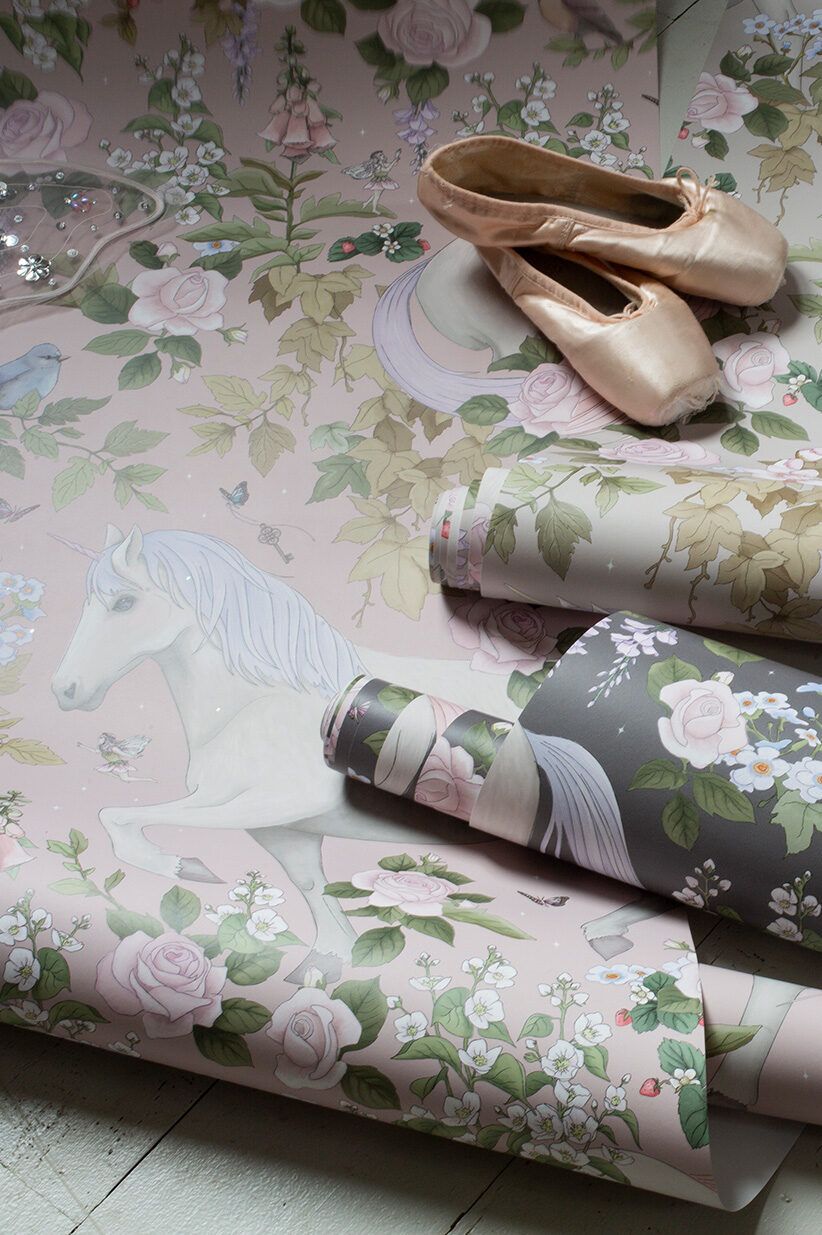 Field Of Dreams
Come away to a magical land where gentle unicorns live amongst a dreamy garden setting, filled with butterflies, fairies, climbing roses, wisteria, playful forget-me-nots, gorgeous little strawberry plants, foxgloves, and blossoms from the beautiful mock orange tree. Woven into the Field of Dreams artwork are precious details to be discovered, including tiny garden fairies and a delicate butterfly carrying away a magical key. With whispering pinks, gentle dusty greens and delicate cornflower blues twirling around the soft neutral tones of the peaceful unicorns, Field of Dreams creates a calm and comforting atmosphere.
Adventureland
Hitch a ride in a hot air balloon through space and wave to a flying pirate ship as you follow a treasure map into Adventureland. Inspired by childhood games of adventurous make-believe and the way children delight in learning about the wonders of the world, the collection is bursting with themes that children of all ages find exciting and fascinating. Rusty reds, dusty olive tones, steely blues, forest greens and warm neutrals come together to create an inspiring feast for the eye that is both sophisticated and fun.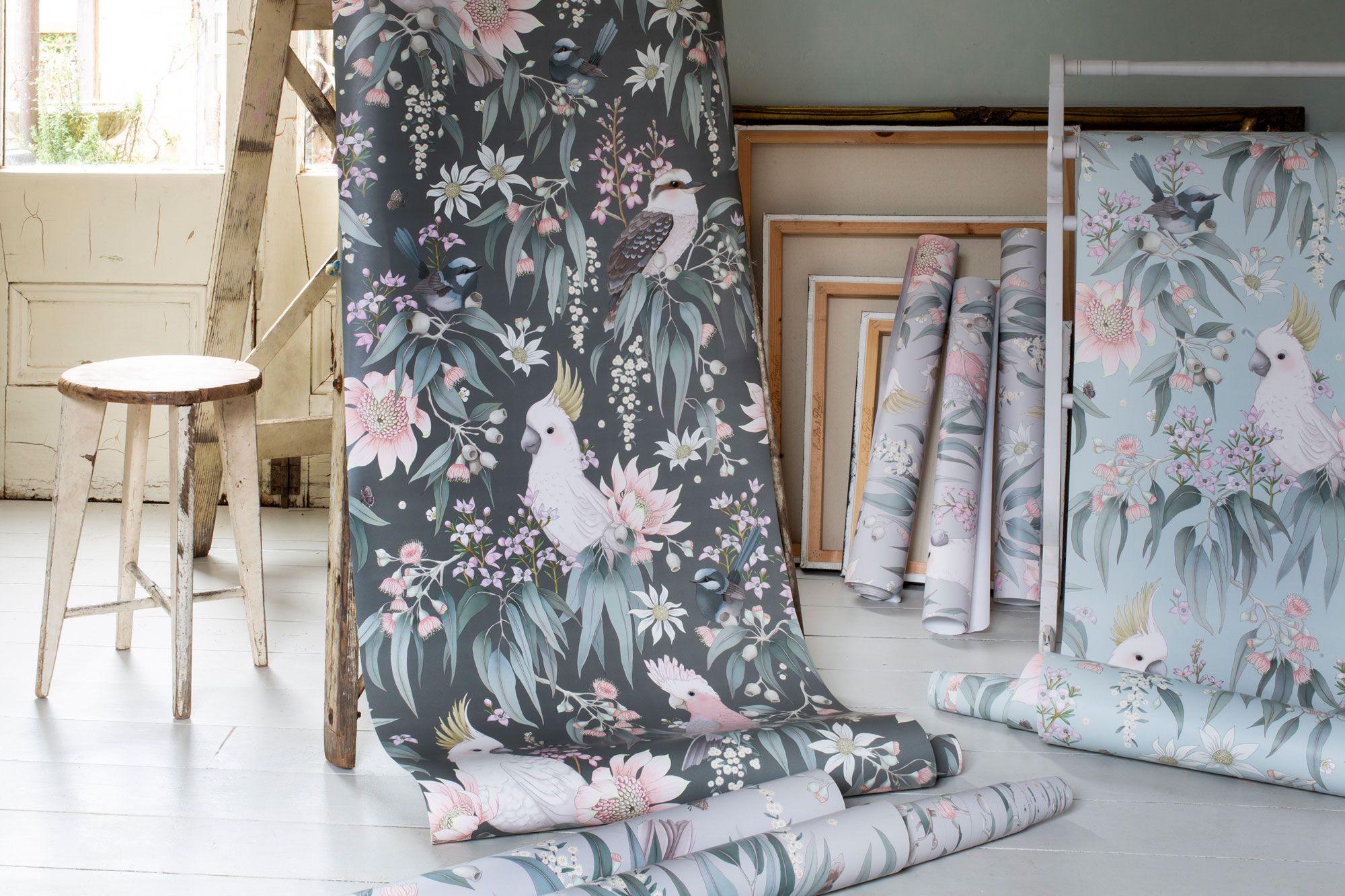 Fleur studied Fine Arts at Monash University in Melbourne and Italy in the early 2000's. She then went on to study Interior Design at RMIT and Illustration at Chisholm. But her artistic roots are even deeper. "My family are creative people, but in different ways to me. We do have a famous Australian portrait painter in our family, Paul Fitzgerald, who painted many prominent people's official portraits, including the Queen, the Pope and even Vivian Leigh."
In high school, Fleur's love of art blossomed further with influences from Brett Whiteley and Picasso. Today, she more admires artists for their work ethic. "I know what a long road it is to forge a creative career, so when I see other artists achieving success I am inspired by that – I know they've worked hard and followed their heart and that is very inspiring."
Today, her she finds inspiration all around her. "I always have a sketchbook on hand which I use for concept development. I have a garden outside my studio which I spend a lot of time working in, and I photograph things in it daily for reference, or cut or press the flowers to bring into my studio to have as inspiration."
Let's see if we can find where her inspiration comes through in these new woodland wallpapers.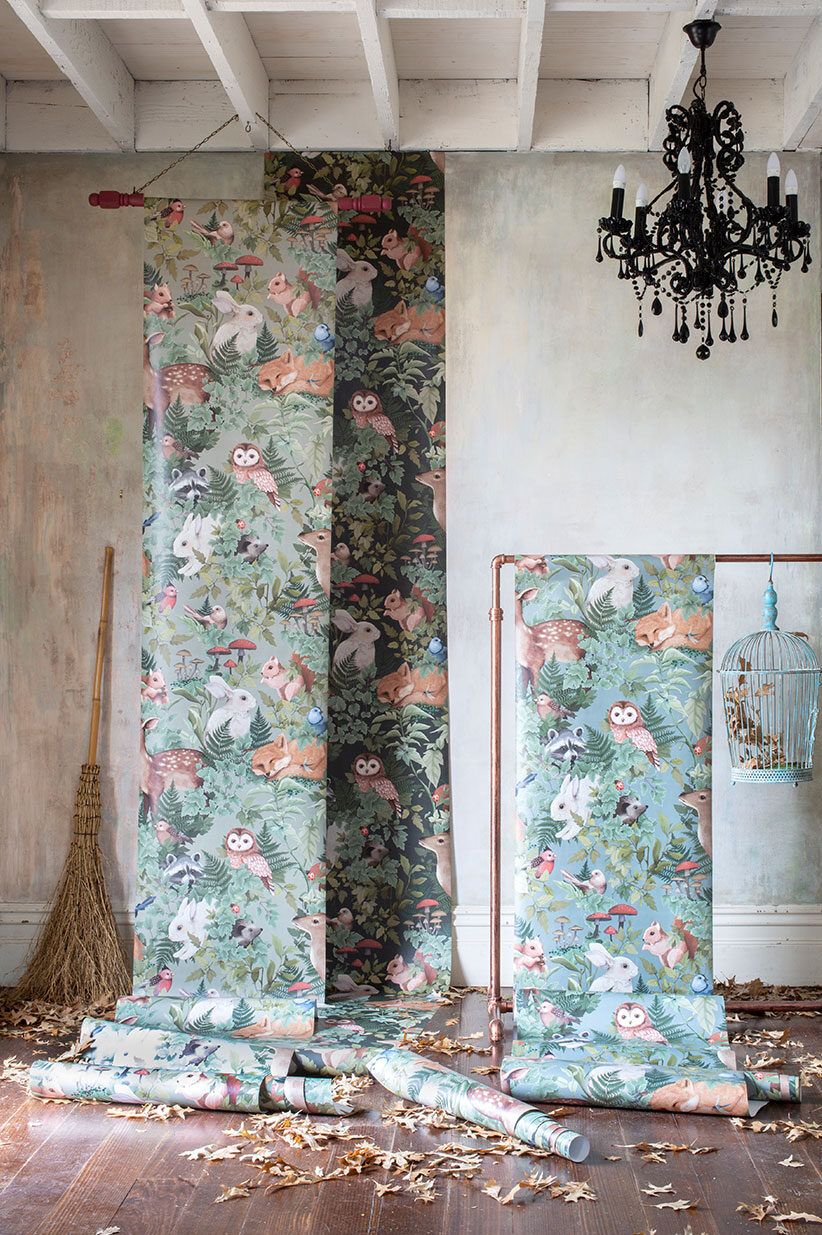 In The Woods
Venture down the secret path and step into a whimsical adventure with the iconic In the Woods Wallpaper. Loved around the world for its lush and sophisticated illustrations – In the Woods is timeless, transcending trends and appealing to all age groups. Whether creating an inspiring wonderland for a toddler's room or a sumptuous and magical walk-in robe, this whimsical wallpaper is a coveted classic that will be admired through the generations.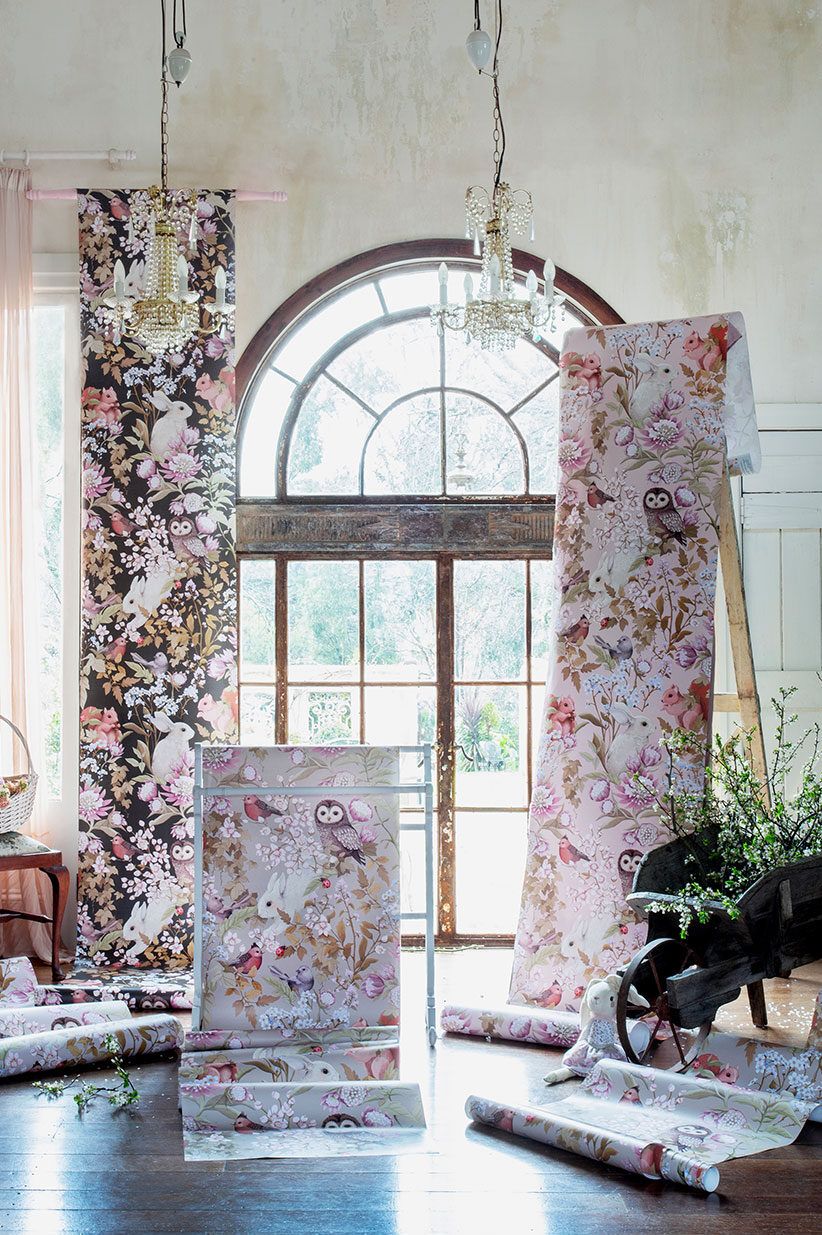 Woodlands
Tumble down the rabbit hole and into Fleur Harris's iconic Woodlands design. Adored for its whimsical and sophisticated illustrations – the Woodlands Wallpaper aesthetic is timeless, transcending trends and appealing to all age groups. Whether decorating a special nursery for a much-anticipated arrival or turning a home office into an inspiring wonderland, this wallpaper featuring bunny rabbits, owls and birds frolicking among Autumn leaves is a classic choice that will be admired for many years to come.
"Imagining fantastical things was always my favourite thing to do as a child and drawing allowed me to bring them to life. That all-consuming, sparkles-all-through-you feeling you get when an idea comes to you and it grows until you just have to bring it life."
---
Colour is very integral these magical wallpaper designs by Fleur Harris. While some palettes feel natural others feel more fantastical. She explains, "Colour is one of my favourite elements to work with. It can completely change the atmosphere, and I'm mindful of this when creating artworks for interiors. I use colour palletes that are broad so that they will be able to blend into any interior, but I use softer hues so they're not overwhelming, and I choose colours that are calm and serene, while also being interesting and engaging. It's a delicate balance, and it's one of my favourite aspects of my work."
Let's admire some more of Fleur's designs and the delicate colour balance to which she refers.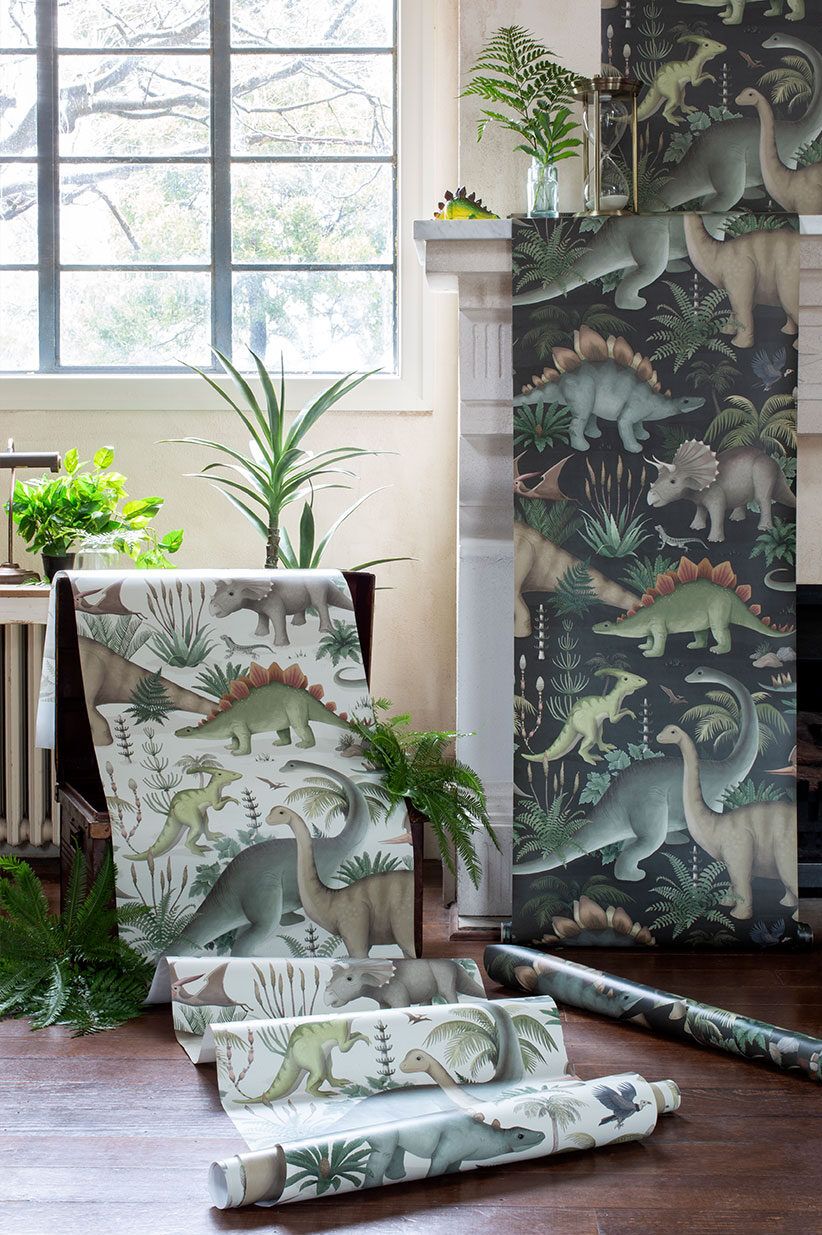 Prehistorica
Slide down the tail of a Brachiosaurus and into the world of Prehistorica, a captivating land created by Fleur Harris that celebrates the wonder of the natural world, where friendly dinosaurs roam peacefully amongst a beautifully detailed landscape. Smile at a Stegosaurus as Pterodactyl's soar overhead. Wave to a cheeky little lizard as he scurries through a marvelous landscape of Prehistoric plants! The color palette Harris has curated for the Prehistorica Wallpaper design is abundant with calming hues inspired by prehistoric landscapes with a spectrum of lush greens, earthy neutrals and gentle blues, softened with vintage overtones.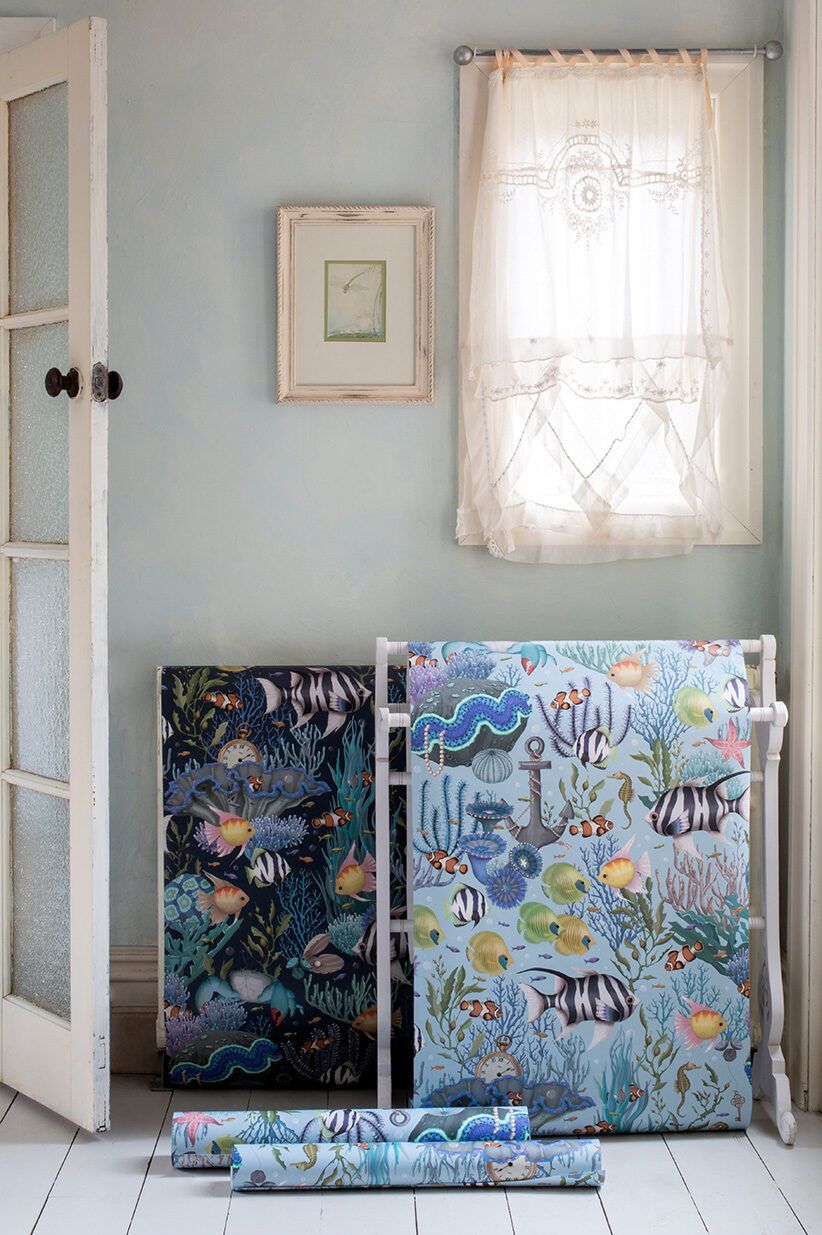 Treasure Reef
The story of a wondrous ocean world comes alive in Fleur Harris's Treasure Reef. Bursting with magnificent colors and whimsical details, it is a delight to behold. Can you spot the string of pearls in the giant clam? What about the two little fish having a friendly chat? Can you find a magic key? A curious crab? Or a pair of gentle seahorses? A spectrum of ocean-inspired blues and greens come together with pops of sunny yellow, warm oranges and crisp whites to create the collection's lively and bright color palette. The Treasure Reef Wallpaper is a visual feast for the eye and an inspiration for the imagination, the perfect way to liven up your special space.
We asked Fleur, that of all the wallpaper designs, "is there one you're most excited about at the moment? She answered, "I'm especially excited to be releasing the 'Garden Party' collection as wallpaper, there are so many whimsical details woven into that artwork – it lends itself wonderfully to walls. I am also excited so be releasing some brand new artworks 'Bush Melody' and 'Bush Babies' which celebrate Australia's magnificent flora and fauna in a way that is perfect for interiors."
So let's see what has her so excited…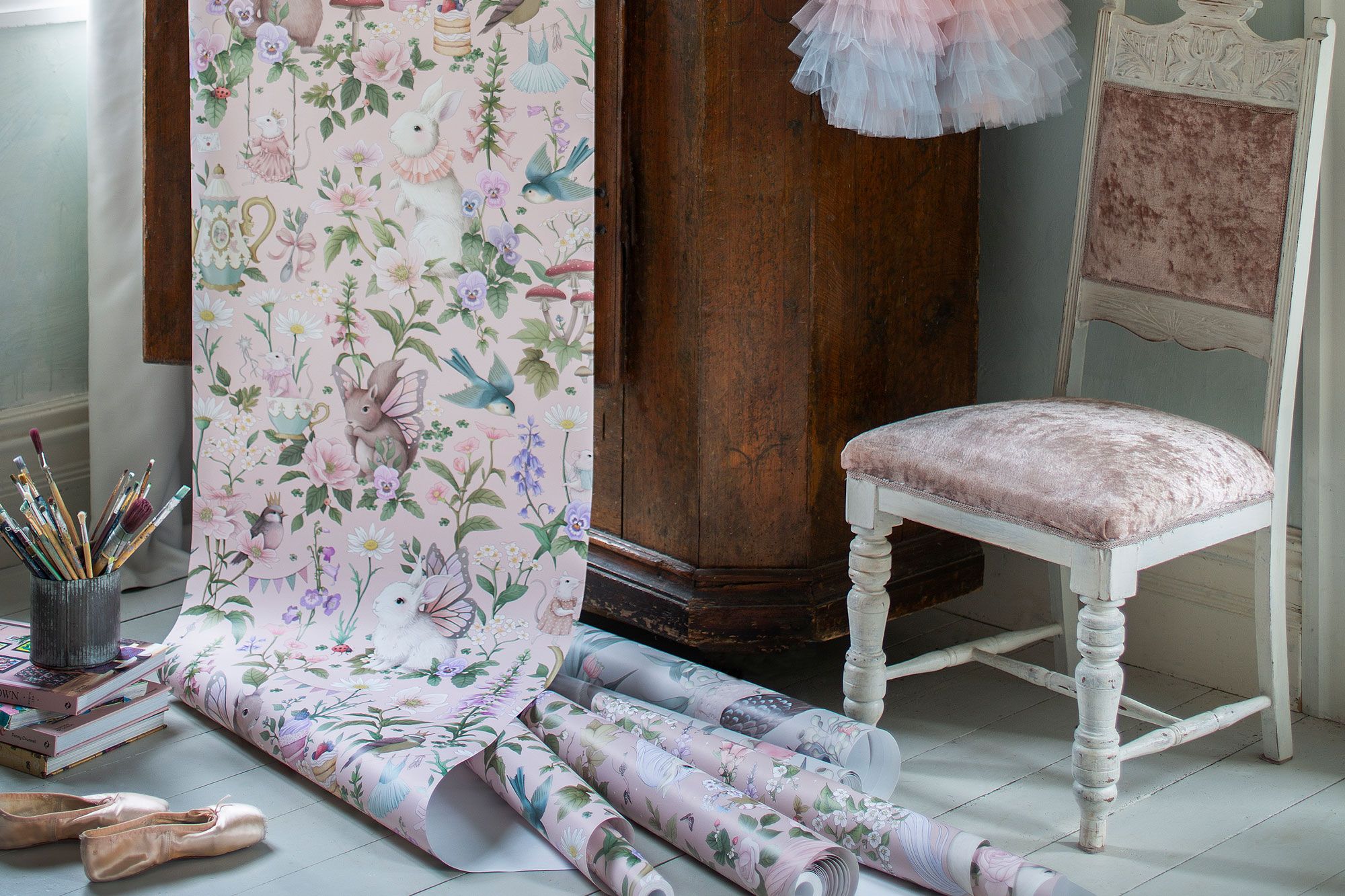 Garden Party
Welcome to Fleur Harris's Garden Party, where imagination soars, kindness reigns and hearts big and small delight in wonder. Set in the shelter of a woodland garden, the Garden Party Wallpaper features magical creatures preparing for a tea party to celebrate the wonders of nature, life, love and friendship. Inspired by the magic of imagination, this enchanting collection is abundant in delightful details. The beautifully curated color palette fuses soft pastels with lush greens and neutrals while the vast range of hues in the artwork give it broad appeal and make it effortless to style.
---
From finding inspiration as a child to seeing through the eyes of her own child, she reflects on how becoming a mother made her reflect on her formative years. "Becoming a mother gave me pause to reflect more deeply on my own childhood, and what sort of childhood I wanted to be able to provide for my child. I wanted to be able to fill his world, and everyone's world, with magic and wonder, and that desire is at the heart of my art practice."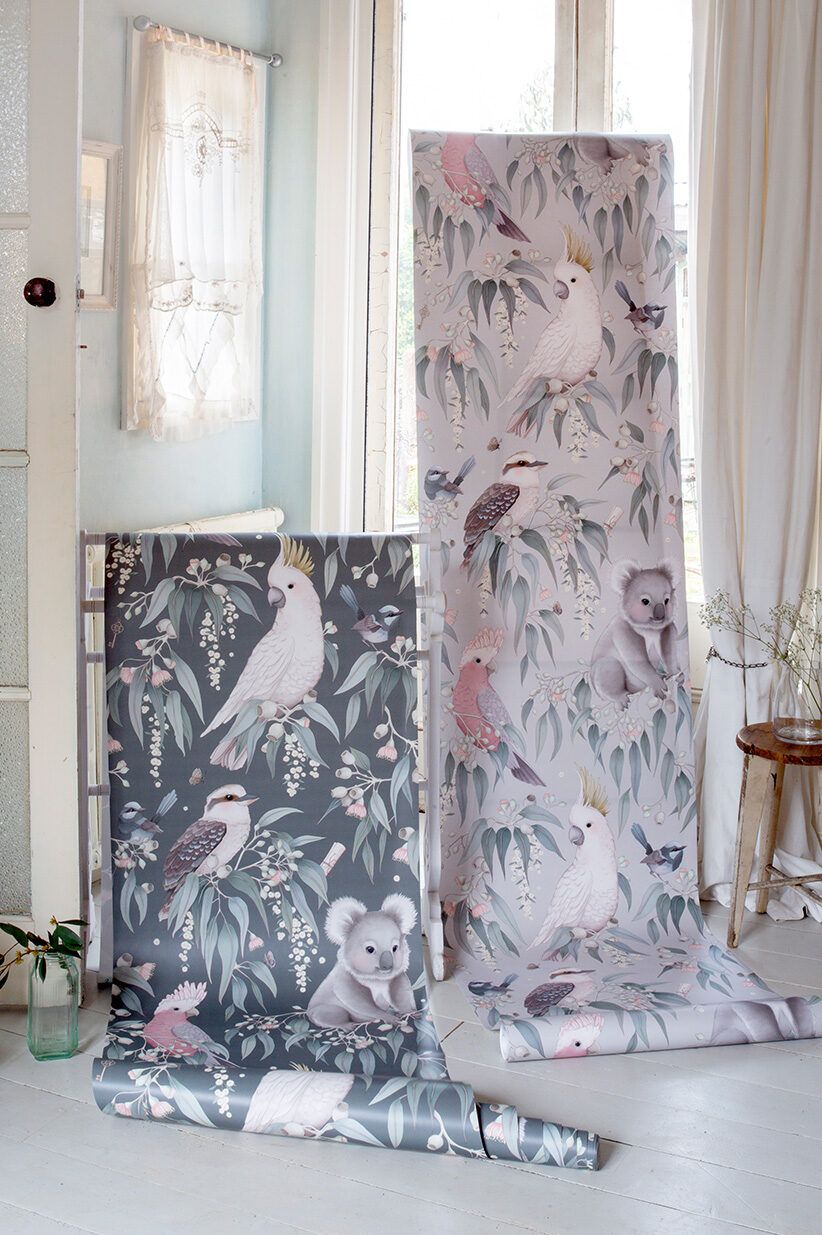 Bush Babies
Meander through the gum trees and into the Bush Babies Wallpaper. Abundant with magnificent foliage and blossoms, this gentle bush scene is home to an array of adorable wildlife like koalas, cockatoos and galahs, ready to welcome you into their world. Whimsical details are woven throughout, while a gentle color palette grounded in smokey greens and neutrals offers broad appeal. Destined to be treasured for years to come, Bush Babies is perfect for creating magical spaces such as a delightful nursery or rumpus room wonderland.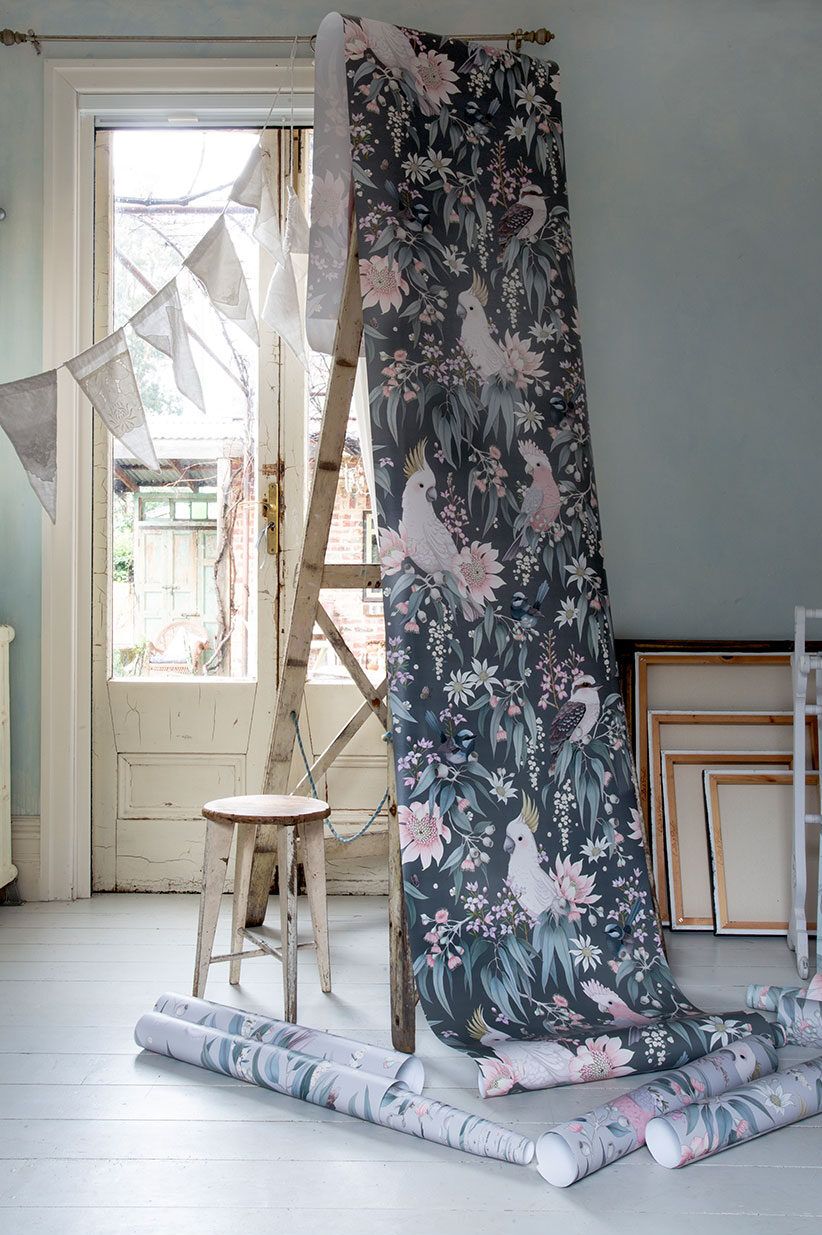 Bush Melody
In her much-loved whimsical and detailed style, Fleur Harris has interpreted the beauty of Australia's Flora and Fauna for her magnificent Bush Melody Wallpaper. Eucalyptus leaves rest on a gentle breeze that winds through waratahs and wattle, while cheeky cockatoos chatter with their fairy wren friends. Bush Melody is a visual cacophony, abundant with enchanting foliage and native flowers – all illustrated in a beautiful, calming color palette. This delightful collection lends itself as perfectly to a nursery or child's room as it does to a grown up's bedroom or retail space.
So what's next for Fleur Harris, she reveals, "I am always creating something, or thinking of what I might create next. In parallel with working on Fleur Harris collection for Milton & King, I have also been bringing my apparel collection to life – soon to launch into David Jones and The Iconic, it is full of magical, beautiful pieces for babies and young children up to 8 years old. It's a very exciting time!"
Wallpapers by Fleur Harris
Shop the entire collection
---