New Brook Gossen Wallpapers – Fun, Colourful, Feel-Good Designs
Spring is fast approaching in the Northern Hemisphere, and with it comes the promise of warmer weather, new growth, and a myriad of bright colors in everything from fashion to flowers. The season of new beginnings, nature, and prosperity, Spring is the perfect time for Milton & King to announce their latest collaboration, an exciting range of all new wallpapers with Australian artist Brook Gossen.

Brook's inaugural collection features 18 vivid and playful designs in her unique style, which perfectly capture the cheerful essence of our most abundant season. From soft pastels to bold and vivid hues, these designs are sure to help you create a space that feels light, airy and full of life all year round. Keep reading to see the entire collection and learn more about the artist behind the designs!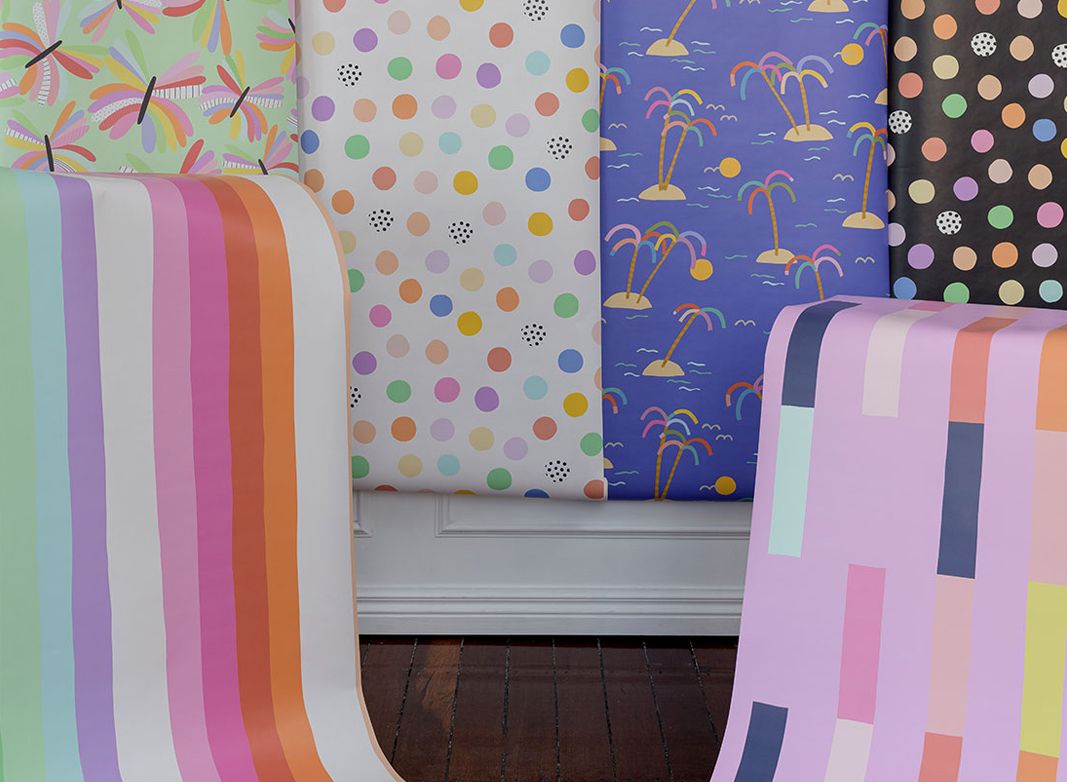 Milton & King: Tell us a bit about you and where you grew up. Have you always lived in Brisbane?
Brook Gossen: I was born in Perth but moved to Brisbane when I was in grade 1, and in my 20's I lived in the Philippines for a couple of years, followed by Austin, Texas then Vancouver until settling back here to get married and start a family. Phew!
I met my Canadian husband in Manila and our kids have caught our wanderlust and will no doubt travel the world when they're older!
---
MK: Your artwork captures a childlike wonder and presents the world in bursts of colour – is this how you've always seen the world, or has your art style changed as your career has developed?
BG: My art has always had that sense of naivety, and during art school it was to my detriment. One of my lecturers told me my work was too 2 dimensional and I needed to let it go. His comments had had a big effect on me at the time, but I will always see the world with wonder and continue to express myself by drawing on that…sorry Mr University Lecturer! My style still evolves over time though as I get better at my craft, explore more mediums and may quench my desire to express my thoughts and feelings in new ways.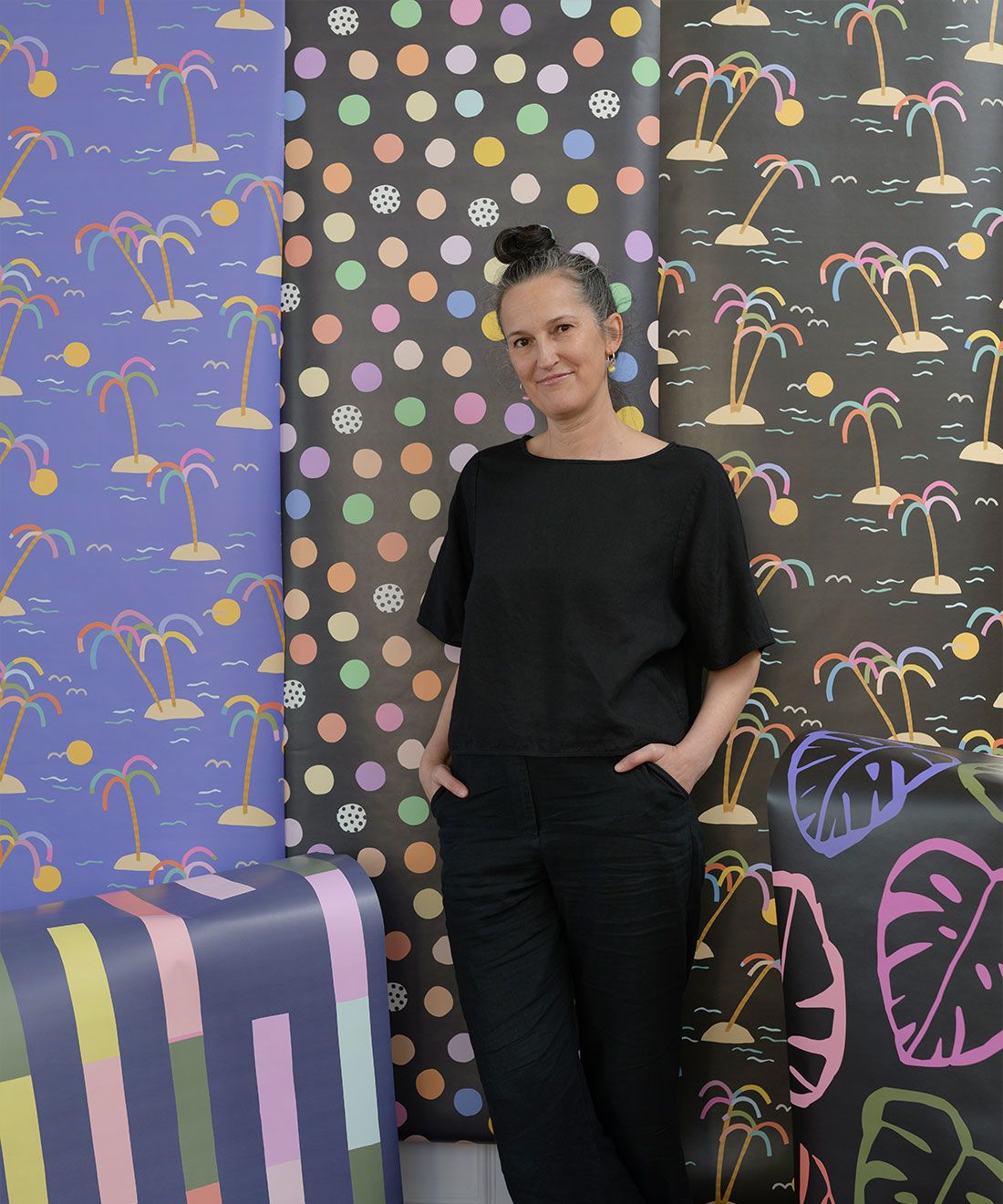 MK: Have you always been an artist? How did you discover your flair for creativity?
BG: I haven't always considered myself an artist, yet I always considered myself creative. Giving myself permission to call myself an artist came long after I was one in retrospect. I left art behind after leaving university, while living and working overseas and starting a family. The need to create is such a strong part of who I am, and I found that I felt I was missing an essential part of myself when I wasn't, so got back into it with a vengeance once my kids started primary school.
---
MK: Where do you find the inspiration for such bright and playful designs? Are there any azparticular artists, past or present, that you look to as inspiration?
"I find inspiration in the little things in life. I try to take the time to stop and smell the roses, so to speak. Notice the clouds in the sky and the flowers that bloom while I go for a walk. I can be inspired by little moments of gratitude and emotions that I wish to express."
There are just so many artists that I love, Matisse for his use of shapes and colour and I adore Amber Vittoria and her colourful, playful artworks that are often accompanied by poetry.
MK: What's your preferred medium for art? Is there something you always default to when in a creative mood, or does it depend on the artwork you have in mind?
BG: My preferred medium is collage; I always tend to gravitate towards it when I want to play. A lot of my artworks start from collages and are then created digitally. I also spend a LOT of time on my iPad and create artworks directly on that too, using a variety of apps and brushes that can make a piece look like it was created with pencils and paint.
MK: We've seen your designs on everything from kids clothing, bags, cards, all the way to magazine covers, puzzles and chocolate wrappers! How does it feel to have your designs as wallpaper? Is a project of this scale something you've been working towards, or is the collaboration with Milton and King more of a spontaneous choice?
BG: Working with Milton & King is a dream come true! I was hoping to see my art on wallpaper, so when I was asked to collaborate, I couldn't say yes quickly enough! To see bold, graphic, colourful, and fun prints at a large scale in people's homes or perhaps even places of business is just so exciting. I can't wait to bring out more ranges with you in the future.
MK: Were all of the designs from your collection created for other projects, or are there any specifically made for the collaboration?
BG: Everything in the collection was created for fun and to express myself, just for me. Most of my works are created that way, coming from my heart and soul, rather than with a particular project or application in mind.
---
MK: Do you have a favourite design from this collection? Which design are you most excited to see styled in our customers' homes and businesses?
BG: My favourite designs are Maze Time because, although I love colour, I also love the simpler my vibe when it's reduced to 3 colours, and the design is then so much more versatile. I'd love to see my Sweet Rainbow Stripe wallpaper in both homes and businesses too. It's a stripe with lovely colours that will really bring a space to life. Oh, and to see Stronger Together in a beauty or hair salon would be so cool!
MK: Fun, colourful and feel-good are words you've used to describe your artwork. What sort of spaces do you envisage your designs in as wallpaper?
BG: Lots of kid's rooms! But in all honestly, I can totally see many of them in café spaces and the living rooms or bedrooms of those that express themselves with colour and fun and in their homes. There are so many creative homes that we see on Tiktok or Instagram and to see one of my designs in those homes would be awesome!
MK: Do you have any big projects coming up soon? What's next for you as an artist?
BG: I have a few collabs that are coming around soon…only I could tell you, but I'd have to kill you, haha! Often these things are secret until the last minute! I can say that I have a couple of designs with a Brisbane clothing label coming up and I always have fabric on its way. This year I plan on taking some time away from freelance and client work though, so that I can reset, play, explore and see where my art takes me!
Shop the entire collection
---