Erstwhile Wallpapers: A Menagerie of Vintage Flora, Fauna & Culture
Erstwhile is a vintage wallpaper collection from the studio of Milton & King. In terms of interior theme and range of applications, Erstwhile is a genuinely versatile collection. You have wallpaper patterns such as Halcyon, Aux Fleurs and Chevallier, which are splendidly homely and can suit an array of décor styles. Erstwhile consists of 13 wallpapers and 18 wall murals that celebrate an era of prestige and glamour.

Erstwhile is a vintage and rediscovered wallpaper collection made in collaboration with London's Mary Evans Picture Library. The designs range from soothing floral wallpaper to nostalgic murals.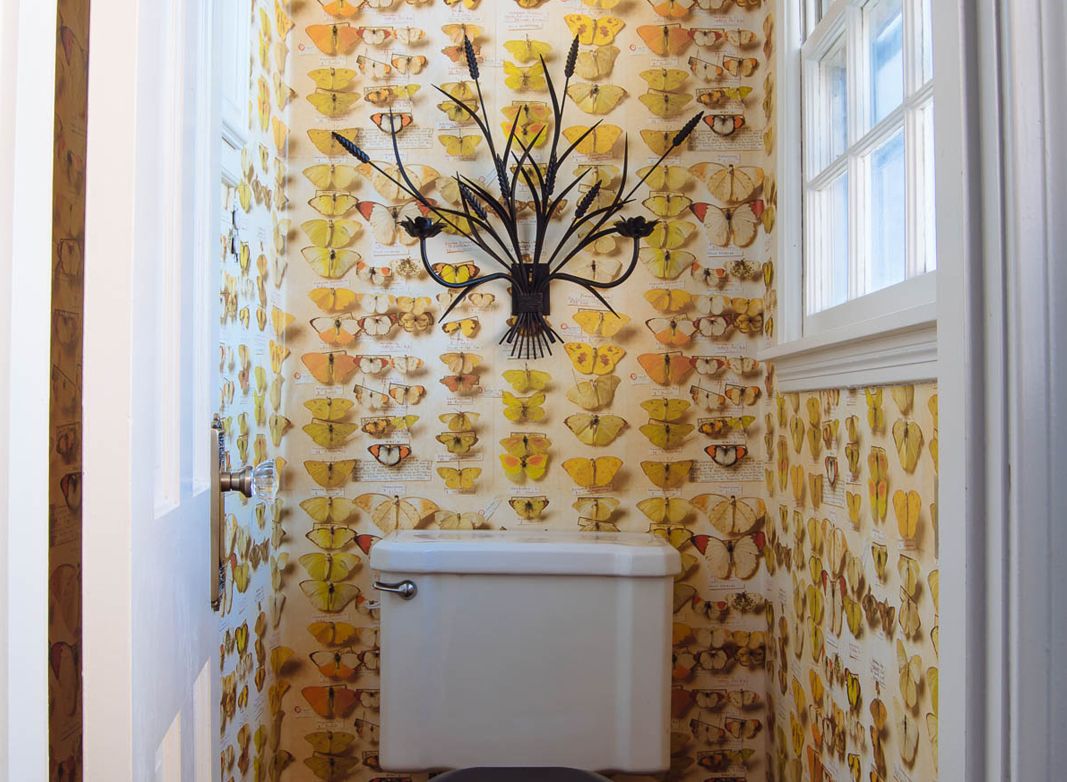 ---
VINTAGE FLORAL WALLPAPER PATTERNS
Vintage floral wallpaper patterns come in various sizes and can help create different moods for your design. These vintage wallpapers can bring a natural and delicate ambiance to any space.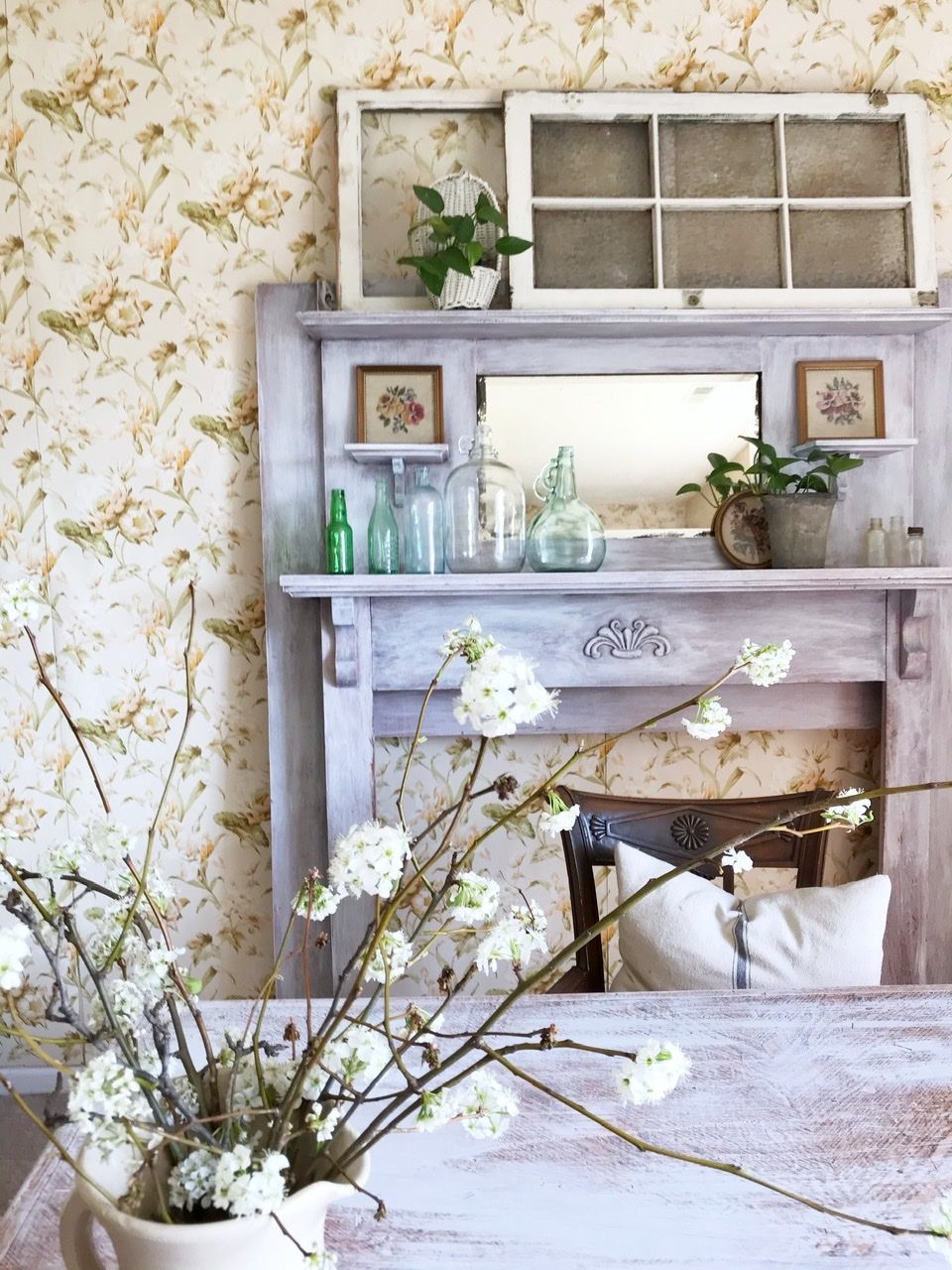 Aux Fleurs by Erstwhile courtesy of @homechronicles
Aux fleurs is a beautiful and neutral example of how to casually incorporate a floral pattern that ties a room together without demanding too much attention. The warm colors of Aux Fleurs offers a springtime positivity the whole year round.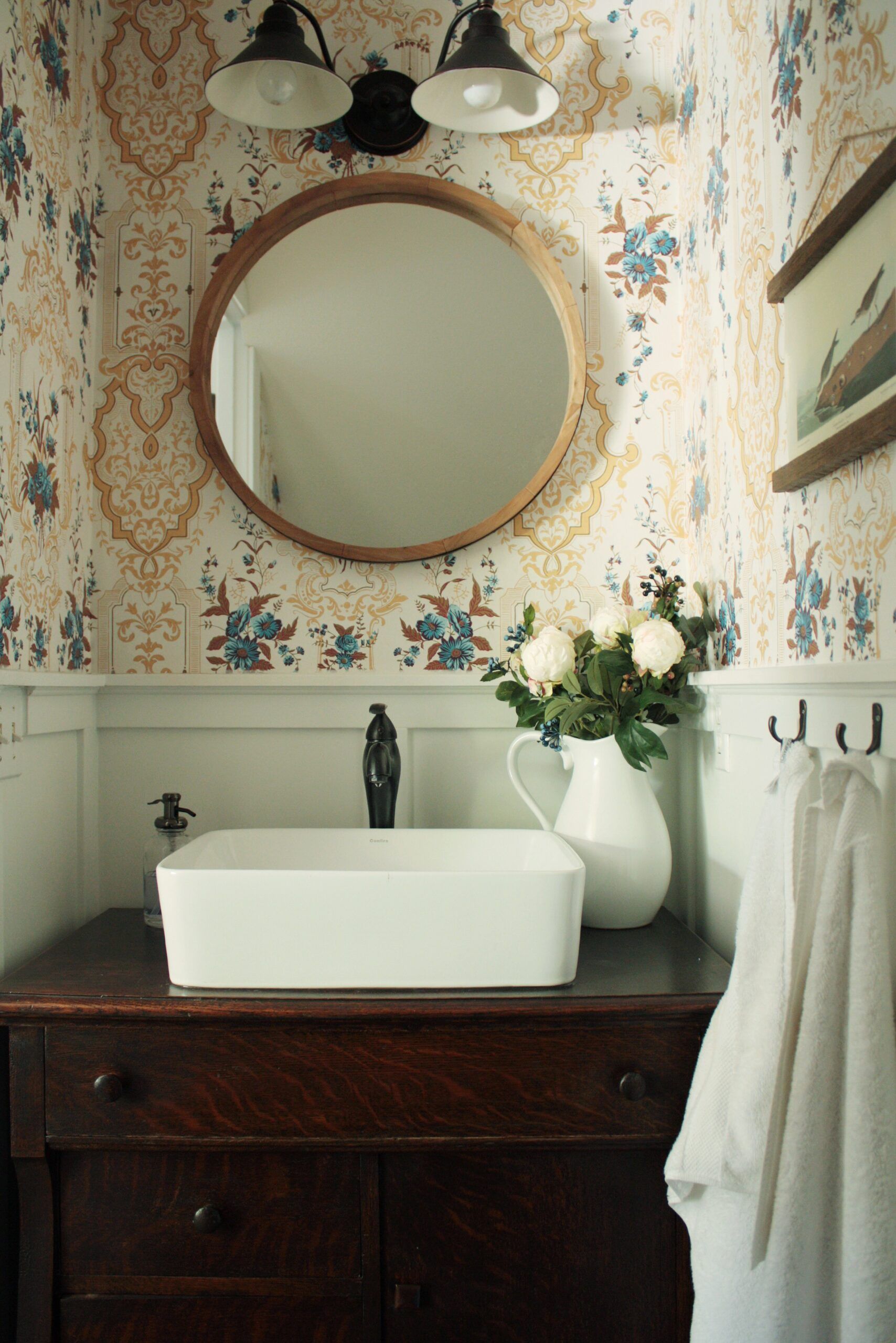 Photo by @brightyellowdoor using Chevallier
This stunning powder room is another example of how warm florals can help bring a room together with its elegant gold tones. This Chevallier wallpaper paper with its blue blooms and intricate scrollwork pairs well with gold and brassy tones and dark browns.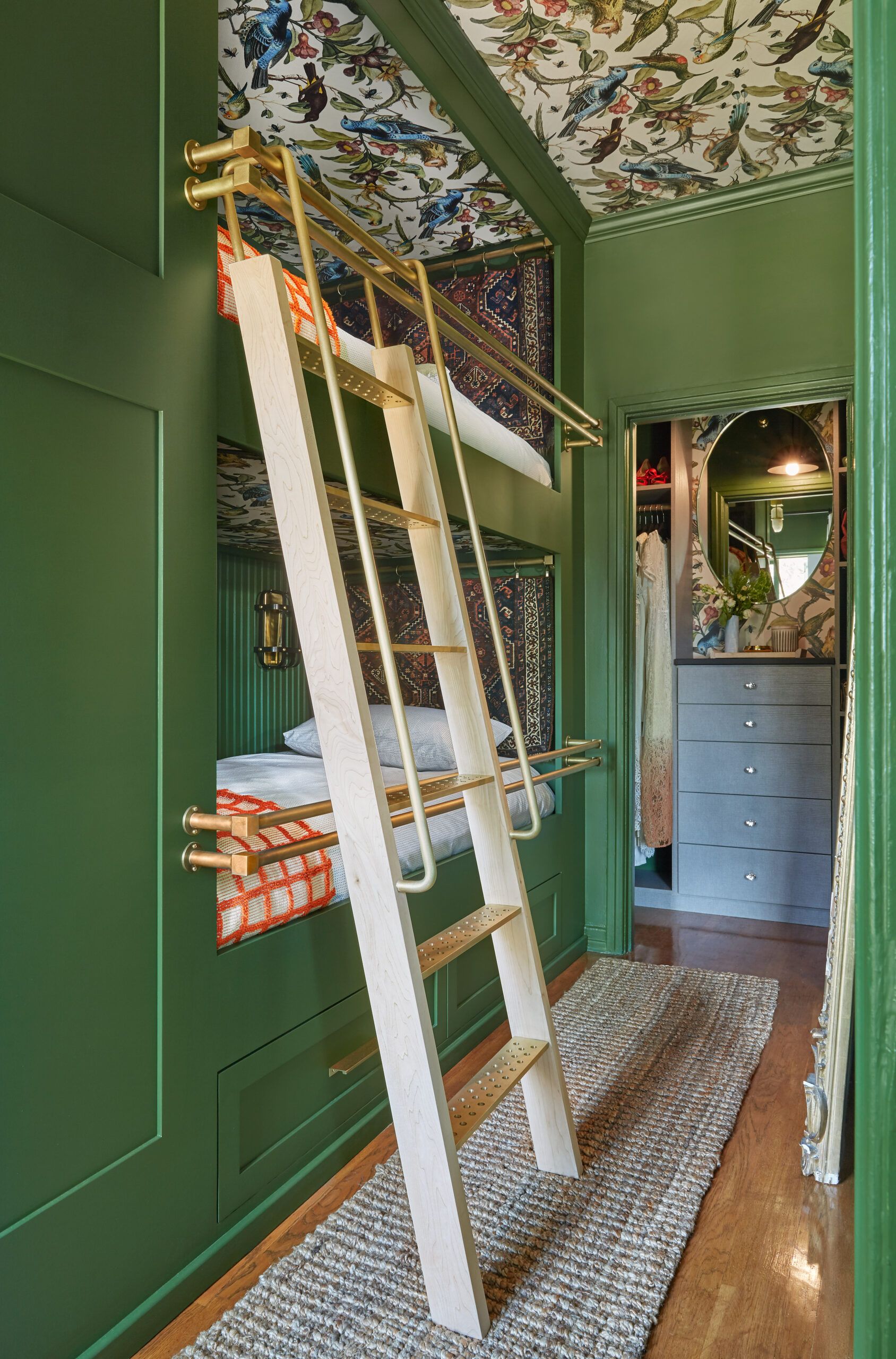 Ornithology by Erstwhile courtesy of @Murphydeesign
Pairing accents of a colorful design with bold walls is a common approach to achieve a dramatic look. Ornithology is a wallpaper with an array of intricately illustrated birds installed on the ceiling to bring drama to this moody green bedroom.
---
MURALS
Vintage Wallpaper and Murals can help add culture and versatility to any room. They're an easy way to subtly create visual texture and incorporate color without overpowering every wall in the space. Create an enticing focal point by adding an accent wall.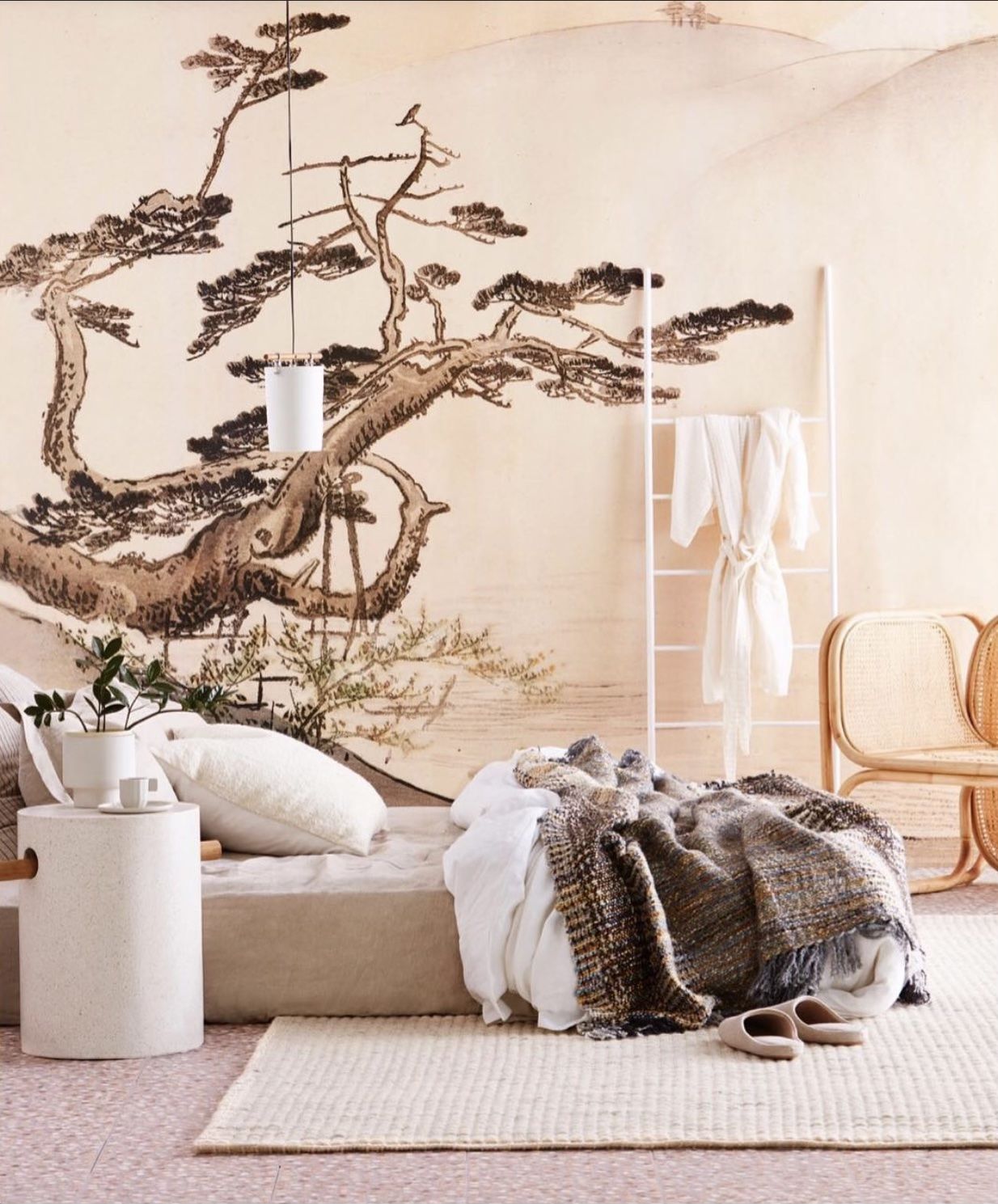 Photo by @corina_koch_stylist using Japanese Hillside Mural 
This lovely bedroom does a great job at displaying this oriental-style wallpaper design featuring the Japanese Hillside Mural. This mural adds consistency to the style of the room while introducing a unique art piece.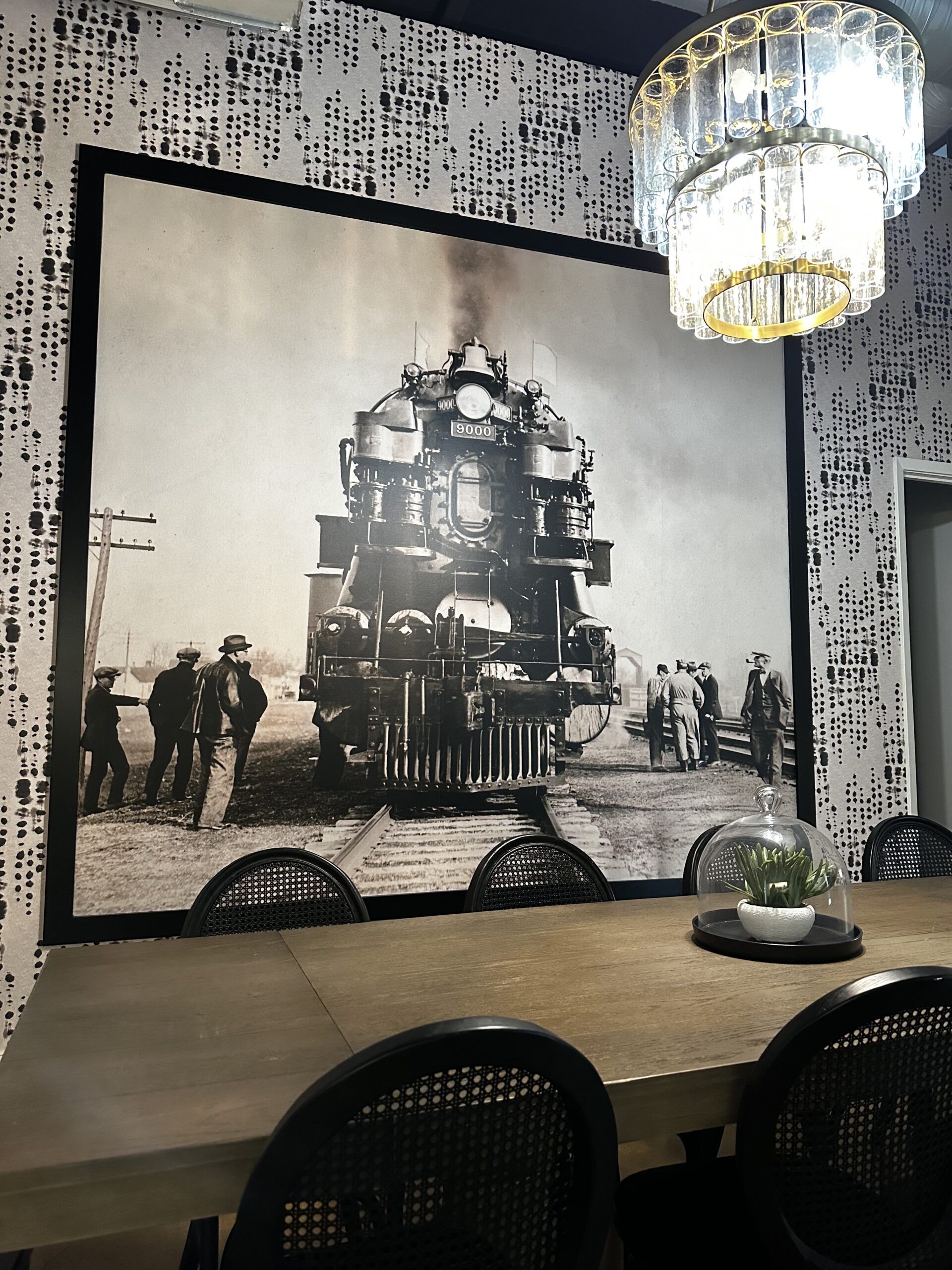 Rock Island Line Mural by Erstwhile 
This black & white locomotive wallpaper mural adds the perfect amount of design and culture to this kitchen. With Love Note on the walls and the train wallpaper mural on top, there is a sense of balance created by these two designs. 
From floral and nature patterns to vintage and artistic murals, Erstwhile offers both variety and nostalgia and can help add a splash of culture to your spaces while also creating a warm sense of home.
---