A short history of wallpaper
We wanted to hit rewind and take you back to where it all begun…for us anyway! We have a lot to thank for the roots of wallpaper, for they have given us the gift of ever growing art, design and creativity, all to be splashed on the walls that surround us. So, for those eager eyes wanting to get a little bit educated on how wallpaper was brought into our lives, keep on reading!
Wallpaper has been around for thousands of years, in all sorts of variations. There are many records of wall art or wall decorations being used as early as 13th Century England. Considering this, there isn't an accurate date as to when wallpaper or wall art actually came about. The Chinese have been hanging decorated rice paper with delicate designs dating back to thousands of years ago, however it wasn't until the Europeans adapted the wallpaper trend for it to be introduced to the western world, somewhere between early 15th and 16th Century England. At this time, wallpaper imitated fabric designs through block patterns and applying colour carefully by hand. A patient and time-consuming task, we can only imagine the magic they would have embodied with each brush stroke!
Upon its not-so-humble beginnings, wallpaper was exclusive for only the most affluent families, thanks to the high price mark.  Used to brighten up households with vibrant colour and design, it was evident once walking through the doors that the home meant serious business. By the mid 1600's, wallpaper started to trickle down the hierarchy and became popular and available to less affluent families.
An element of wallpaper that is often forgotten from its origins is that wallpaper was designed with usually floral or architectural borders around the edges, almost to frame a room or the intricate design that spread between. However, this was purely to hide the tacks that held the wallpaper up in the desired position.  A sneaky tool with grand effect, right?
England and France took on the lead role for manufacturing and producing wallpapers, which serviced all of Europe. In 1785, French and German entrepreneur Christophe-Philippe Oberkampf changed the game by introducing a revolutionary machine, which could print coloured tints on sheets of paper. Snowballing off this idea, a gentleman names Louis-Nicolas Roberts birthed a machine in 1799, which could produce continuous sheets of paper (this machine became the basis of the Fourdrinier Machine!). And just like that, the first wallpaper machines were manufactured, making continuous sheets of coloured patterns available. By the late 1700's and early 1800's, wallpaper had become an export to countries all around the world, such as North America and China.
Fast forward to late 20th century, wallpaper was considered a necessity in households, and often boasted retro colours with bold floral patterns and prints. Designers and artists such as Andy Warhol saw it as an opportunity to create unique prints with a luxury stamp for consumers to drape throughout their home. The 20th century prints were all about contrasts and textures, not for the faint of heart.
Today, wallpaper is used to shape the entire feel of your home. It can mimic a material or texture, and create an environment in your space that is from thousands of miles away.  We use it to spice up a feature wall, or interactive and playful for our children. Wallpaper is a technology that is ever-changing through trends and textures, and we can't wait to see what comes next!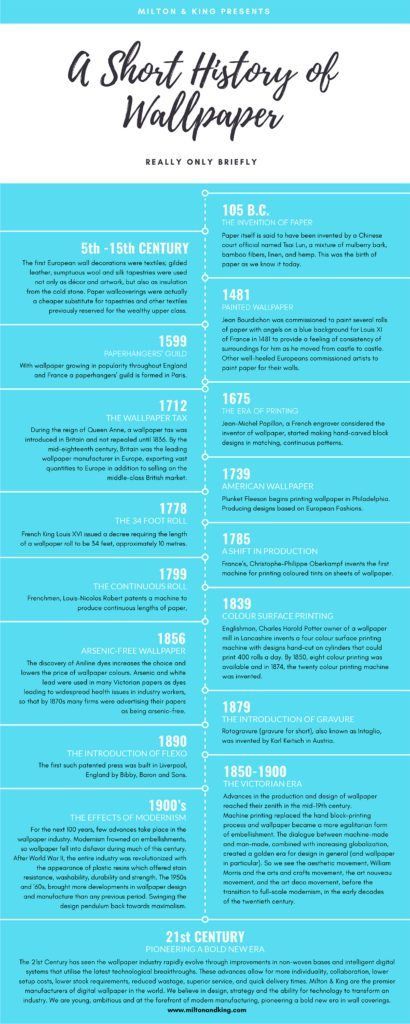 ---