Between the brunch fundraiser at her home and the Mamas for Mamas renovation, Jillian Harris has had an insane few weeks. This project was months in the making and involved endless amounts of work for Jillian's team, the Sticks and Stones team, and everyone else who helped pull all of this together in record-breaking time.
For those who are unfamiliar with Mamas For Mamas and why Jillian got involved, she tells this story:  "I originally heard about Mamas for Mamas when I was on the hunt for somewhere to take all of the gifts and things we either received or purchased for Leo that we no longer needed. I was SO fortunate that we were covered in ALL aspects of baby items …. heck I had two of everything so that I could outfit our homes in both Kelowna and Vancouver while we were filming Love It Or List It Vancouver. By the time Leo outgrew something, we had 2 sets of EVERYTHING to deal with and giveaway!!! When I was in Vancouver we were working with a similar charity called Baby Go Round (if you're in Vancouver, I recommend taking your items here!!!) and that's when the Mamas for Mamas team reached out to me and let me know that they were in Kelowna and that they were also looking for gently used baby items. It made it so much easier for me to take items there since Kelowna was soon to be my hometown base!!"
Jillian was moved by the Mamas For Mamas cause knowing how difficult it is to support your baby and your family. It can be so expensive! She first started going to Mamas for Mamas to bring her son's gently used items. She noticed how many families are in need in the community that didn't have the means she did. There are single moms who are trying to work but also have a newborn.  In addition, when she saw the amount of hard work and dedication the Mamas For Mamas team put into helping every family, from outfitting them, to making sure they have enough money to make rent, to finding a way to feed them, and all WITHOUT being paid, Jillian felt compelled to help.
Fast forwarding a few months, Jillian was back in Kelowna on hiatus from Love It Or List It Vancouver. The Mamas for Mamas team reached out to her and asked what her favourite paint colours were because they had moved into a new office space. Jillian then decided to swing in so that she could see the space and get a better sense of what they were looking for. That's when she realized that this place needed MORE than fresh paint. Without realizing what she was about to take on, she told the staff to "leave it with me." That's when she reached out to the team at Sticks + Stones to see if they would be willing to help on this project! They said YES … and that's where it all began.
The renovation was valued at over $200K with 85+ AMAZING donors and sponsors, PLUS  a donation of over $70K to Mamas for Mamas.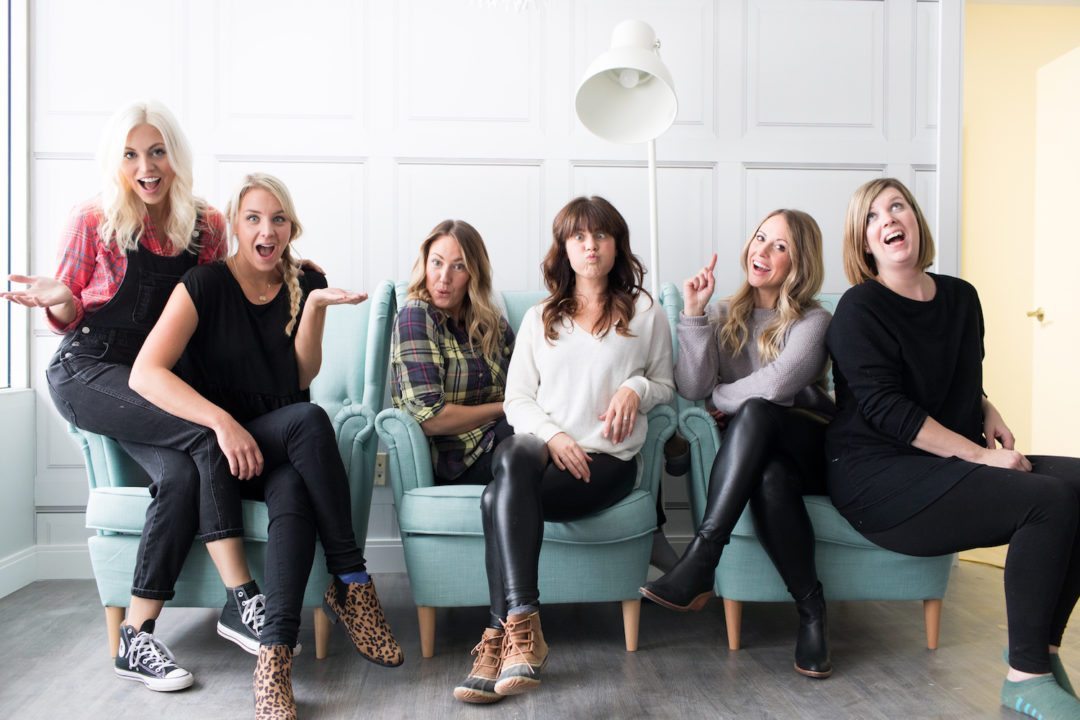 After meetings, phone calls, and floorplan adjustments, Jillian Harris' team knew that this was a WAY bigger project than they had anticipated. They would have to raise some serious money to help out and that's WHY they organized the Mamas for Mamas Fundraising Brunch (check out those details here!). There was an incredible outpouring of support from so many amazing people, brands, and companies. The response was so positive! So many people donated their services and products that they couldn't accept all of the offers
Before getting into more details, here is what the Mamas for Mamas space looked like BEFORE it was transformed.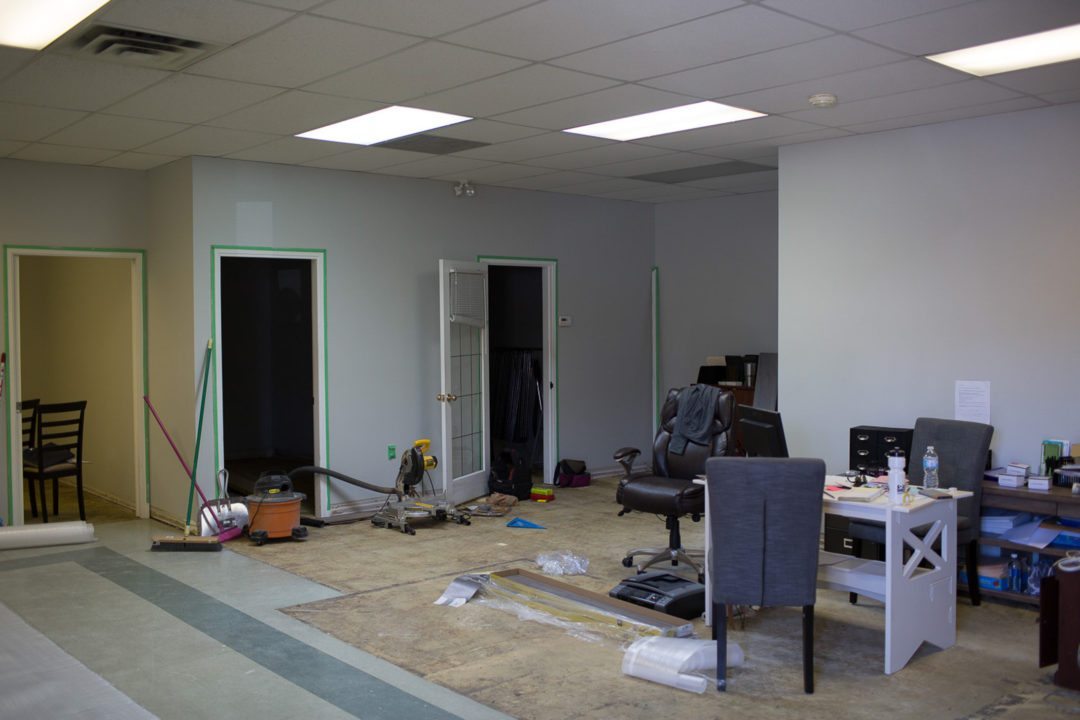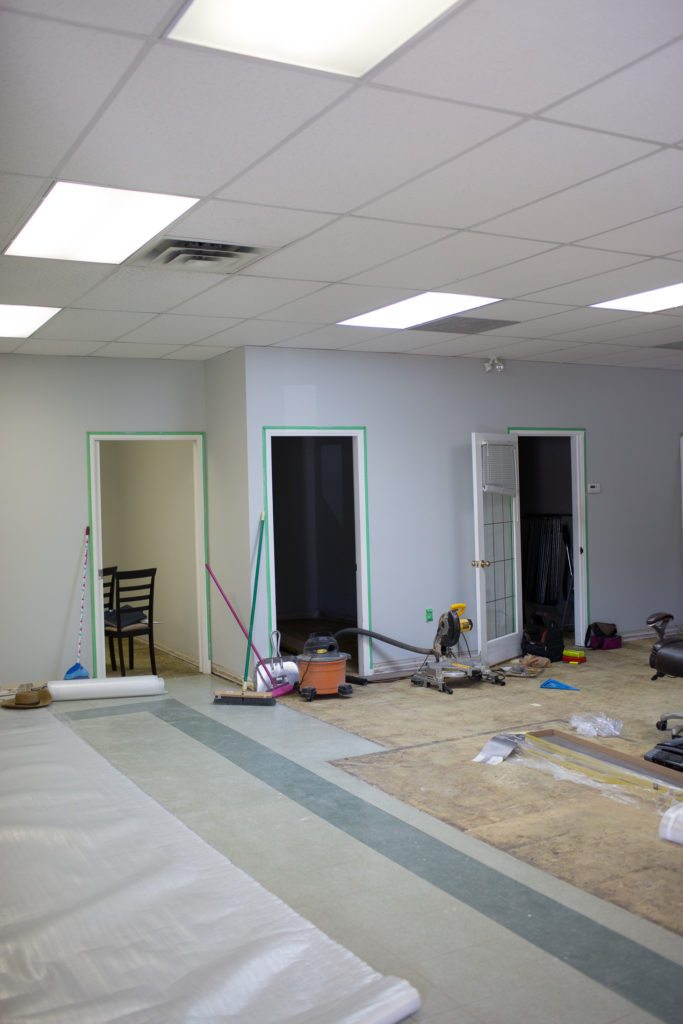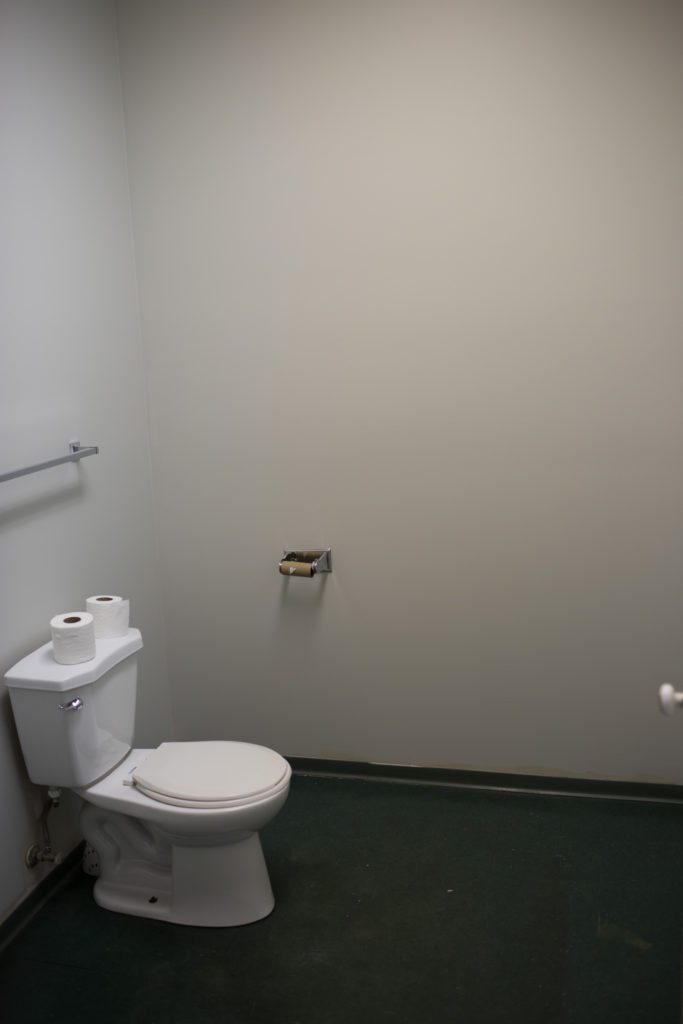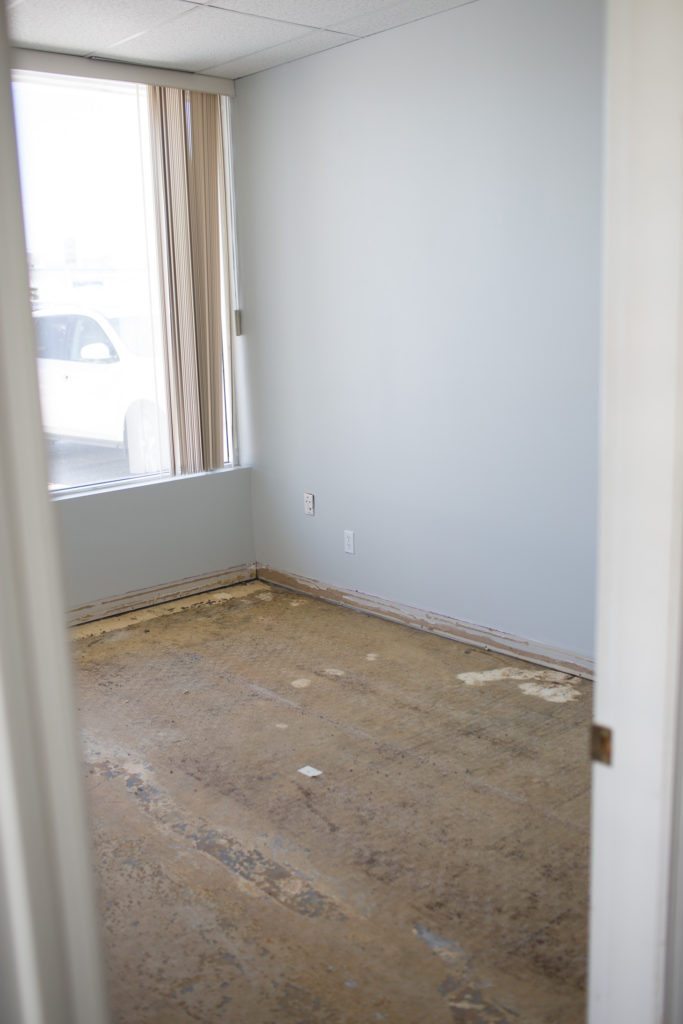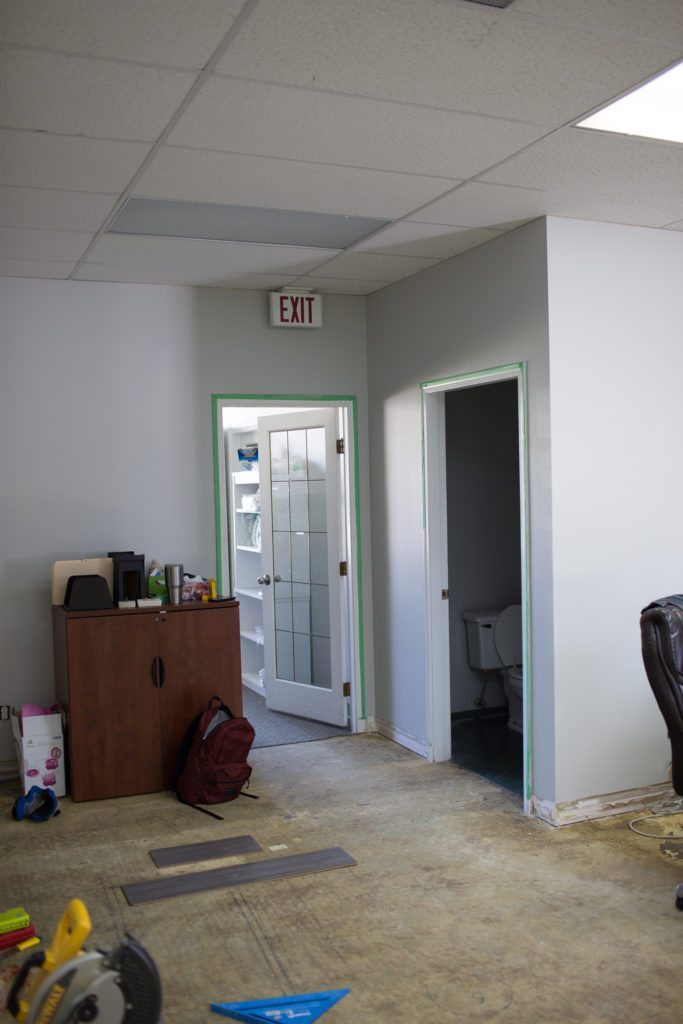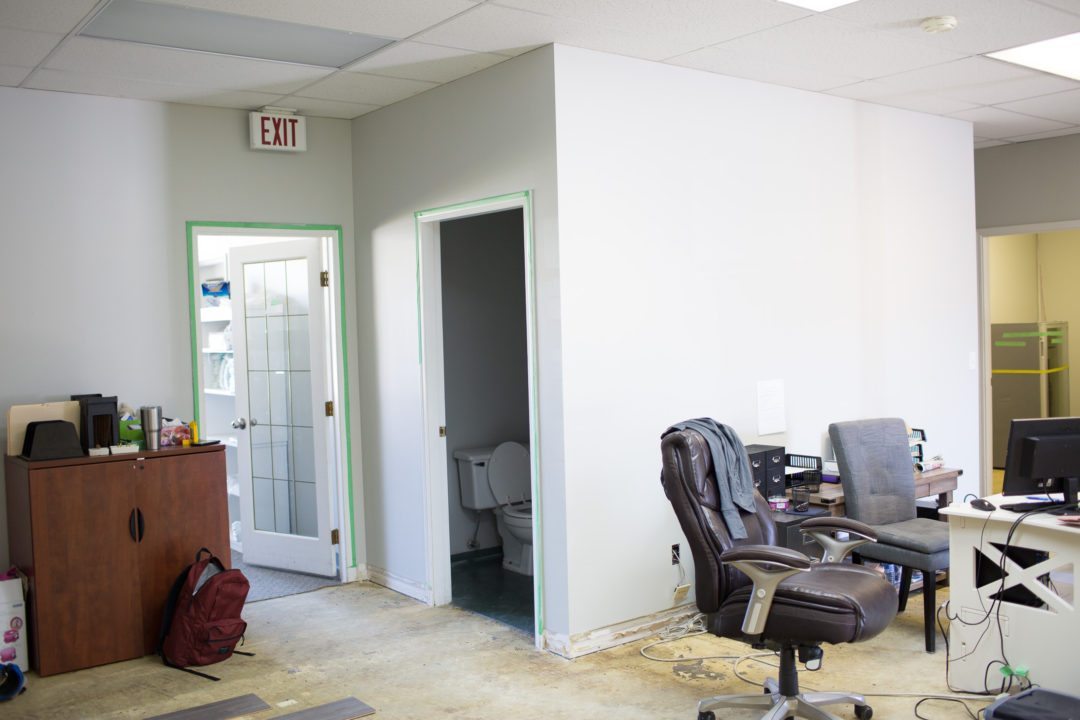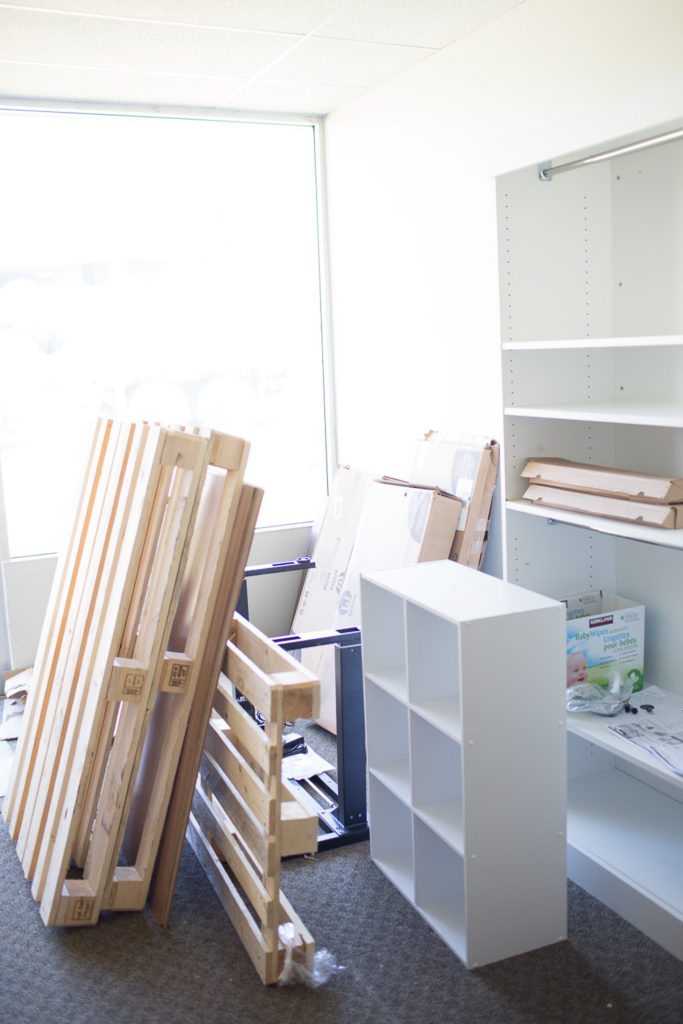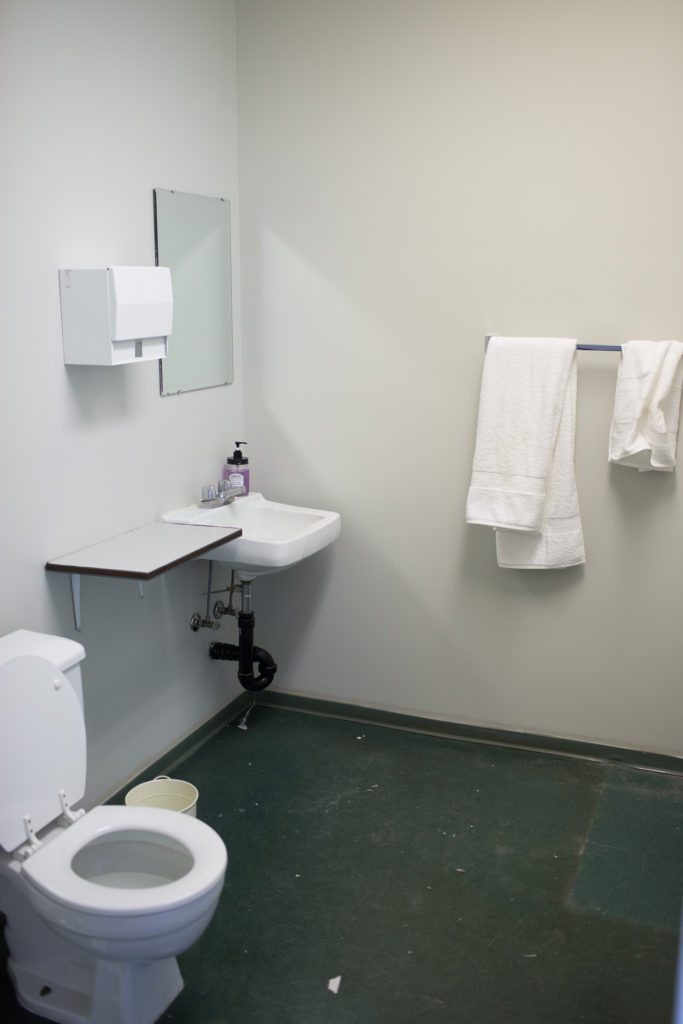 First, to some very notable mentions:
To the amazing (and extremely talented) group at Sticks + Stones: Katie, Kara, Carla and Carla's hard-working son, Daniel, who missed a half day off school as well as hockey practice to volunteer, to Ross, from Solaris Group, who kept everyone on track and helped manage and execute the renovation. This project could not have been pulled off without them.
To Okanagan Handywoman who worked so hard on this project, even carrying her little one around!! Jake and Scott from Bridge Energy for doing all of the electrical work around the space and looking great while doing it (LOL!!!) All of the plumbing was done by Aaron from GLE Plumbing & Heating.  Steve Noon installed ALL of the wallpaper, which was generously donated by Milton & King. Tropic Like It's Hot, Leo's Spots, The Parlour and Tropical Flamingos!! Jared and his son from The Eco Floor Store came all the way from Vancouver and installed the gorgeous white wash wood feature wall in the main entrance which compliments the stunning faux marble desk perfectly!
Merit Kitchens supplied the kitchen cabinetry and the front 'desk'. Steve Webb from Spectrum Cabinet Gallery constructed the wall for the front desk and installed it. Then they installed the laminate counter that was donated by FLOFORM (Brigitte Kotler). Amazing!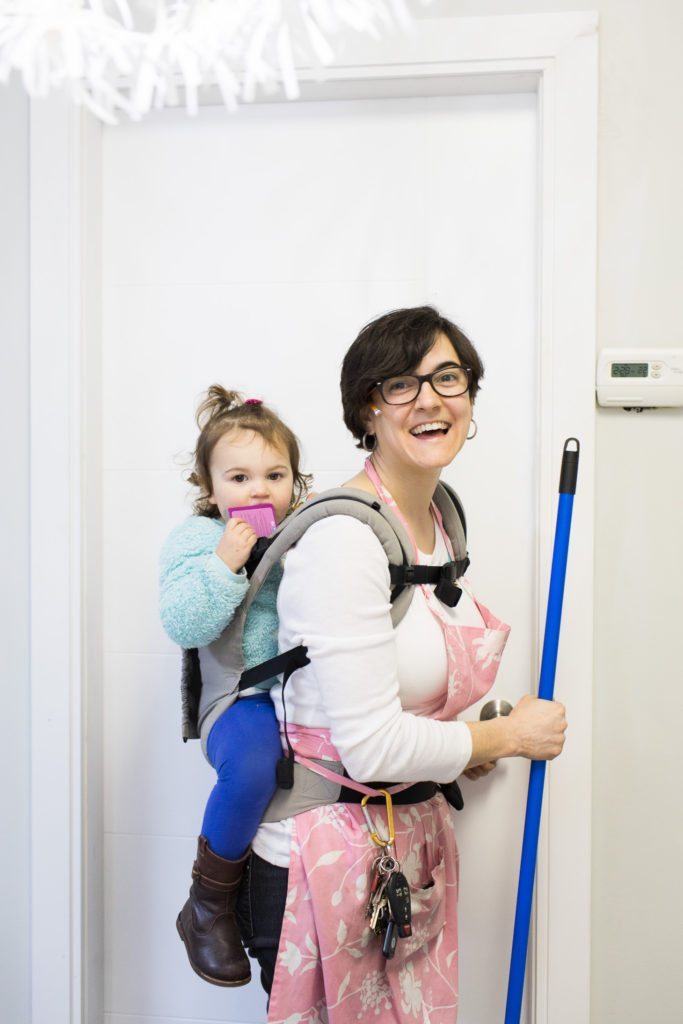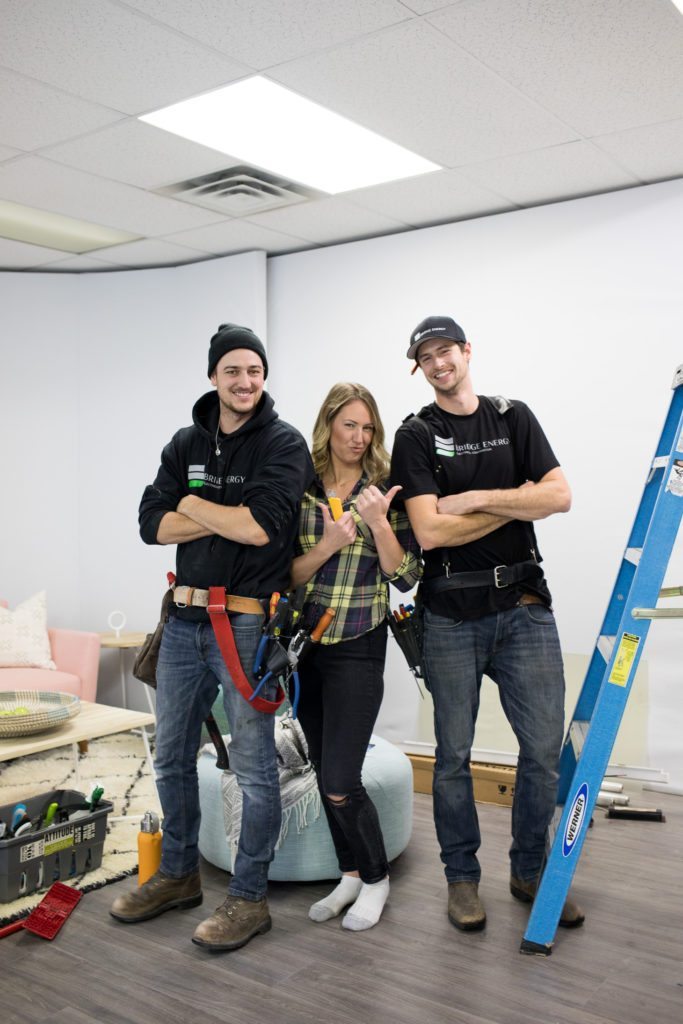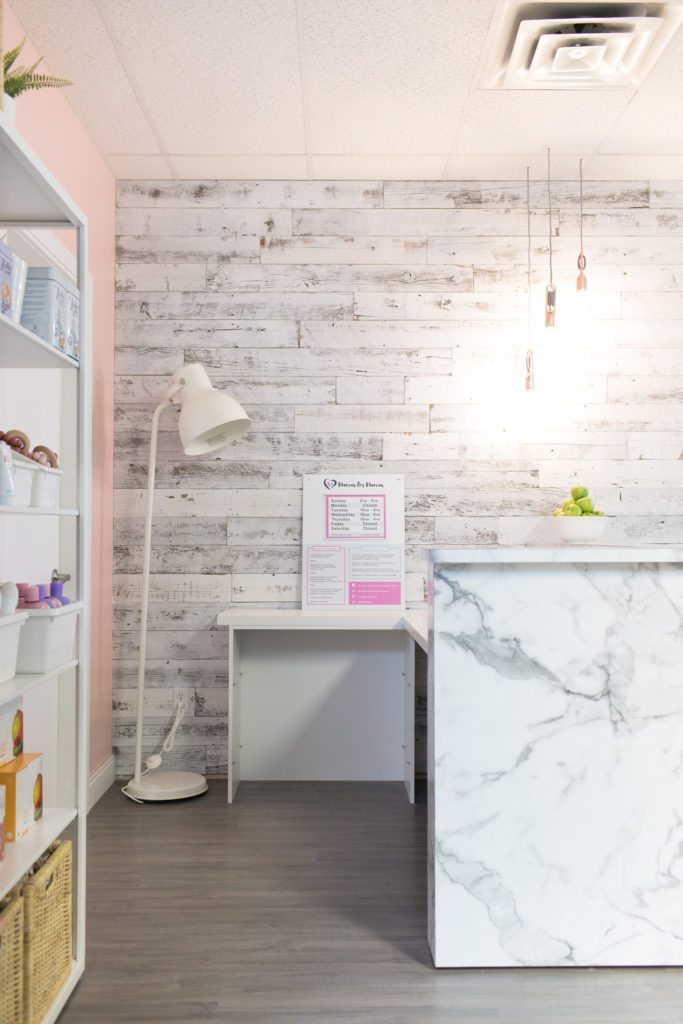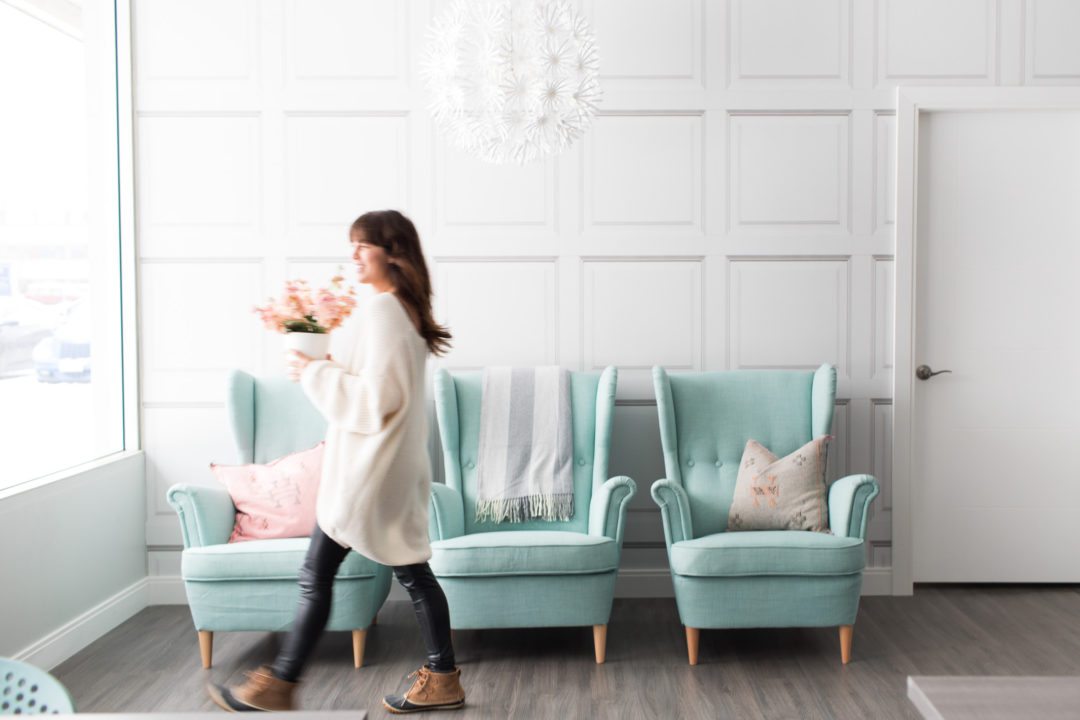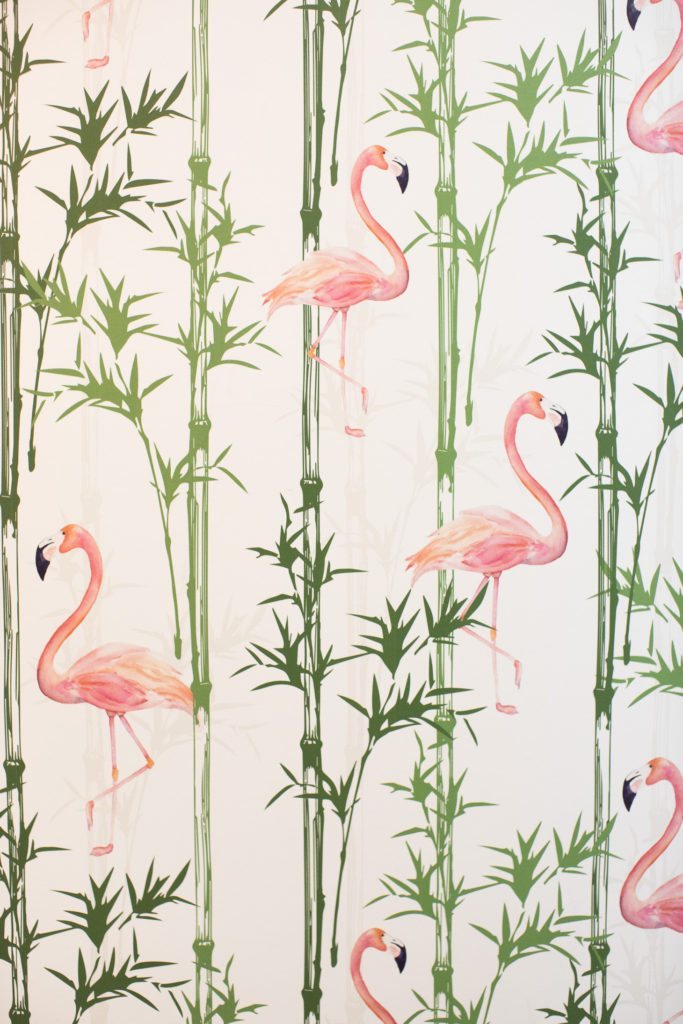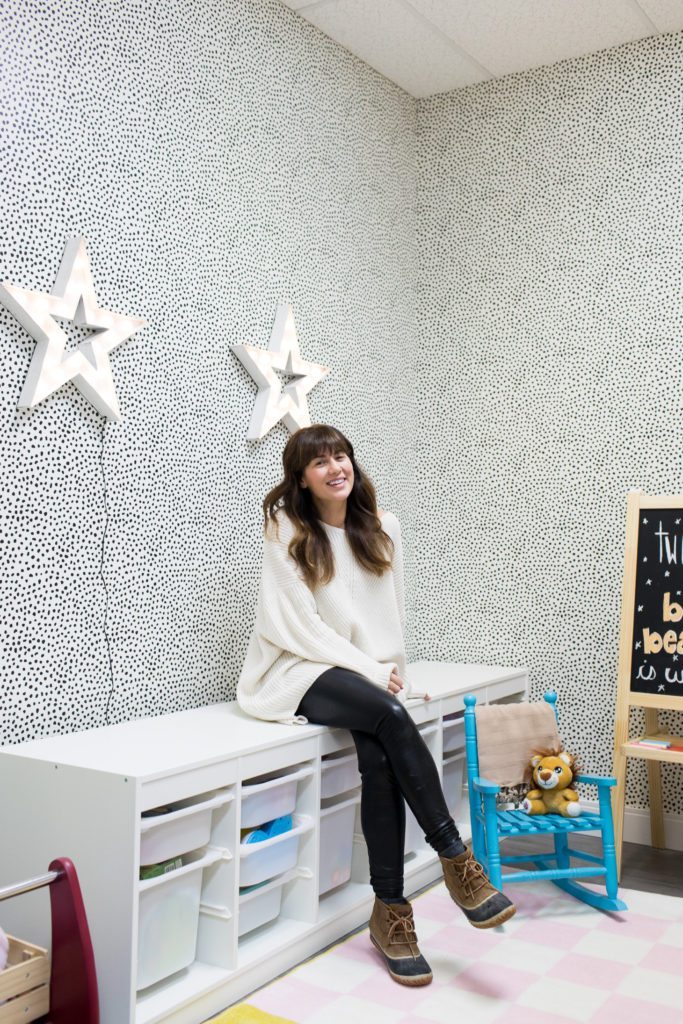 A huge thanks goes out to Eu Roc Interiors (Karol Sokolowski) for all of the drywall and install, to George Gibson from Gibson Installations for all of the hard work (his info can be obtained from Sticks + Stones!), and to Dash of Modern who built all of the IKEA items. Also thanks to IKEA for their amazing donations of organizing systems, shelves, tables, chairs, mirrors, light fixtures, etc. Big thanks to Metrie who donated all of the doors, baseboards, and casings., Canadian Tire who provided ALL of the paint as well as a ton of furniture and strollers! Fawdry Homes came in every night after work to help get all of the walls painted. Splashes Bath and Kitchen in Penticton provided all of the plumbing features like toilet seats and pedestal sinks in the bathrooms and Cintas for the laundry bins.
The fine folks at Article also provided some gorgeous furniture for the space, Jillian's favourite piece is the brand new pink couch that they were able to use to replace their very old and dated velvet pink couch. They were able to keep some older items like the huge boardroom table. Thanks to Victoria and Brad from The Fat Paint Company who made it beautiful again and sourced "vintage" chairs to paint and match with a fresh coat of their colourful chalk style paint. They traveled from Vancouver to help.
Hunter Douglas generously supplied the window coverings and the fantastic team at Stor-X provided and installed the storage units throughout the space. Rug & Weave sent some stunning rugs and pillows which Jillian and her team were drooling over! Deer Child sent the CUTEST little tent for the kids play area. If you haven't seen them before, make sure to check them out! Minted also donated some incredibly inspiring artwork!!
A huge shout out to Craig from Bin There Dump That for coming to the rescue with a huge garbage and recycling bin which was quickly filled.  He had to replace them several times.  Speaking of bins, a HUGE thank you to BigSteelBox for donating not one, but two bins to store all of the new furniture that was needed for the space and to move the old items into for a fresh start. Thanks to Stutters Kelowna for helping out when both bathrooms flooded. Nothing like a renovation without a little flood, right?!
Carmen from Better Earth and Garden donated a gorgeous fig tree for that pop of fresh, greenery! CMYK Digital and Inter Mtn provided new signage to use throughout the space to mark the washrooms, staff only rooms, and shelves. CMYK Digital also provided the huge cheque that was presented to the Mamas team at the reveal!! So much fun!
Much gratitude to all the loved ones and the amazing volunteers who came in each day to make sure to meet the reveal deadline.  Jillian thanks, "Justin, my Dad, Glen, Tori, Charles, Steph, Luke, Cam, Briana, Chris, Stan Segan, Sarah Waning (General Manager of Old Navy here in Kelowna!!), Taylor" To the people in the community who watched Jillian's insta stories and brought warm clothes for the shelves, Shay's friend Emma who brought brand new winter cardigans, and to everyone who so generously donated books for the bookshelf , THANK YOU! The list goes on!
Melinda from A New Leaf Floral dropped off the most beautiful flowers to place around the space, Men in Kilts made sure all of the windows were spotless and Flawless Green Clean did an amazing job cleaning up so everything was sparkling and ready for the final reveal!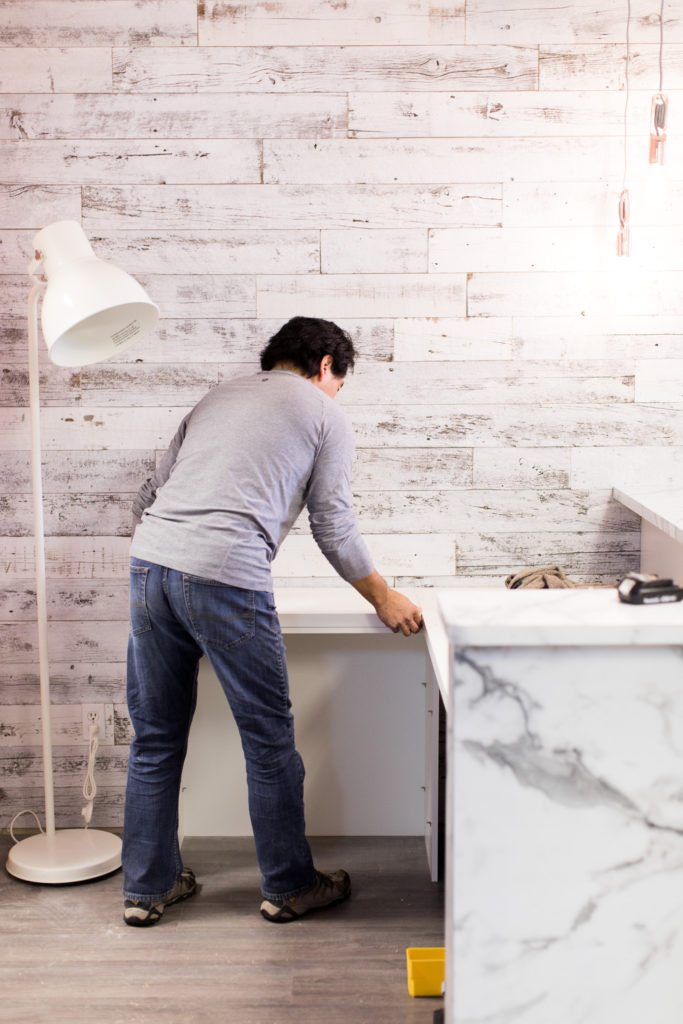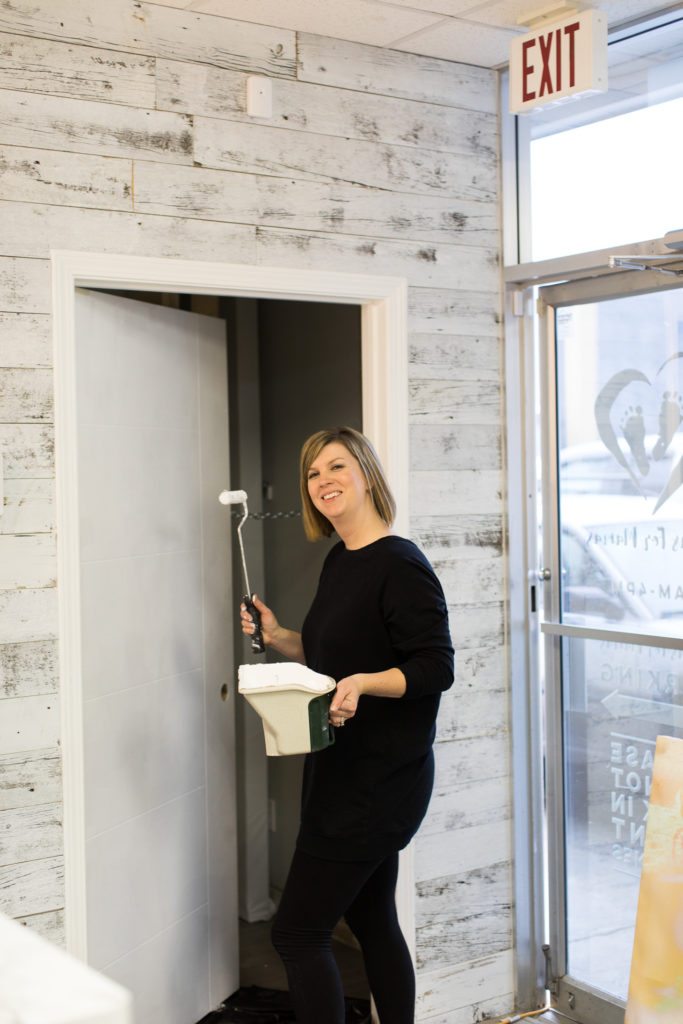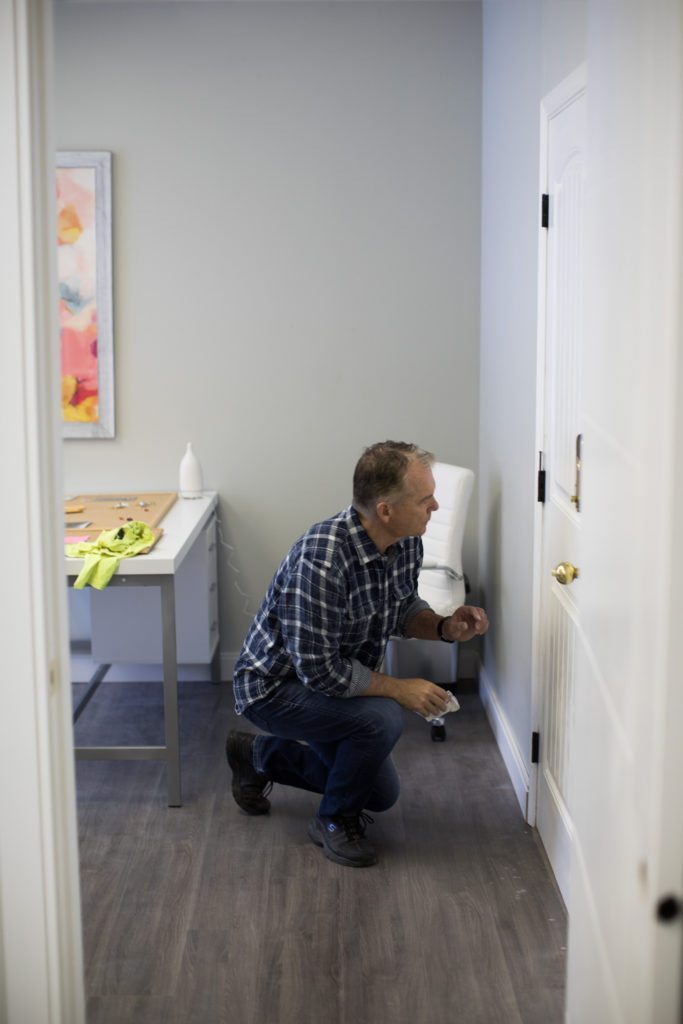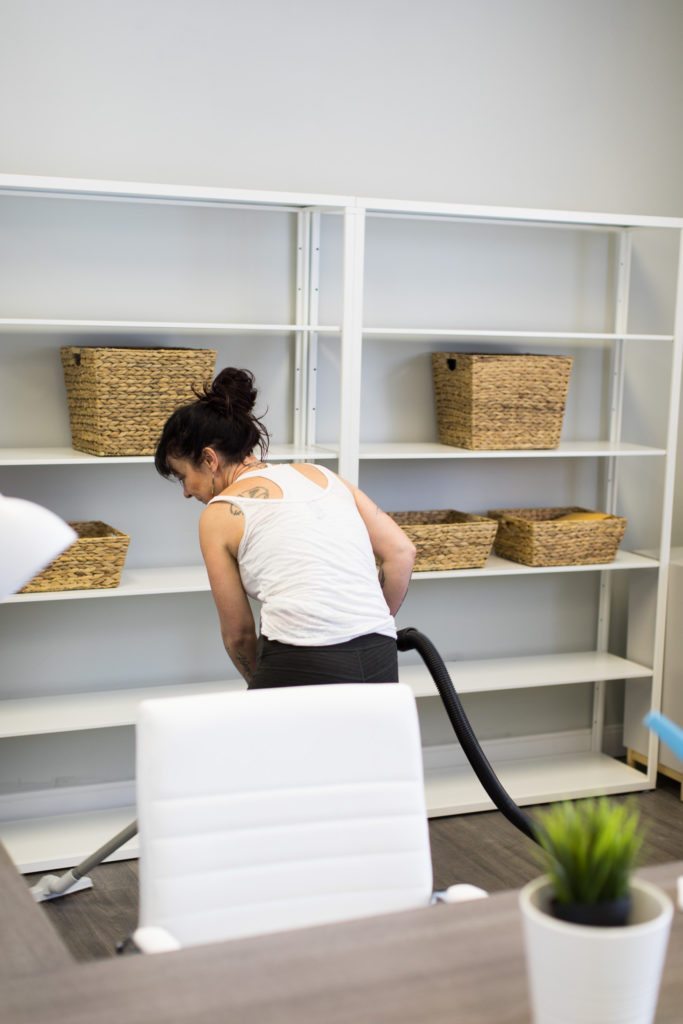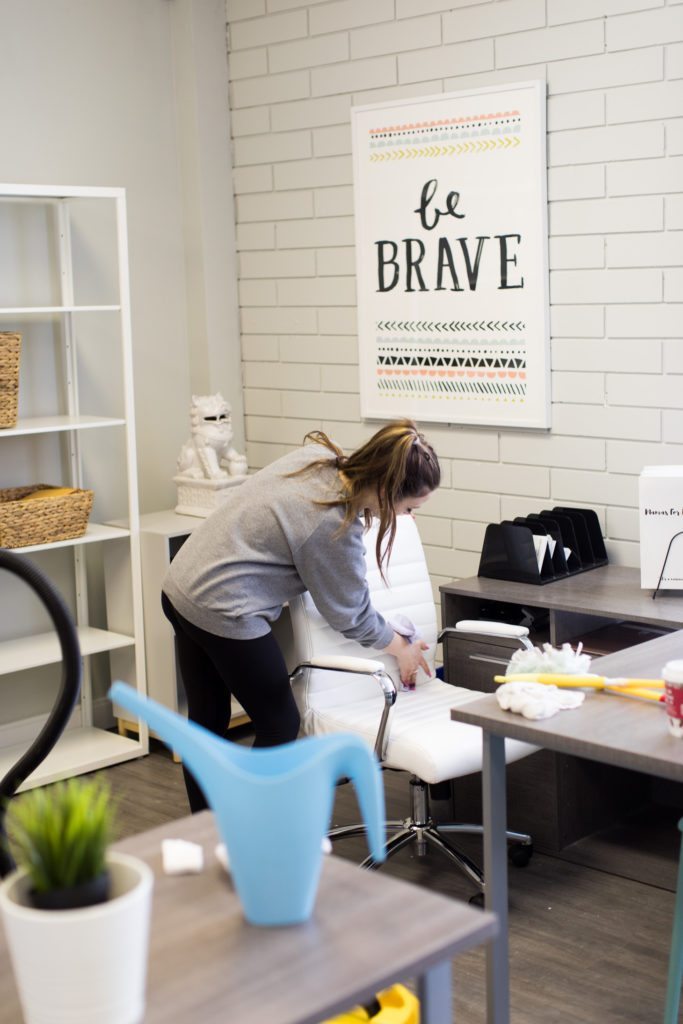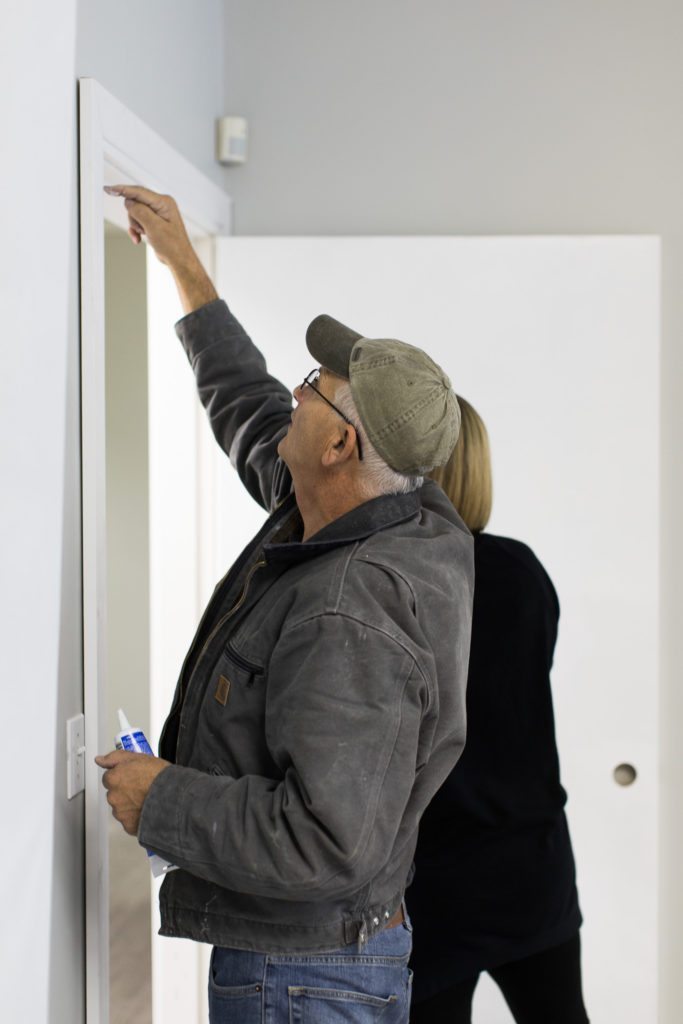 A massive shout out to Loblaw who provided gift cards to Shoppers Drug Mart, President's Choice and Joe Fresh so the shelves could be stocked with last minute items like toothpaste, toothbrushes, razors, shampoo, conditioner, etc. They received so many extra gift cards that the Mamas team could pass along to families who may need help with groceries or gas, etc.
Before getting further into the amazing people and companies who helped stock the shelves. Here is a little look at each room and how amazing they all turned out.
Kids Playroom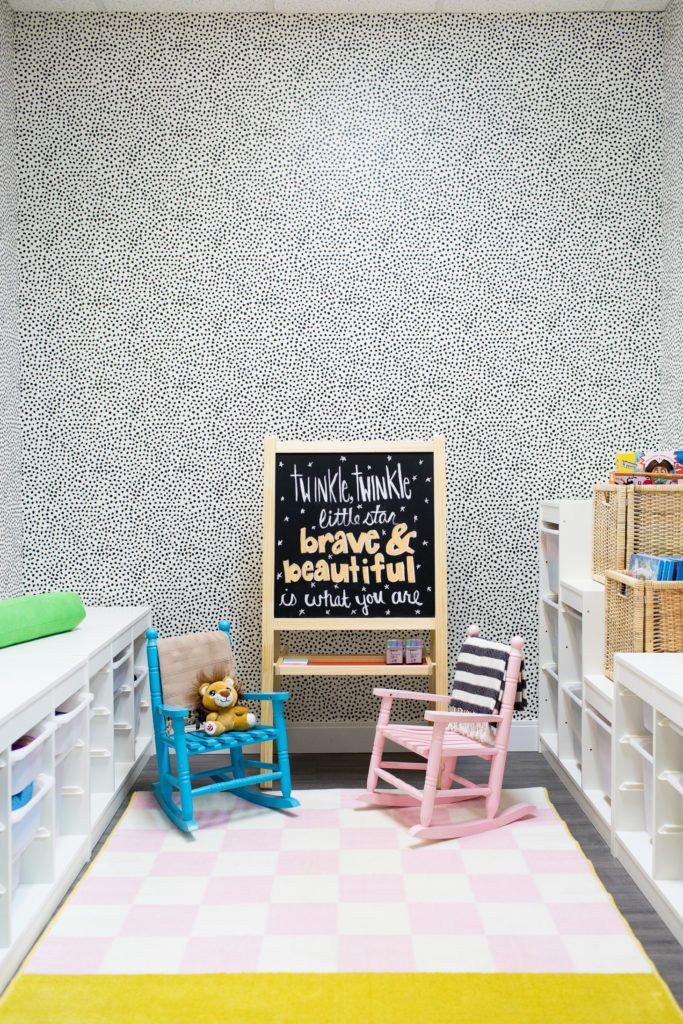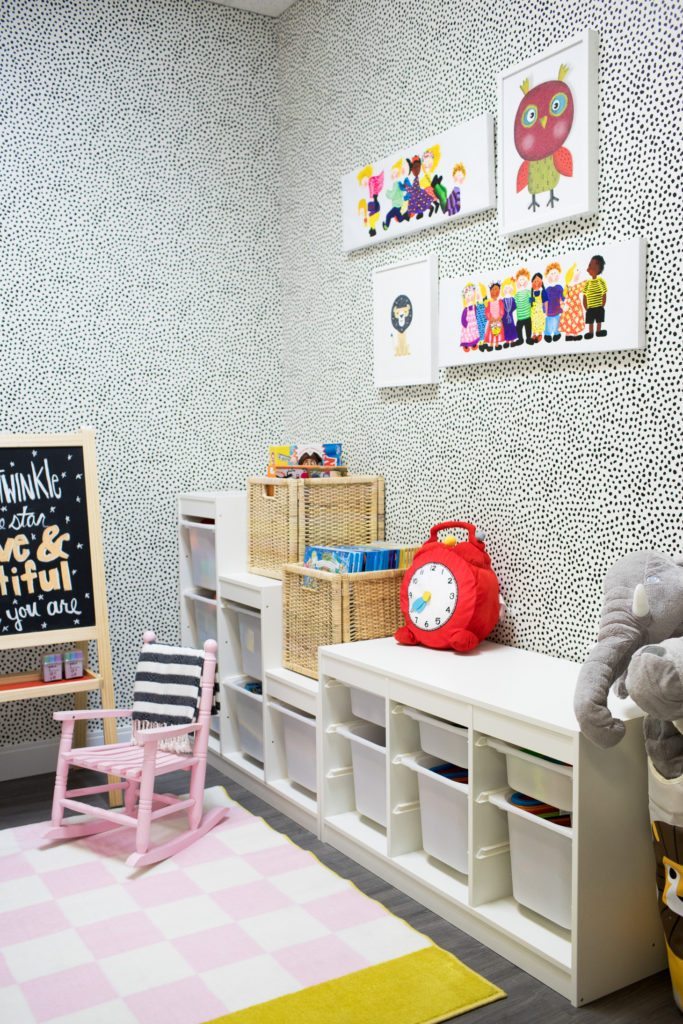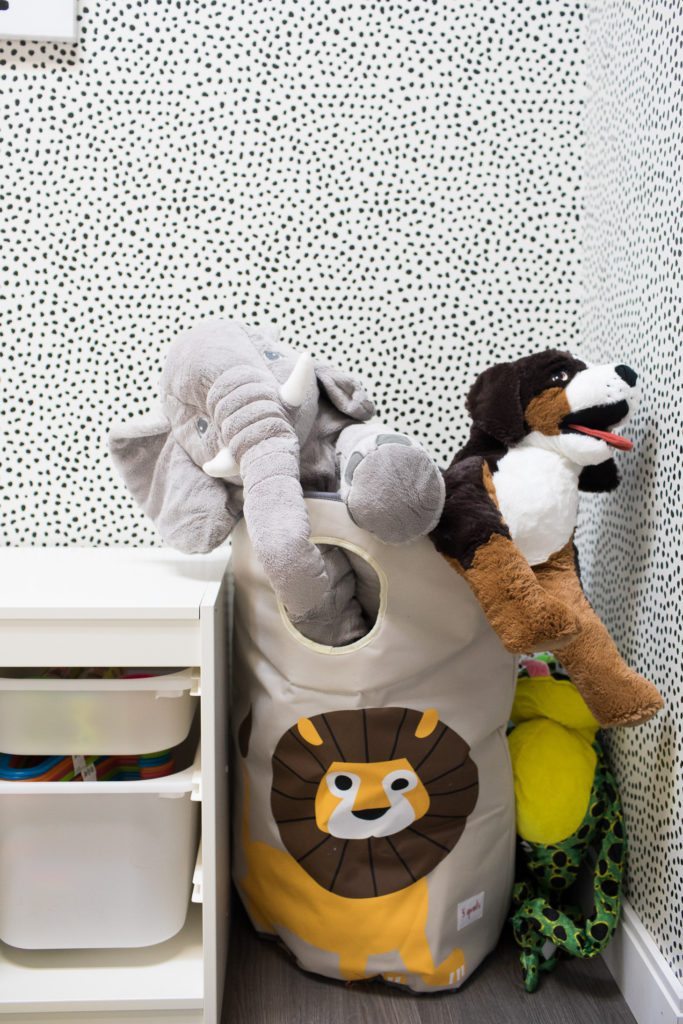 Boardroom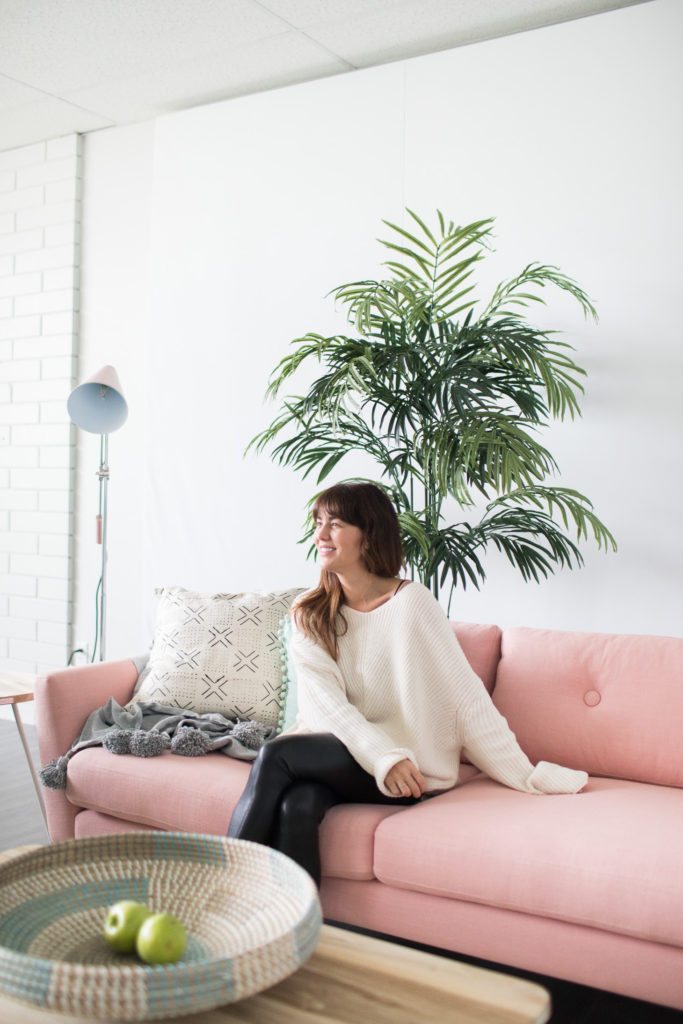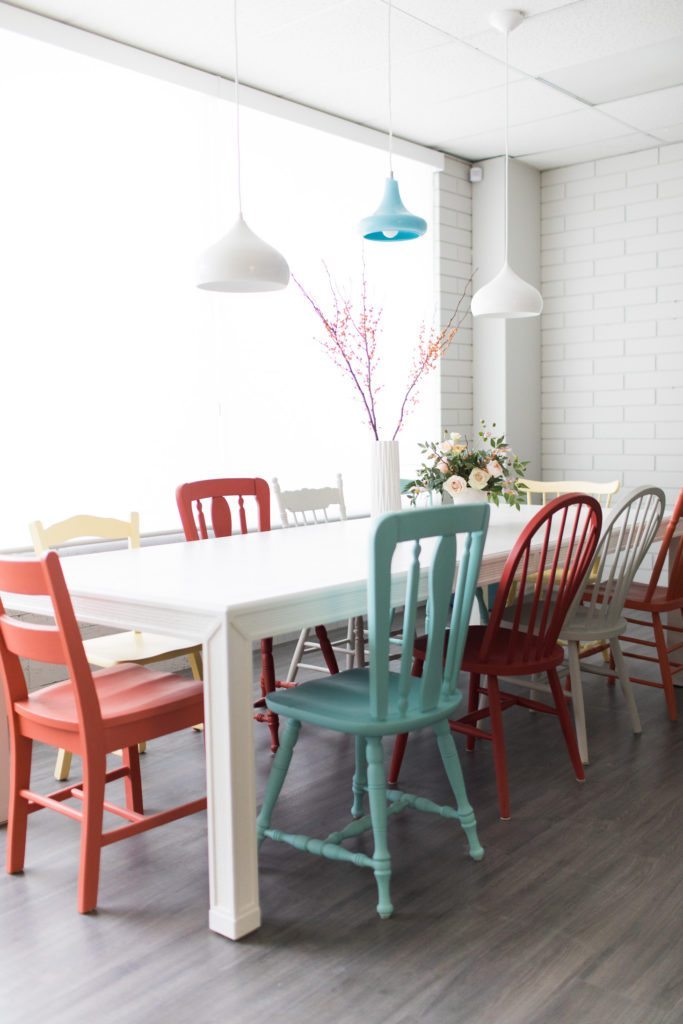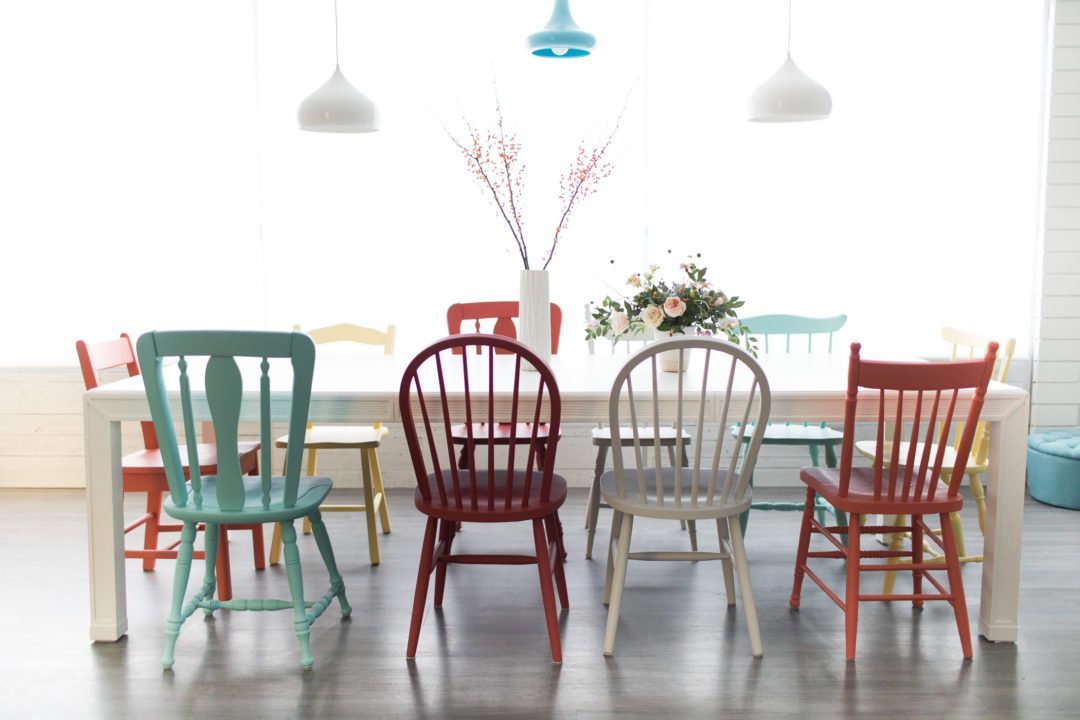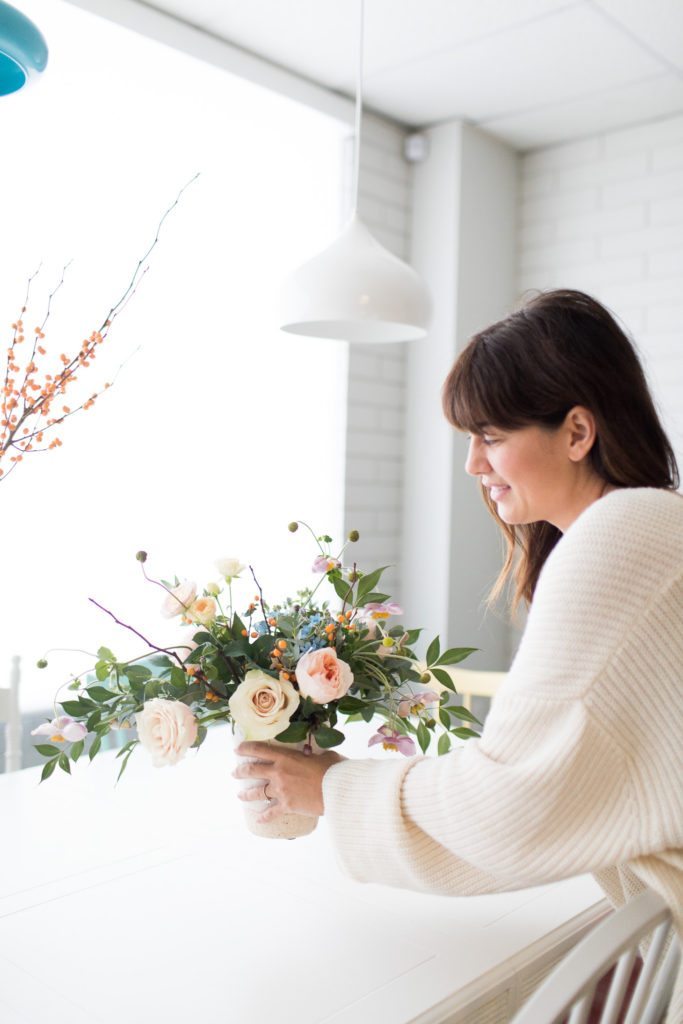 Overflow/Sorting Room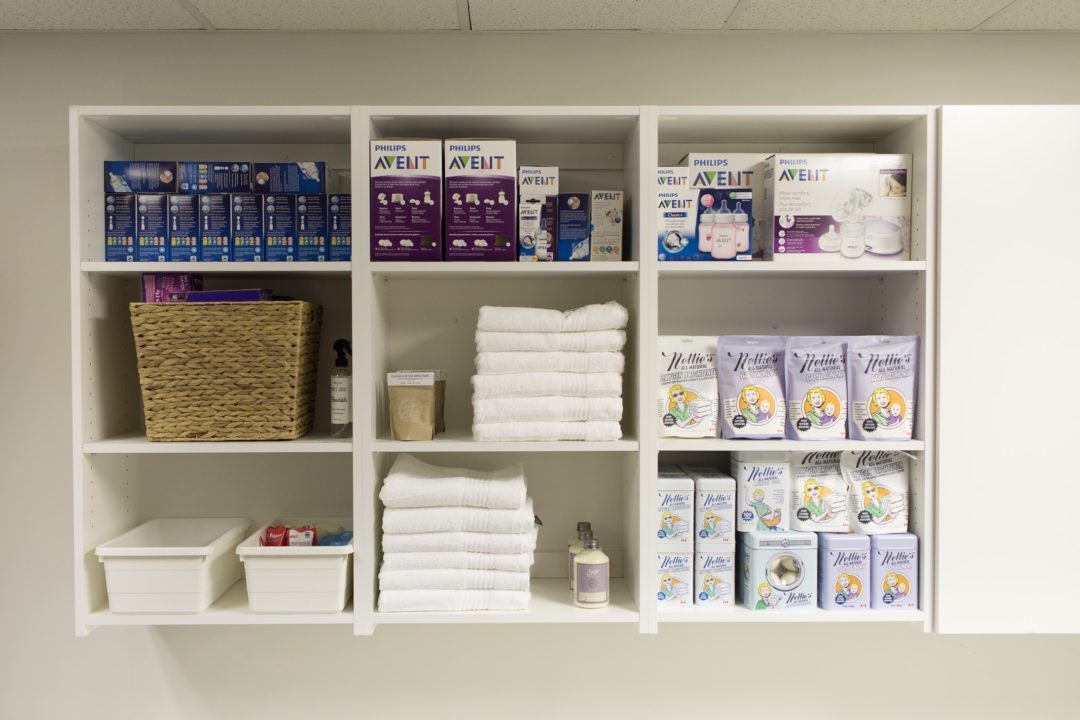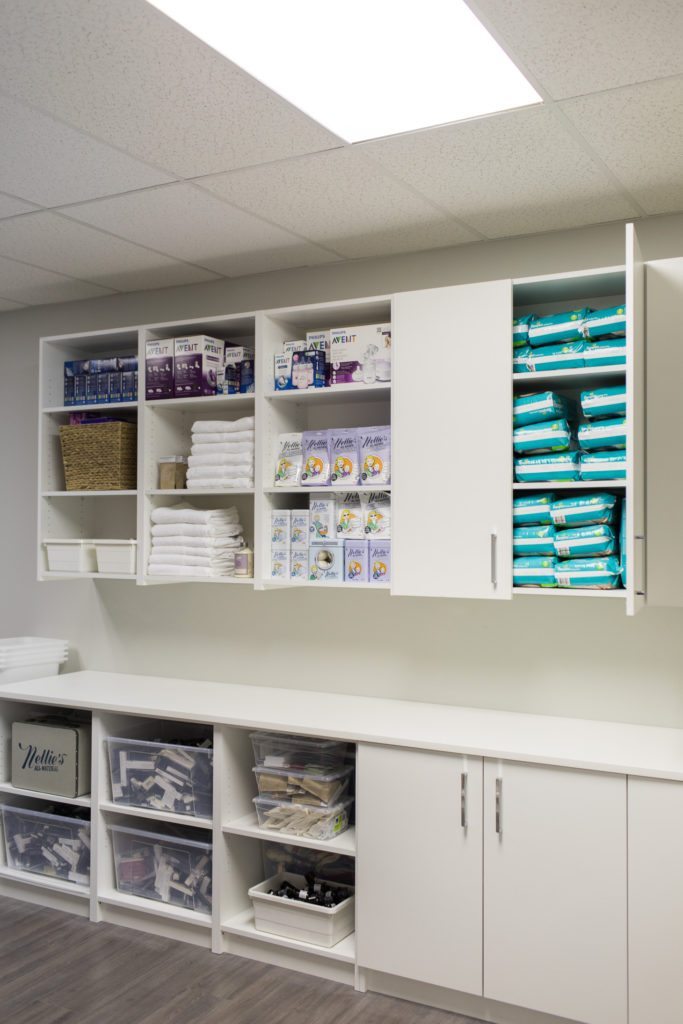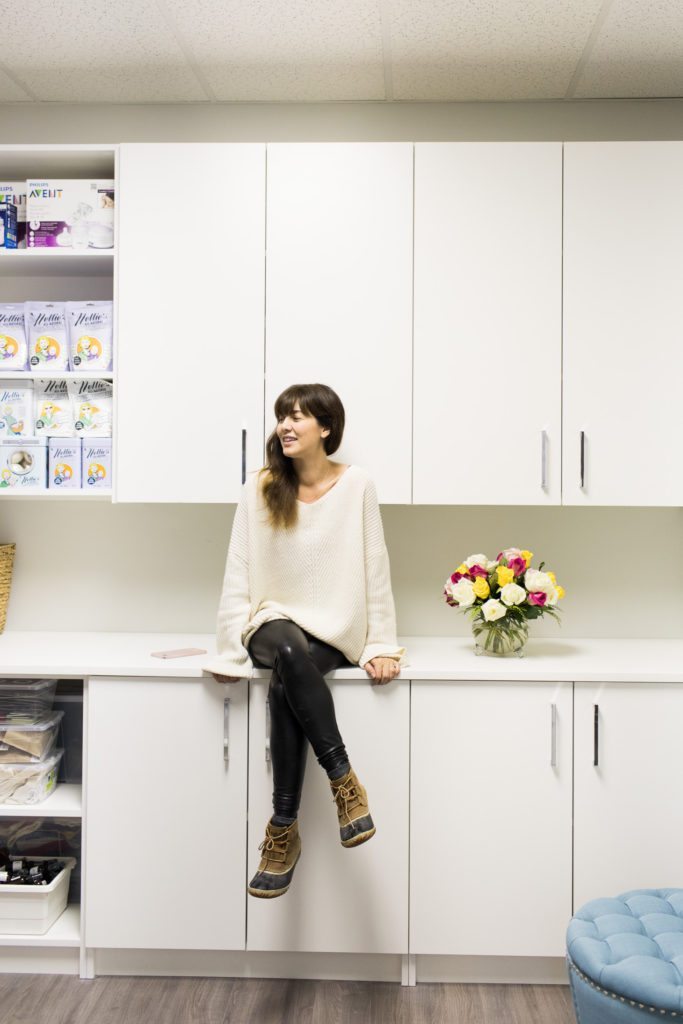 Public Washroom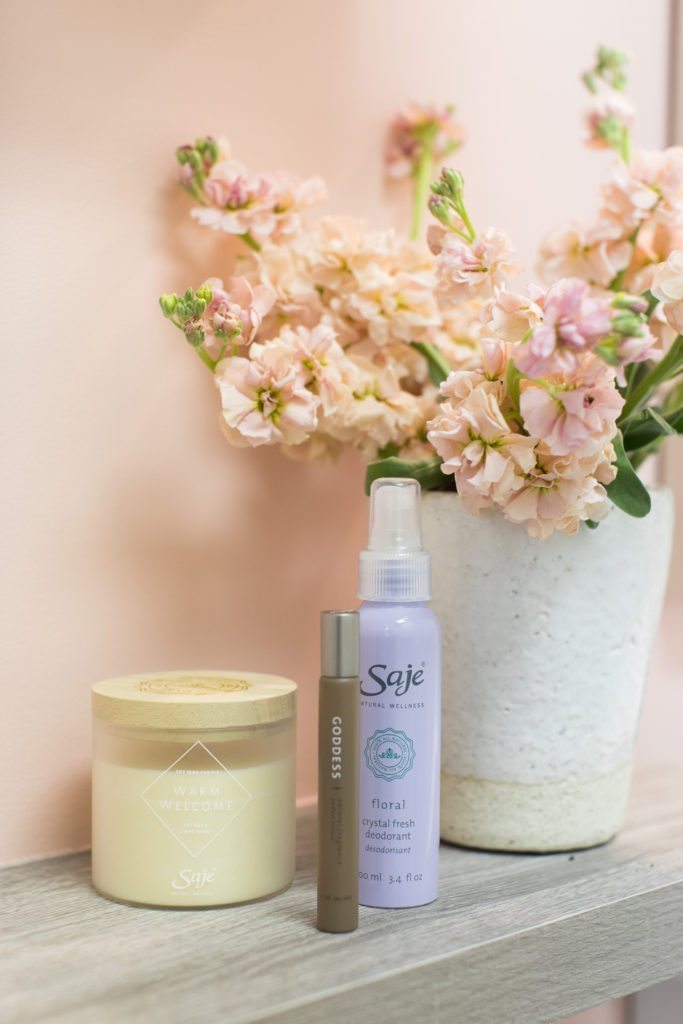 Staff Washroom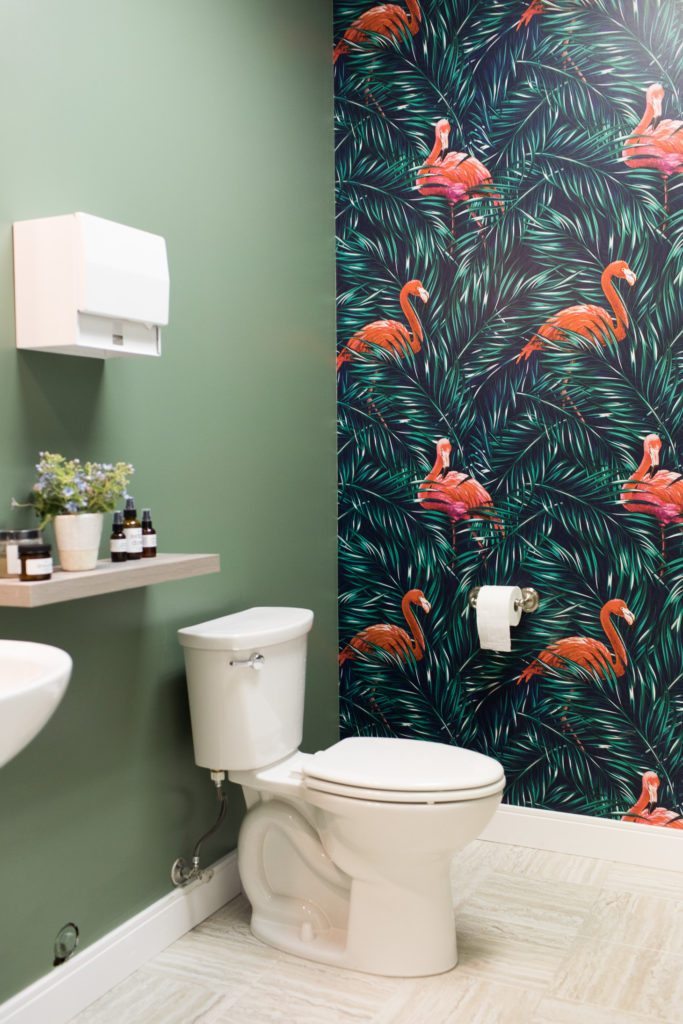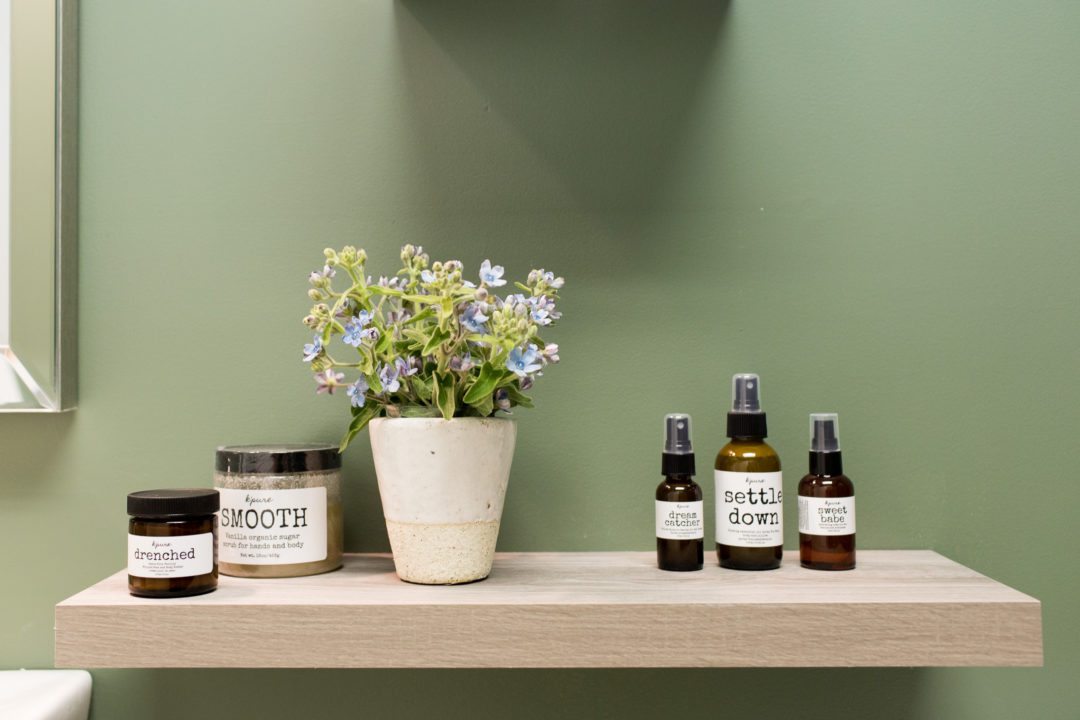 Shannon and Candace's Office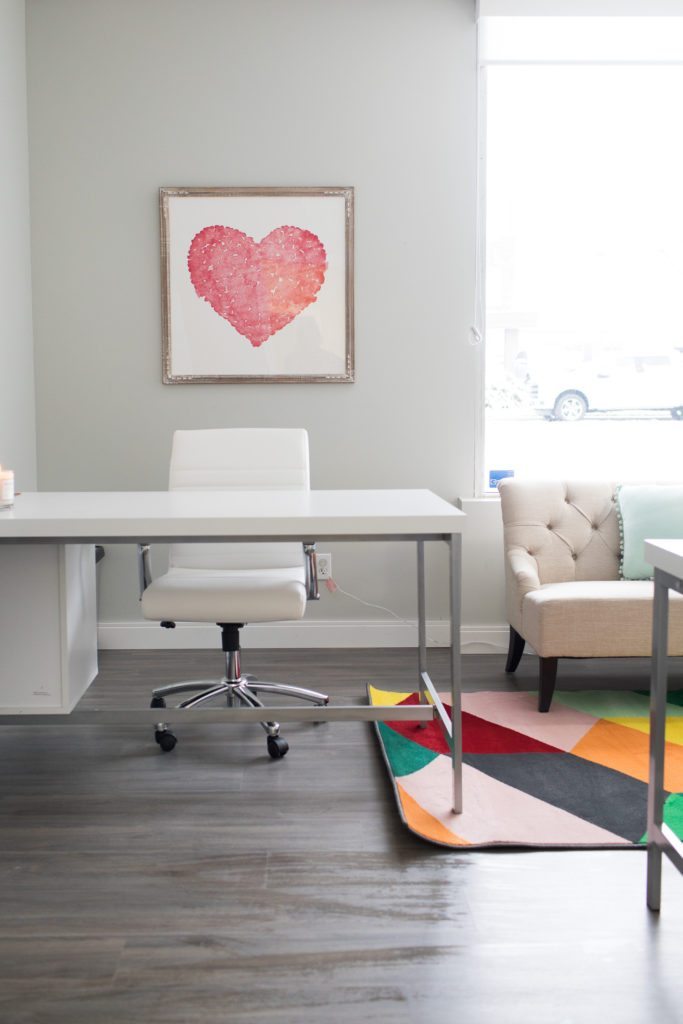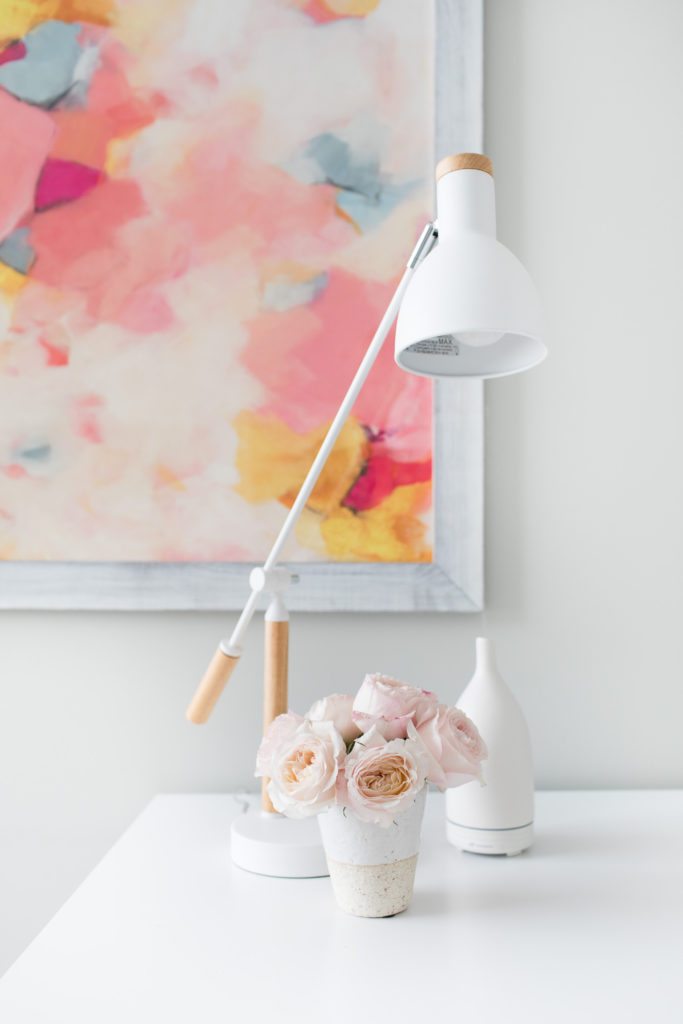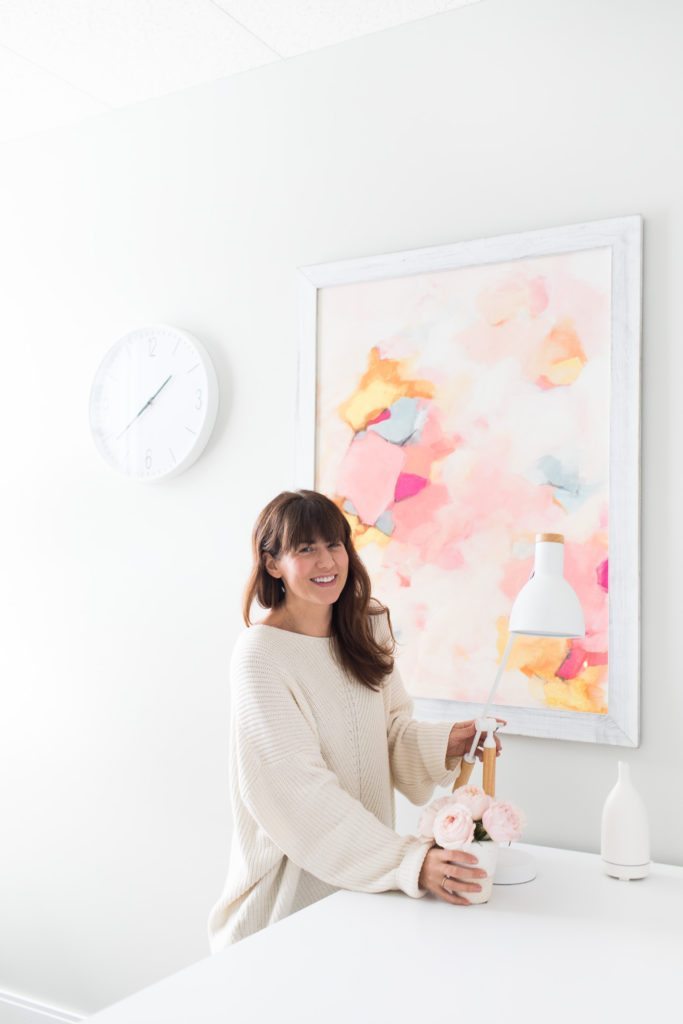 Additional Offices for Mamas Team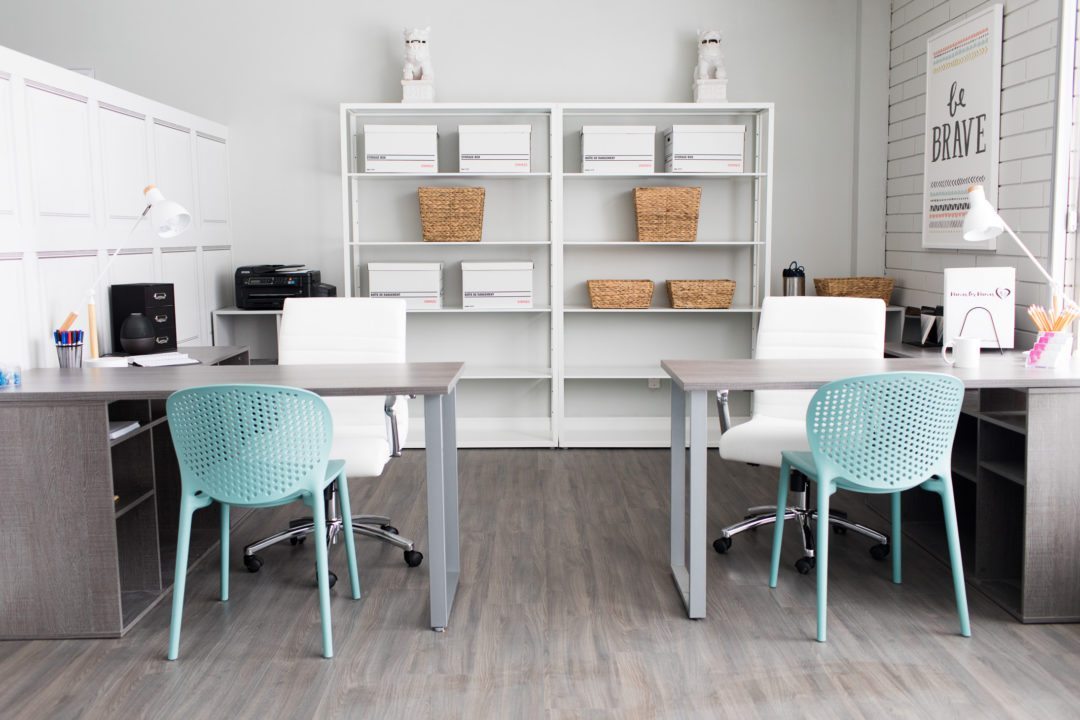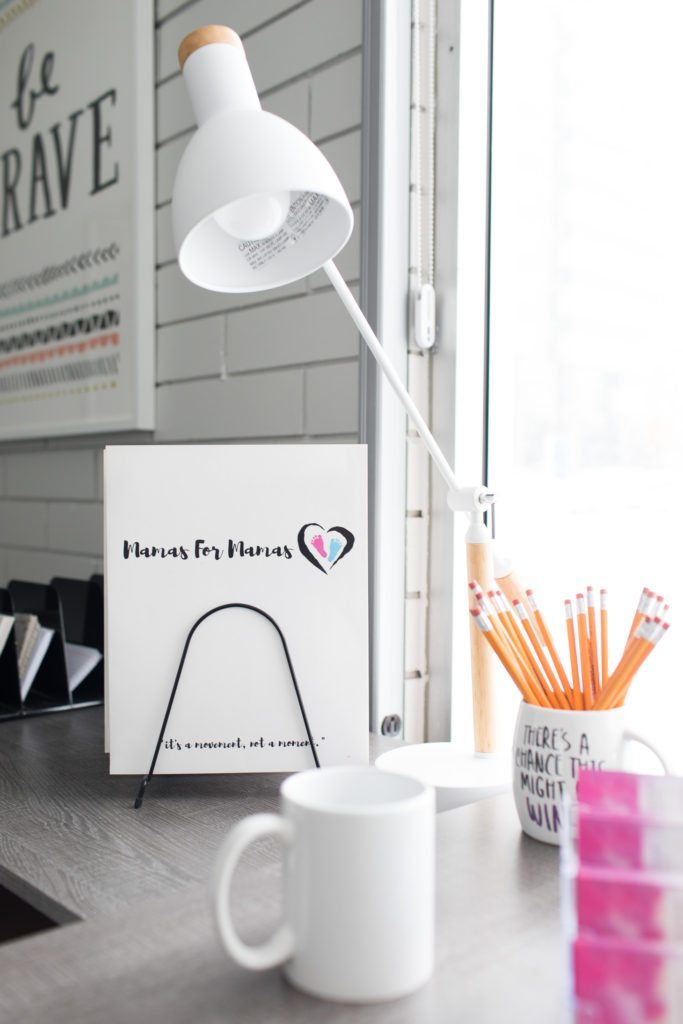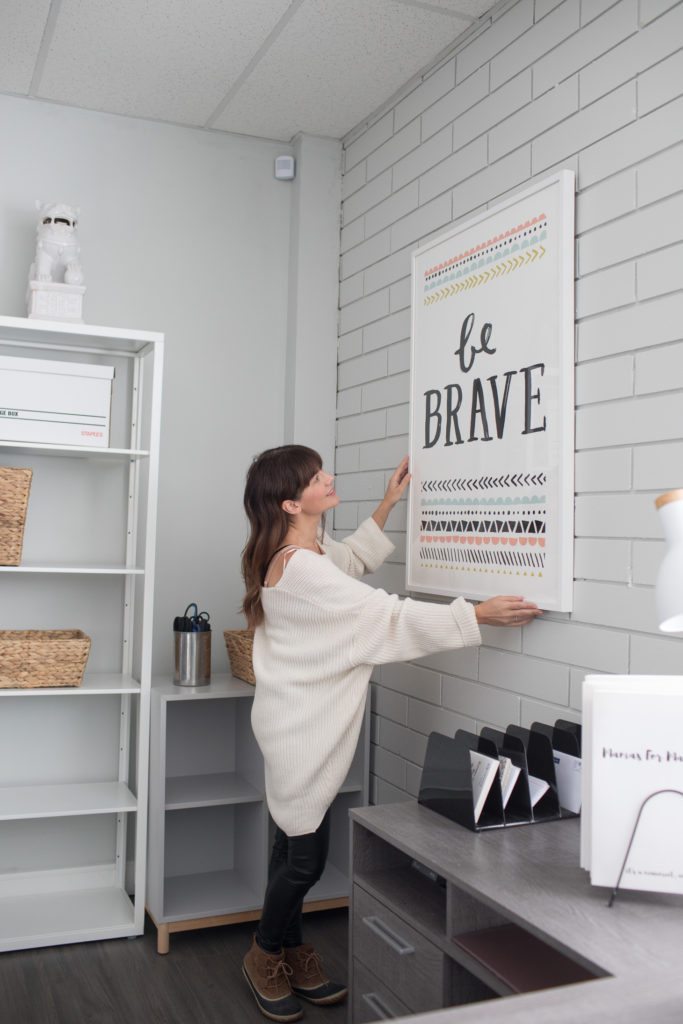 Designated Office Space for Women in the Community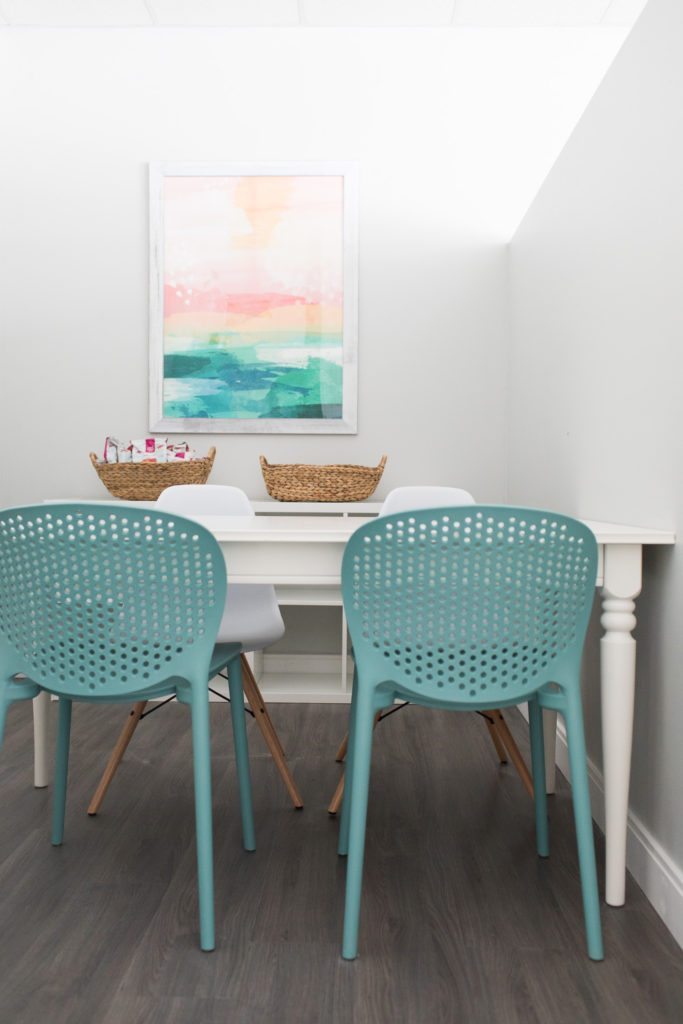 Counselling / Intake Room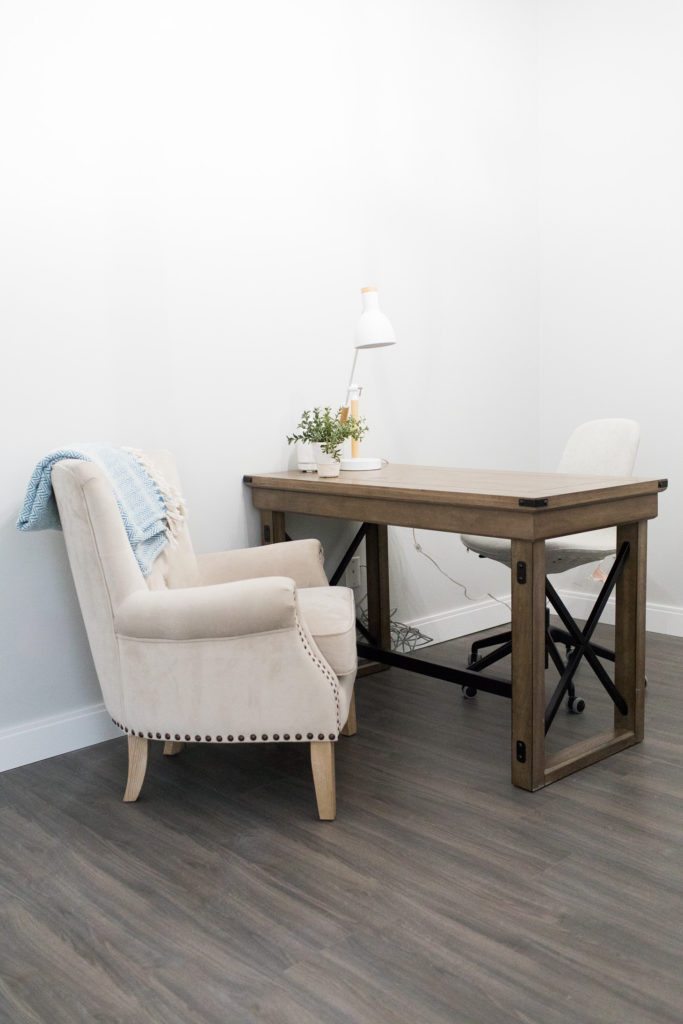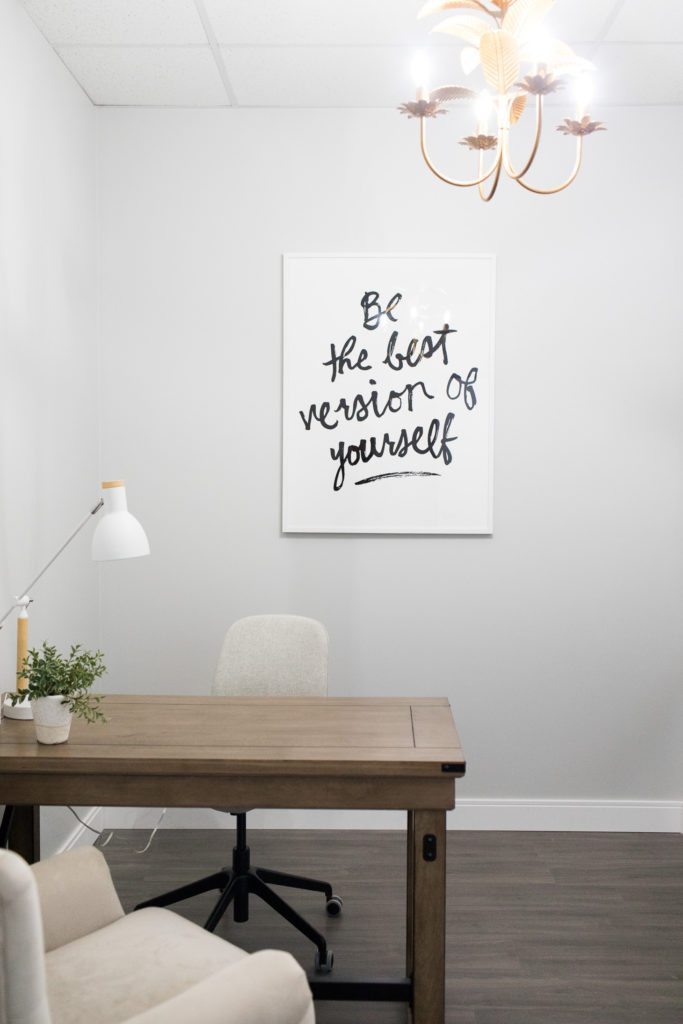 Kitchenette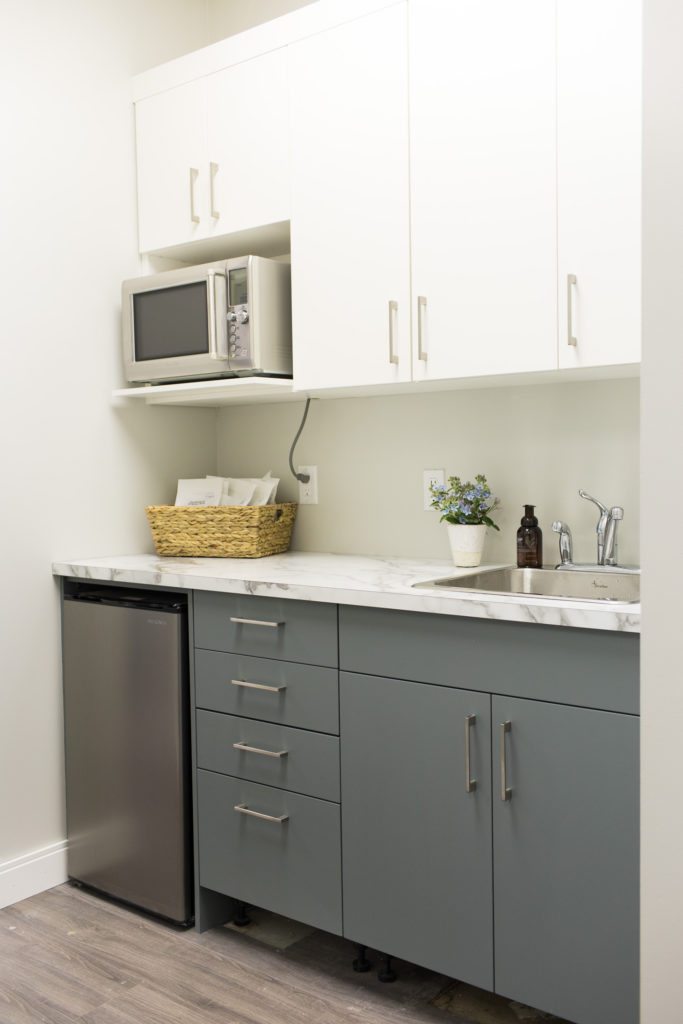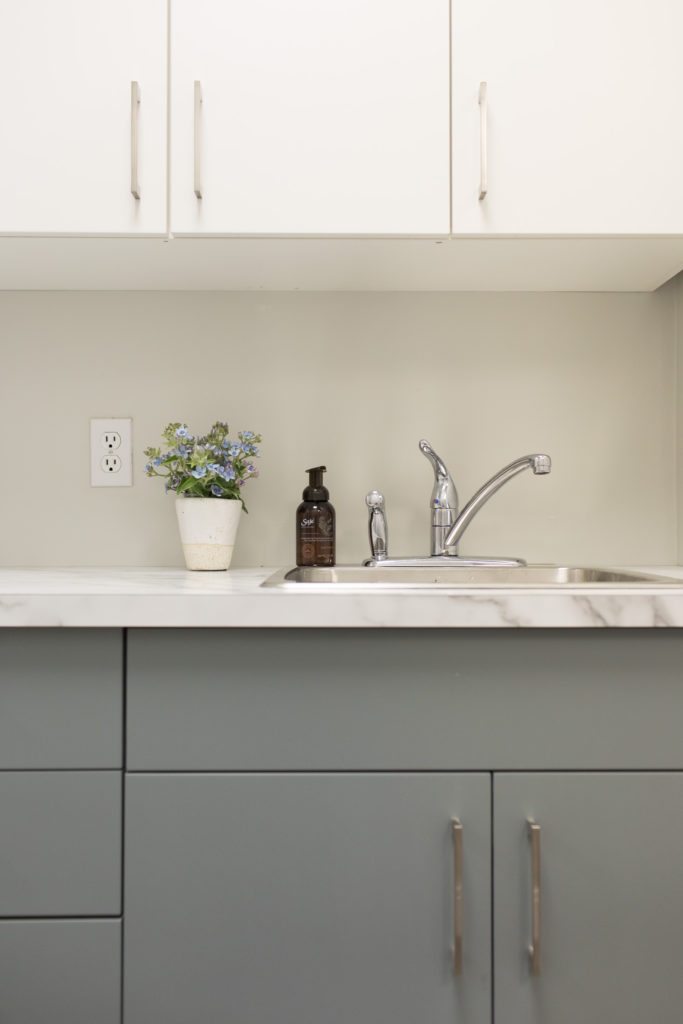 So with the renovation complete, Jillian and friends still had to stock all of the shelves to ensure that families in need had access to warm winter clothes, necessary toiletries, books, laundry soap and more. They reached out to some of of their favourite brands to help and received an outpouring of brands who offered to donate without coming to them. The results were mind-blowing. They are listed below, in no particular order, without each and every one of them, this reveal wouldn't have been complete!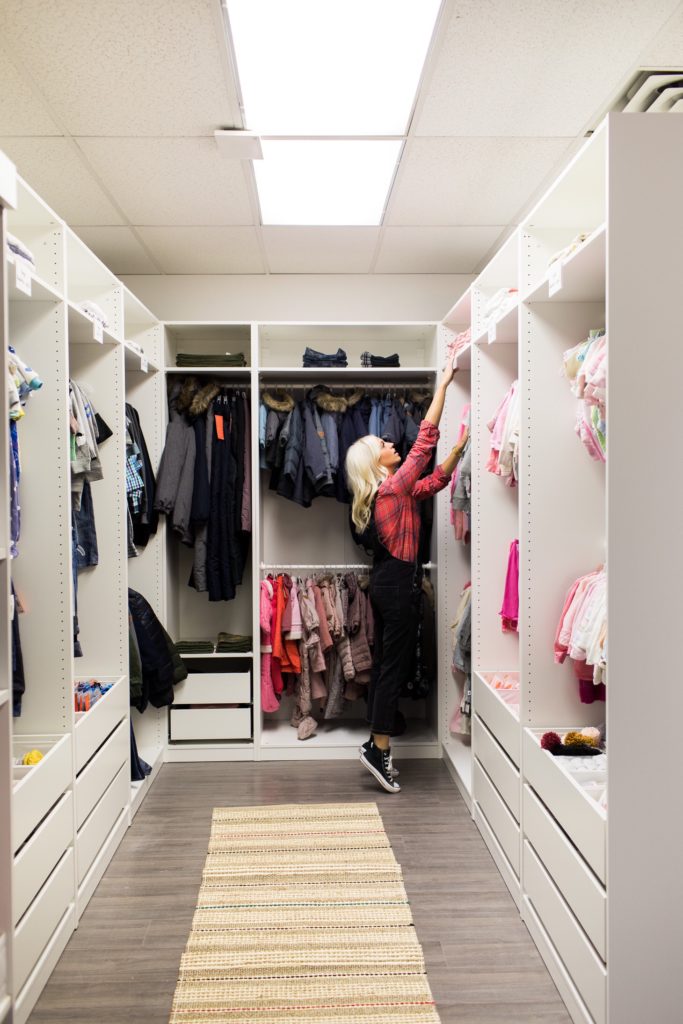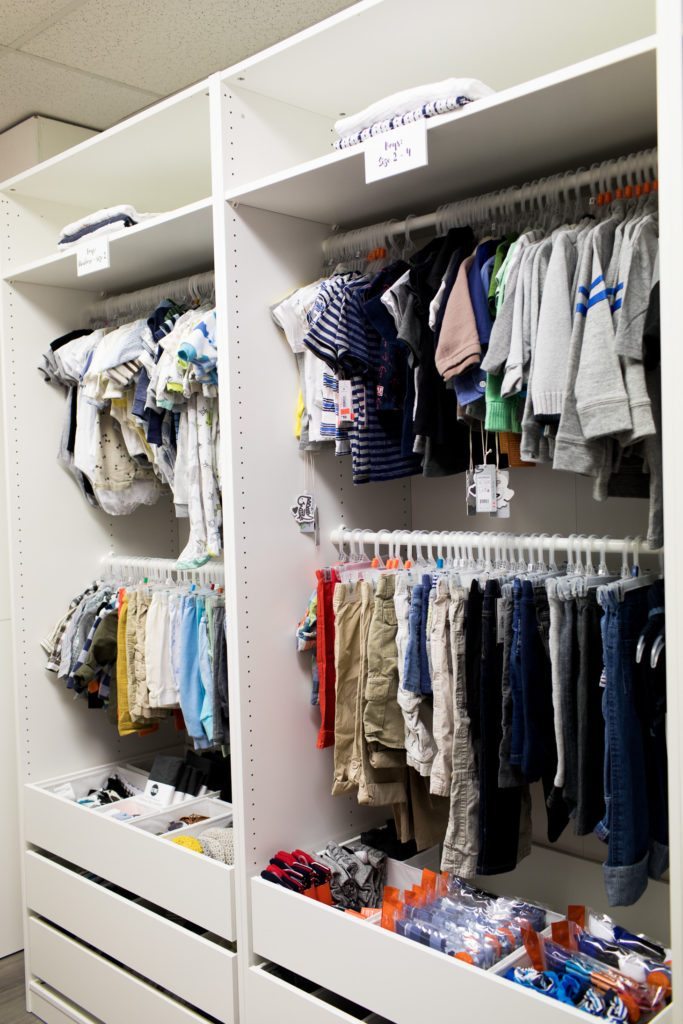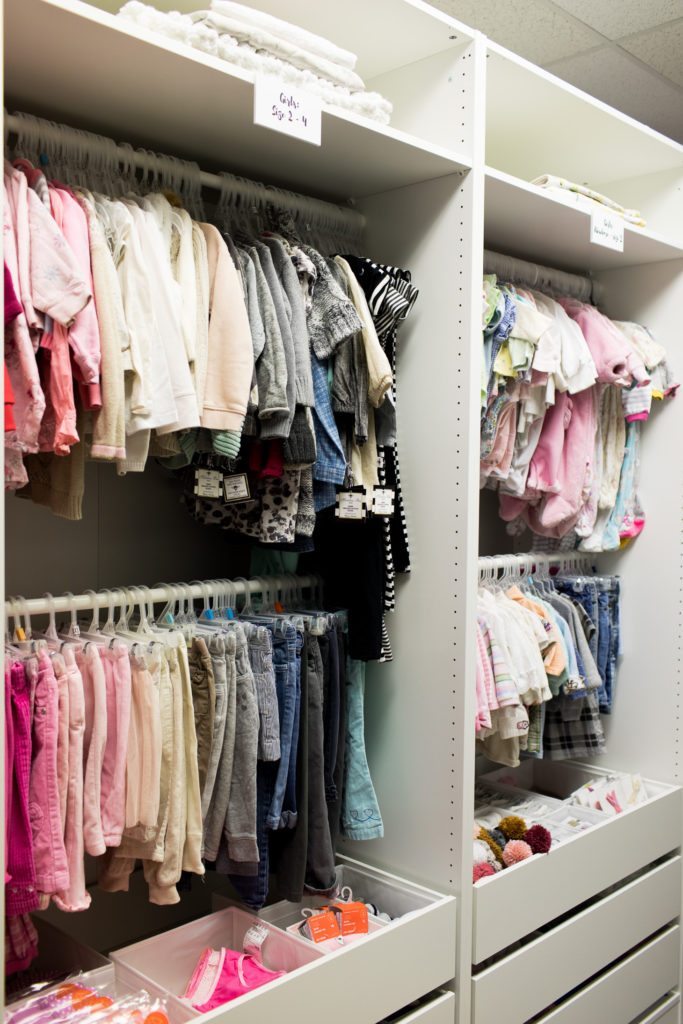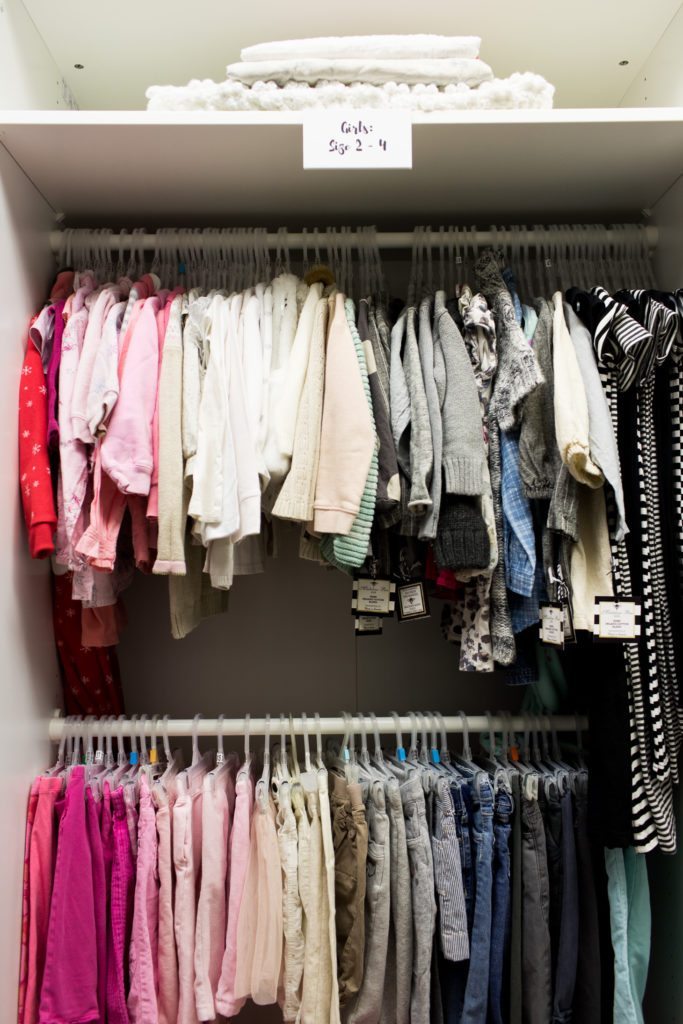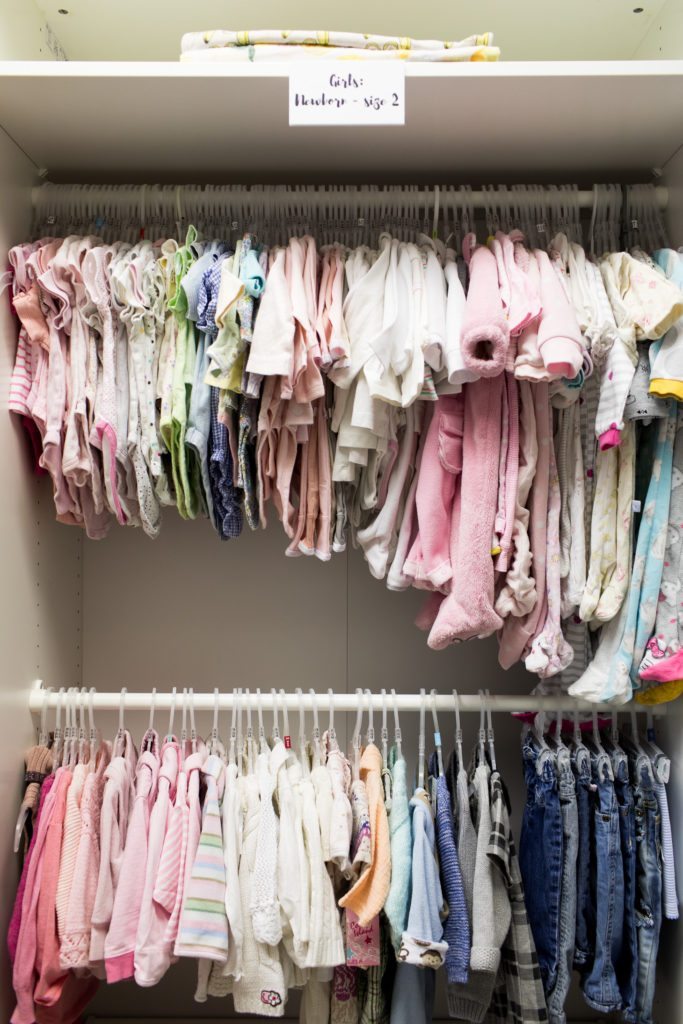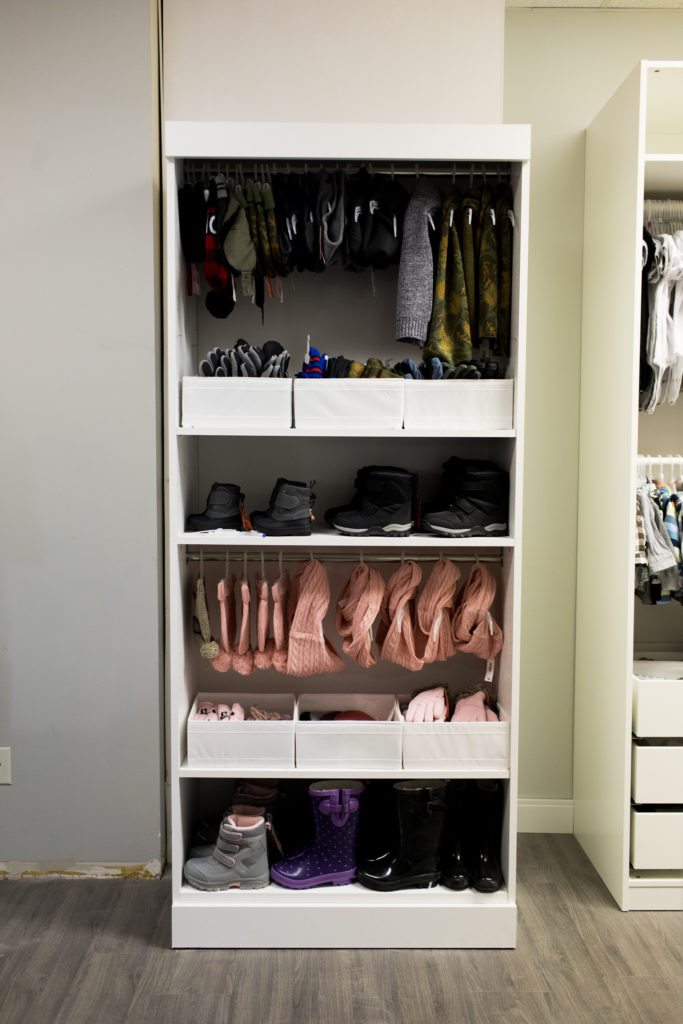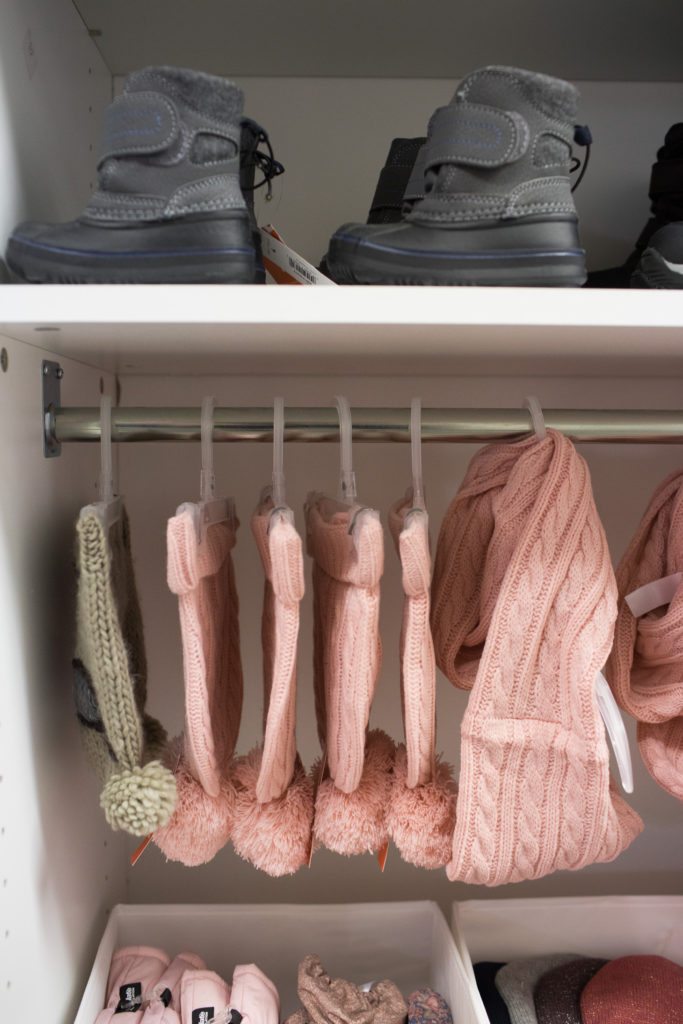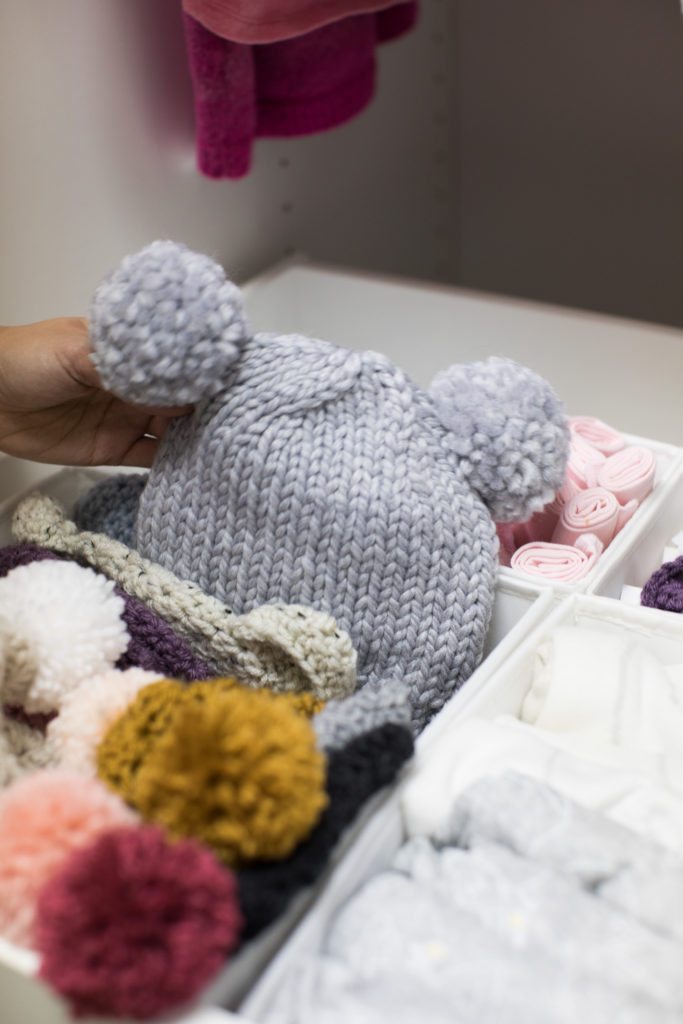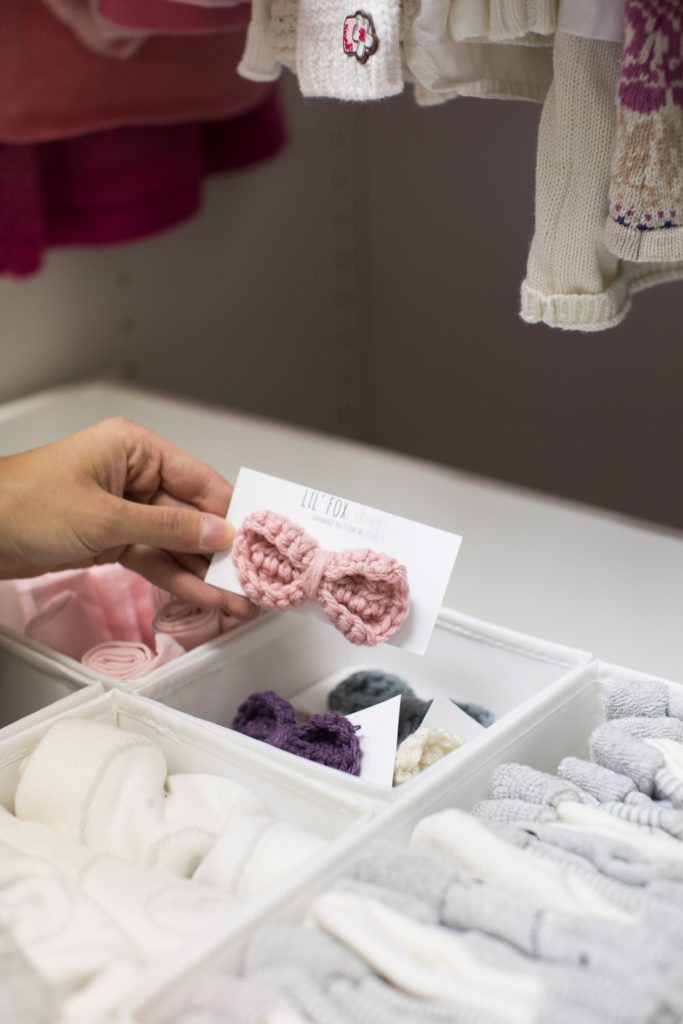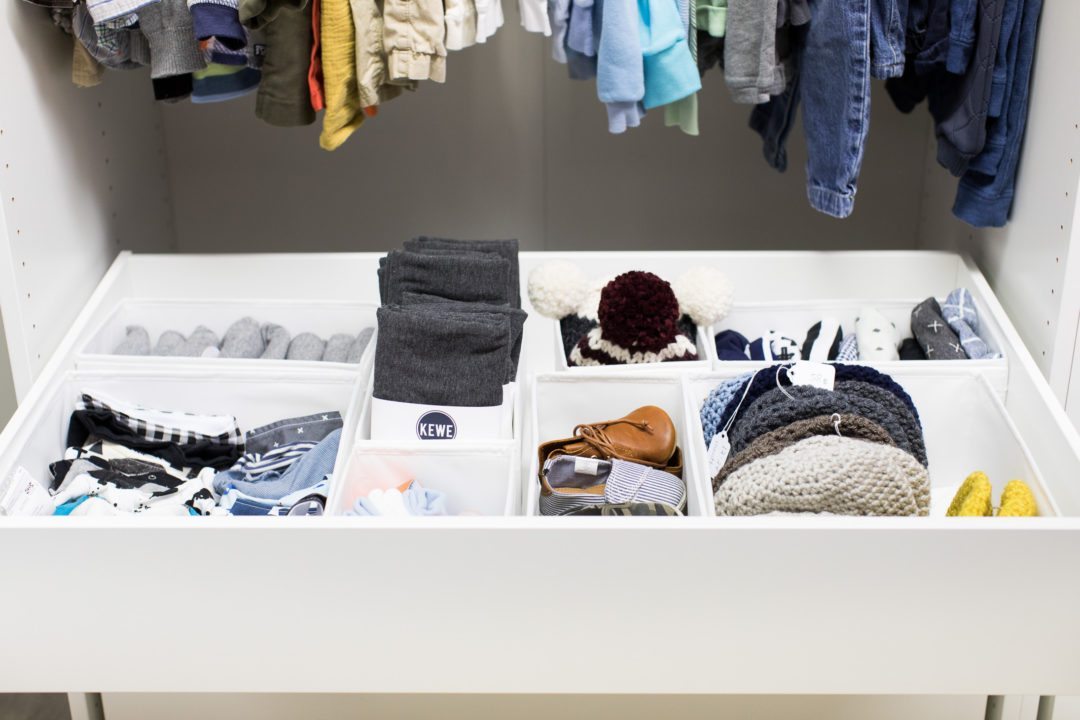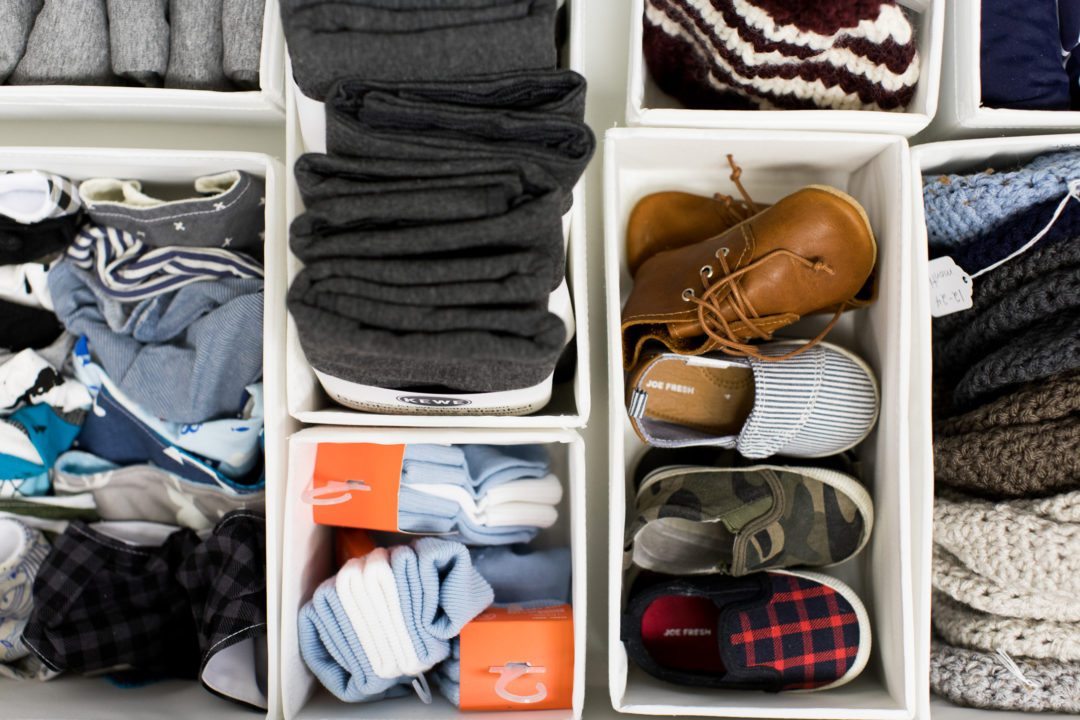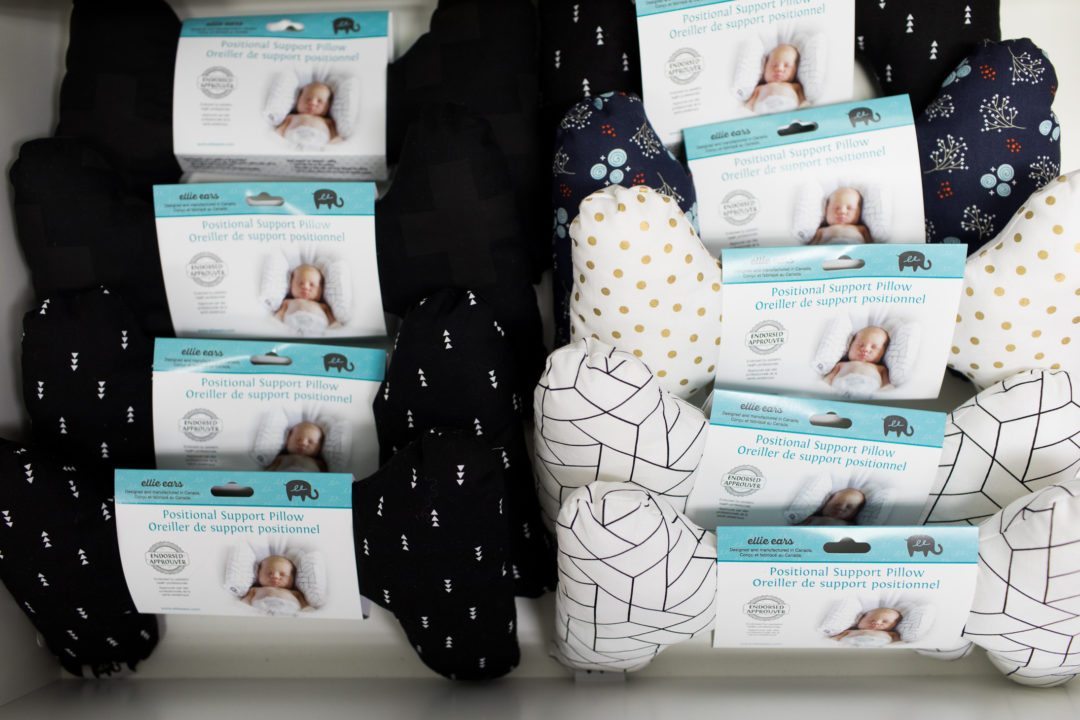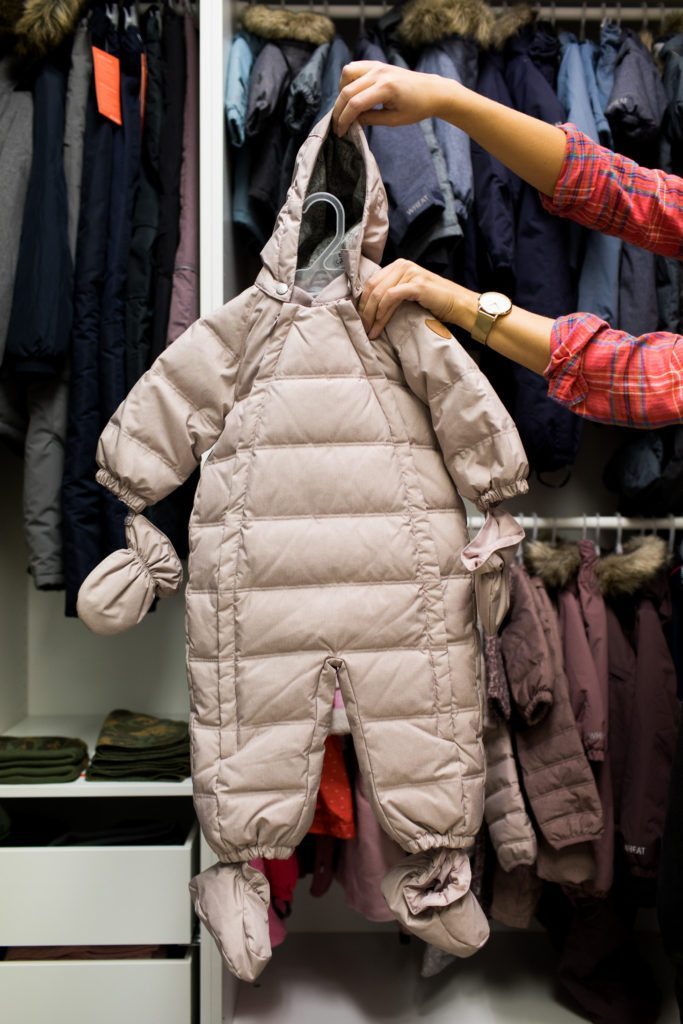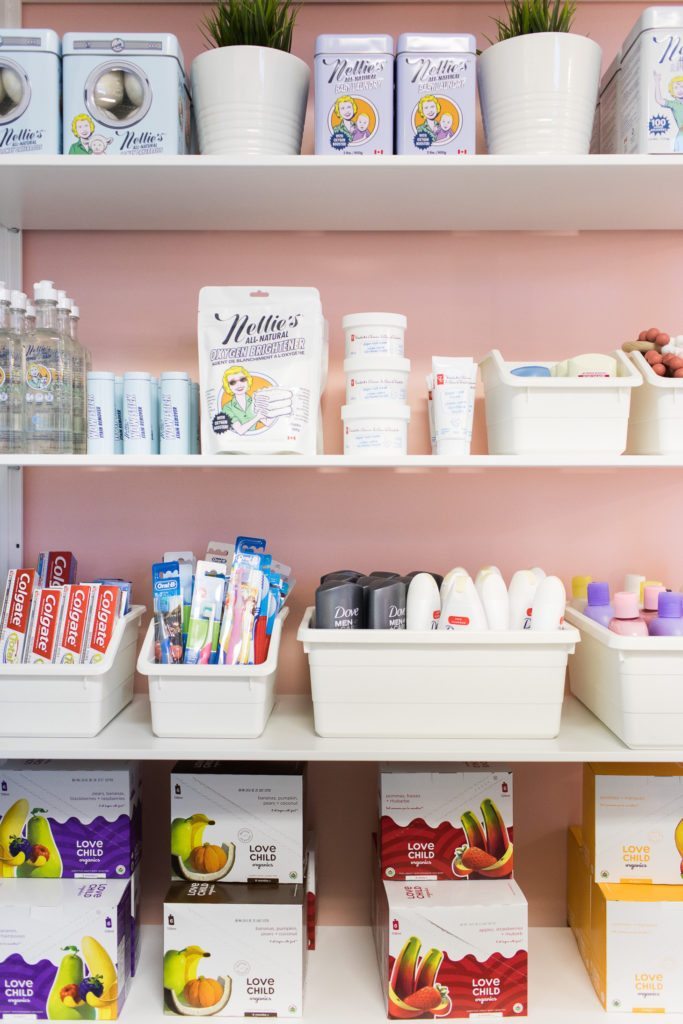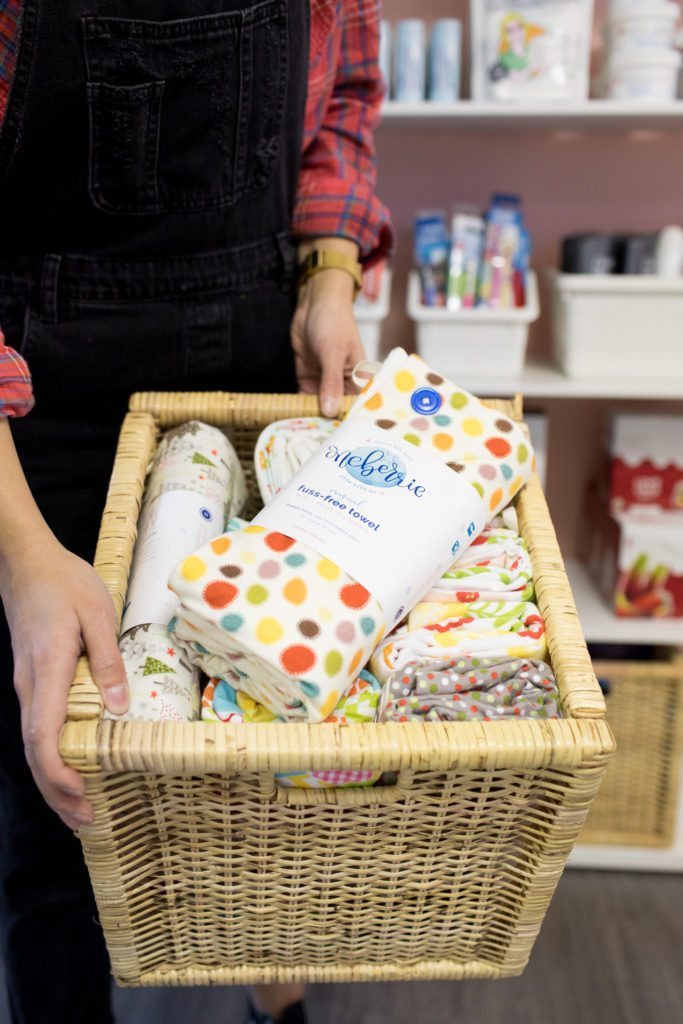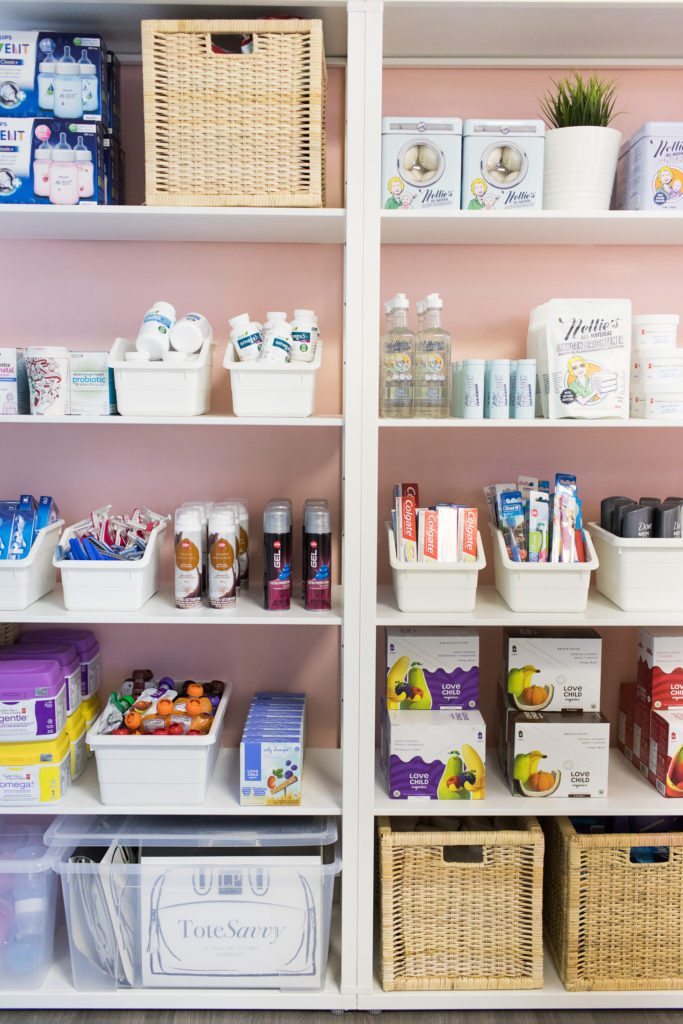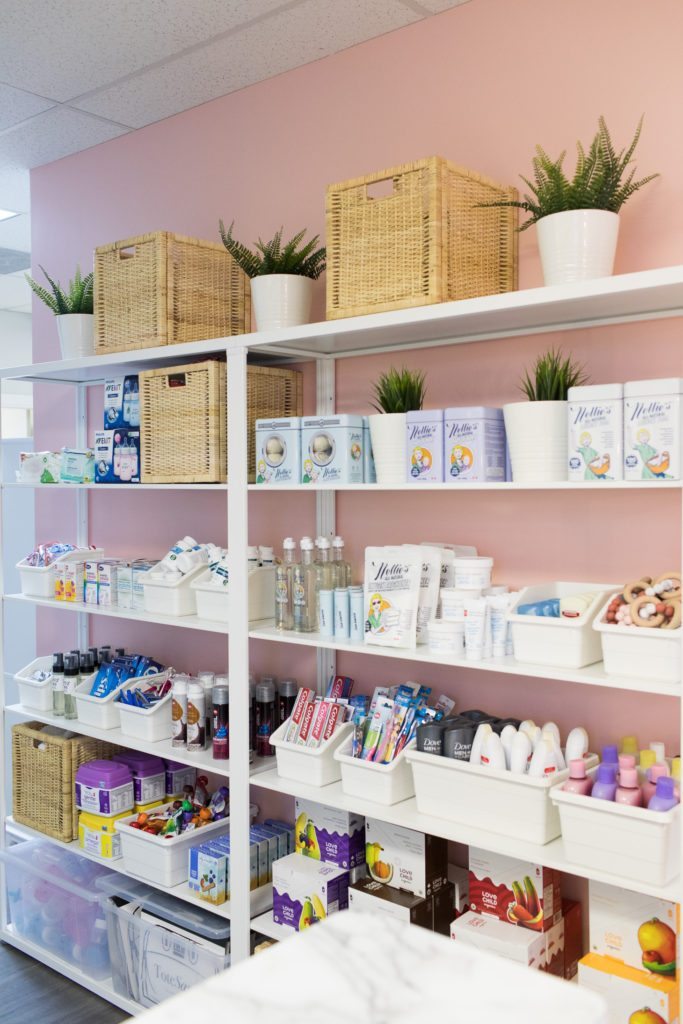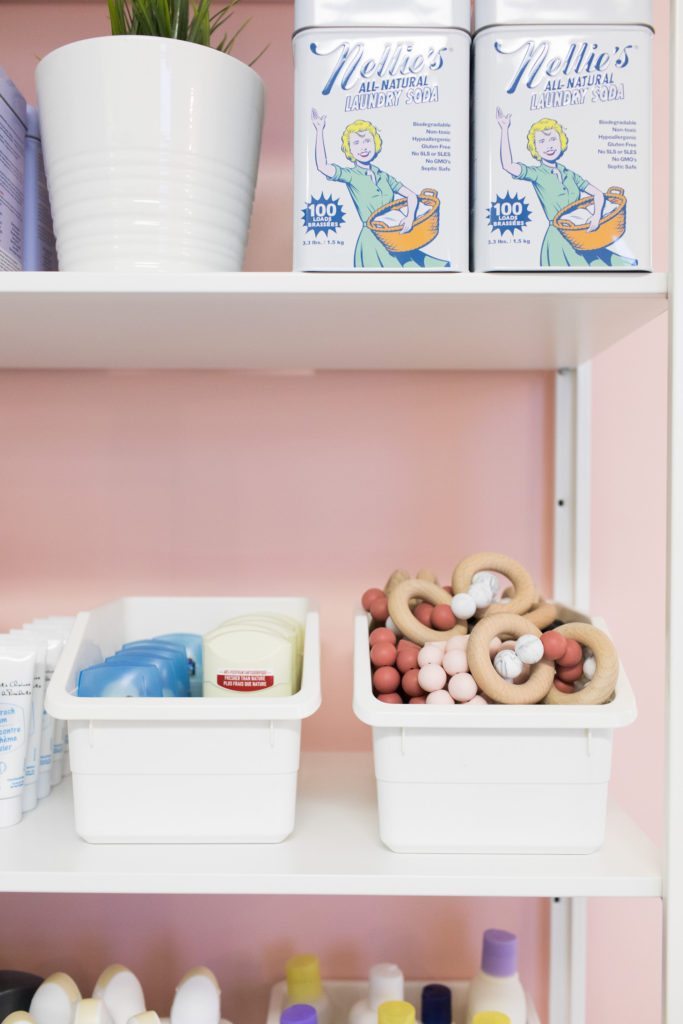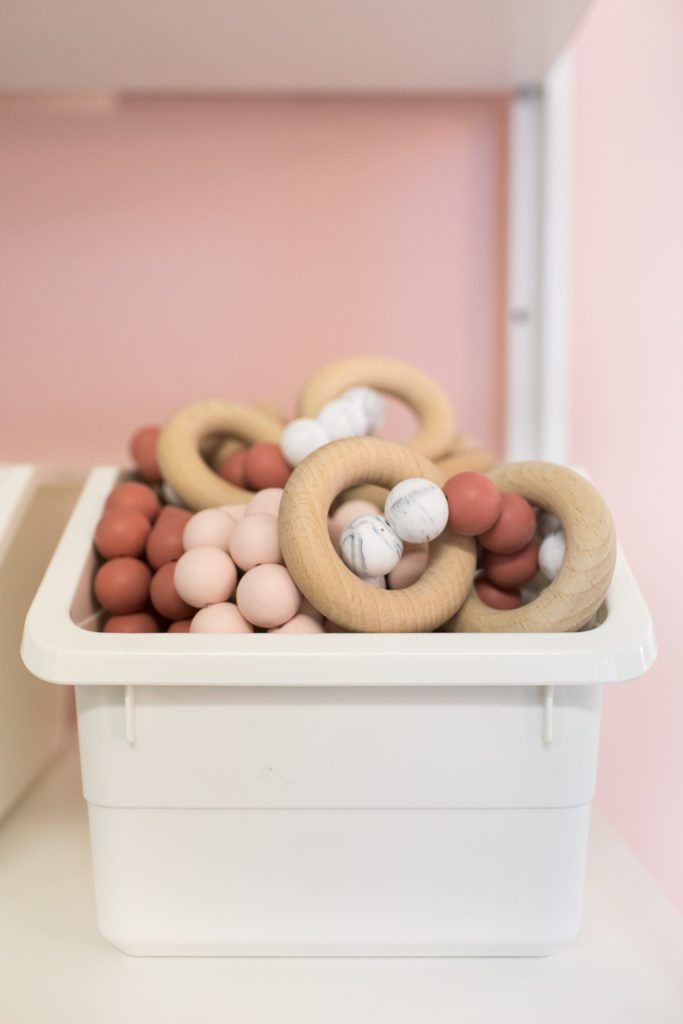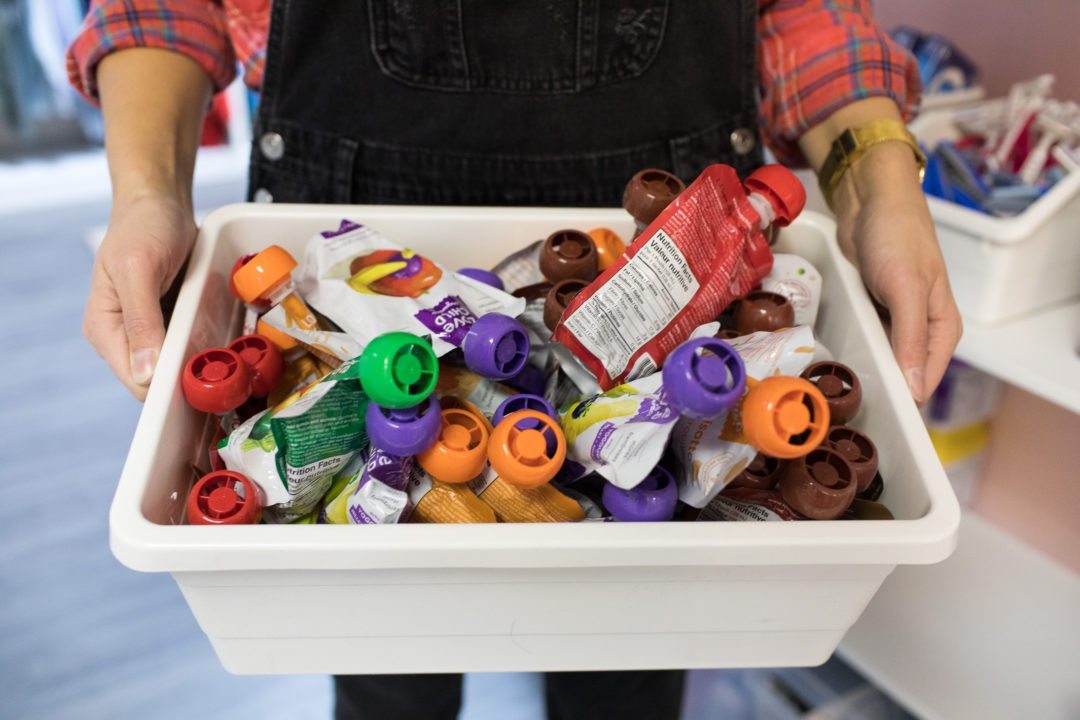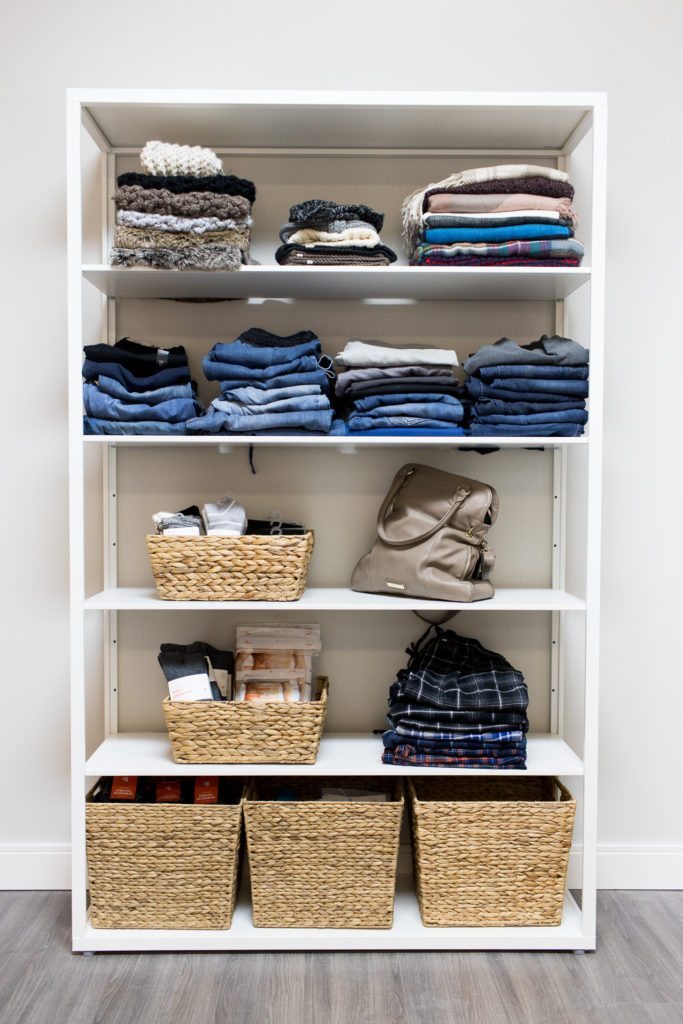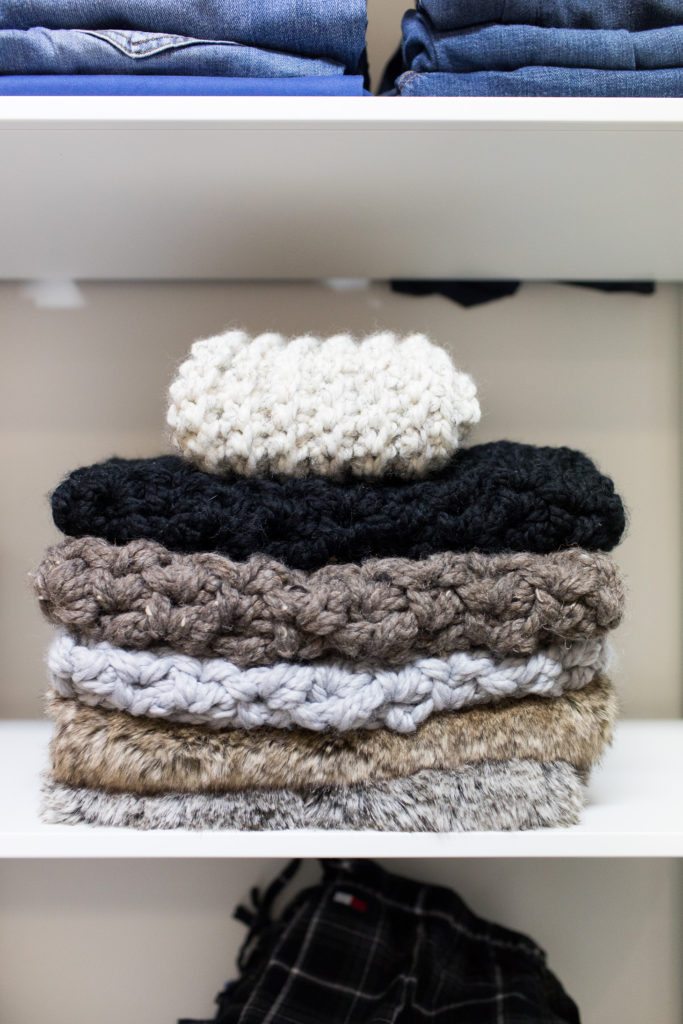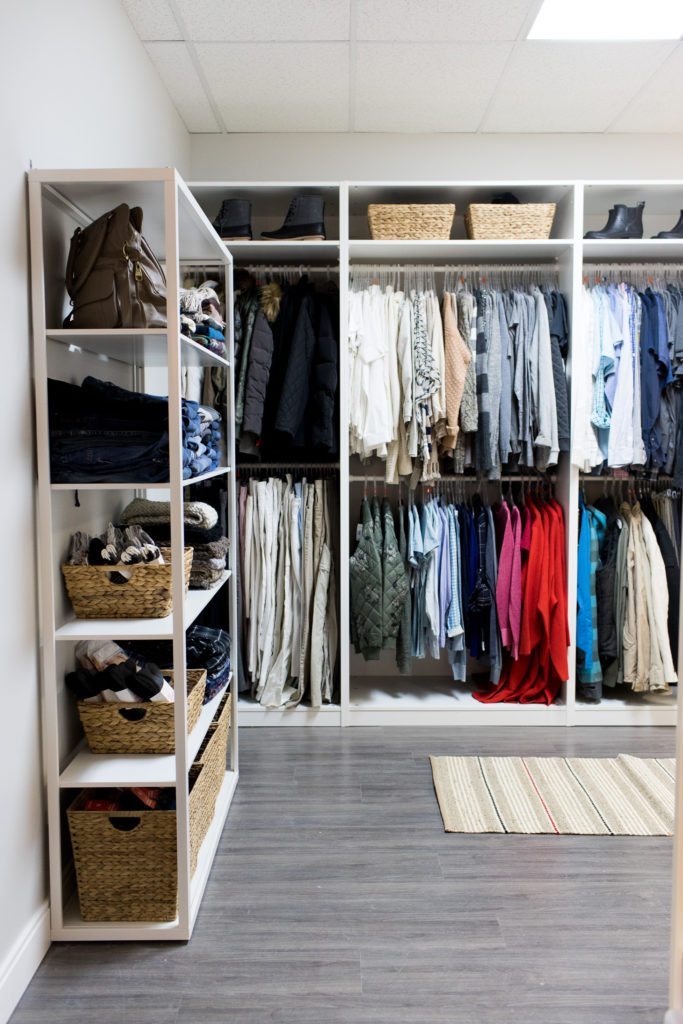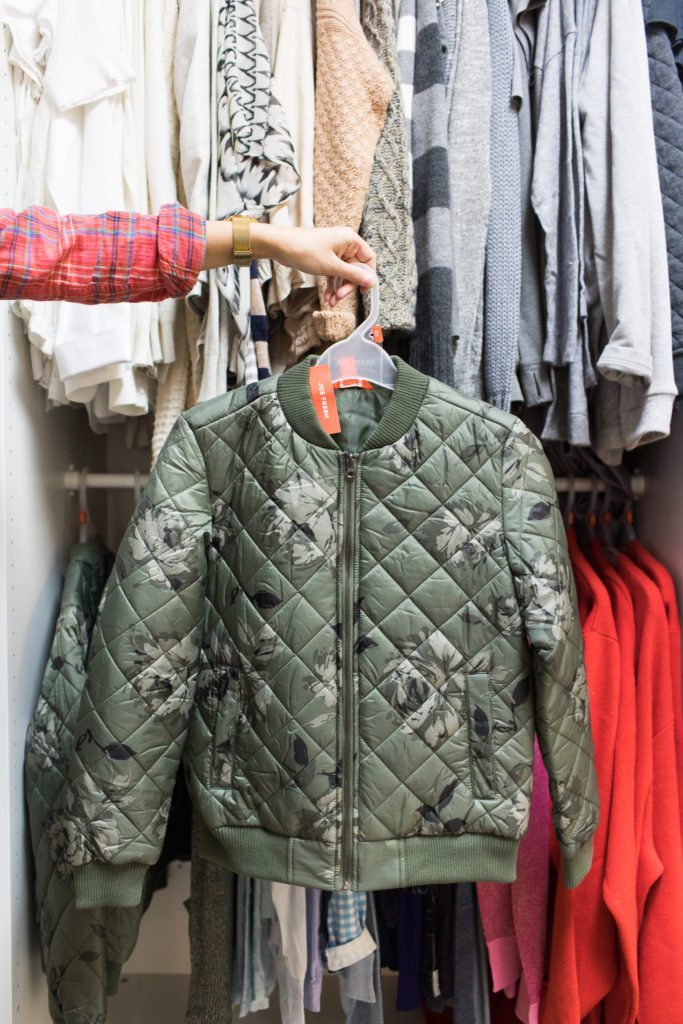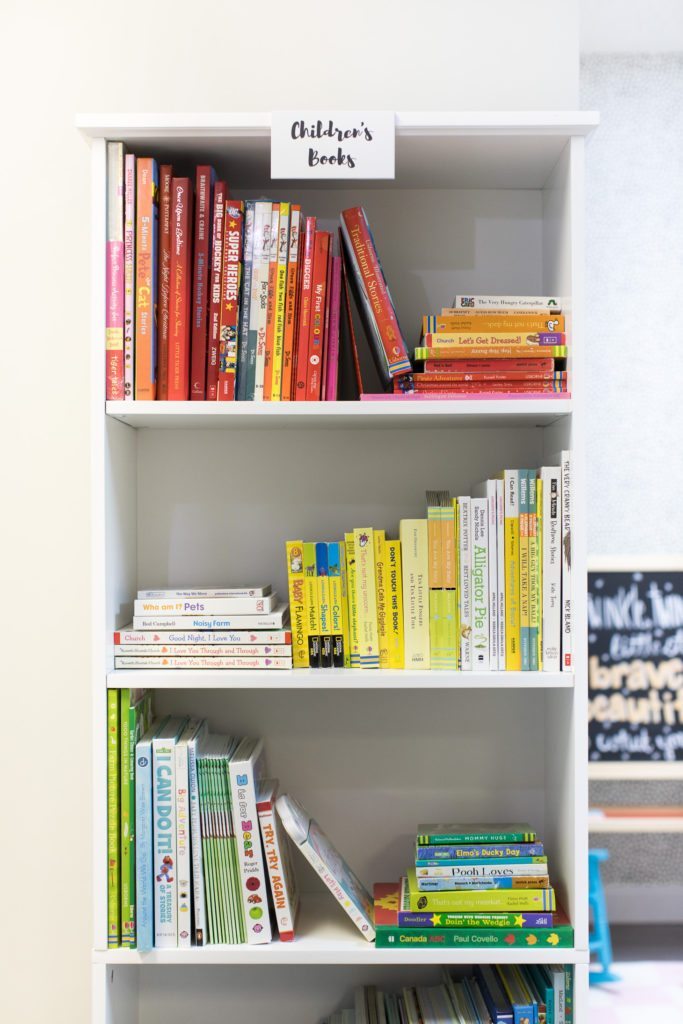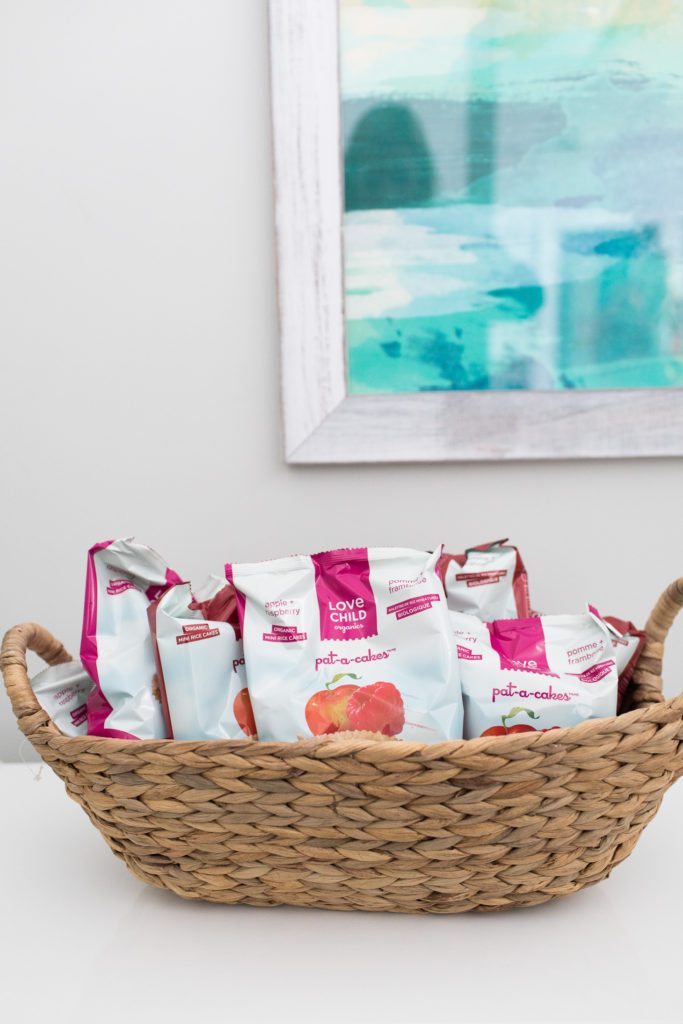 Finally, Jillian thanks those who brought food, smoothies, coffee, and BEER when they were pulling those long, hard days! To Starbucks for the coffee and treats, Labatt for the brewskis, Nature's Fare for the snacks and Jillian Harris x Mamas for Mamas Everyday Smoothies, Panago Pizza, and to Jason and Jeff from Fitness West Kelowna who brought everyone a delicious and HEALTHY lunch when it was really needed.
And to Team Jilly, Shay, Mindy, and Mackenzie, for listening to the ideas and running with them, for pulling long hours and working until every muscle in your body ached until the mission was accomplished.
If you still want to donate items to Mamas for Mamas, please go send them directly to their office, or pop in and say hi (and check out their awesome new space!) Or if you want to just lend a helping hand, reach out to them. Jillian closes her blog with the final note, "Once again, thank you, to EVERYONE, who made this dream a reality, you have no idea just how many lives you have impacted!!!
LOVE YOU ALL!
xo
Jilly"