Beginning with humble backgrounds in Brisbane, Australia, Milton & King is the brainchild of brothers Richard and Bryce Capp. Since creation eight years ago, Milton & King has grown and become a leading international manufacturer of bespoke wallpaper and wall murals. Pioneering a bold new era in wall coverings is their mission, and one that they are tackling head-on, one wallpaper at a time.
How did Milton & King come about?
Milton & King was started by myself and Richard in 2008. I have a graphic design background and Richard, sales and accounting. It was a bit of a spur of the moment decision to join forces. I had just returned home from four years of travel and Richard was looking for something more challenging. We had worked together in the past, but in a more agricultural scenario having grown up as farmers.
Have you experienced any challenges in starting up Milton & King?
Creating a Wallpaper Company in Australia has been incredibly hard. There has been no handbook for any of it. We have spent 1000's hours over the last 8 years perfecting our product. I won't go into the challenges of printing, finishing and delivering wallpaper to a worldwide market from little old Brisbane, but let's just say we are wiser for the experience. Had we have known what we do now, I doubt we would have ever started.
Like any small business, employees and cash flow have been the biggest challenges. It's been crucial to find employees who add to the culture, understand our direction and are team players. If something needs to be done, we get in and do it. If you make a mistake, you take ownership of it. Honesty and loyalty are very important to us and the smooth running of our business. Our team don't have to be rugby fanatics, but it sure helps if they are!
How does the family dynamic influence the business? What strengths do you rely on or draw from each other? How do you divide your labour?
We are very much a family business, which probably stems from the farming background. We have our ups and downs but generally, we enjoy working together. Richard and I have very different roles within the company which gives us real ownership on the direction. We share a common set of goals and ideals and have been blessed with the support of our parents. We have also been very lucky to find some great employees.
What is it about Milton & King that sets it apart from other wallpaper businesses?
Our wallpapers sit in their own little corner of the market. Yes, we use a digital surface print to manufacture our wallcoverings but we share very similar properties to traditional papers. We use a non-woven base sourced from Europe, we manufacture 10-metre rolls finished as a butt join and are priced around a similar price point. We have worked very hard to separate ourselves from the issues that most digital wallpapers face. We don't charge high per metre rates, as we enjoy the economies of scale and speed. Our biggest achievement is that our wallpapers look like wallpaper should and have achieved a Group 1 fire rating, meaning they can be installed in commercial applications.
In terms of the wallpaper designs, where do you draw your inspirations from?
We keep a pretty close eye on trends. Not just interior design and wallpaper trends but also graphic design and media. By embracing technology as we do, we are able to design, test and manufacture product ready for market in under a week.  So if we are a little slow on catching an emerging trend, we can get involved very quickly. That's a major advantage we have over traditional manufacturers. We don't have the cost & risk involved in manufacturing and warehousing a collection in the hope that it will sell.
What are your five tips that you would pass on to someone who is thinking about using wallpaper in their home?
My top 5 tips for using wallpaper is
Use a non-woven. They are easy to install and remove.
This may seem obvious but choose a design that YOU like.
It's not forever. You can pull it down and change it when you want.
Think about the overall theme of your home. There is a wallpaper to meet them all.
Preparation is key.
Which is your favorite wallpaper design?
At the moment, my favourite wallpaper is probably the 'Marble' from the Kemra collection (below) but I also like the new range from Kingdom Home.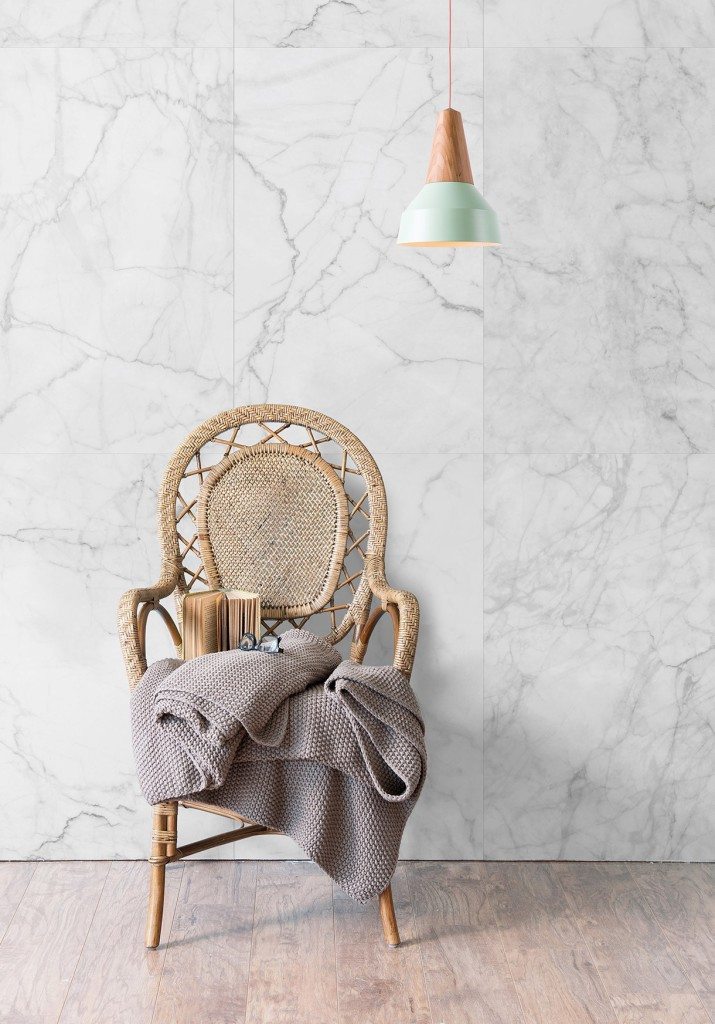 ---