The Perfect Nursery in 6 Simple Steps
Creating the perfect nursery is a task that most parents-to-be either dread or tackle with overwhelming excitement.  It is the first place your child will call their room and it is the place where a majority of their time will be spent in the early years. If you've recently become parents-to-be, or perhaps bubs arrival has swiftly crept up on you, follow these 6 simple steps to help you build and style the perfect nursery for your newborn. 
Choose A Colour Scheme
This is the first step in the decision process – deciding what to include within the nursery and what the colour scheme is. Do you want to opt for the typical baby blue for a boy and pastel pinks for a girl? Or, do you want something unisex and unique like sunshine yellow or moss green? This is the most important choice and it will impact every other decision you have to make for the room – the walls, the ceiling, furniture and even the decor. If you're still unsure, opt for a shade that brings light into the room and represents the new journey to come.
Decorate The Ceiling
Babies spend a large portion of their time lying on their backs, so why not give them something to look at. Here at Milton and King, we recommend using our high-quality wallpaper to decorate the ceiling with ease. Have a look at our nursery selection and choose something soft and simplistic like Polkadot Dreams to give character to an area that is usually forgotten.
Make The Walls Unique 
You could always go with a singular colour block shade, however, to bring a playful vibe into the room, consider a single wallpaper feature wall, or go all out and decorate the entire room with your favourite prints. Children grow up fast and they will no doubt get tired of the original design, so wallpaper is the easiest option because you can change it quite easily and reinvent the room as they grow. Take a peek at Milton and King's Nursery Collection and choose something cute like Bear and Butterfly or Pink Elephants to really brighten your newborns room.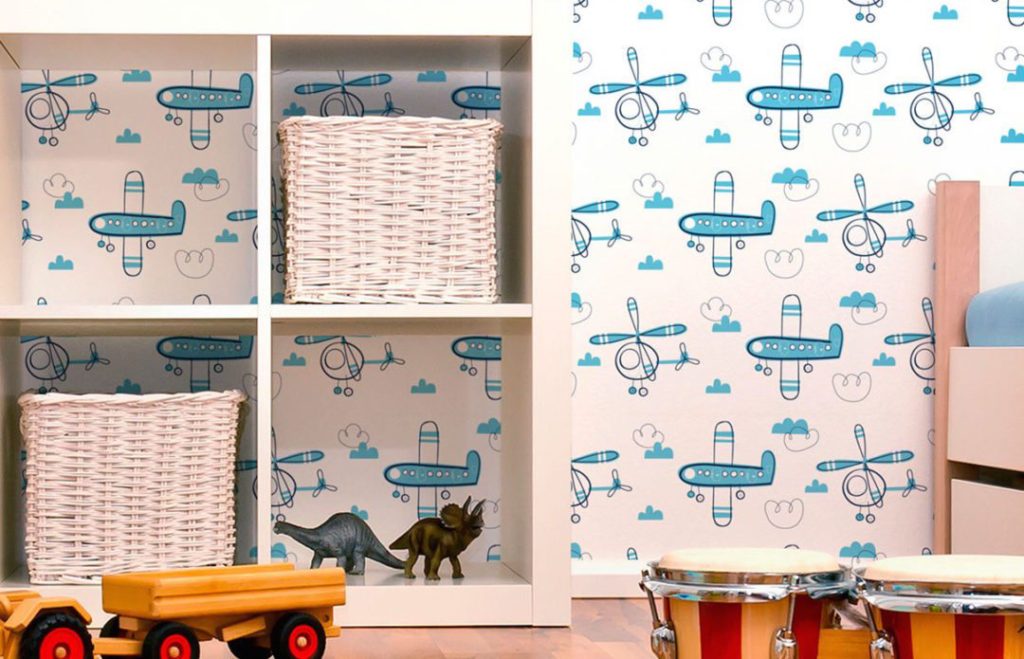 Select Your Furniture 
Ensure you purchase everything the room needs before you need it. That includes the cot, change table, drawers, toy storage and feeding chair. Choose pieces that will compliment your nursery theme and accessorise them with coordinating linen and decor items. Don't forget the finishing touches – books, a mobile and of course, cuddly teddy bears.
 Invest In Good Curtains 
Nothing is worse than a tired baby fighting sleep because the daytime light keeps creeping into the room. Make sure the curtains and/or blinds you have are relatively thick and dark to keep sunlight out during the day so your baby can sleep uninterrupted. If you don't, you'll quickly understand why it's important when you have a restless newborn in the first couple of months (and you need your sleep too!).
 Make Safety The Number One Priority
Keep power cords neat and tidy, and hidden as much as possible. Likewise, ensure blind cords and other hanging objects are out of reach, cover electrical sockets and install "bumpers" on sharp, pointy corners. You want to create a nursery that will not only be a place of relaxation for your and your bub, but you also want peace of mind you can all sleep safe and sound. 
Make sure you get to work early on your nursery so you have plenty of time to create a magical place for your newborn to rest, play and grow. Do you have a tip for all of the parents-to-be when it comes to decorating their first nursery? 
---