6 Pastel Wallpaper Designs For Your Home
Pastel hues are the easiest way to add a hint of color to your space without going overboard with a strong and rich shade. Not only are they softer in nature, but pastel shades utilized in wallpaper often act as an optical illusion making the space appear larger and more spacious. Like we've previously mentioned here, pastel wallpaper can be a beautiful addition to your home all year round as they add a fresh touch and ooze calming and relaxation vibes. We have a huge range of pastel options for you to choose from, so the hardest thing will be deciding which one to hang next!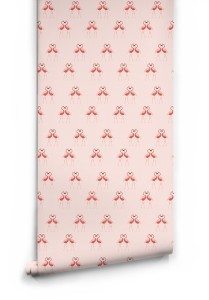 This super cute wallpaper features a gorgeous repetition of a pair of flamingos nuzzling. This quirky and simple design would be perfect for a nursery or child's room, and it would be equally amazing as a feature wall in another room of your home. This pastel pink shade adds the perfect amount fo color to a space and is the epitome of feminity.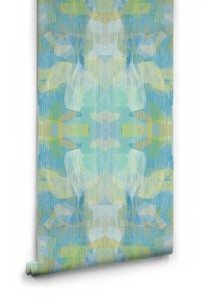 Using an abstract pattern and various shades of blue, teal and green, Camoufleur Turquoise is a gorgeous wallpaper for either your home or commercial use. The use of various blue and green hues in this pattern adds interest whilst still keeping the design minimal and easy to style in a room. This is a great way to add a hint of cool blue to your space.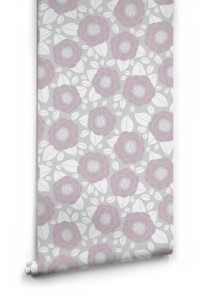 We adore the lovely lilac tones in this wallpaper! With subtle lilac flowers paired with neutral grey and white, this wallpaper will look fantastic and fresh in any room, from your master bedroom to the living room and even a nursery. The soft shades of color and large shapes mean this wallpaper is the perfect choice for a gender-neutral room with impeccable style.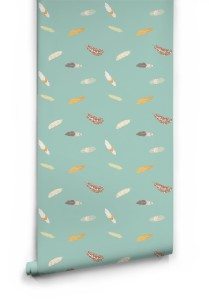 Coming in two colors, teal and pink, Floating Feathers is a hot favorite pastel choice with its combination of soft colors and a cute pattern. This relaxing pattern is the perfect choice for a bedroom or playroom without being obnoxious and attention-grabbing.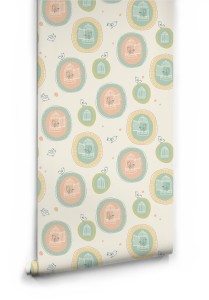 With soft yellows, peaches and greens, this cute birdcage printed wallpaper is a great option if you want to add a variety of pastel shades to your space. This cute design features open birdcages with adorable chirping birds flying amongst them, a perfect choice to celebrate the warmer months and keep that spring feeling all year around.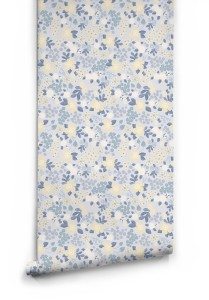 You can't go wrong with a pastel toned floral wallpaper design like Flower Gardens in the blue colorway. With soft creams and blues, Flower Gardens has a gorgeous intricate pattern that will create a feature wall in your space. This is a great option if you want a floral design without the typical pinks and peaches, and looks great when paired with white furniture.
Still haven't found the pastel wallpaper for your space? You can browse our complete collection of wallpapers and wall murals here. 
---