New Shibori Wallpaper Impressions
Shibori is a design boutique from Sydney, Australia that Milton & King has been working with for over 6 years. They are most renown for their hand-dyed leather, art-based prints and fabrics dyed using the ancient Japanese technique. It is similar to tye-dye in that it requires the use of dye on fabric that is twisted to produce the result. However, the simple process of tye-dye is much more basic. Shibori, however, uses threads to create finely detailed repetitive patterns. Translating the beautiful Shibori designs into wallpaper has been an enriching experience. It allows the artwork to adorn the walls of homes and businesses throughout the world. Our Shibori wallpapers have been so popular, which is why we're thrilled to release a new collection of 7 designs called Impressions. We caught up with Pepa & Karen of Shibori Studio to ask them a few questions about this new batch of gorgeous wallpapers.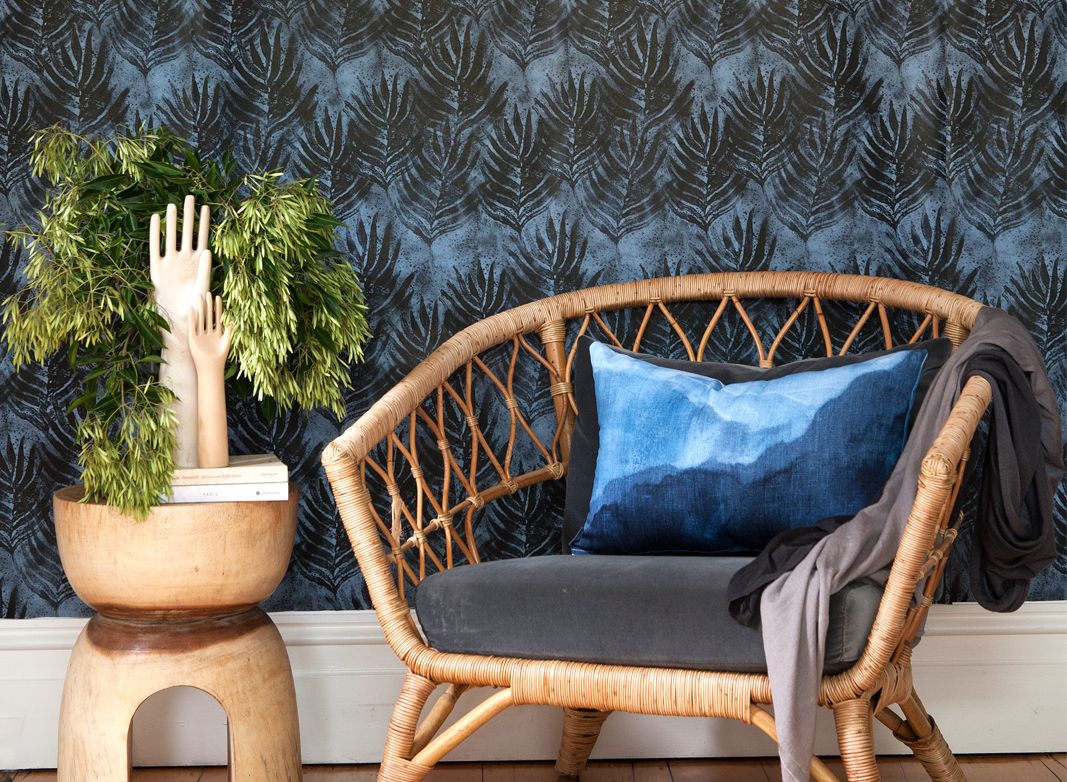 Pictured above is the Shibori Leaf design. This gorgeous bold design is available in dark blues to greys and forest greens. The botanical wallpaper is perfect for almost any room in your home. It was created with layered wax impressions of a leaf on leather.  Many experiments with different fauna and wax on varying cloths led to this highly textural layered design.
Below is the Poppy Wallpaper design. This is an abstract shibori wallpaper featuring large overlapping floral outlines creating an almost marble-like wallpaper. This romantic wallpaper would be perfectly suited for a master bedroom or bathroom interior. It is made using a piece of leather that has been tightly scrunched leaving very little surface for the dye to penetrate.  The delicate gathering has naturally produced flower like impressions in a random allover pattern leaving the eye and imagination dancing around the wall.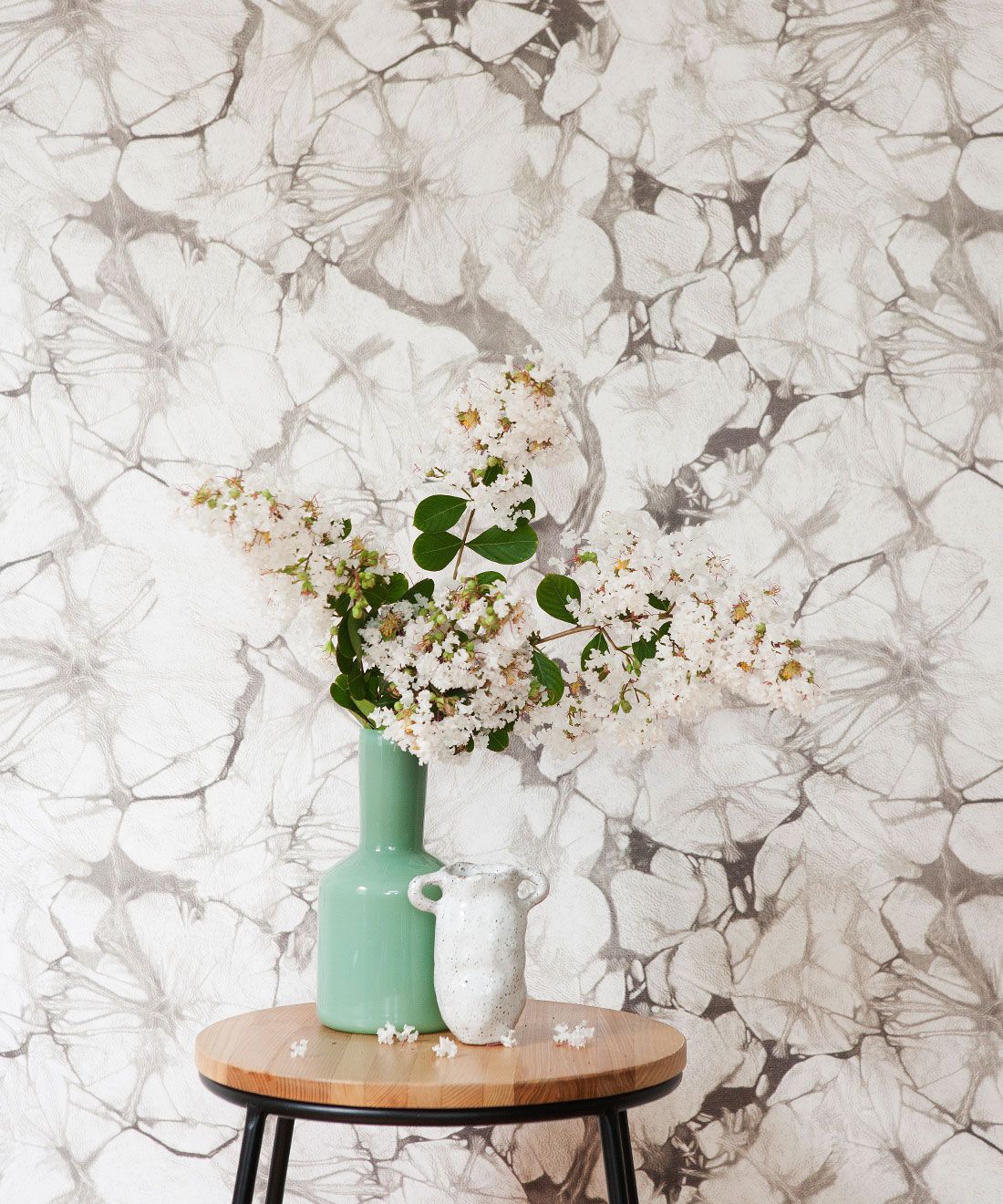 Milton & King: Was there any singular thing or singular theme running through this selection of new designs?
Shibori: Impressions is a collection of art based prints that began while experimenting with wax resist on leather and fabric. Often we will start with a theme and the theme will evolve and rewrite itself as textures and patterns take place and complete their own story.
From one floral to another, Cherry Blossom is a beautiful floral wallpaper design created using a wax resist on leather.  Leather is the preferred base as it picks up every detail in the dyeing process. The two color design uses the traditional shibori technique but the result is a gorgeous floral wallpaper. It is perfect for a kitchen, bathroom, kids room or nursery.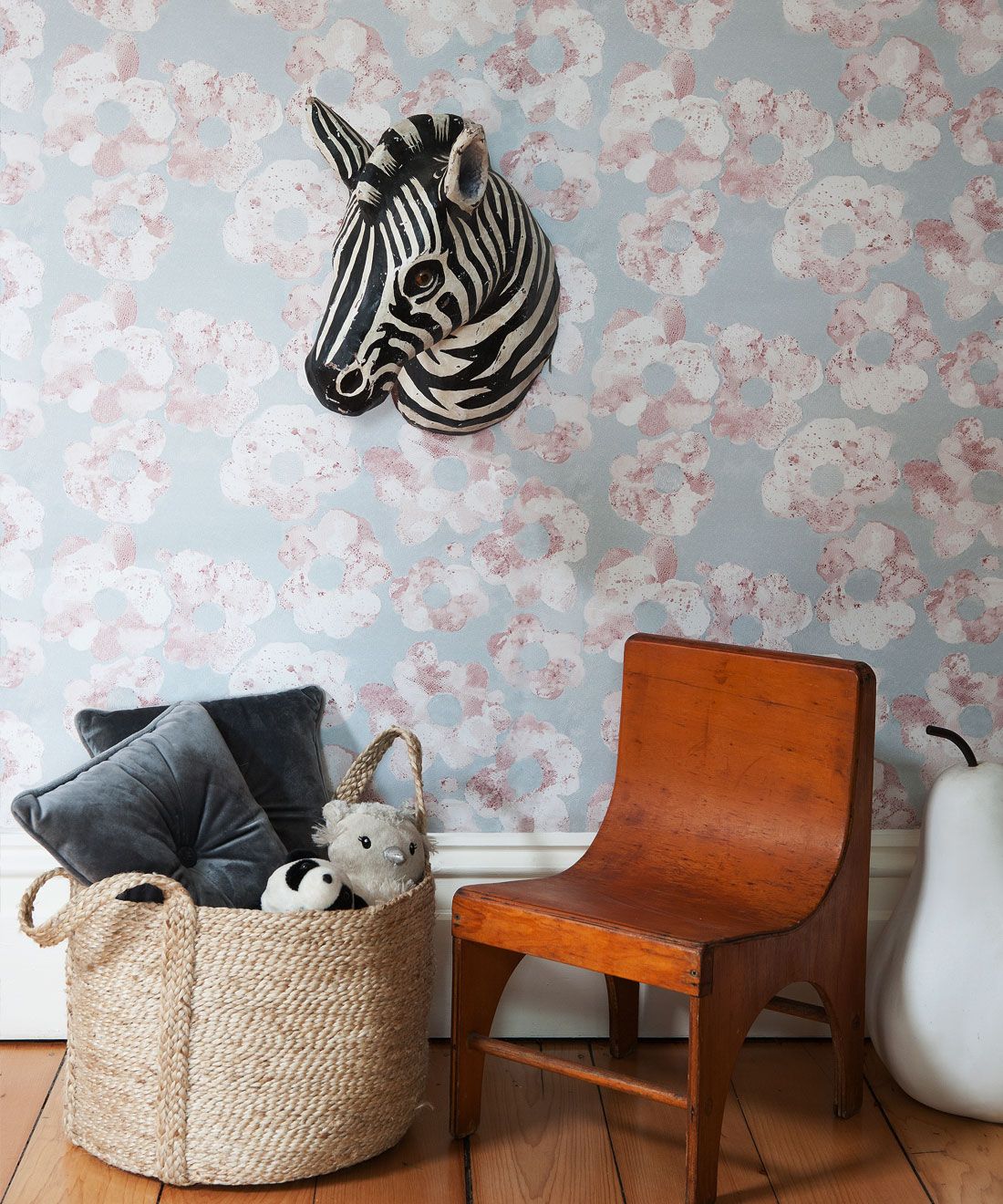 Milton & King: Are there any different approaches you have taken with these new designs from what we have seen in your previous wallpaper products with Milton & King?
Shibori: We are always experimenting with new techniques and ways to create patterns and textures.  We have used our own variations of many shibori techniques to produce the Impressions collection.  We play with scale, tone and texture to modernise the traditional shibori techniques and use unconventional fabrics to achieve uneven results and play with the Wabi Sabi idea of perfect imperfection.
Aztec Suns is a geometric wallpaper that lends itself to an earthy bohemian interior style where patterns and layers are mixed and matched. It is an example of Nui shibori or stitch shibori. In this case, the stitch was used on the cloth to expose or cover sections of the design by stitching and pulling tightly to gather the cloth before submerging in a dye pot. Stitching gives flexibility and control to create a variety of designs, delicate or bold, simple or complex. The scale of this design illustrates the amazing details possible in Nui shibori.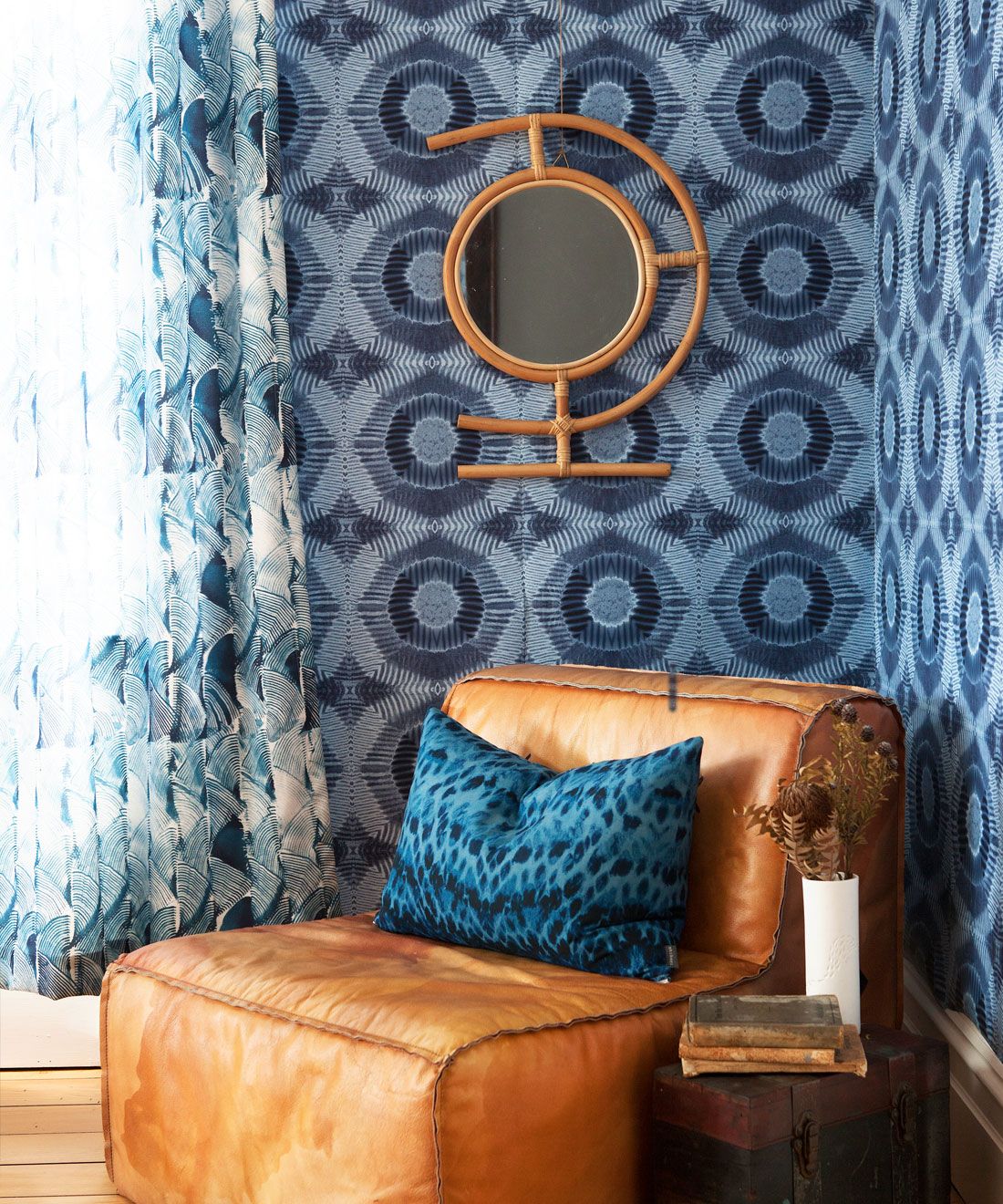 Milton & King: I noticed a few more organic designs using leaves and florals. Where did the inspiration for designs like Leaf and Cherry Blossom come from?
Shibori: Nature is the best designer and is a muse for so many creatives. The Shibori Leaf design was created using a wax impression of a leaf while the Cherry Blossom was a freehand wax painted flower using different objects as brushes and texturisers with dye. We are always playing with various mediums to see what can be created with a bit of imagination at play.
Autumn Path is an abstract tie-dye style of shibori wallpaper design. It's perfect for the bedroom, living room and any other space in the home. It is a bold design that demonstrates the beauty of abstract dyeing where monochromatic levels of dye are poured and free to roam in a completely random fashion and follow its own path. Levels of tone build up walls of color and texture in folds and valleys in the layers of cloth and tell their own story leaving the designer with the only decision of when to stop.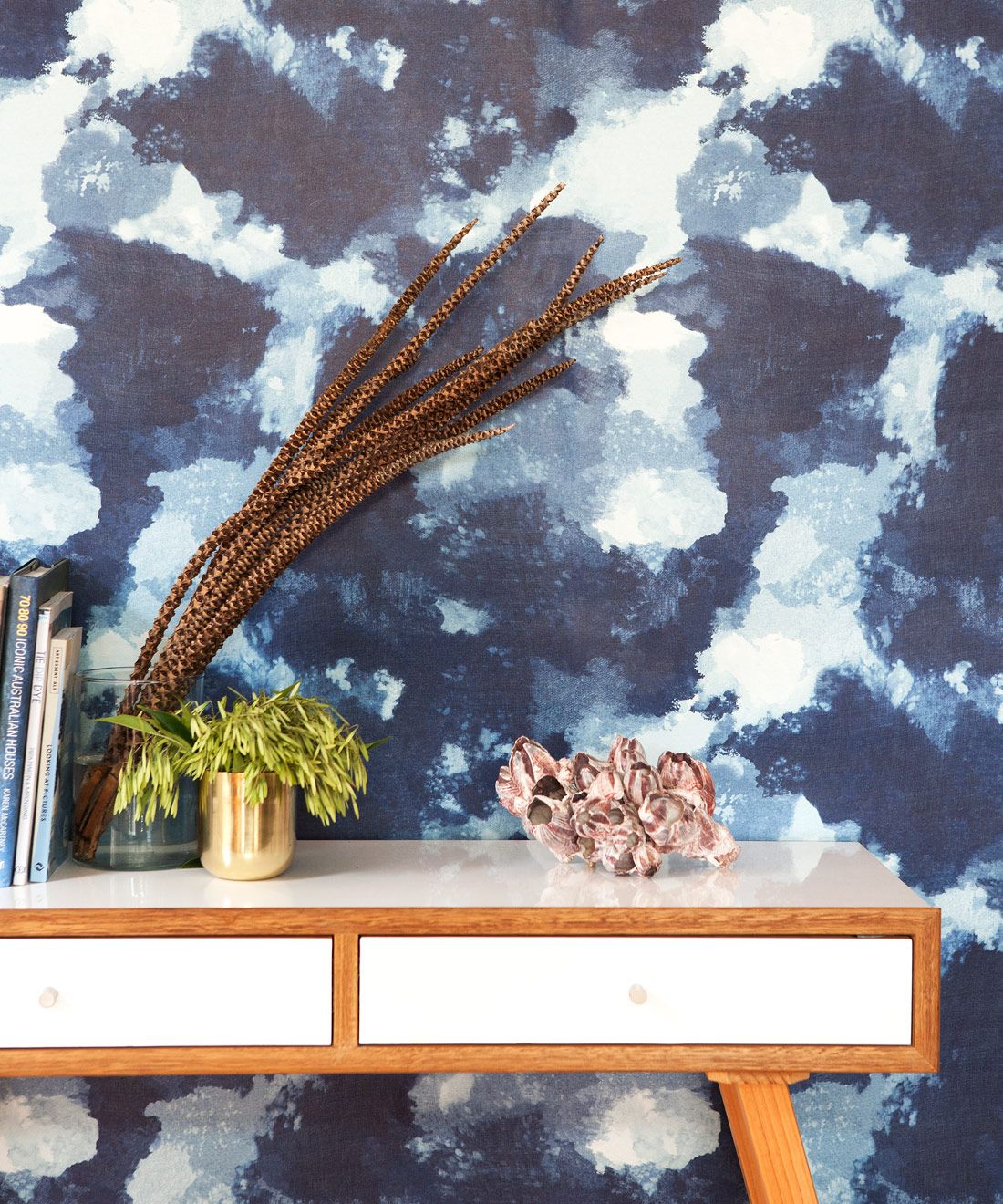 Milton & King: What are some things you are excited about in the coming year for Shibori?
Shibori: Shibori has always been an evolving venture for us.  What started as a small creative outlet filling a gap in the home wares market addressing the vacant walls of the early 2000's soon took on it's own persona and found a place decorating on the world stage. 2020 has started with a lot of exciting new ventures; our Sydney based studio/shop has just been renovated to a fully compliant accessible space to accommodate more students for workshops, we have some very exciting new projects and collaborations to announce as well as some big things coming soon in the United States.
Ikat Wallpaper was formed using a handmade stencil that was printed on leather using wax. The cracked wax formed a very informal resistance on the soft touch of the leather surface. It would leave a somewhat formal, elegant pattern with an aged and weathered finish. It is a great small-scale pattern that works well for bohemian interiors that like to mix and match patterns.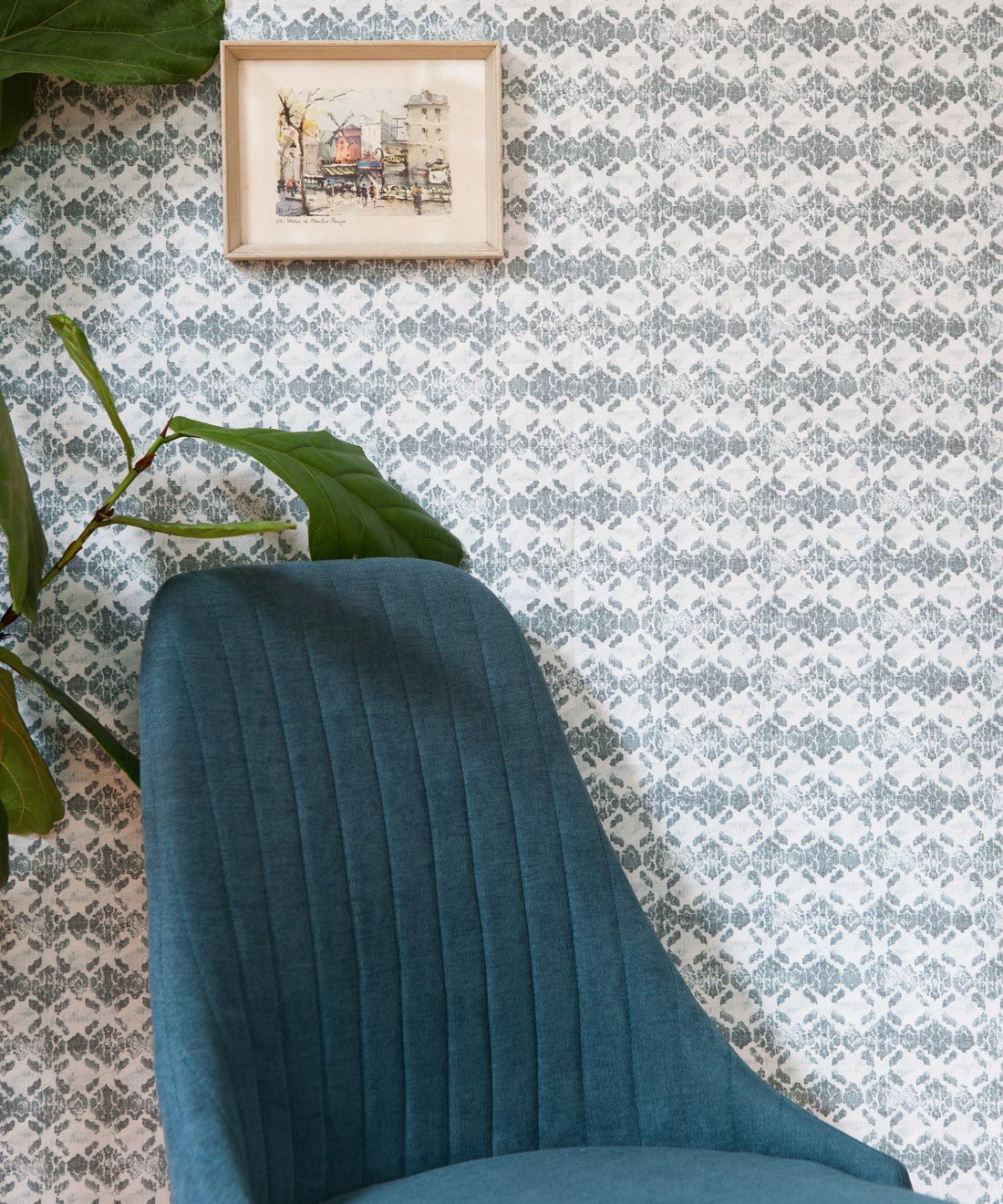 Kanoko Wallpaper features a pattern of small imperfect circles creating a playful and quirky design. It is created using a Japanese binding of small sections of cloth with tight thread forming small circles.  The thread creates the resistance protecting the cloth from the dye. It is used to form graphic illustrations or random patterns depending on the artist's intention. This interpretation of Kanoki takes this delicate traditional design and upsizes it for a modern and bold design. It comes in five colorways including Grey, Indigo, Midnight, Peaches and Willow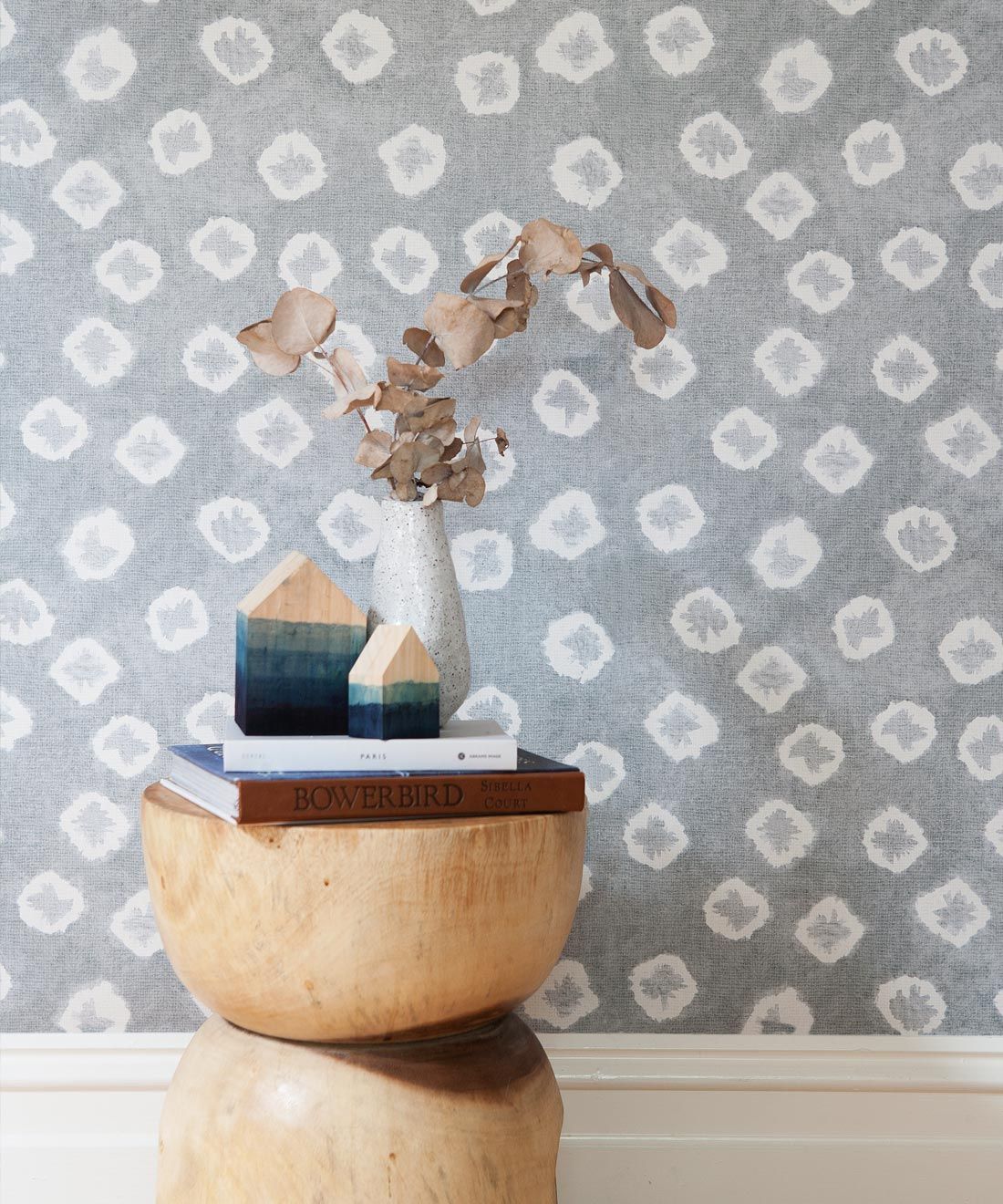 ---