New To Our Range: Modern Classics By Maria Khersonets
Designed by Russian artist and illustrator Maria Khersonets, the 'Modern Classics' wallpaper collection has been deeply influenced by the warmth and romance of traditional wallcoverings and take inspiration from the work of English artist William Morris, Maria's designs pay homage to the sophistication and subtle glamour of his artwork. This gorgeous new collection of wallpapers by Maria visually generates beautiful depth and texture using Gouache, a type of watercolour paint. Her designs are intricate and detailed, giving a sense of life and dimension with each individual brush stroke.
Combined, the unique collection of wallpapers are a curated album of stunning bold floral and foliage artworks that capture nature in Maria's own style, focusing on rich hues such as inky blues, olive greens and berry reds.
Check out a snapshot of the entire collection by the fabulous Maria Khersonets below!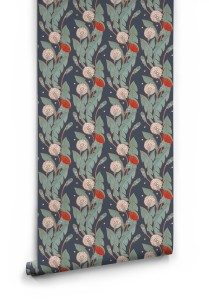 The first of Maria's collection is the gorgeous Dandelion design with gorgeous curves of the leaves combined with the soft tufts of dandelions and bright flowers. This design comes in three different colour-ways so you have a number of options when it comes to adding this gorgeous wallpaper to your home. Dandelion may be bold, however, it is still understated enough to work well with other interior elements without feeling like it is overpowering.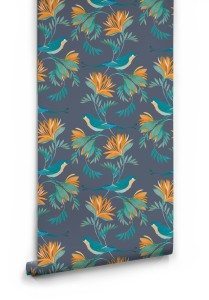 Available in four different colour-ways, Winsome is a fresh design featuring birds nestling in large flowers with delicate leaves. Featured above is the "Corona Electra" print that is complete with blue hues alongside pops of  yellow and green. Winsome is also available in "Hot Berries," "On Sunset" and "Riveria Eden," and each is a completely different look and feel,  so check them all out here and select the one that is perfect for your space.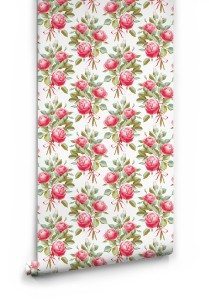 This wallpaper is a classic design that features a gorgeous bouquet of roses, evoking the feel of a traditional English cottage garden. This pattern is detailed and intricate with a sense of dimension and texture. This particular pattern also comes in four colour varieties, all in classic tones with a hint of eye-catching colour. This pattern would make for a stunning feature wall in your living room or a gorgeous vintage kitchen!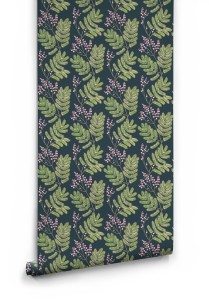 A gorgeous design of intricate leaves and tiny berries, this wallpaper from the "Modern Classics" collection combines deep colours with pastel accents throughout. Mimosa is available in 5 colour-ways: Pink Musk, Pomegranate, Red Tango, Tranquil Crop and Wattle Green.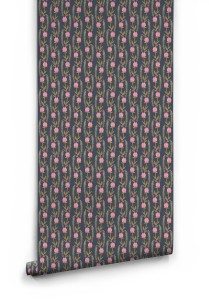 From afar, this wallpaper seems quite simple and understated, however upon closer inspection the small, intricate details of the piece give it a hint of elegant romance. Using delicate shapes in repetition, Clover Fields is perfect for adding a soft, feminine touch to your space.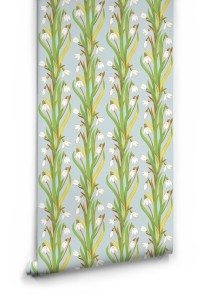 This botanical design of free flowing linear leaves and bell-shaped flowers was created to look textured and dimensional. With its brighter colours of green and blue combined with pastel shares, the "Spearmint Ice" color-way is perfect for spring and summer.
The 'Modern Classics' collection by Maria Khersonets is exclusive to Milton & King and is available to purchase now, in either a same or full roll.
What is your favourite wallpaper from the collection?
---