Lucy In The Bathroom With Wallpaper
Lucy Wilkening is a thrift store lover who has an affinity for traditional decor. She shares pictures of her home and restoration projects on her Instagram. During the process of restoring her home, Lucy has been faced with a number of hurdles and challenges that she's had to overcome. Her bathroom project was no different. However, :::spoiler alert::: she came out the other side with an absolutely gorgeous bathroom. We asked Lucy all about her bathroom project and what roll the wallpaper played.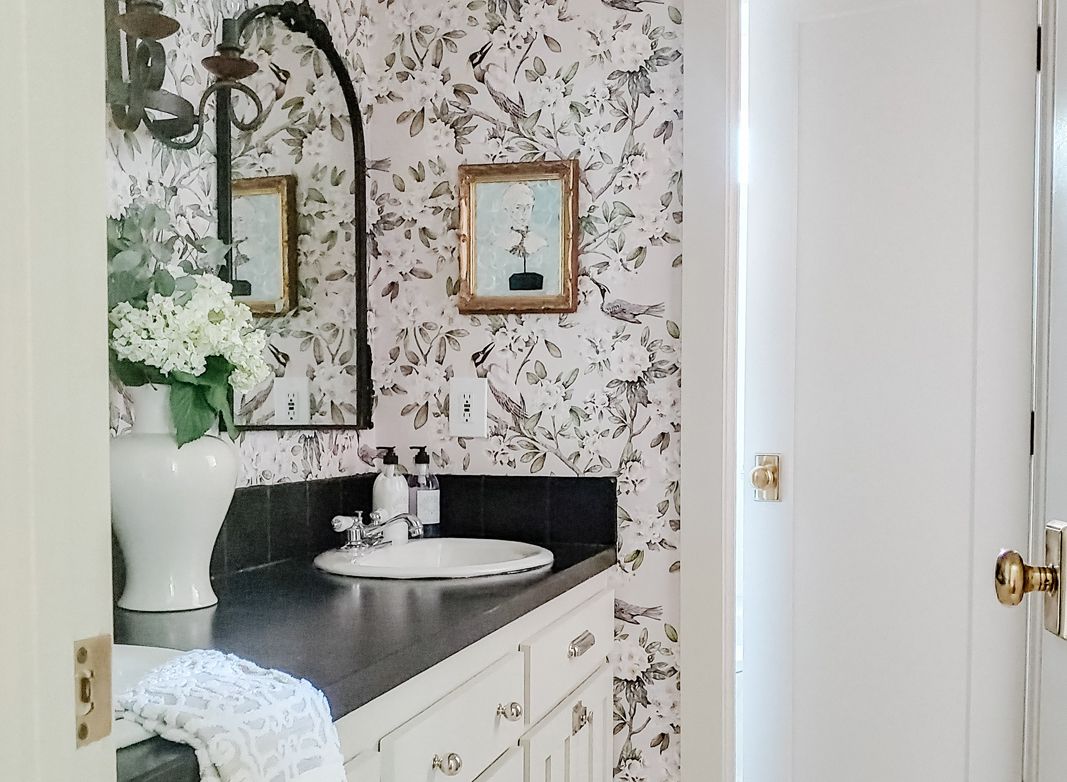 M&K:  When the idea came to makeover the bathroom, what were the initial thoughts and goals?
LW: We had a major flood in our crawlspace in early 2021 just 7 months after we bought our house! The damage resulted in our entire house needing to be completely remodeled. We had planned to remodel our 90s builder grade bathroom when we bought our house (hello, carpet in the bathroom!), but the flood caused us to move a lot faster.
M&K:  Did you know you always wanted to use wallpaper from the start?
LW: Not only did the grandmillennial in me know that I wanted to use wallpaper, but I was also certain that I wanted to use Milton and King wallpaper. While planning out my bathroom remodel, I think I ordered around 10 samples which were all great, but as soon as I saw the Victoria sample, I didn't need to see anything else.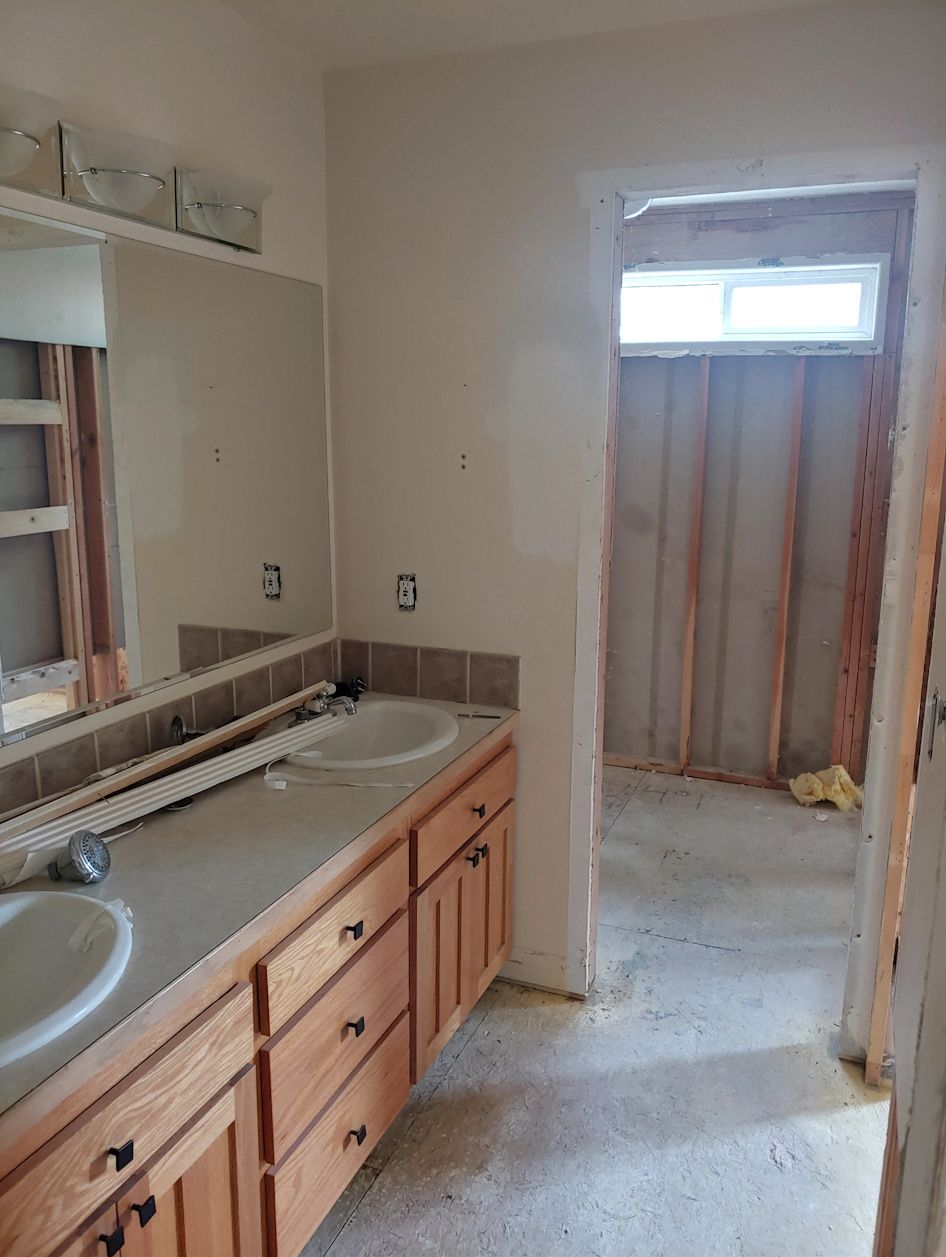 M&K: Had you worked with/installed wallpaper before?
LW:  I have installed wallpaper many times, including helping my mom install wallpaper in the 90s when I was a kid (I come by my love of wallpaper honestly). As I have gained experience with wallpaper, I have learned that just like with paint, it is EXTREMELY important to invest in quality paper. The quality of paper obviously influences the final look and how the paper holds up over time, but it also has a direct impact on how workable the paper is during installation. I went into this particular project knowing that I was going to do a lot of detail on my door headings and casings, so workability and durability were really important factors for my wallpaper.
M&K:  What were some of the designs/samples you were considering?
LW:  I looked at the South Asian Subcontinent Mural in Blue (which, I am still actively scheming on how to incorporate it into my house somewhere), the Natural Ticking Stripe wallpaper, the Fungi wallpaper in Latte, and the Garden Bloom wallpaper in Black.
M&K:  Why did you ultimately decide to go with Victoria?
LW:  I am very much a visual person, and I generally need one element that inspires me for planning an entire space. The moment that I tacked the Victoria wallpaper sample onto the wall of my demolitioned bathroom, I knew it was the right pick. In fact, it was the first element I committed to in this room.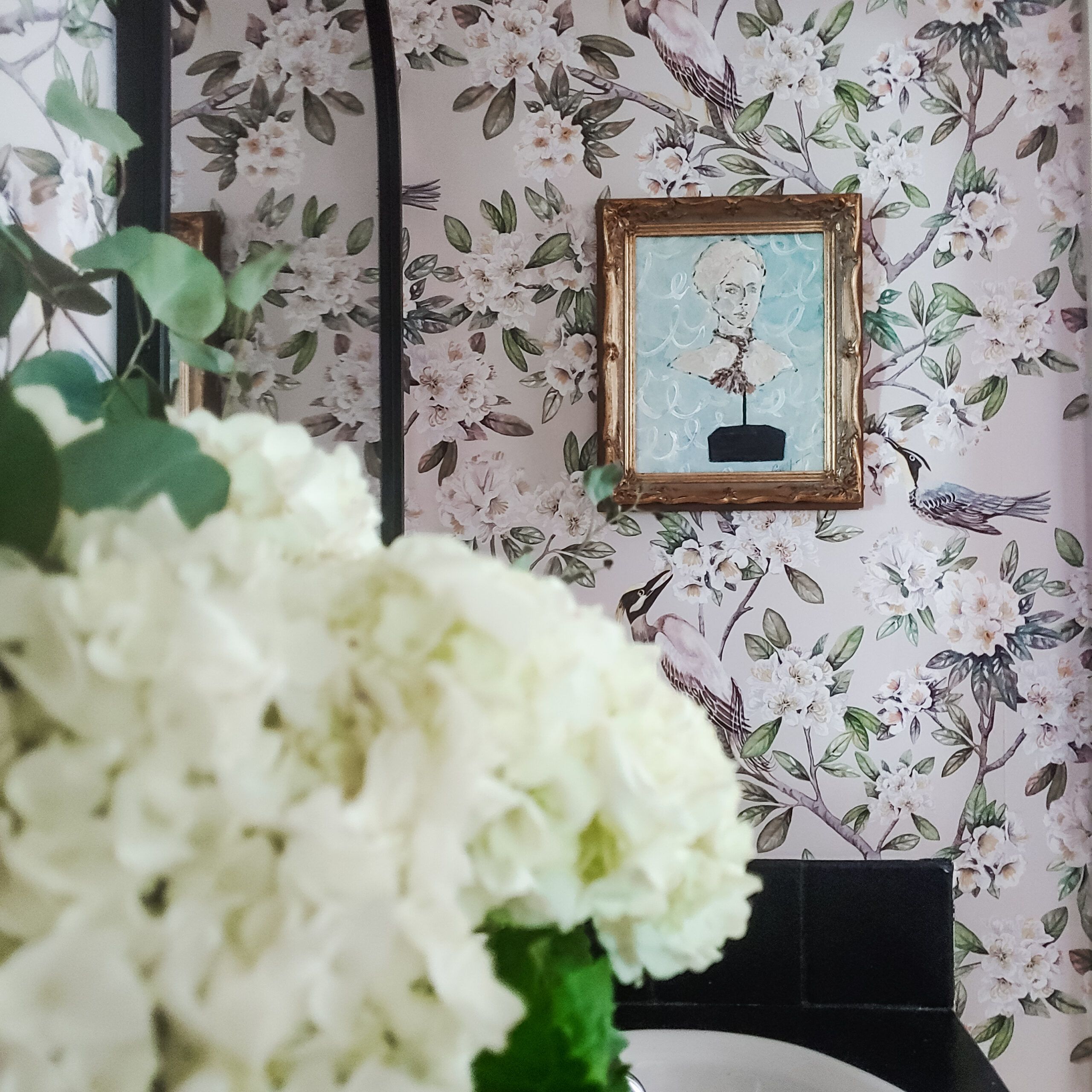 M&K:  What are some of the other elements of the space that were important for you to get it right?
LW:  I have a hard time defining my design aesthetic, but I very much love traditional style, color, pattern, chintz, and antiques. You will find very few new or mass-produced items in my house – I am an avid antique store shopper and Facebook Marketplace lover. I feel that Victoria really fits so well into my overall home aesthetic and love for things that nod to the past. When I found the Victoria paper, I was able to quickly decide on tile and paint that coordinate in a beautiful, traditionally modern way. I am very picky about paint, and it was extremely important to me to not have a plain white paint. I love the creamy hue of the paint against this Victoria paper, and it makes the room feel very warm.
M&K:  You had some hurdles along the way. Can you discuss what those were and how they were resolved?
LW:  Oh my, were there hurdles! Remodeling a house during a pandemic is not for the faint of heart! Our house ended up taking over a year to remodel due to shipping delays, construction personnel turnover, COVID, and so much more! In fact, as I type this, we are still not completely done. I ended up doing a fair amount of the work in this bathroom myself – including removing the giant builder grade mirror, replacing the light, repainting the cabinets myself after several poor attempts by subcontractors, and hanging the wallpaper. I also sourced all of the tiles and elements myself. I really appreciated Milton and King's helpfulness and kindness in this process – they worked with me for over 8 months and were nothing but supportive the entire time.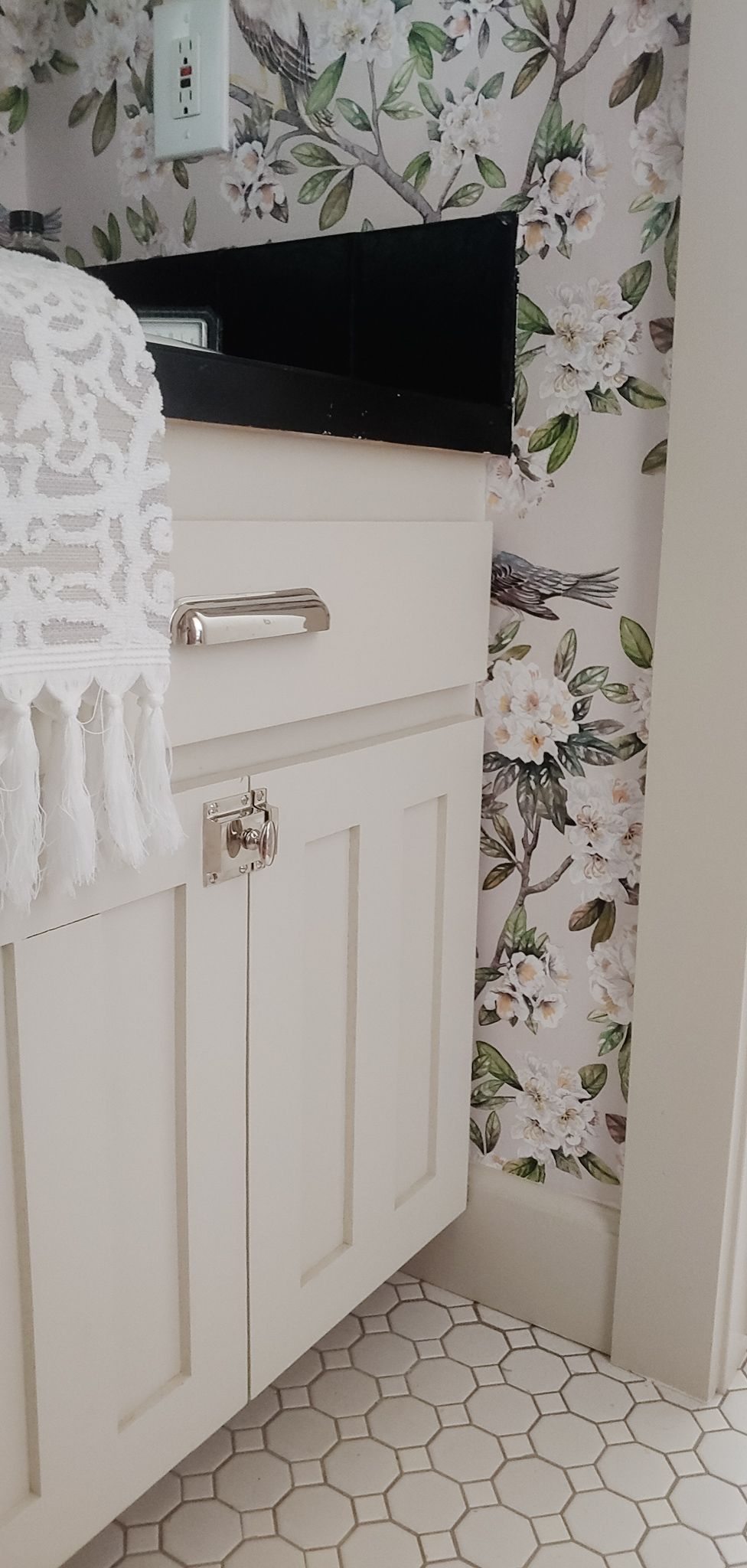 M&K:  Was there anything you learned along the way either about wallpaper or making over a space like this that you'd like to pass along to others?
LW:  When it comes to construction and remodeling, you really have to be ready to just roll with the punches and get your hands dirty. It is an absolute fact that something during remodel will always go wrong, and going into the process budgeting for that and mentally preparing for it really makes a big difference. The other HUGE piece of advice I would give is to invest in QUALITY items – especially floor and wall treatments. Other elements are easier to change over time, but flooring and wall treatments take big time and money investments to change/fix later. It really is best to invest in them upfront, and save yourself money and time.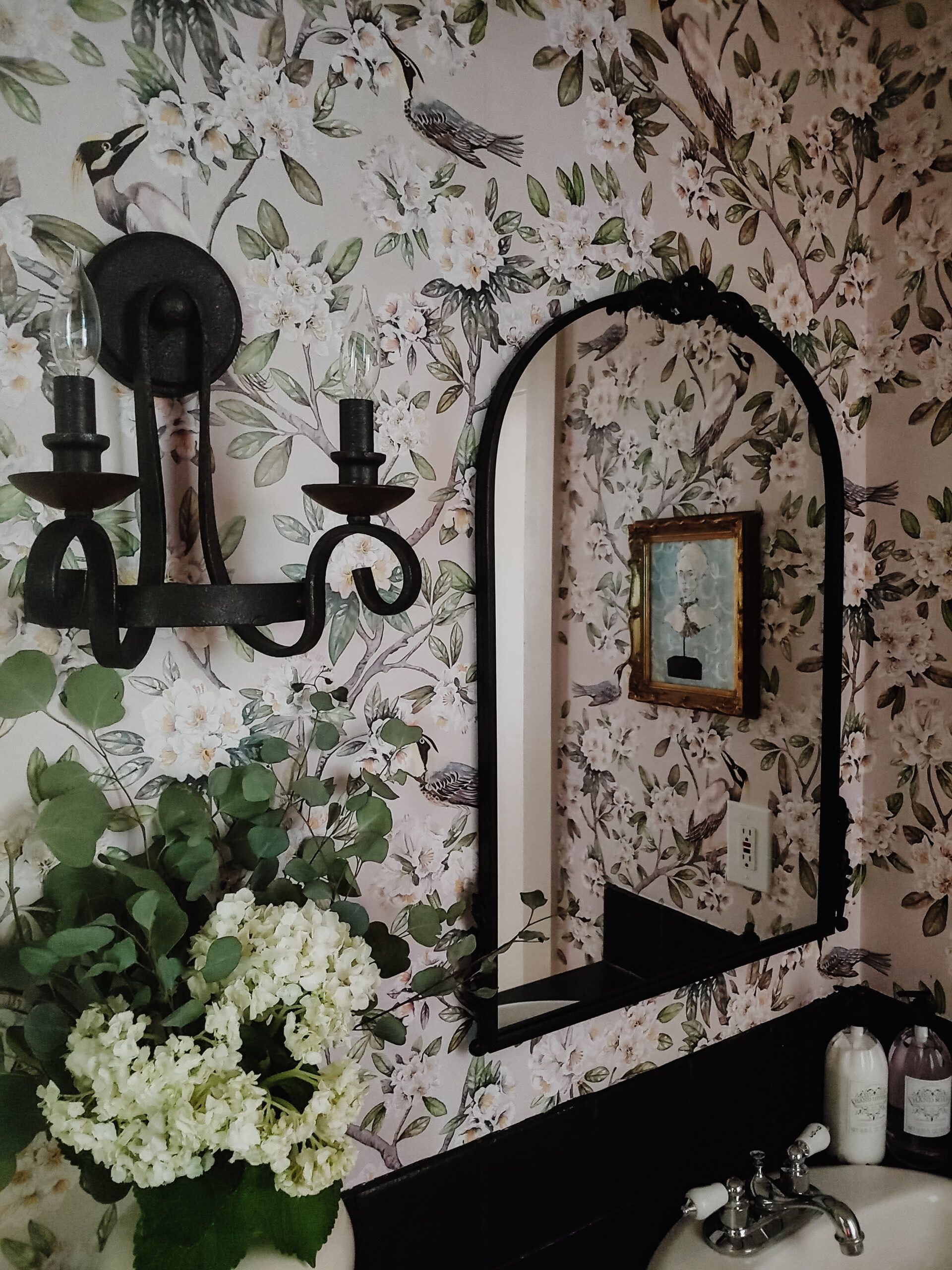 M&K:  Tell us about the result. Are you satisfied with the outcome? Are there still plans for this space or is it complete?
LW:  My entire family is extremely happy with how this room came together. My kids both correct me that it is "their bathroom" ha! I am still on the hunt for the exact, perfect antique mirrors to pair with this beautiful wallpaper; but, as with all things, the very best matches take time. Finding a pair of matching antique mirrors in the exact same size for a vanity is no easy feat!
M&K:  Any other projects on the horizon?
LW:  I would not describe myself as a decorator, but more like a curator of things I really love when it comes to designing my house. This is the only room I have completed from a design perspective, and I am completely thrilled with every part of it. That means that I have basically my whole house to go, but, I am ok with going slow and investing in things that I truly love and that my family can cherish over time. We are welcoming a new baby to our family in just a few weeks, so the nursery is now the task at the top of my mind
---