Kids Bedroom Themes? Here Are 6 To Consider!
Struggling to come up with a suitable theme for your child's bedroom? With an endless number of kids bedroom themes to choose from, here are some of our favourites to help make the decision a little bit easier:
Nautical
An ocean theme is an easy theme to implement. Look at some nautical colours like navy and cream and incorporate them throughout the bedroom… on the walls, in the bed linen, in the book shelves and with some funky wall decor. If you really want to get into the nautical theme, check out our Beach House design with cute whales, shells, and seaweed – it is perfect for this theme! This theme is an easy one because you can go all out with it, or you could keep it subtle and minimal with a splash of nautical colour. Still want more? Consider going for a pirate or mermaid touch with one key object, such as the bed.
Bohemian
Keeping up with the trends, a boho-inspired children's bedroom is a fast growing styling theme for your little one, and gosh is it adorable! The use of neutral colours like beiges, creams and browns are perfect growing kids who are picky and don't necessarily want too strong of a theme for their space. The boho-inspired theme is also great for a nursery if you're keeping the gender of your new addition to the family a surprise. For a stylish touch,  add a teepee in the corner of the room either as a play accessory or to complete the gorgeous bohemian aesthetic.
Fairytale
Do you have a little princess in your life? Try incorporating pinks and silvers into areas of the room to really emphasize the princess theme and transport her to a classic fairytale theme that is fit for a Disney princess . Pink Damask by Muffin & Mani is the perfect wallpaper to include in this gorgeous room, especially if her favourite colour is pink! This vibrant pink design has a subtle print which adds a touch of luxury and class to whatever room it is placed in. Don't forget to add some crowns as décor pieces, and a touch of sparkle here and there too.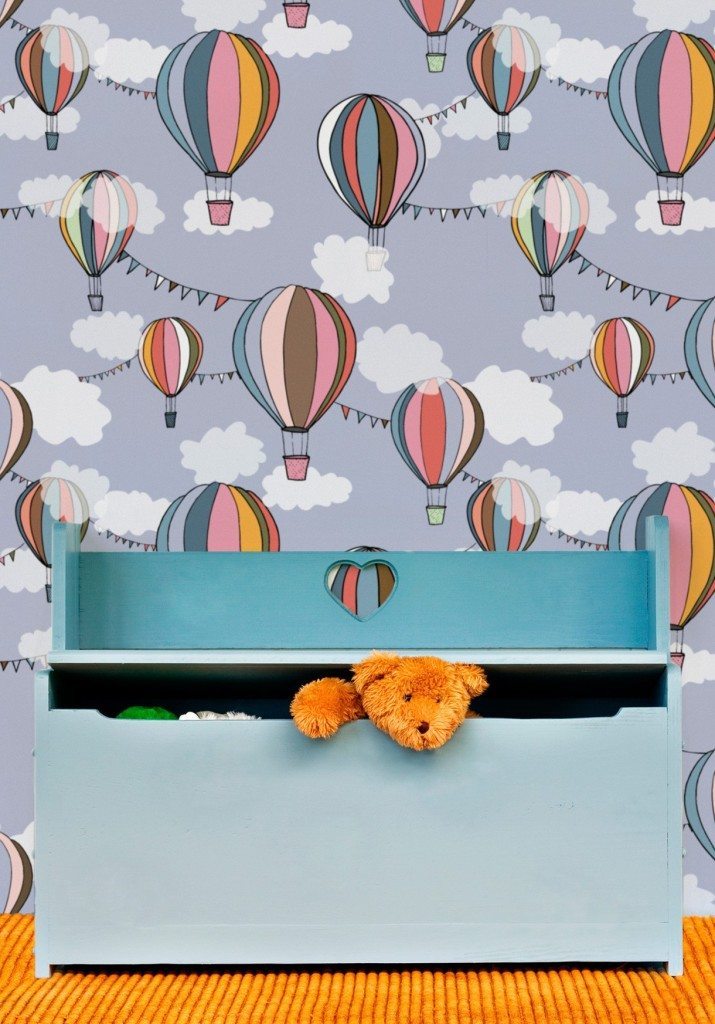 Superhero
Fighting off criminals and saving the world is what most kids want to do when they grow up, so why not embrace their energy with a superhero theme in their bedroom or playroom? Place some superhero décor items like artworks, comics and action figurines around the room, and add a superhero branded quilt, pillow and sheet sets to complete the look.
 Circus
This theme is perfect for kids who love colour as well as magicians and circus animals. Add bright, eye-catching colours around their bedroom to bring some energy into their room, but remember to keep it a calm and relaxing space too otherwise they won't get any sleep! Our Run Away & Join The Circus wallpaper would look super cute for a circus themed playroom, with the clowns, elephants and lions making the wallpaper come to life.
Whimsical
Keep it soft and calm in your childs bedroom with pastel decor and a whimsical theme that will help them drift off to sleep with ease each and every night. So, what does a whimsical themed bedroom require? Gorgeous soft toys, cute vintage inspired artworks, your favourite childrens books and of course, a comfy armchair you. Get the full effect of a dreamy, whimsical bedroom using the Yee Von wallpaper design in Bear & Squirrel or the cute Garden Foxes print by Emma's Ink.
For all 6 of these themes you can go all out or just include references within the bedroom, the choice is yours. If you want some more inspiration for others themes you may love to use, check out Milton & King's full selection of children wallpapers and browse until your heart is content!
---