Inspired By The Industrial Interior Trend? Read Our Top Tips!
Loft styles and industrial decor trends have been gaining momentum as the interior trend to covet in the last couple of years. Elements such as exposed bricks, polished cement floors and exposed wooden and metal beams have become highly sought after features in homes, cafes and office spaces, as the industrial interior trend takes the design industry by storm. We aren't all lucky enough to be living in a gorgeous refurbished loft, so we have to fake it until we can make it when it comes to home styling inspired by the industrial trend! Here are some handy tips and tricks on how you can achieve the rustic and cozy homes we adore on Pinterest in your own home…
Lighting
A big feature in industrial styled homes are the lighting choices. Aim to get something warm and moody to complete the atmosphere of your space. Choose specific lights that don't feel complete or polished, something like loose hanging lights and copper hues work really well for this particular trend. Particular lights are even styled to look like naked bulbs hanging from the ceiling and these are a perfect choice for over your bed or within your kitchen and dining space. Additionally, lofts tend to have a lot of large windows so mimic their effect and get as much natural light into the space.
Metal
Using metal accents throughout your home is a great way to mimic the industrial trend. Aim to have metal or wired chairs, furniture and decor knick knacks to add that rustic edge that is loved by industrial interior enthusiasts. Depending on your personal preferences, you can aim to have gold, silver, rose gold, copper or even wrought iron for an added vintage touch. Remember, they don't always have to match to achieve your desired effect in the room, so get creative and mix and match furniture items and tones until you get the perfect industrial look.
Exposed Bricks
It's hard to get the exposed brick look if your home doesn't have any or if you don't want to start renovating, so look into one of our popular brick wallpapers that look exactly like the real thing minus the hard work! We love 'Old Brown Bricks' for a warmer atmosphere or 'Clubhouse Bricks' for a more Nordic inspired vibe in the space. Using a wallpaper is the easiest and the quickest way to achieve that sought after industrial trend in your own home or business, and these wallpapers are some of our most popular!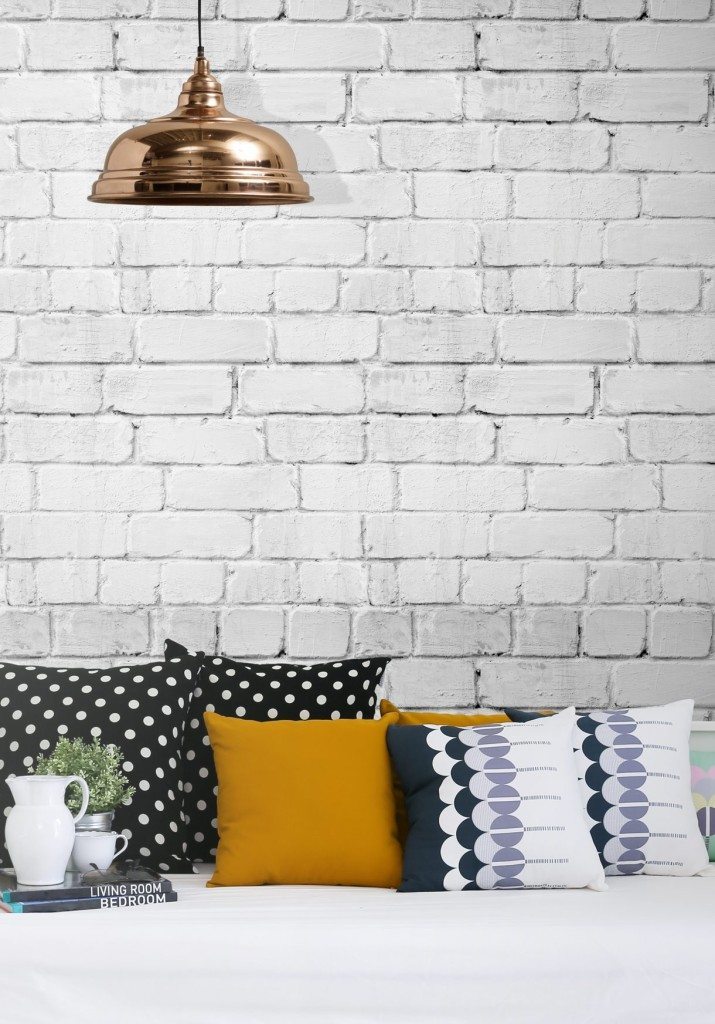 Wood
Wooden furniture pieces tend to add warmth and character to a home, so look to add some beautiful wooden pieces like tables, TV stands, and bedside tables to really complete the look. These will pair beautifully with the metal accents and the rustic exposed brick walls (or wallpapers) previously mentioned. The great thing about wood furniture is that they are completely unique and the wood grain isn't replicated with any other piece of furniture, so you can often find something that is truely unique.
Frames
Give your home that personal touch with some beautiful, vintage frames for artworks or personal photographs. These will really complete the look in your room as it adds a personal and intimate touch, and additionally, a sense of depth and texture on your walls. Think about purchasing some lovely intricate wooden frames or a type of metal frame in different sizes to help tie all your styling efforts together. If you love a spot of DIY, why not make your own from recycled materials or hunt at your local thrift store.
---