How To: Hotel Interior Trends
With the increase of travel in occupations and the all round travel itch that we can't seem to shake, the tourism industry will never outdate. If anything, we are spending more time in paid accommodation, forcing hotels to keep up to date with patron expectations. Just like homes, fashion and hair, hotels need to stay on their aesthetic game and keep up with the trends. Gone are the days of generic interior in hotels, 2017 is stepping it up a notch with some seriously cool design feats and we can't wait to share! Read on for some top tips in how you can make your hotel stand out among the rest…
CHANGE IT UP
Why does every room have to mirror the next? Well, it doesn't! Hotels have been mixing up the room variations with a range of different styles and themes, to add a little spice in their guest's lives. This is a great way to appeal to different people of ages and demographics, never leaving anyone out! One way of going about this is theming rooms or floors with different eras, from the glitz and glam of the 1920's to the retro fresh 1970's.
MIX THE METALS
Usually a big no, no in the fashion world, we want to embrace hotel's mixing their metals for a bold and trendy statement. Taking a risk by pairing unlikely warm and cool tones together creates a more interesting vibe that will set it apart from a predictable colour palette. Although we encourage it, execution is key to this. Try meshing copper or rose gold hues with a cooler one such as silver. Alternating furnishes with different metal coloured finishes is subtle yet noticeable in a room or restaurant area.
FULL STEAM AHEAD
Taking it back to when technology was newly evolving and fashion was luxurious glamour, Steampunk is a trend that exudes rich, classy & timeless detail. It has been strut down the most prestigious catwalks around the world and incorporated into elegant and bold fashion designs – but how does this work for hotel interior? Well, elements of Steampunk include; warm leather and metals, aged and exposed brick or concrete open technology such as clocks or lights, and exposed fittings and fixtures such as nuts, bolts and wires. Any and all of these elements can be spruced throughout your hotel. Exposed light bulbs and fittings are an extremely popular trend at the moment, as well as an exposed brick feature wall. Pair this with a chestnut leather couch in the lobby or as a bedhead in your rooms, you're full steam ahead on the Steampunk interior trend!
PATTERNS AND TEXT
It's all about a confident clash in hotels at the moment. We are admiring the contrast that bold patterned rugs can create when in a space with structured and edged furniture. This can be executed by rich colour palettes and dramatic sized asymmetrical shapes paired together on a textured rug or carpet.  Another unexpected interior statement is incorporating text into the design aspect of a room. This is a great way to capture someone's attention in a room and have their minds tick away for a minute. A great example of a quirky typographic design is our East Coast Surfboards. Something like this would be great in a rustic beach, chilled out coastal vibe, not to mention – it looks great in photo backdrops! Wall murals such as this have an easy DIY installation to make the process that much simpler!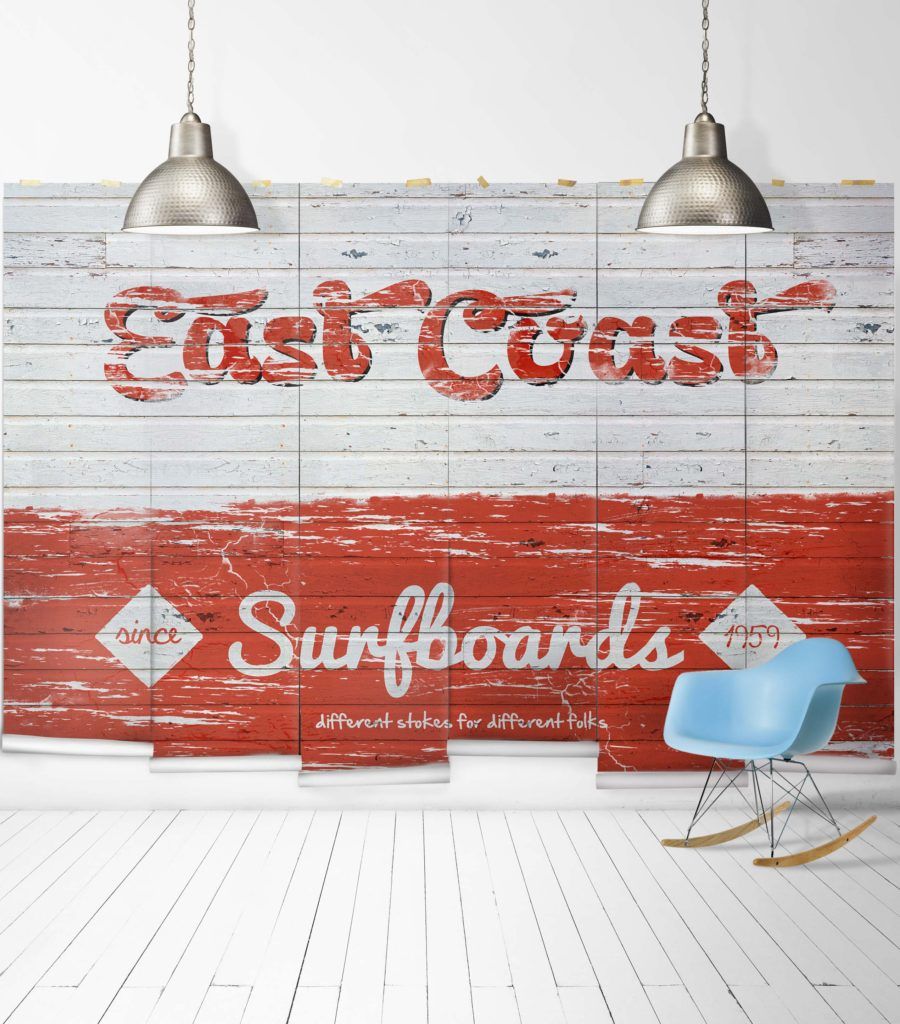 ---