Go Grandmillennial With Eloise Short
Eloise Short is an Australian textile and surface pattern designer. Her work has been showcased in galleries and well-known fashion ranges. You likely have seen her work with Calvin Klein, Anthropologie and Peter Alexander to name a few. Now she has launched a new collection of wallpaper with Milton & King. Her designs feel traditional with a touch of vintage. The color palette is unique and the appeal of her designs could easily fall into the category of grandmillennial or granny-chic wallpapers. We caught up with Eloise to learn more about her background, her new collection as well as how she feels about these descriptions of her style.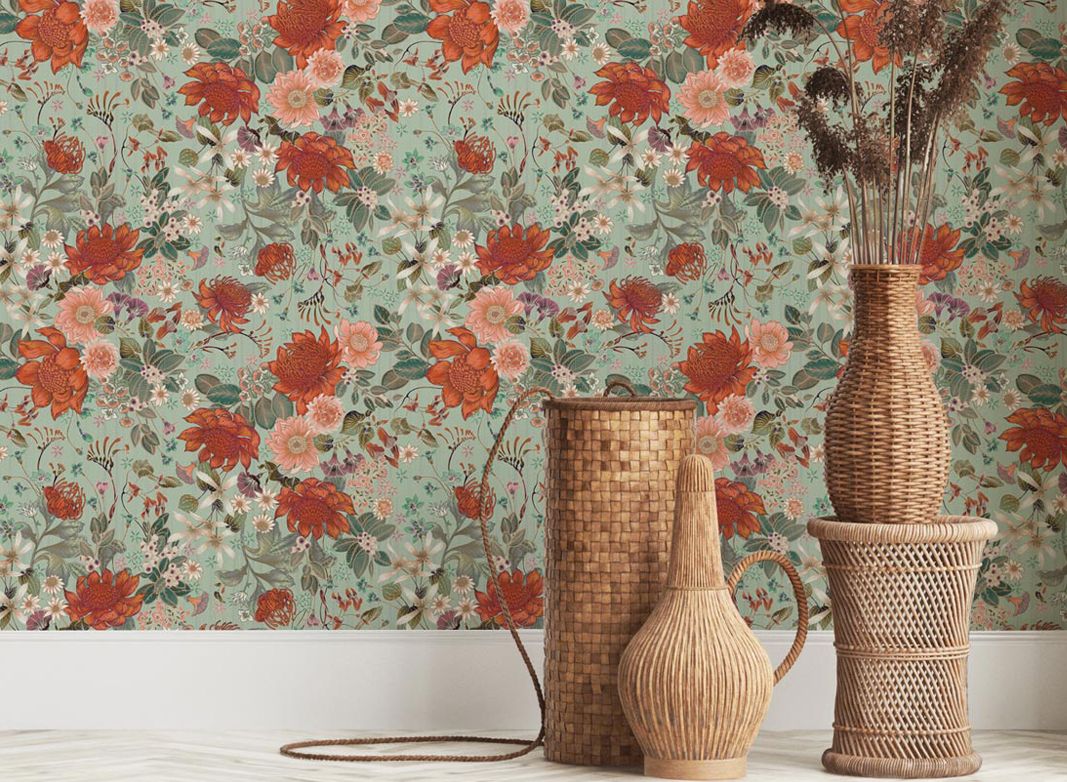 image above of the Bouquet Wallpaper in the Pistachio colorway
M&K: Your website says you work out of your home studio in the Blue Mountains, Australia. Have you always lived in this area?
Eloise Short: I live in Katoomba with my family and work from a home studio surrounded by National Park and amazing scenery. I feel very lucky to live here.  We moved up here 11 years ago after spending the previous 10 years in Sydney. The Blue Mountains has long been a draw for creatives and we were drawn to it for its beauty and creative community too.  
M&K: Your website also mentions you have degrees in both Textile Design and Visual Art, where did you go to school? When did you first notice you had a talent for the arts and at what point did you decide, I can do this for a living?
Eloise Short: I grew up in the Northern suburbs of Brisbane and  had a natural inclination to make art from a young age.  The fact that my parents were an Art teacher and Architect also meant there was a pretty good chance I was going to end up in the art and design world. By the time I was in high school, I was focused on pursuing art at a tertiary level.  I studied Fine Art  immediately after high school at The Queensland College of Art. Then after discovering the wonderful wold of surface design a few years later, I followed it up with Textile Design at RMIT.  I don't think I ever really considered not finding a career in art or design, and I've now been working as a surface designer for around 15 years.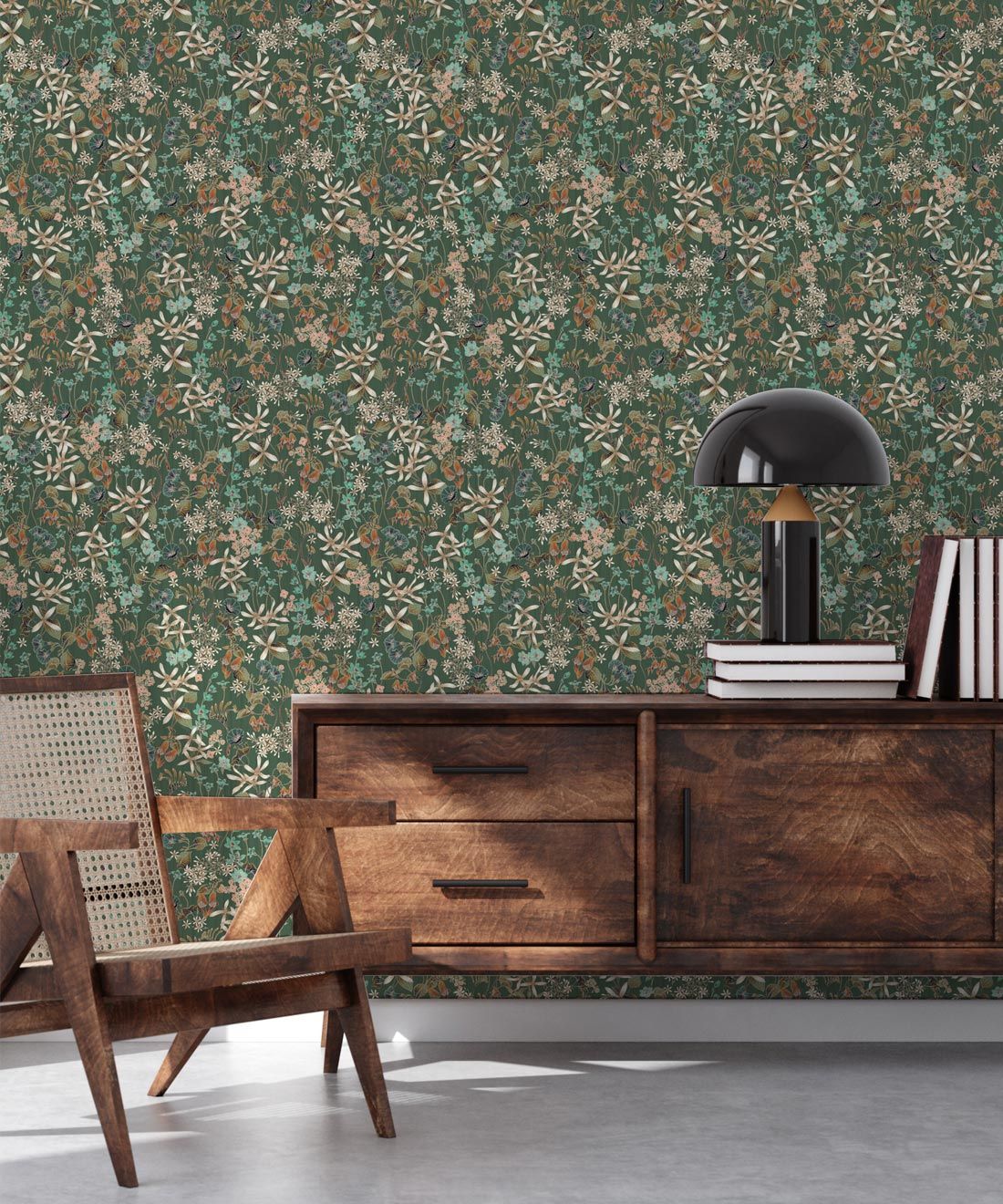 M&K: Let's talk style. There is something very traditional and vintage about this collection of wallpaper designs.  Was this the goal?
Eloise Short: I've worked a lot as a designer for hire over the years and it can be really tricky to find your own stylistic voice when you take those parameters away. This range of Australian native designs was about  finding my own voice.  I drew on my surroundings and my love of Australian flora and fauna – which is incredibly unique – and felt that drawing with an emphasis on line work, was the best way for me to capture the detail and beauty. These motifs wouldn't be considered traditional textile floral motifs but my design process is also informed by my love and study of pattern throughout history and the result is a collection that is a blend of tradition and contemporary design.  Having said that, the design process is never straight forward and even though I have an idea of what I'm trying to achieve when I start a design, I can't be sure how something will look until I'm well into the design process.  At that point I have to go with what's working aesthetically and it then becomes a combination of intention and spontaneity.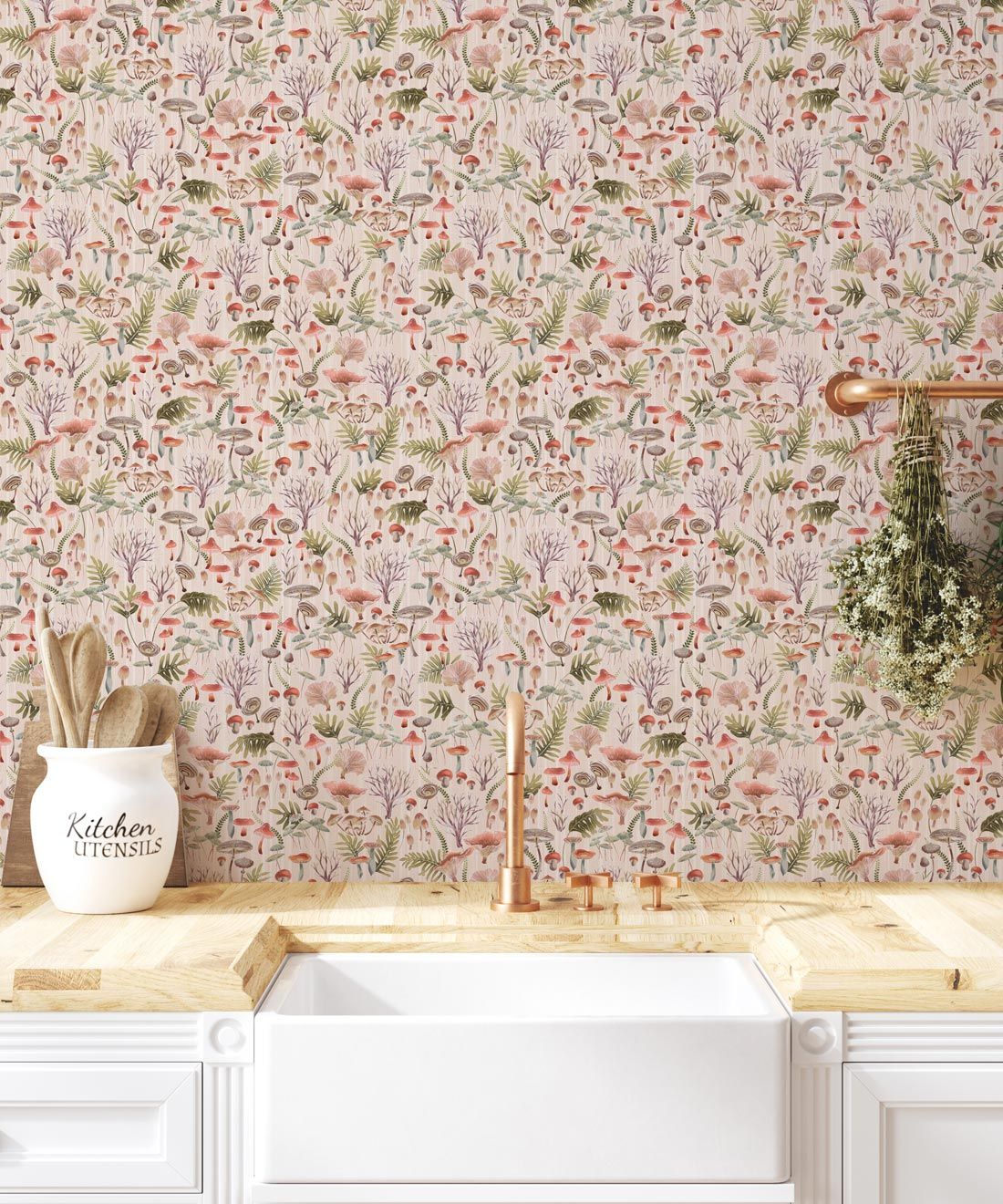 Image above of the Fungi wallpaper in the Latte colorway
M&K: I noticed color-wise, there is heavy focus on greens for designs like Eucalyptus and County Flowers and a focus on lots of reds and rusts for Bouquet, Waratah, etc…How did you come up with the color palette for these designs?  What is your favorite of these new designs?
Eloise Short: To create cohesion across the collection, I deliberately kept the palette limited.  This palette leans towards earthy, rich colours, which is naturally my preferred colour palette, but it's also the palette of the Australian bush, with some variations on that theme. I also wanted the the overall feel to be luxurious, so I've included a lot of rich, dark hues.  If I had to pick my favourite design, I think it would be the Eucalyptus design. I like the vertical feel of the composition and the detail in the line-work of the Eucalyptus motifs.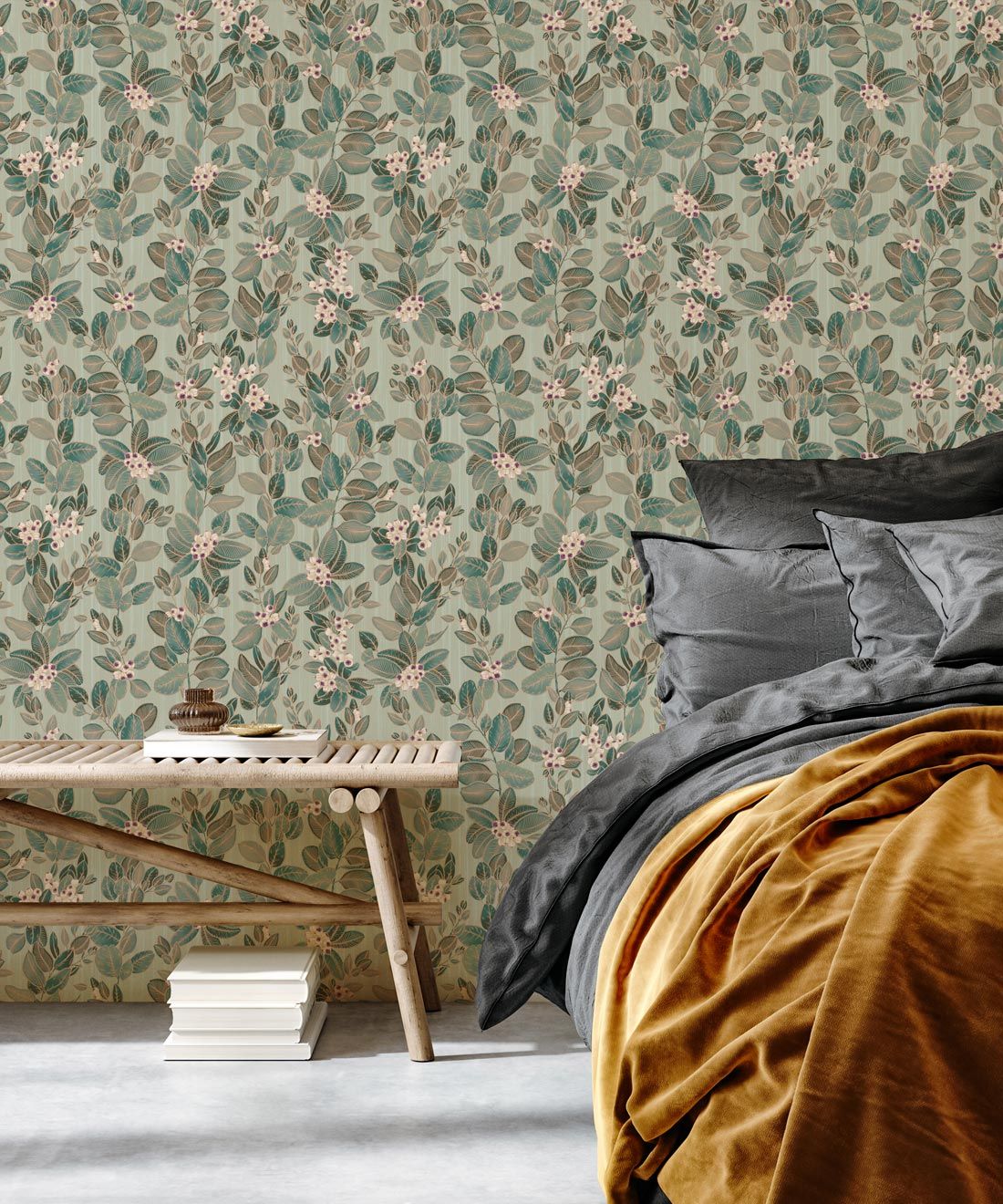 Image above of the Eucalyptus design in the Pale Green colorway
M&K: There is a resurgence of an affinity for traditional and vintage designs often called grandmillenial or granny-chic that I think your designs would really compliment. Is this something that you could embrace? Or do you find the category a faux pas?
Eloise Short: As someone who has long been obsessed with pattern, the grandmillennial or granny-chic trend works for me. I love lots of pattern in a space and these patterns have both the intensity and element of tradition found in this look, the Australian Native take on 'granny-chic'.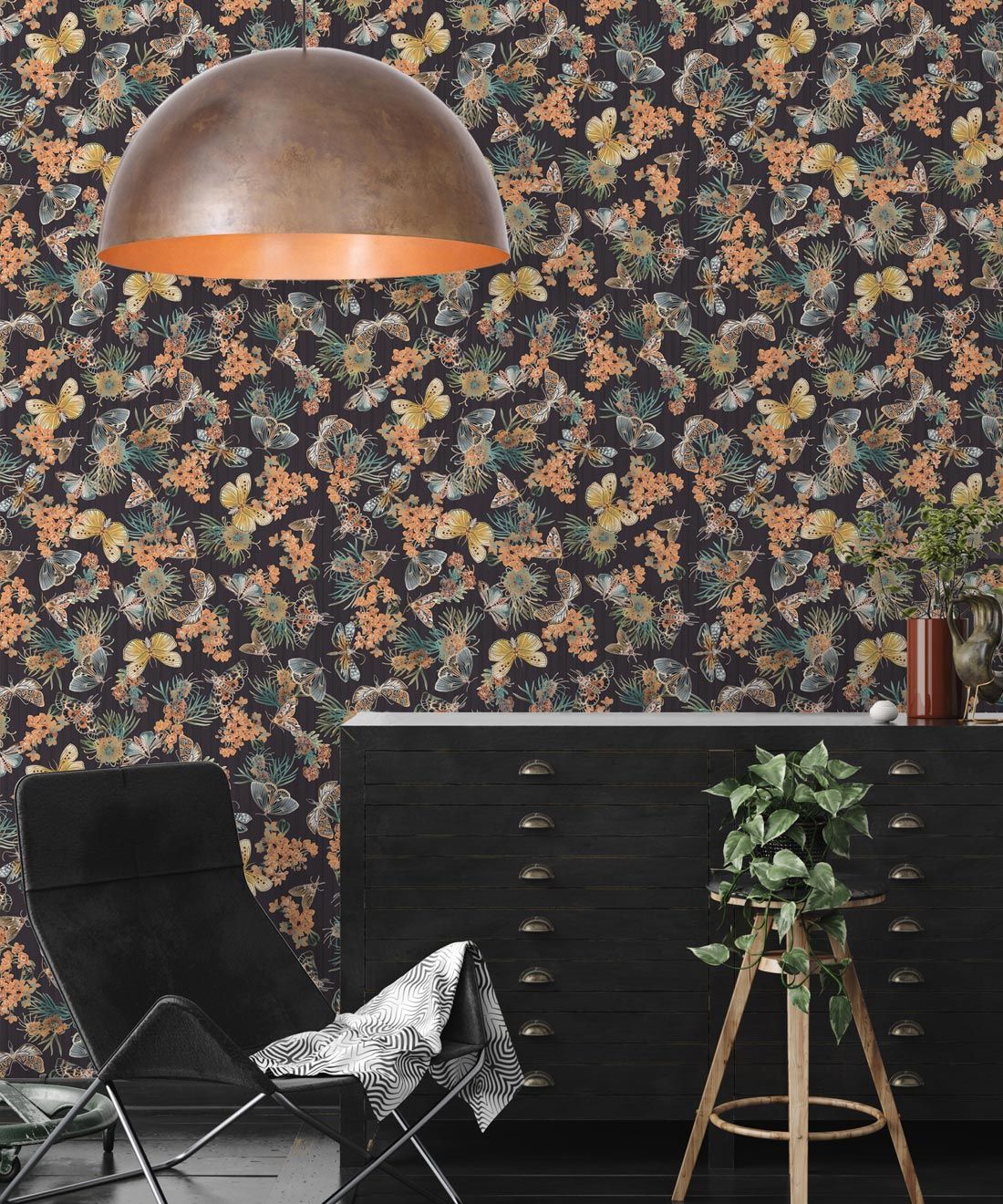 Image above of the Moths design in the Night colorway
M&K: How do you feel about your designs appearing as wallpapers?
Eloise Short: I am really thrilled to be collaborating with Milton and King.  I love wallpaper personally and am over the moon to have my designs included in their incredible range. It's really a creative highlight for me. 
M&K: What's next for you artistically?
Eloise Short: What's next artistically is more pattern design, more illustration and more experimentation with new techniques and themes. It never gets old for me.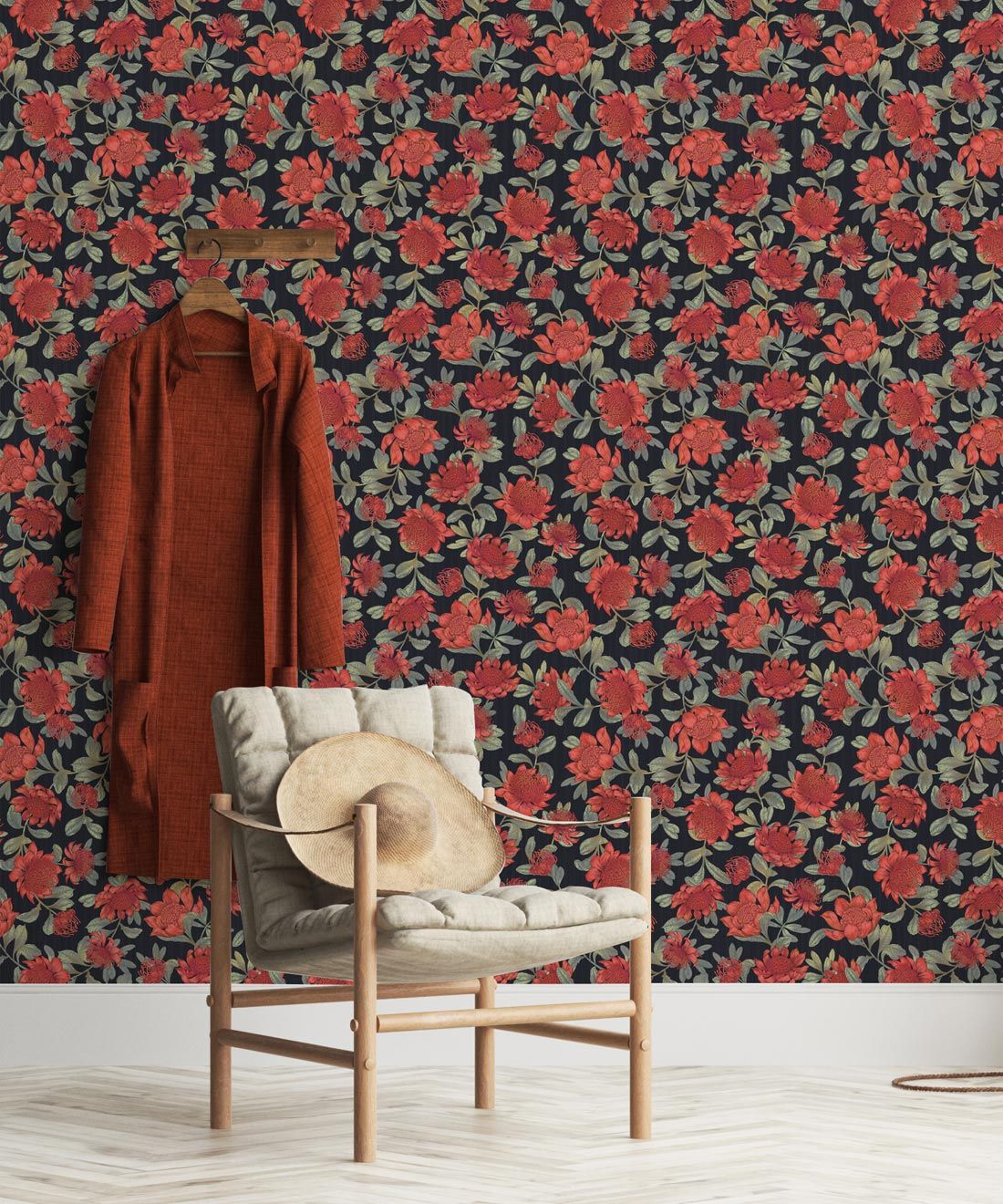 M&K: What's next for you personally?
Eloise Short: What's next personally is my kids' school sports day tomorrow with me embarrassing them by cheering too loudly from the side lines!
---