From Dungeon to Dapper! Laundry Room Makeover
Not everyone has a laundry room. But where ever your laundry space is, it's likely closed off from the rest of the home and neglected when it comes to decor. However, so much time is spent doing laundry, especially for larger families. Mehr Niazi decided to tackle this area and find the perfect laundry room wallpaper to beautify her space as part of the biannual One Room Challenge event. She turned her laundry room dungeon into a dapper and whimsical dream of a space. Below, she tell us about her laundry room makeover and how the wallpaper helped with the transformation.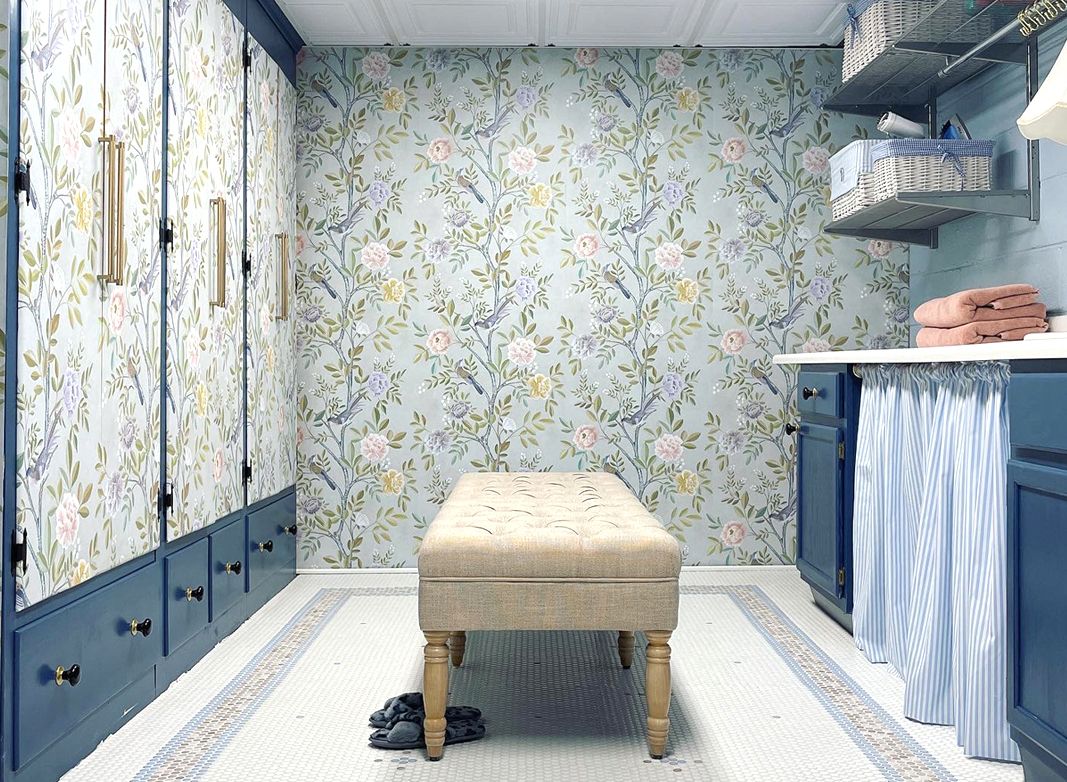 M&K: Why did you decide to tackle this room as part of the One Room Challenge?
MN: This laundry room was an unfinished space in our basement and due to its dreary and sad look, our laundry was never getting done. I knew to motivate me and the family to start using this room more, I need to make it more inviting and cheerful.
M&K: What were the main things that were bothering you?
MN: It was very dark, dingy and uninviting. Also, the floor was plain concrete, the walls were unfinished and you could see all the pipes and wires in the ceiling. Also, because it was in the basement, it got no natural light and really felt like a dungeon.
M&K: What were the goals?
MN: My goal was for the space to feel like it was an outdoor garden, a place where you wouldn't mind spending time in and made you smile as soon as you stepped in.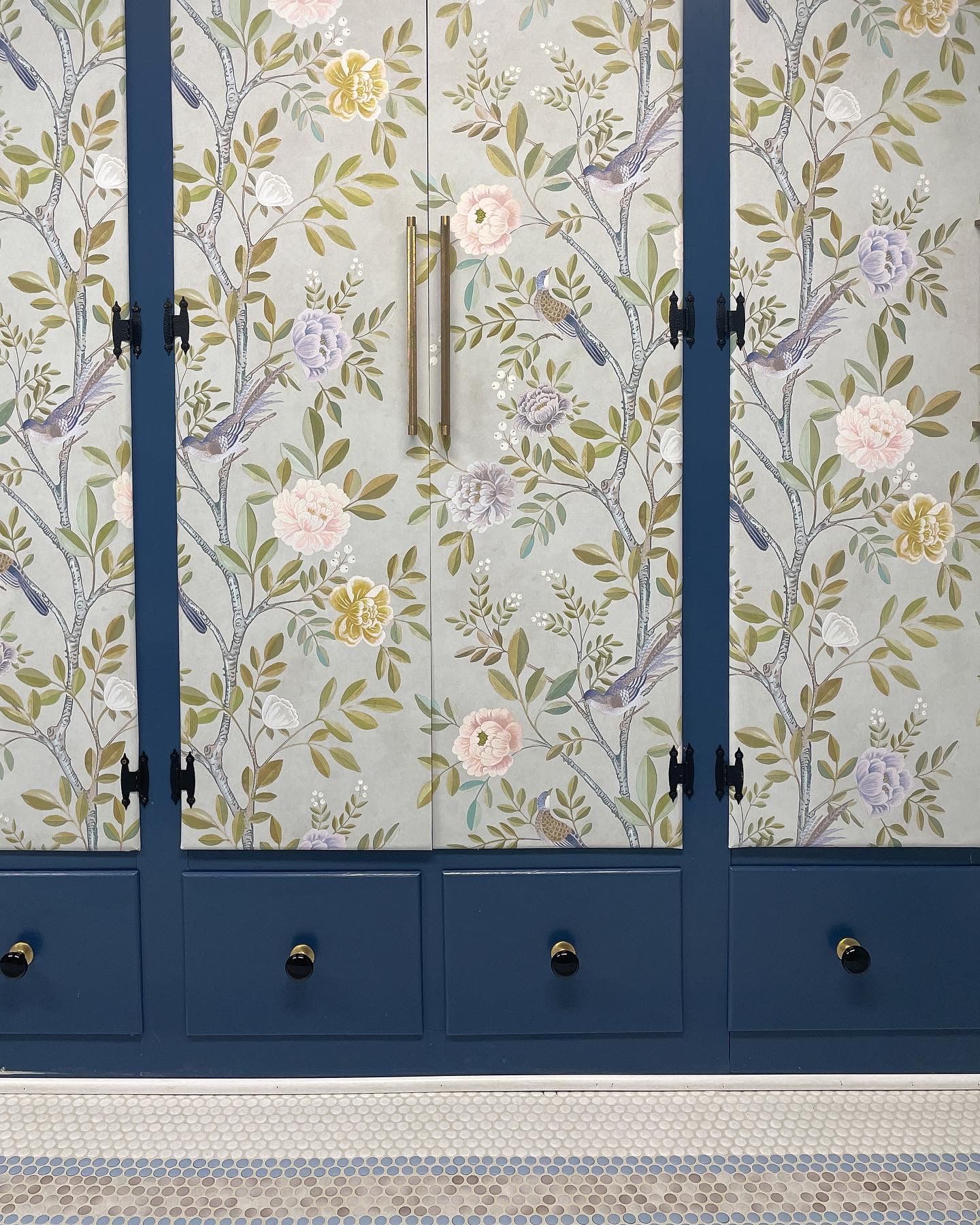 M&K: Were there any hurdles or blocks that kept you from fully realizing what you had envisioned?
MN: There were some elements of the room that we could not change, for example the pipes in the room. So we had to lower the ceiling more then we would have liked and could not put any fancy lighting options, as they would have been too low.
M&K: What were some of the laundry room wallpaper designs you considered?
MN: I knew I wanted something that was going to brighten the space. Some of the designs I loved and had a hard time deciding between were Mulberry, Summer Garden, Treillage and of course Chinoiserie that I ended up going with.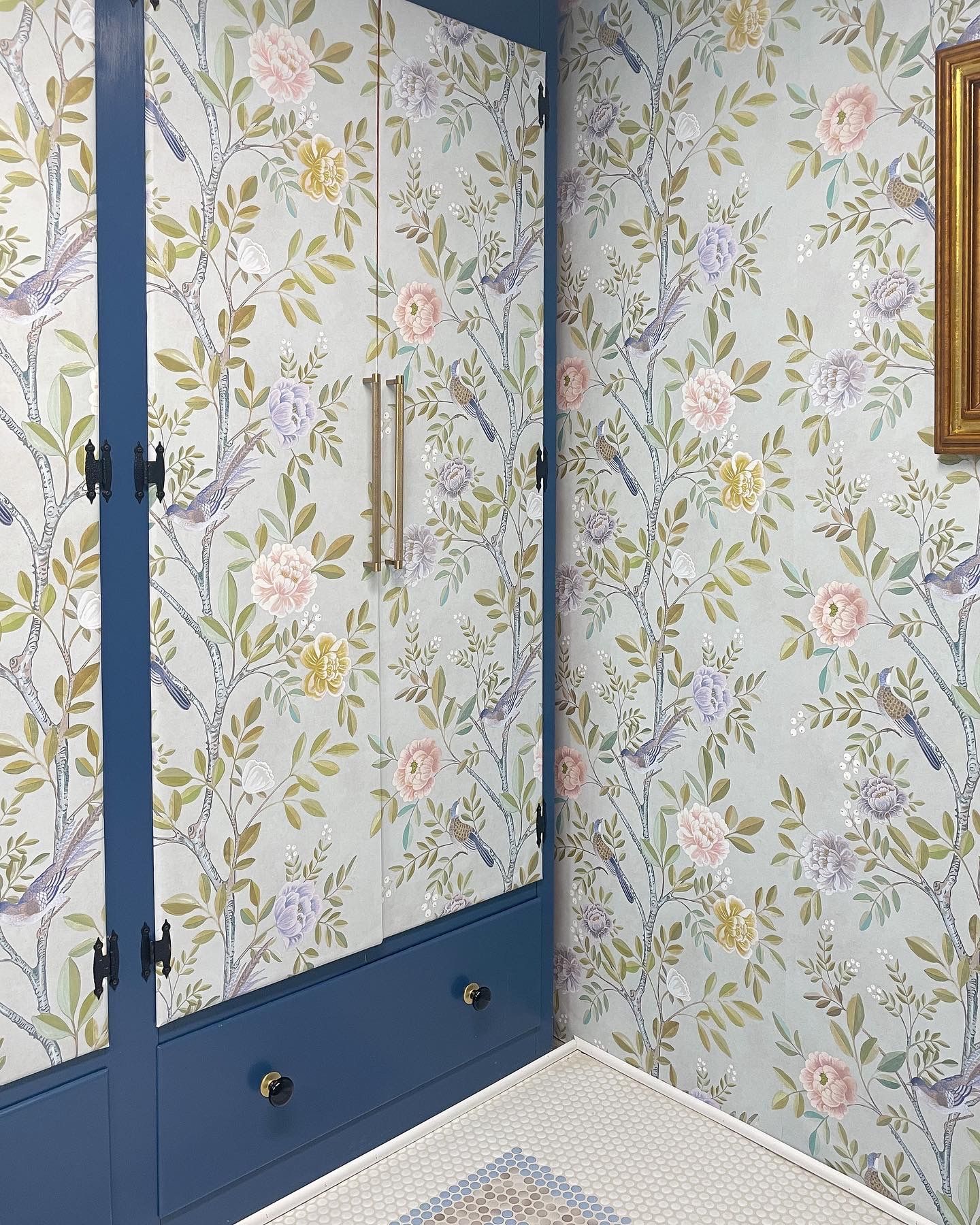 M&K: Why did you eventually decide on Chinoiserie Wallpaper and in your chosen color?
MN: I fell in love with the Chinoiserie pattern as soon as I saw it. It was exactly what I was looking for…soft colors, hand-painted look, and it felt like you were in some expensive European garden.
M&K: What was the wallpaper installation experience like?
MN: Installation was easy and quick. The wallpaper was thick enough that it didn't tear or crease, but thin enough that it was easy to maneuver. The corners came out sharp. It was easy to match the seams and you cant even tell where the seams are once it is installed. Probably the easiest and most satisfying part of the project was putting up this wallpaper.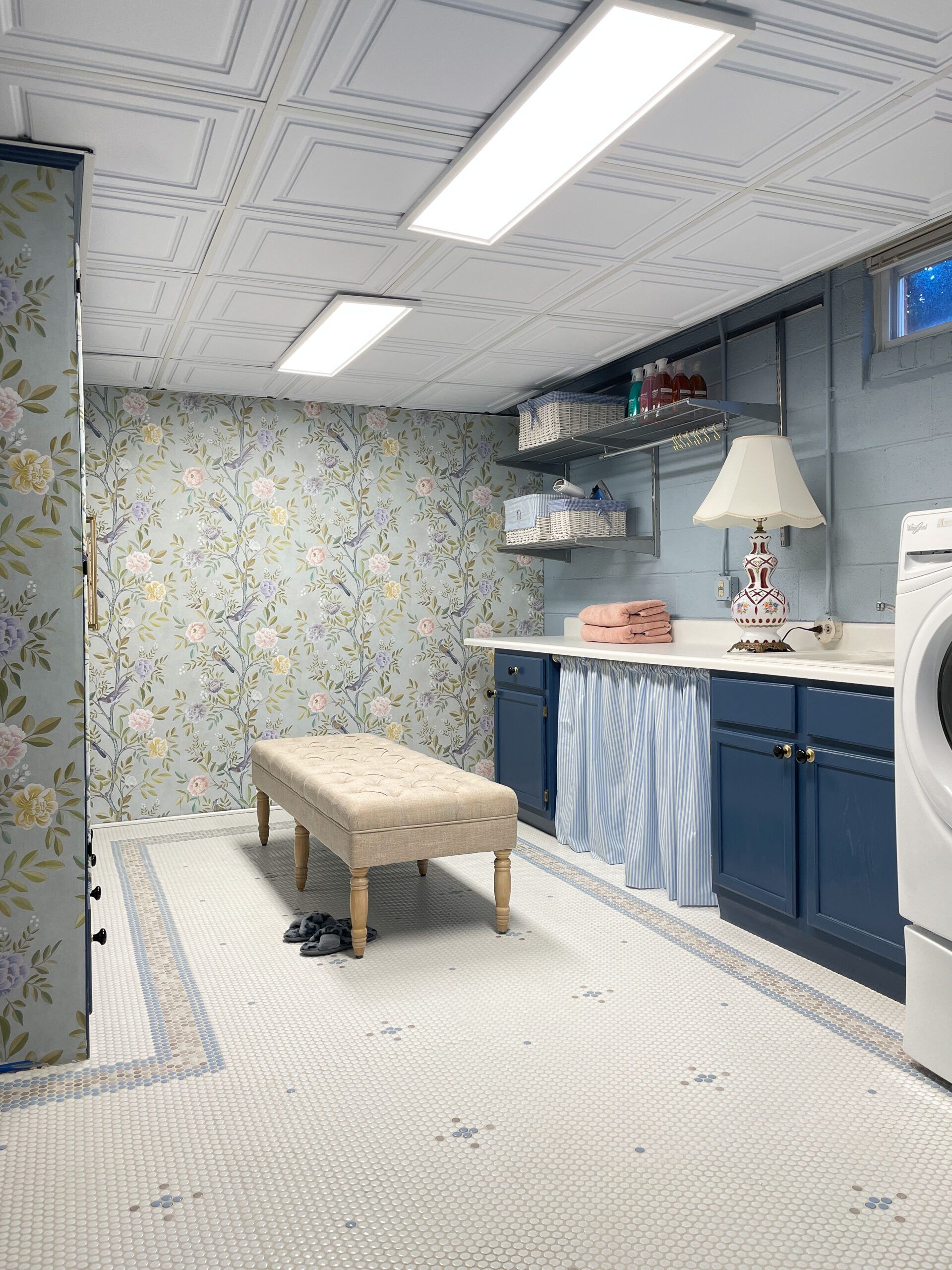 M&K: What were the challenges of wallpapering the doors?
MN: Since I wrapped the wallpaper around the doors, the challenge was that the wallpaper paste was not enough to stick the wallpaper to the sides. The wallpaper would keep coming off the sides, I used double sided tape and within ten minutes the doors were done!
M&K: Did you have to apply a primer?
MN: I applied primer to the wall, as it was a new wall and had no paint on it, so to ensure the paste worked, I primed it. I did not prime the closet doors and the wallpaper worked as beautifully on them.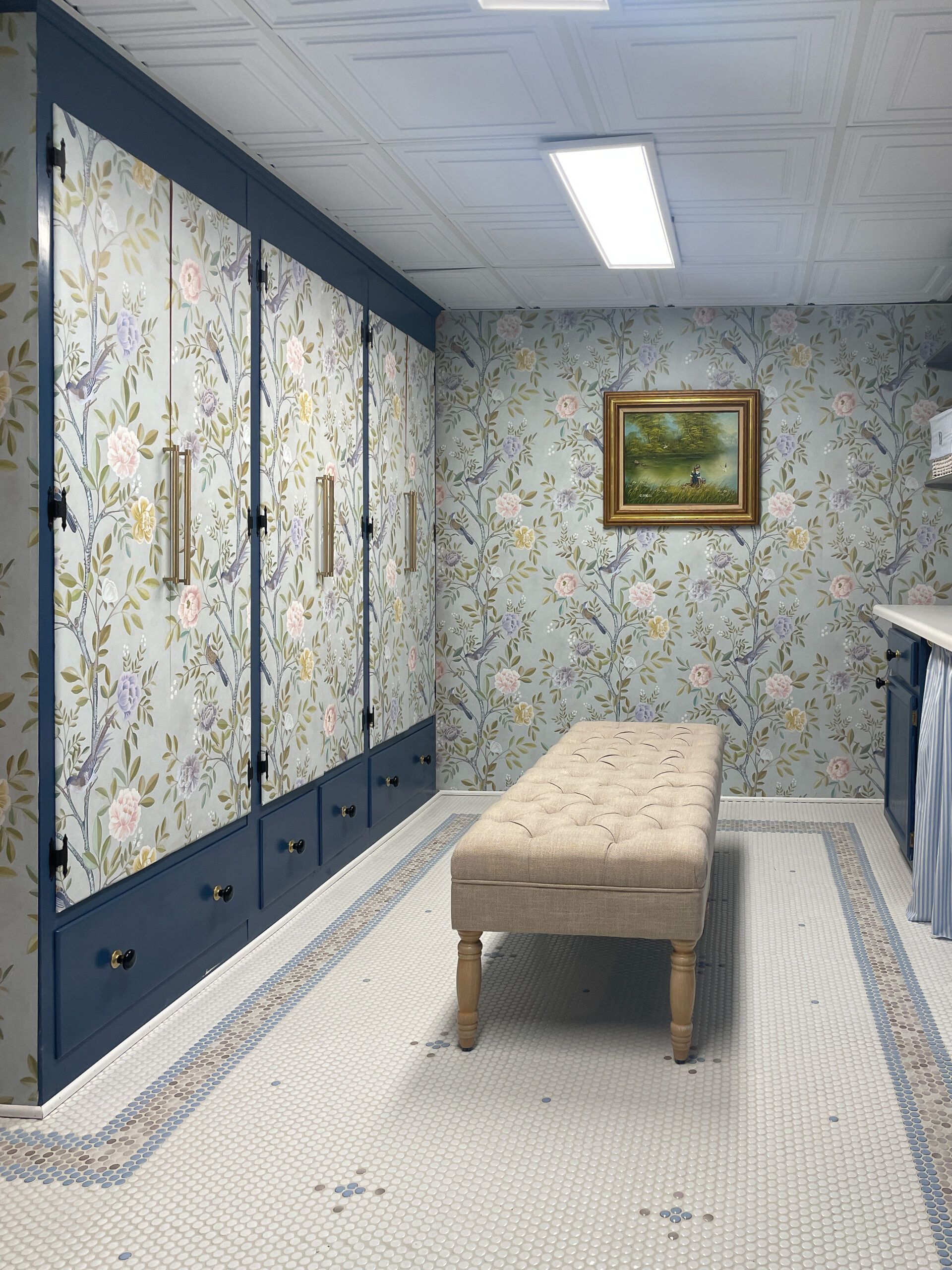 M&K: Any other interesting info about this room's makeover?
MN: During this project we learned so many things that we had never done before. We learned to install tile, put up a false ceiling and wallpaper cabinet doors.
M&K: What are some of the other special décor items / companies you'd like to highlight?
MN: This project would not have turned out this beautiful without this gorgeous laundry room wallpaper, the penny tile from The Tile Shop and cabinet hardware from Emtek hardware.
M&K: How do you feel about the outcome of it all?
MN: I couldn't be happier! Each and every element fit together like a dream, and it came to life exactly as I had envisioned. Let's just say a lot more laundry is getting done at our household.
---