Decorating Tips For Your Entertainment Space
Your entertainment space should reflect you and your family (or perhaps housemates) personality and style. Just like fashion, your home is a reflection of you, so have some fun with it and wow your next visitors. If you want some ideas and tips for creating a comfortable and stylish entertaining area in your home, here are 8 tips to get you started.
Where Will People Sit?
You may want a large table to seat a number of people, however, in reality, will it be used that often? Think about get a smaller sized table and putting other methods of seating around the area like bench seats, ottomans or sofas which can be utilised for other things for the days you aren't having a gathering and don't want a large table taking up space in your home. There are many different ways to add seating arrangements to a space without the use of a conventional table and chairs setting.
Add Some Fun 
Add some fun into the area by including some games or activities to entertain your guests. Think of things like a pool table, foosball table, dart board, karoke machine or even a setof lawn balls that people can use and get involved in. This will give you and yours guests hours of fun and laughter, and it's also great as an icebreaker when you are entertaining a mix of people from different parts of your life. These are also great conversation pieces between yourself and your guests.
Add Some Cushions
Cushions are a great way to add some character as well as practical comfort to any space. Choose some bright shades to make a bright impact or decorative designs to follow your theme. Try and stick with a material that can easily be cleaned as chances are they will get soiled quite easily with large numbers of guests regularly touching and holding them, especially if there is food or kids (or both!) involved.
Create A Theme With Wallpaper
You can change the entire feel and energy of a room with your choice of wallpaper. A bright, eccentric wallpaper like Monstera by Claire Leina gives an effortless, fun, casual vibe whereas a pattern like Newport by Kemra adds a touch of luxury and class. Take a look at our full range of wallpapers and choose what theme you want to embrace in your entertaining space.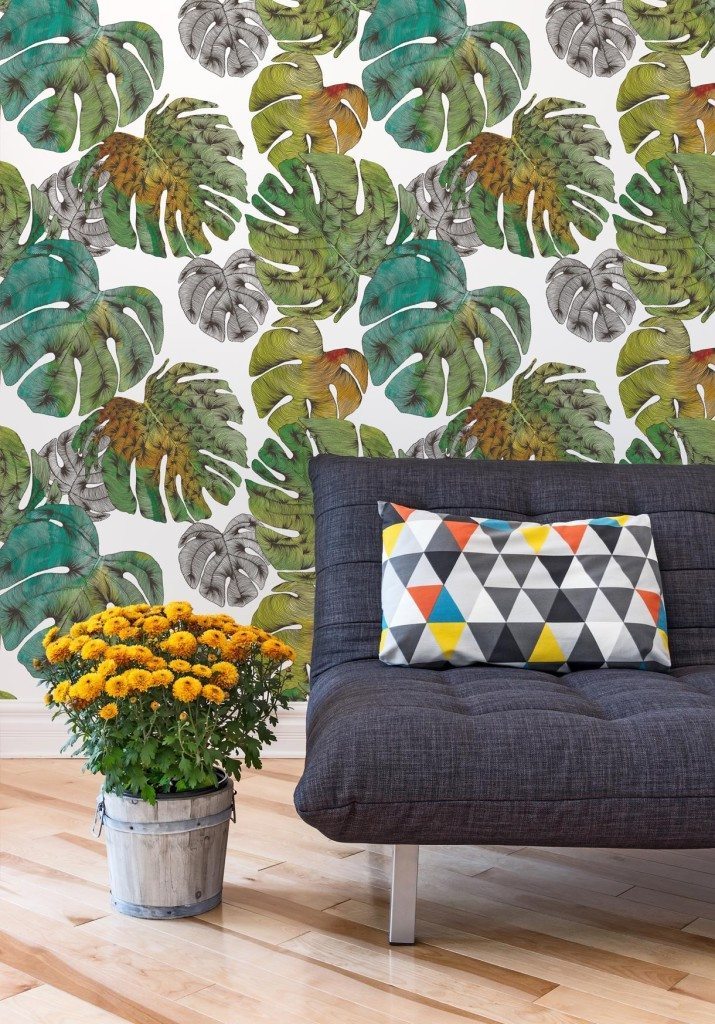 Different Locations
Consider having a main area for conversation, but also various nooks where smaller groups can go to and mingle separately. Guests love being able to have more private conversations when they are surrounded by a lot of people, so cater for this by placing chairs or bar tables around your entertaining space.
Could You Add A Fireplace? 
Add a fireplace for some added warmth in the cooler months. This can also be a central point for your home where the whole group of guests can gather and mingle over casual conversation. This brings a cosy and homely vibe to your entertaining space, which people always want to see when spending time in your own home.
Keep It Spacious
Avoid unnecessary clutter in your entertainment area as it can make the room feel small and crowded, especially when you have more than a couple of people over. Keep your entertaining area spacious and free from "stuff" that is not essential.
Combine The Indoors With The Outdoors
Whether your entertaining space is inside or out, you can always add some have it both ways. For indoor entertaining spaces, include large glass doors overlooking the yard, or add some greenery in the decor or with a gorgeous indoor plant. If your entertaining space is outside, don't forget to have a wet weather solution, whether that's a tarp or undercover patio. An outdoor entertaining space is beautiful and can cater for a lot of people, but make sure you are prepared in the event of bad weather.
---