Emro Wallpapers – Australian Indigenous Designs
The latest collection for Milton & King is a brilliant blend of design and culture, featuring exceptional First Nations artworks from Emro Designs an Aboriginal-owned and operated homewares business from Australia. The initial launch collection is comprised of four designs from Bundjalung and Bidjara artists Christine Slabb and Sheri Skele, featuring traditional art depicting local regions and their flora and fauna. Owner and founder of Emro Designs, Emma Rolls, is "over the moon" to see this collaboration take place, and was excited to discuss the collection with us. Read on to learn more!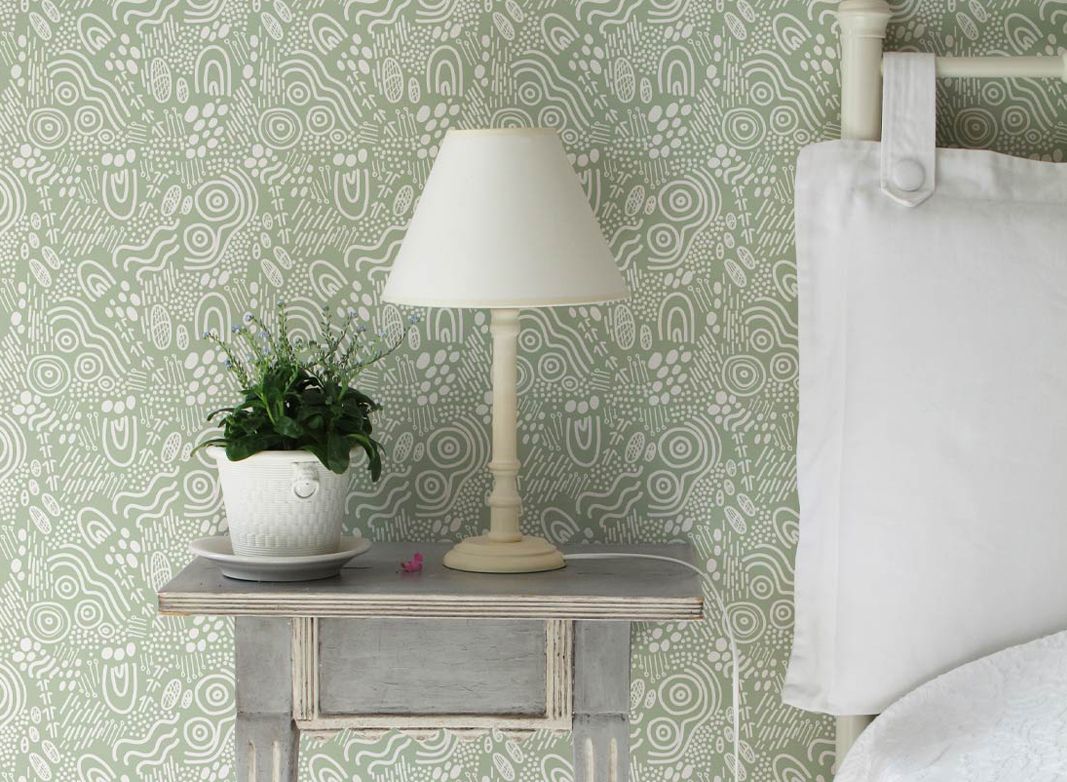 MILTON & KING:  Tell us a bit about Emma Rolls. Where you grew up, how you got into the design industry, what inspired you to start Emro Designs as a business?
EMMA ROLLS: I am a proud Minjungbal woman from the Gold Coast/ Tweed Heads region. Growing up we pretty much spent all of our time at the beach & creek, spending our days swimming, fishing, and getting fresh oysters off the rocks. Emro Designs was initially started in 2020 as a way to incorporate more Aboriginal resources & culture into Early Learning, and since then has grown into more of a homewares brand. That transition happened really naturally, as there was a bit of a gap with First Nations homewares, and I have always had such a love for interiors, so was more than happy to step more into that space.
M&K: What have been the most challenging and the most rewarding parts of running a business dedicated to the Aboriginal voice?
ER: The most rewarding by far has been receiving feedback from customers that have brought our products and have them in their own homes, daycares or schools & are teaching their own children about the stories behind the designs.
The most challenging would be just the juggle of raising 3 kids and running my own business – it can prove to be really difficult some days & it is a rollercoaster but looking back I'm still pinching myself on how far we've come in 2.5 years since starting.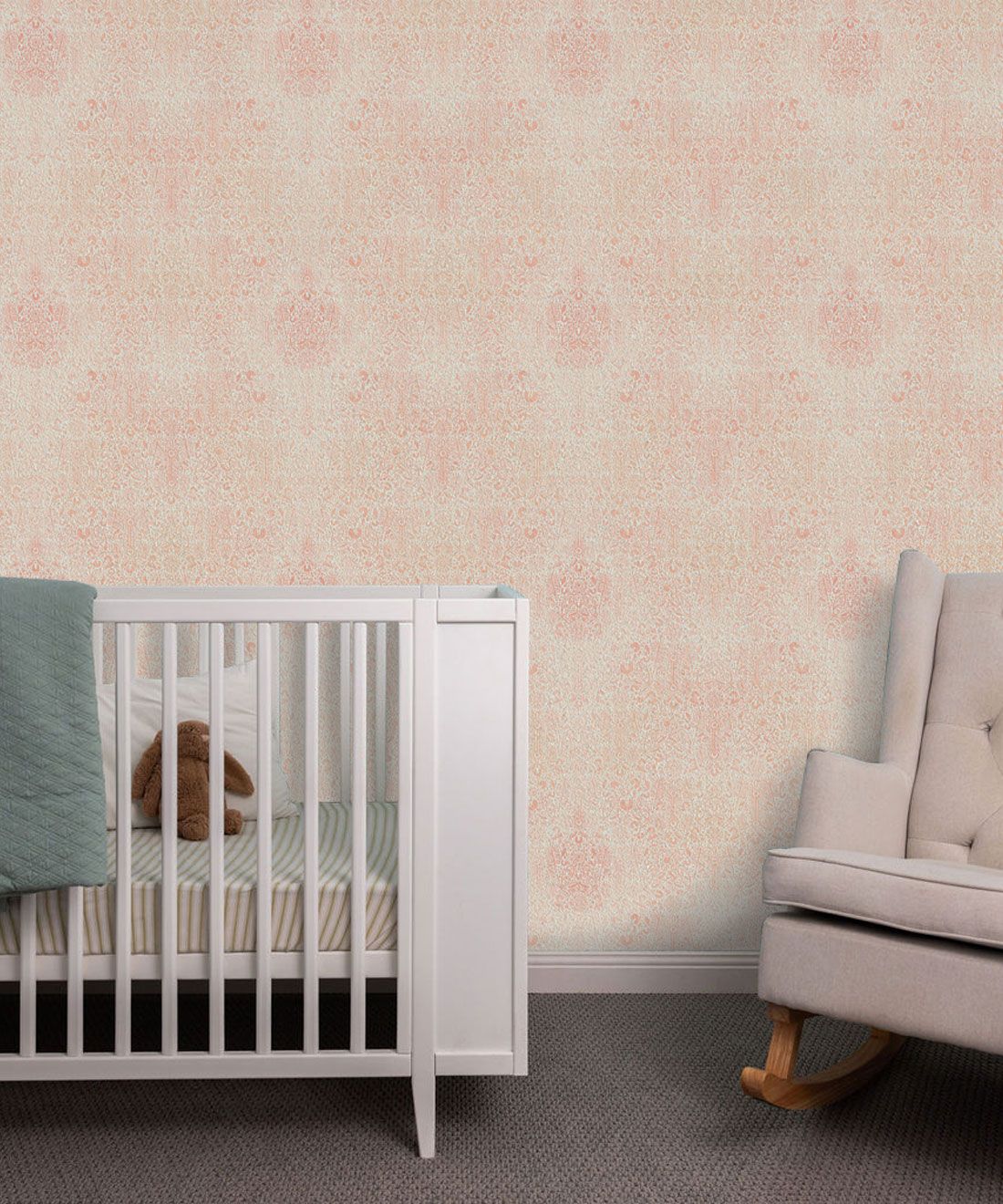 M&K: Through Emro Designs, you work with several talented Aboriginal artists, some of whom feature as a part of your new collection with Milton & King – are you an artist yourself?
ER: We are so lucky to have made some great partnerships with artists & I am so happy to help highlight their stunning designs on wallpaper through this collab with Milton & King. I would say I have a creative mind and strong creative vision, and I know how I want things to look, but I am definitely not an artist myself.
M&K: Storytelling, both orally and through art, is a huge component of Aboriginal culture. What sorts of stories are you and your artists telling with your artworks? Are they unique to the areas that each artist has grown up and created their designs in, or do they represent a more general history for Aboriginal people?
ER: Oral storytelling is a huge part of our culture as First Nations people. Each design is unique to each artist & their own stories & area they are from or have grown up on.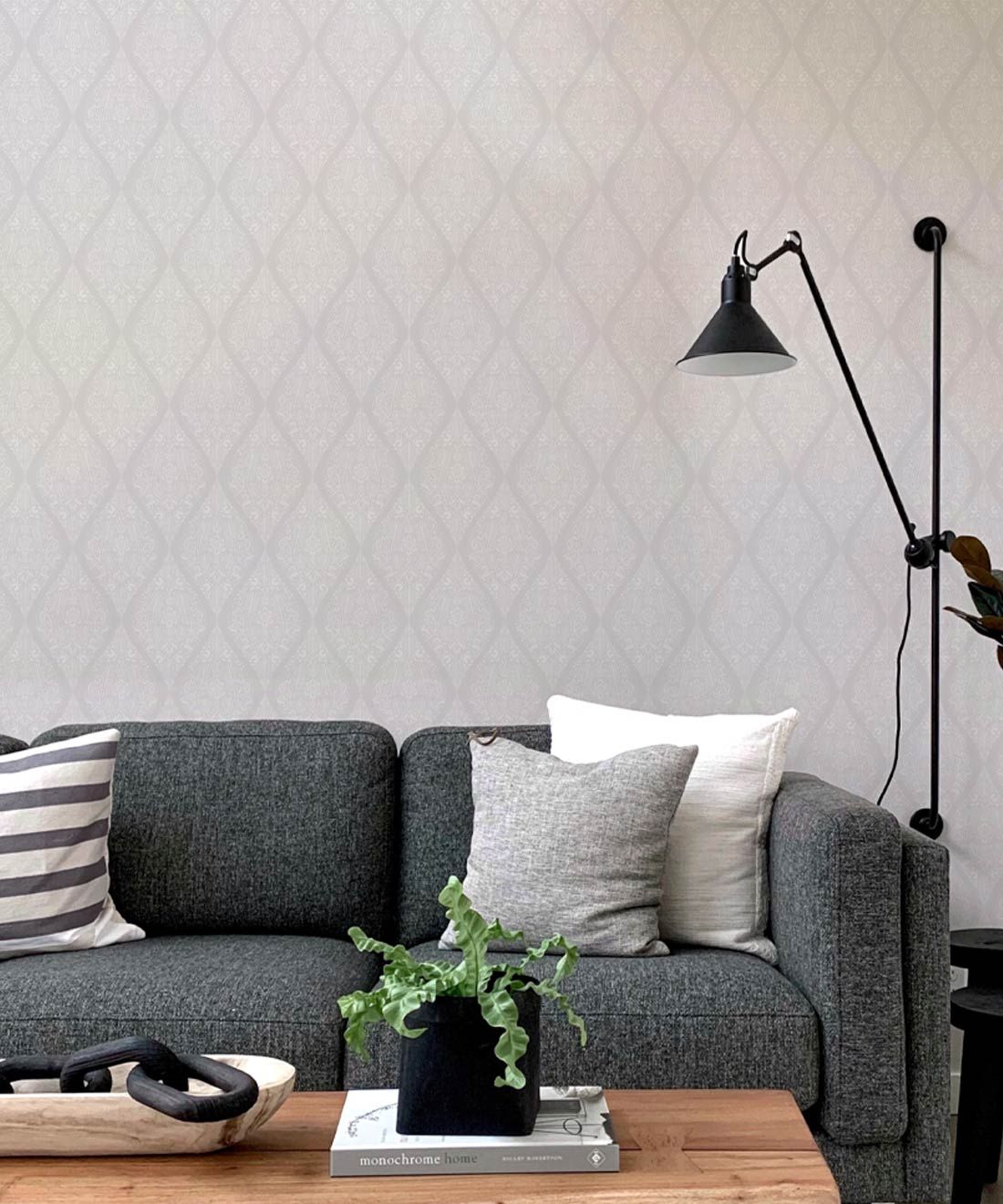 M&K: Why is it important to you that these stories get told? How important is it to you that authentic Aboriginal artwork is available to people, not just in Australia but across the world?
ER: We are the oldest living continuous culture in the world! That is incredible, and those stories need to be continued across each Generation, so they are never lost. There is an increasing appreciation for Aboriginal art across the world, and we're so honoured to be a small part of delivering that to people.
M&K: Through Emro Designs, you sell a range of products, from mats and rugs to cushions. Is the transition to wallpaper something that was always on the cards, or was it a more spontaneous decision?
ER: Wallpaper was something that was a dream when I first started & thought it would be at least a couple years down the track. When I had Milton & King approach to say they'd love to collab I was over the moon!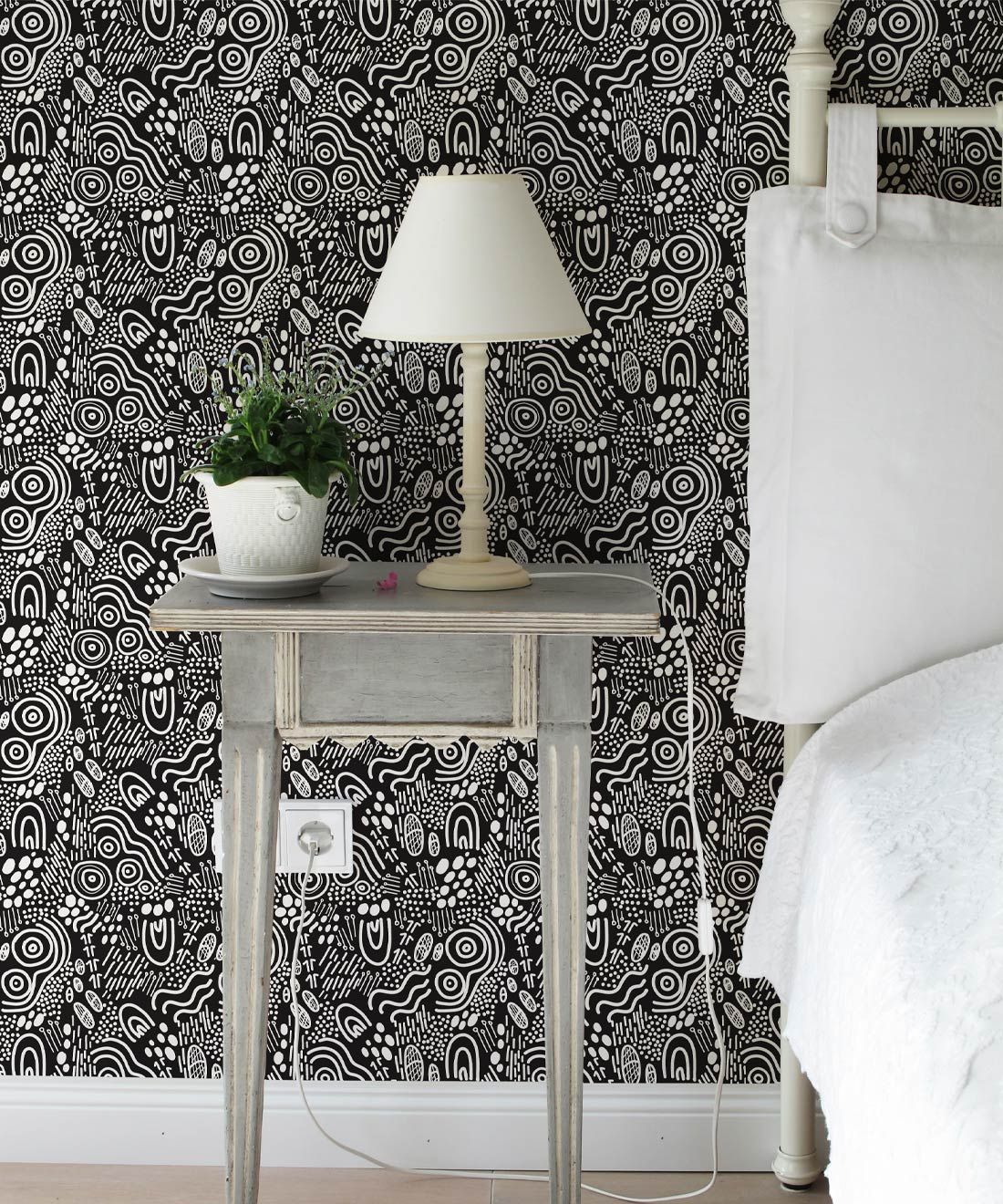 M&K: How did you decide which artworks were going to become part of your initial collection with Milton & King?
ER: I wanted designs that would fit seamlessly into to any home and space, and I believe our initial range does just that!
M&K: Which designs from this collection are you most excited to see as wallpaper?
ER: That's a tricky one to answer! I love the Landscapes design, it's really gender-neutral so can be used in a number of different spaces, and I also adore the Banksia in teal, I really love the vibe of the design with the dark teal.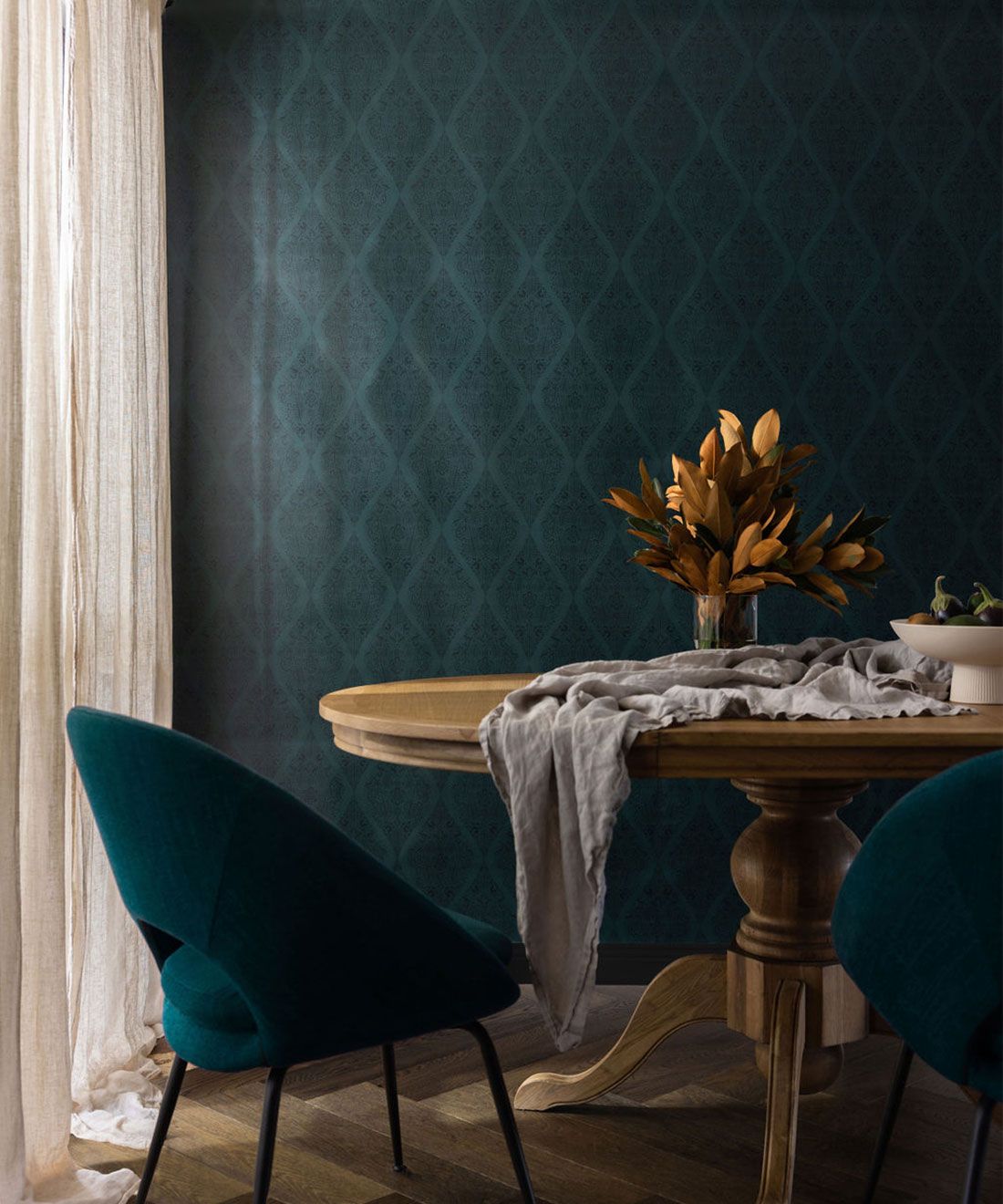 Pictured above: Banskia in Teal
M&K: If you were to pair one wallpaper design from this collection with existing Emro products and style them for a space, which would you choose, and how would you style them?
ER: I would probably go with our Banksia wallpaper in teal and pair it with our Fishing Season rug which is a beautiful natural handwoven wool rug. Also paired with our Healing country & Healing Lake cushions on a dark brown leather lounge.
 M&K: What's next for Emro Designs? Any new or exciting projects or collaborations in the works?
ER: We will be collaborating with some new talented artists across all products over the next few months, and working on expanding on our wallpaper collection!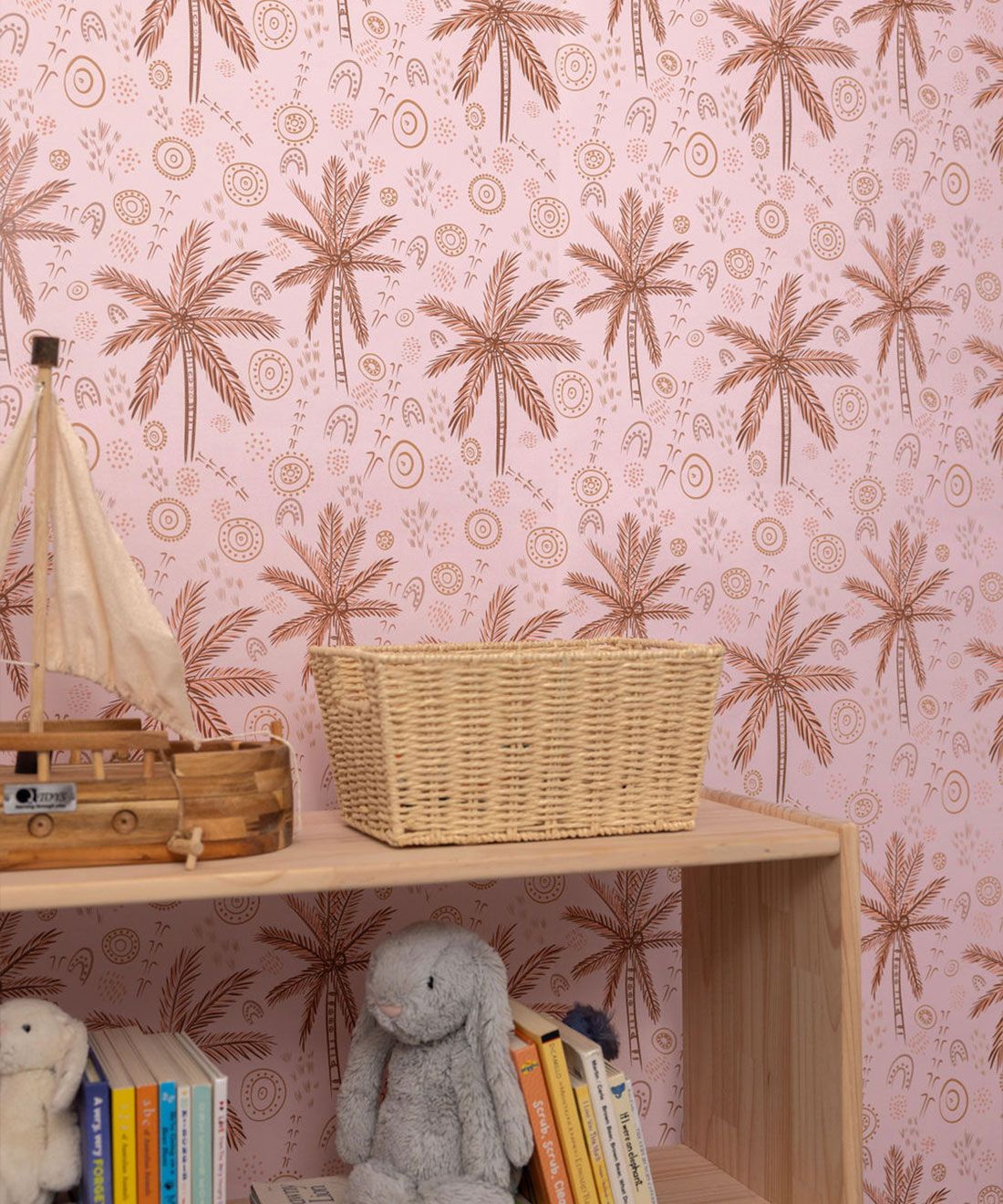 ---