Dining Room Wallpaper: From Casual to Fine
The dining room may be the place designated for eating, but most of the time, it's the place where we gather to converse and entertain. The meal is just one aspect of the atmosphere. Dining room decor ranges from the comfortable to the elaborate. Likewise, wallpaper for the dining room can create a relaxing environment or dress the house to impress your dinner guests. For the bold, your dining room wallpaper may be a topic of conversation on your guests' drive home. Here are some examples of dining room wallpaper done right.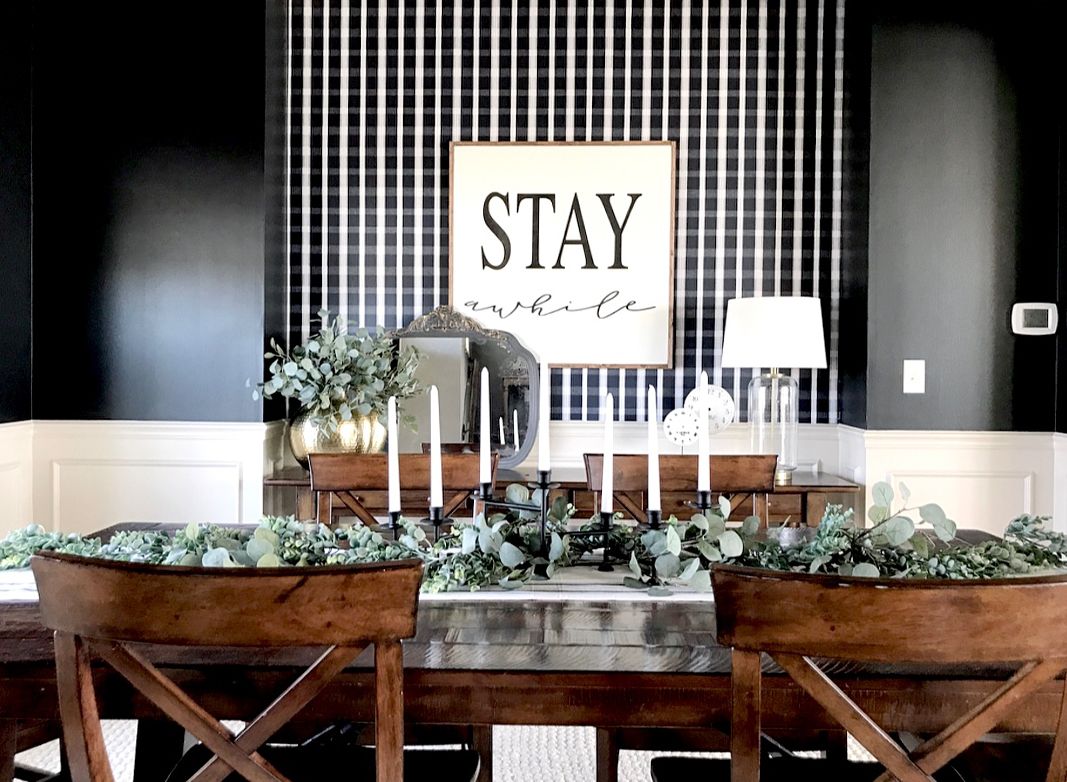 The image above is from Vanessa @the.urban.farmgirl
Country Style Dining
Check out this simple country-style dining room with a mid-century modern undertone. It's light bright and airy. The Earth Grey Brick Wallpaper helps provide an earthy feel.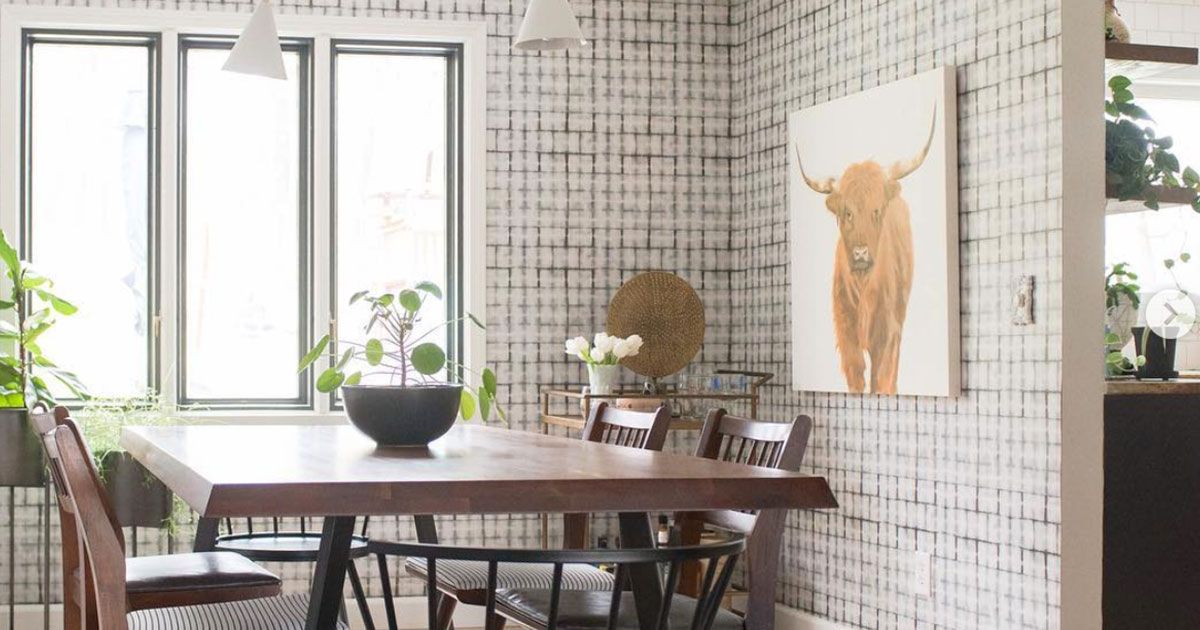 This country-style dining nook already had the benefit of large windows, allowing for plenty of light. So when Diana of @ForresterHome was choosing a wallpaper design, she had the liberty of going with the dark green Olive Dapple Wallpaper design. It's a bold design that immediately takes center stage and beautifully matches the outdoors we see on the other side of the windows.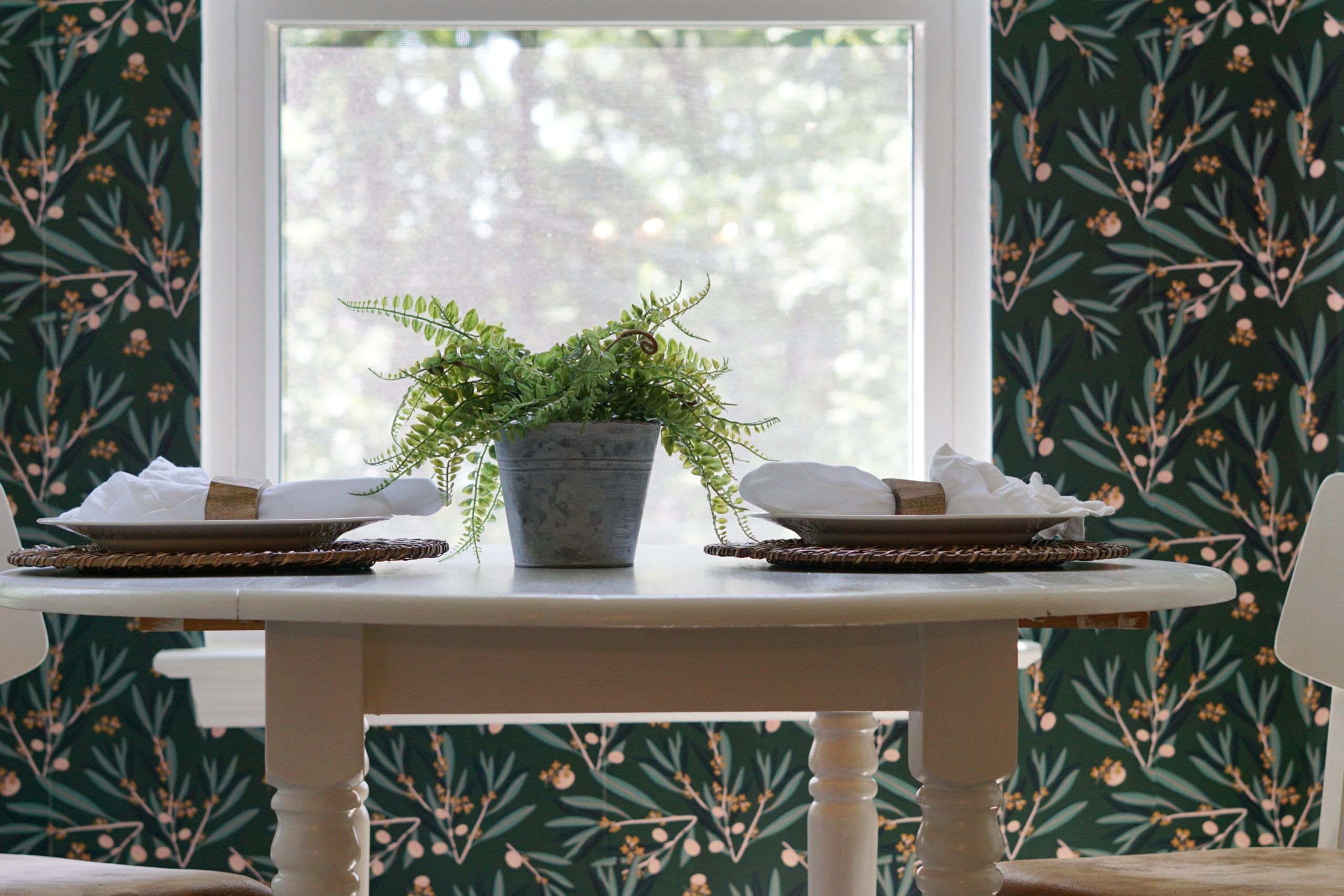 For an even more rustic farmhouse style dining room, wood and shiplap wallpapers are a great way to go. While rustic, they also offer a very cozy vibe to the space. In the image below, Brendt from @shegaveitago uses the Queensland Weatherboards wallpaper to achieve a farmhouse dining room. Adding that dash of greenery as a centerpiece, really helps it feel fresh as well.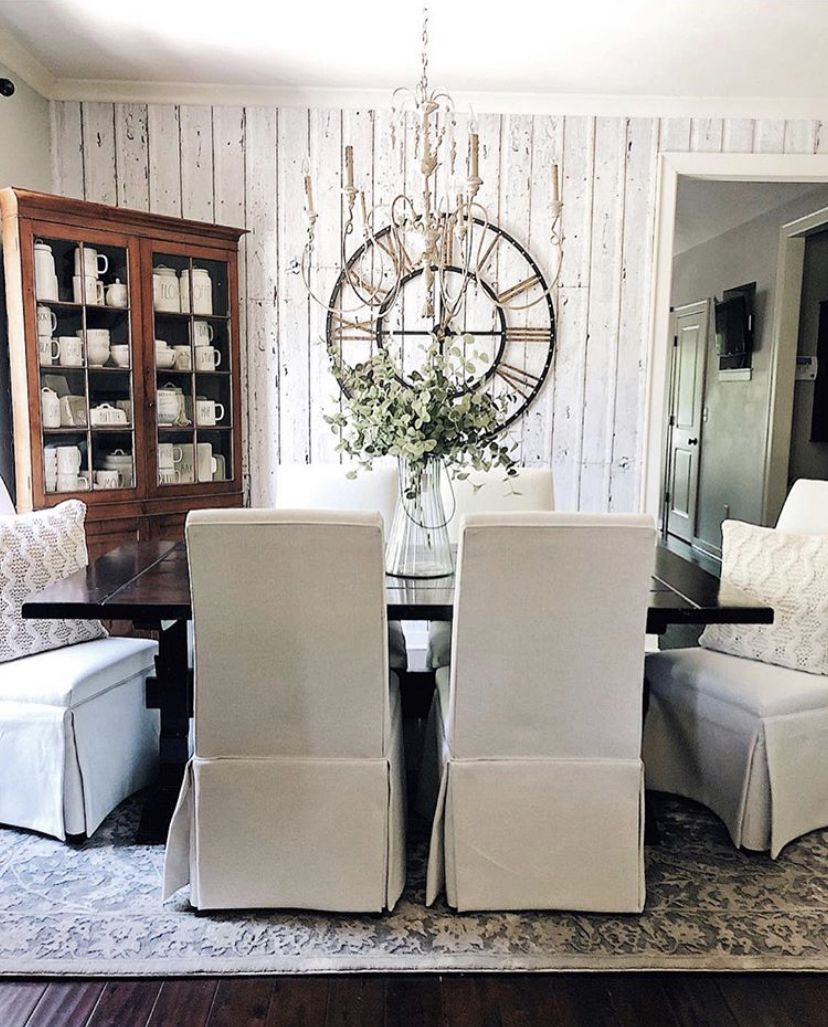 Hollywood Regency Dining
We have featured Jewel Marlowe in our blogs before and for good reason. She always creates spaces that WOW! This is no exception. She turned her basement into a livable area for her teenage daughter with a dining area included. Sticking with the Hollywood Regency style, she glammed up the space mixing blues and greens. Her wallpaper choice is called Magpie. It's a design that sets the mood for the room and beautifully matches the area rug.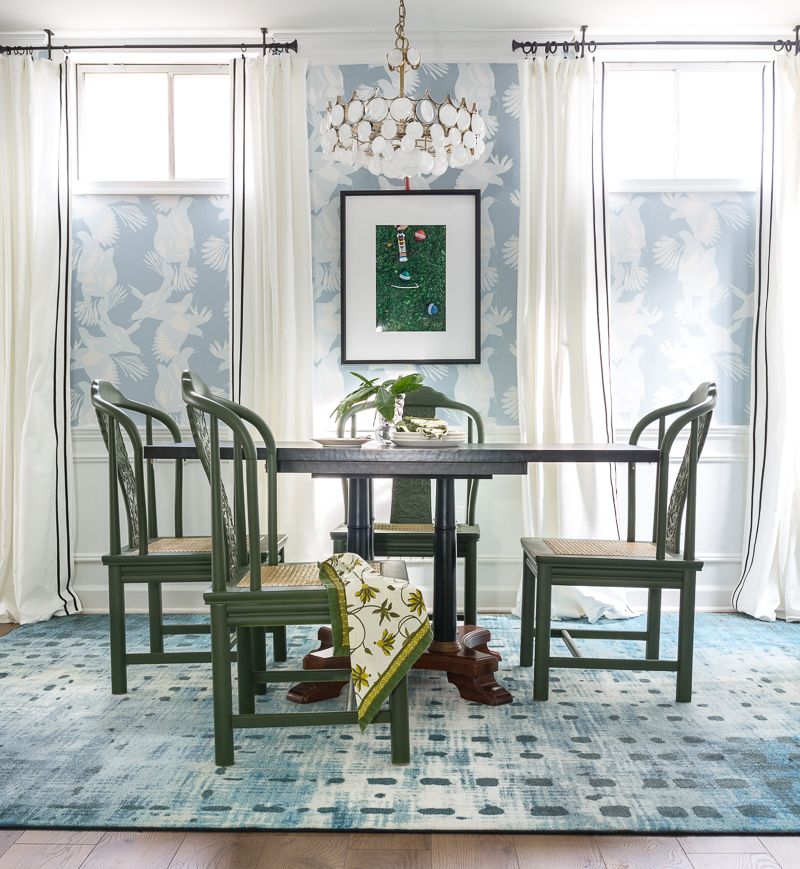 We've featured Jewel Marlowe already, but this dining room was too fabulous not to mention. I would not guess that the Viva Tropicana design would make an ideal dining room wallpaper, but holy moly, does she pull it off. Unlike the previous example, this is not an abstraction to set the tone. This is to make you say, "Whoa! Check out that wallpaper!" It is bold and glamorous like everything else in this space. From the wainscoting to the gold framed dining chairs and the soft blue curtains, this dining room is rich and sophisticated.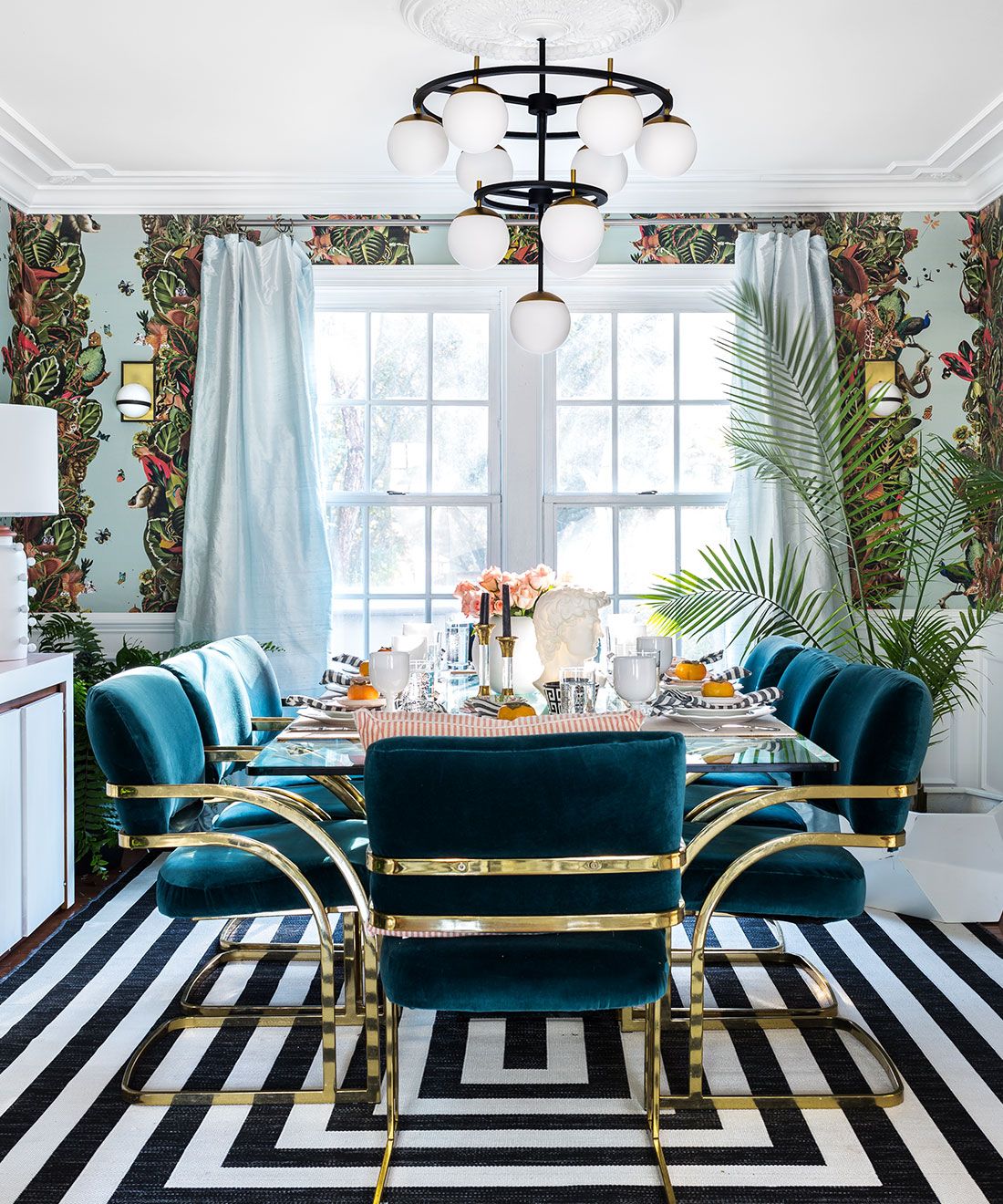 Contemporary Dining
For a more contemporary dining experience, everything from the tables to the light fixtures contributes to a modern feel.
This dining room was created for an episode of Making It Home on HGTV in Canada. They wanted a pop of color to set the stage for the gallery wall. They chose a contemporary wallpaper design with red and pink geometric shapes which livens up the whole space. This design is called Byronian Hills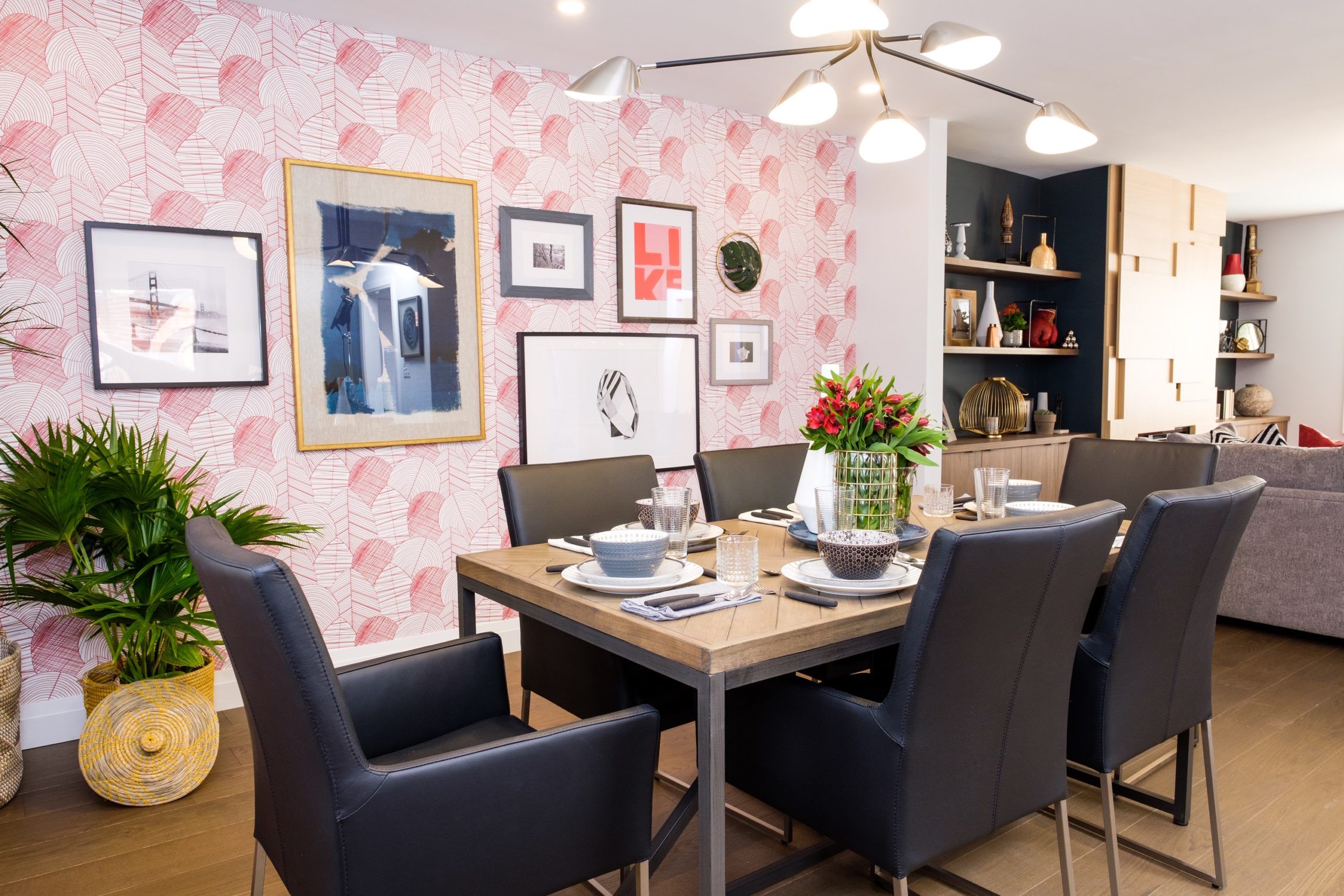 This dining room had the obstacles of being both dark and vintage. So Ainslie Watson of @mitchandlu thought she would brighten it up with a white wallpaper that also had a contemporary feel. She uses the Narnie design to modernize and lighten the space.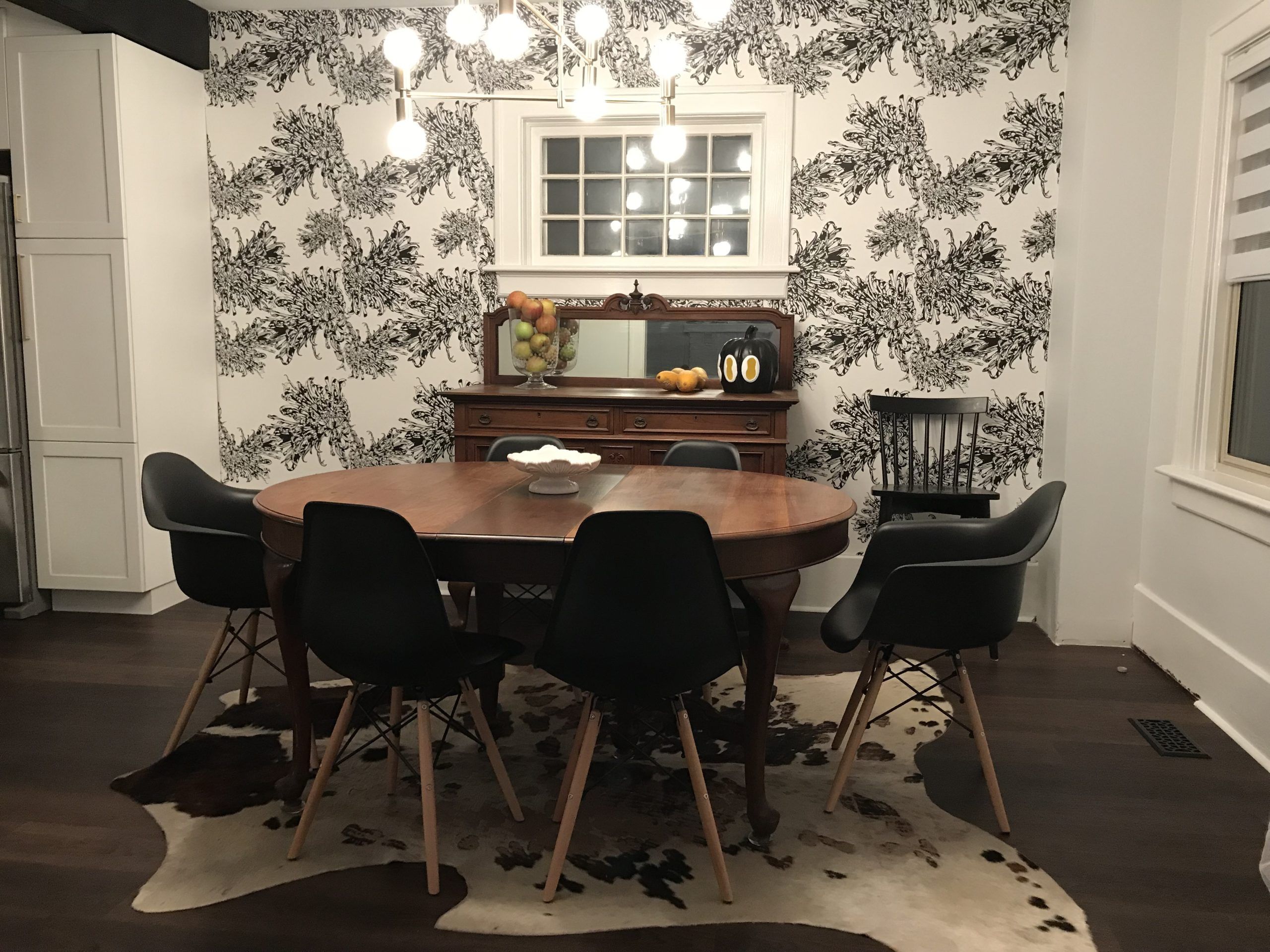 Eclectic Style Dining
Some people have dining rooms that aren't afraid to mix things up. They love different aspects of different styles and find ways to make it all work together.
For instance, we have interior design Gabbi Zaccheria (@gabbizaccheria)from Wilmington, North Carolina. She has a dining space that feels a bit country and mixes it with bold, modern colors. Here in this photo by Andrew Sherman, she is uses the Shibori Star design in the Ocean colorway.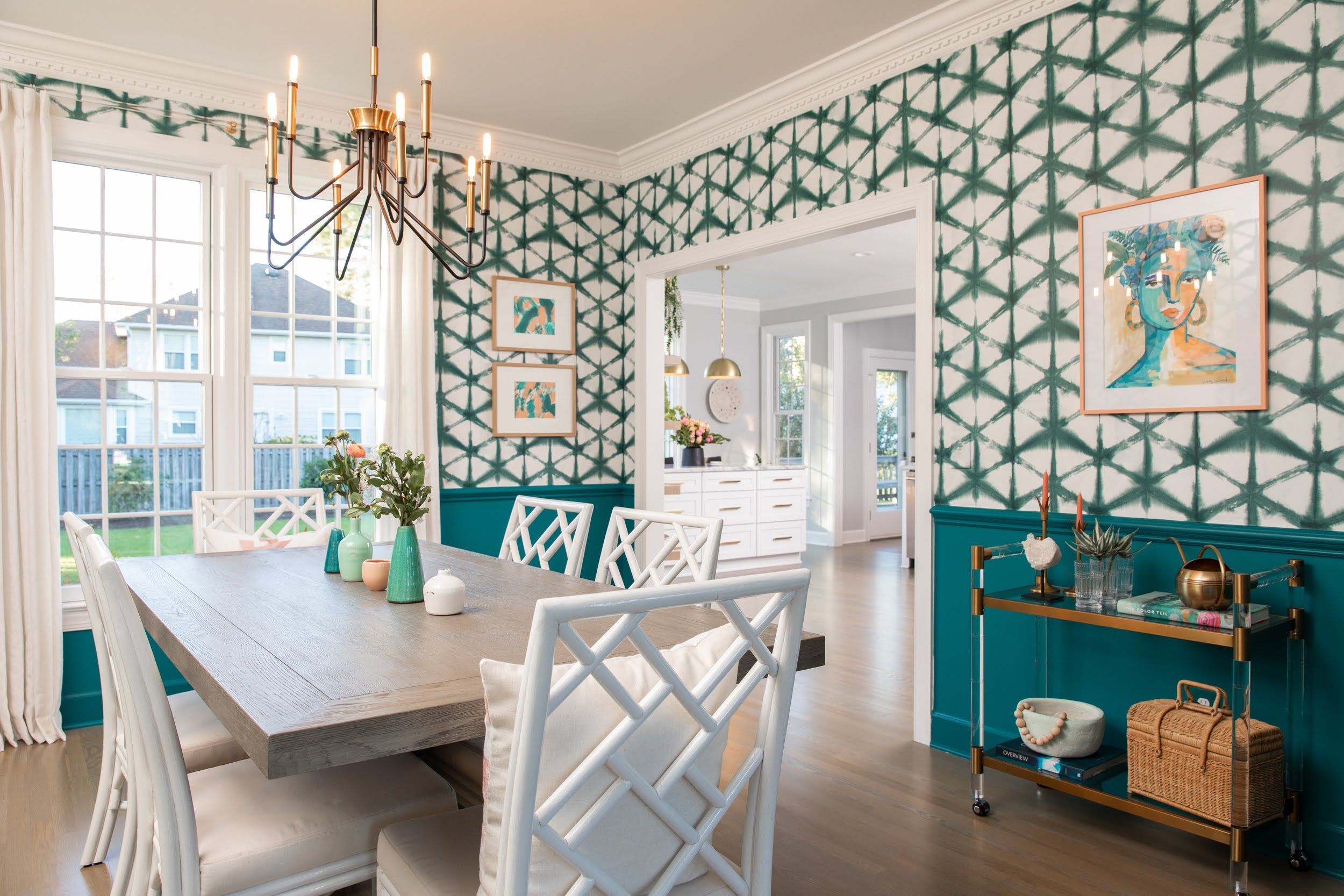 This gorgeous dining room from Stephanie Watkins has boho in mind. The multi-colored ikat rug really let's you go in any wild direction you want. The orange drapery is an interesting and eye catching choice with the Gadara Wallpaper in charcoal. This space is intended for you to take notice. The abstract wallpaper design, much like the above, is a mood-setter.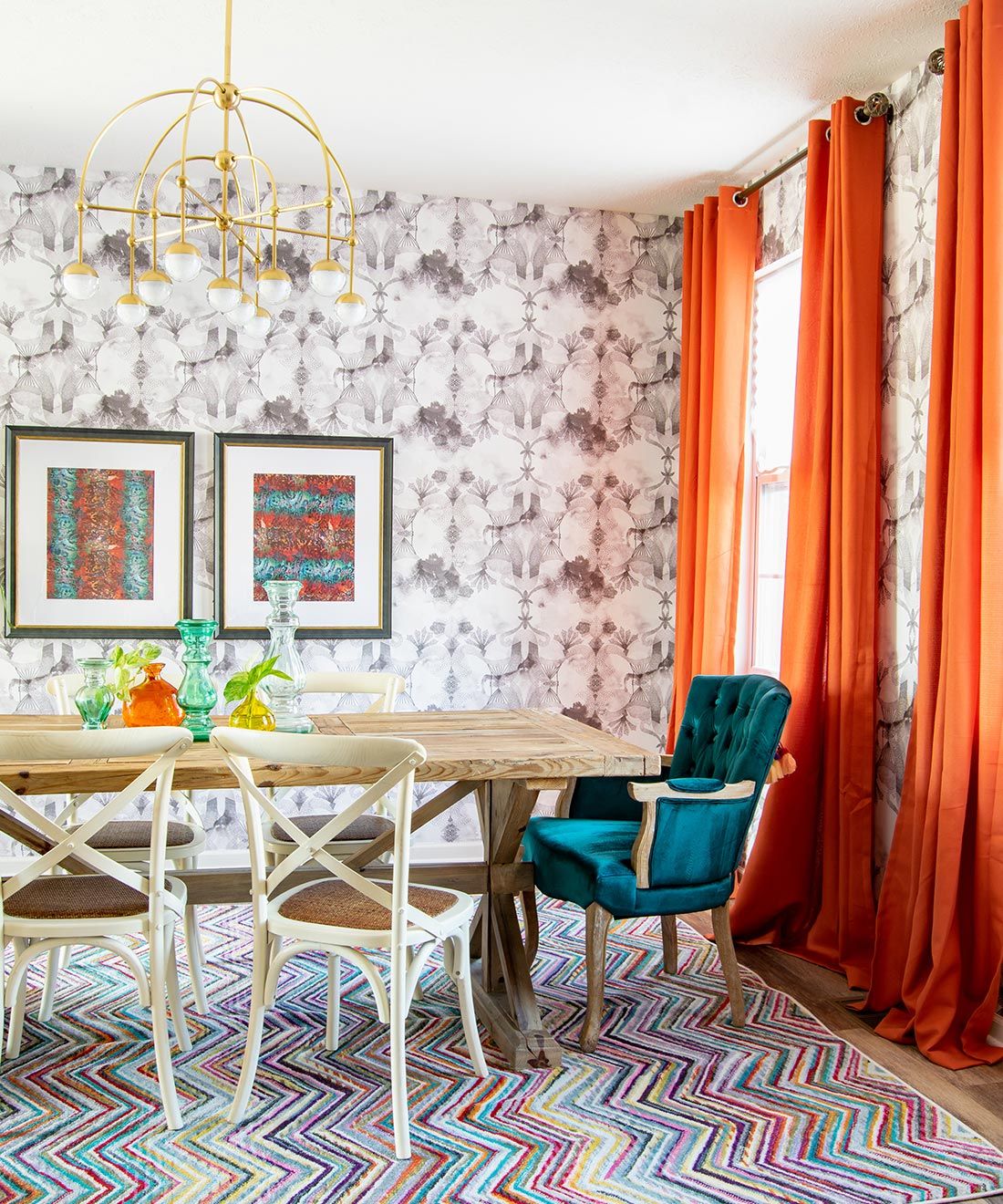 Jaci from @jaci.daily has a very organic feel in her dining room. Perhaps it's the wood floor mixed with the warm light wood dining table. But she balances all this timber with a bit of elegance. She brilliantly matched her pendant lighting with her Marble & Copper Tile wallpaper. This geometric wallpaper adds some interest to the wall, but since it's a white marble, it doesn't overpower the space. It's a very easy place to be in.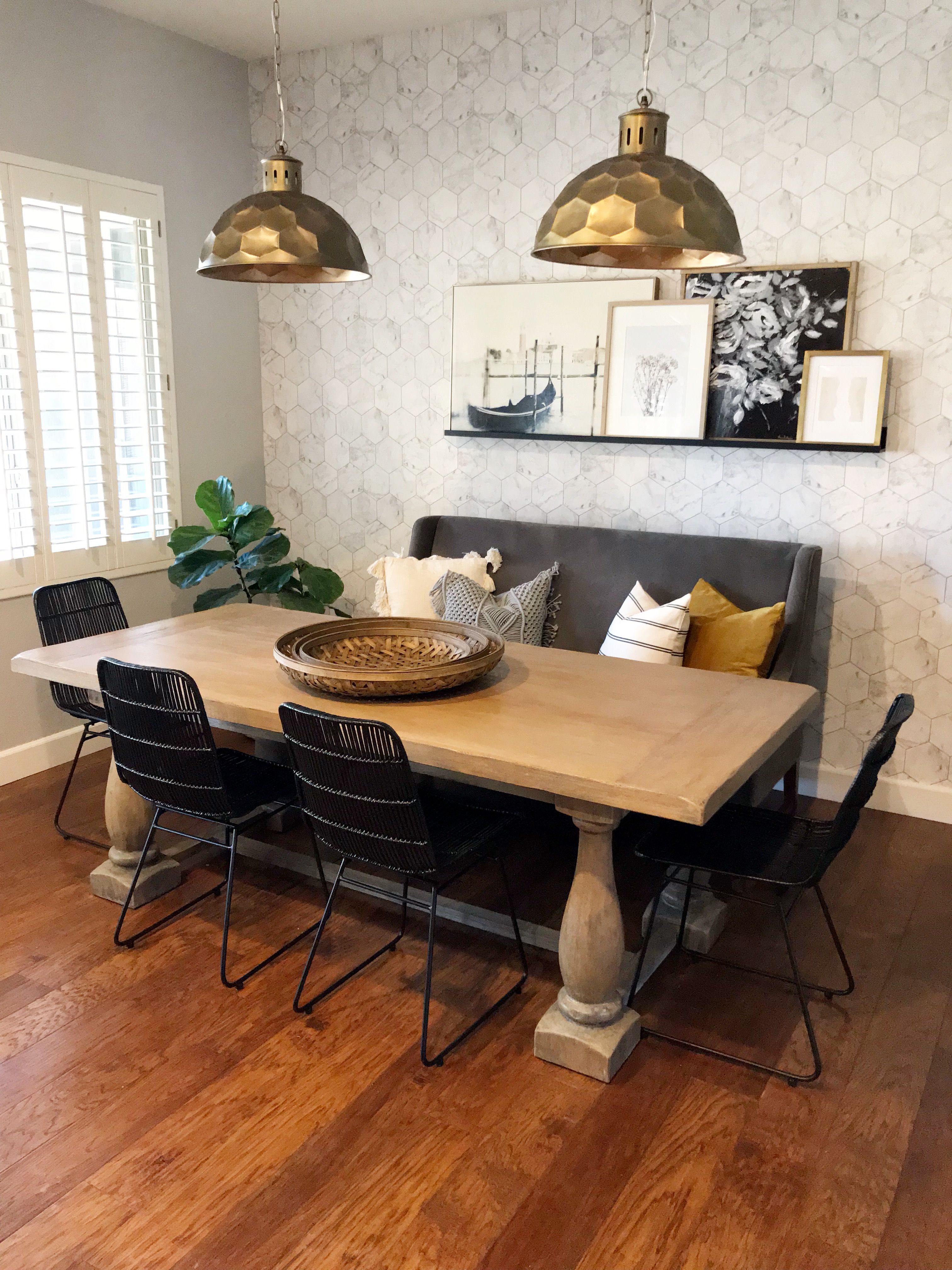 The Wrap
We have seen some great examples of dining room wallpaper that include bold, subtle, light, dark and almost everything in between. In nearly every case though, it seems each person tailored their wallpaper to fit not only their taste but the current environment. Wallpaper is hugely transformative on its own for sure. However, taking into account things like how much natural light the room gets is important. Also, making the theme match with the existing elements in the room like furniture or chandeliers will give your dining room a cohesive vibe.
---