How To Add Colour To Your Kitchen
Gone are the days of boring, neutral kitchens. Today, kitchens are the centre of the family home and are full of colour, bursts of life, good food and wonderful memories. Adding colour to your kitchen decor helps to refresh and revive a room without rebuilding. Here are 6 simple ways to add colour to your kitchen without breaking the bank. 
Paint A Door
Keep the colour palette for the benchtops and cabinetry neutral but spruce it up with a colourful pantry door. Creating a feature piece in the room is affordable and eye-catching, and is a great way to bring colour into the space without an extreme makeover. If painting isn't your thing, use one of our trendy geometric wallpapers on the pantry door instead for a stylish update instantly.  
Appliances And Tableware 
Want to add some practical colour overnight? Consider purchasing some new appliances, tableware and decor items to add to the kitchen counter and bench tops – a mosaic fruit bowl, a funky orange toaster, a beautiful marble cutting board or a gorgeous vase full of fresh blooms. Why is this a great idea? Your new purchases are functional and act as fun features that bring colour into the room, and it's an excuse to buy new kitchen goodies too, so it's a double bonus!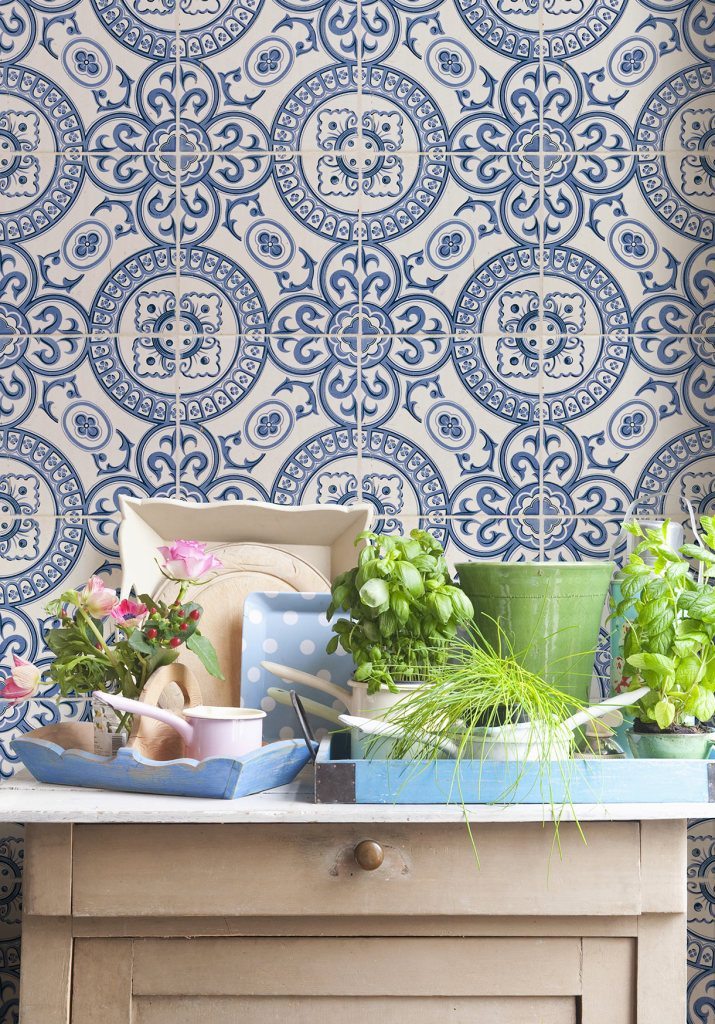 Add Some Wallpaper 
Changing up a single wall of your kitchen will breathe new life into the space and completely overhaul the vibe and perception of size. To add a splash of colour, opt for our Watercolour Birds (here) wallpaper by Lydia Meiying, the gorgeous faux marble design by Kemra if you're jumping on the marble trend, or something more classic like from the bricks and concrete range. Never installed wallpaper before? No problem! Check out our how-to installation video here.
Find A Stunning Piece Of Art 
Simply adding a colourful piece of art to your white walls can be all you need to really transform a space. Opt for just one piece of art so the colour boost is subtle and not overpowering to complement the rest of the room and colour palette. 
Use Curtains 
Not just a trendy item in a retro house, curtain with colour work like a beautiful piece of art if used correctly. One single item that brings colour into the room can make a world of difference, so choose carefully but with a creative mind. If you want to bring more natural light into the room, opt for a curtain that is light and sheer to really open up the space and keep it uncluttered. 
Everybody Loves An Indoor Plant! 
Adding some greenery with fresh herbs is the perfect way to bring a splash of colour (and some great fragrances too!) into your kitchen. You could build a small indoor herb garden for a pop of greenery, or opt for something with less maintenance like an orchid, cacti, succulent or a trendy terrarium. For an extra pop of colour, get creative with your pot plants and stray from the standard black, white and terracotta hues.  
We know a lot of your time is spent in the kitchen, and it's where a lot of family memories are made (and good food devoured too), so it's important to create a space that is functional and fun. To transform your kitchen space from bland to chic, try some of these tips and let us know how you go! 
---