Australia! A Lively New Collection
Australia has been in the news a lot lately. Everyone is hearing about the raging bush fires which have led to the loss of millions of hectares of animal habitat, over a billion animals, thousands of homes and human life as well. However, what is not lost is Australians' pride in their homeland. Prior to all this devastation, Kingdom Home, an Australian-based design studio, started work on a brand new collection. The title is aptly called AUSTRALIA, celebrating the land, the animals and the spirit of the land called Oz. It was almost as if it was written in the stars that this new collection would launch as a point of pride when Australia needs it the most. As an Australian wallpaper company, Milton & King is proud to bring you 4 beautiful new designs, each available in multiple colourways that demonstrate the unique characteristics of our land down under. Here is AUSTRALIA, a lively new collection.

*Magpie Wallpaper photo courtesy of Jewel Marlowe from Jeweled Interiors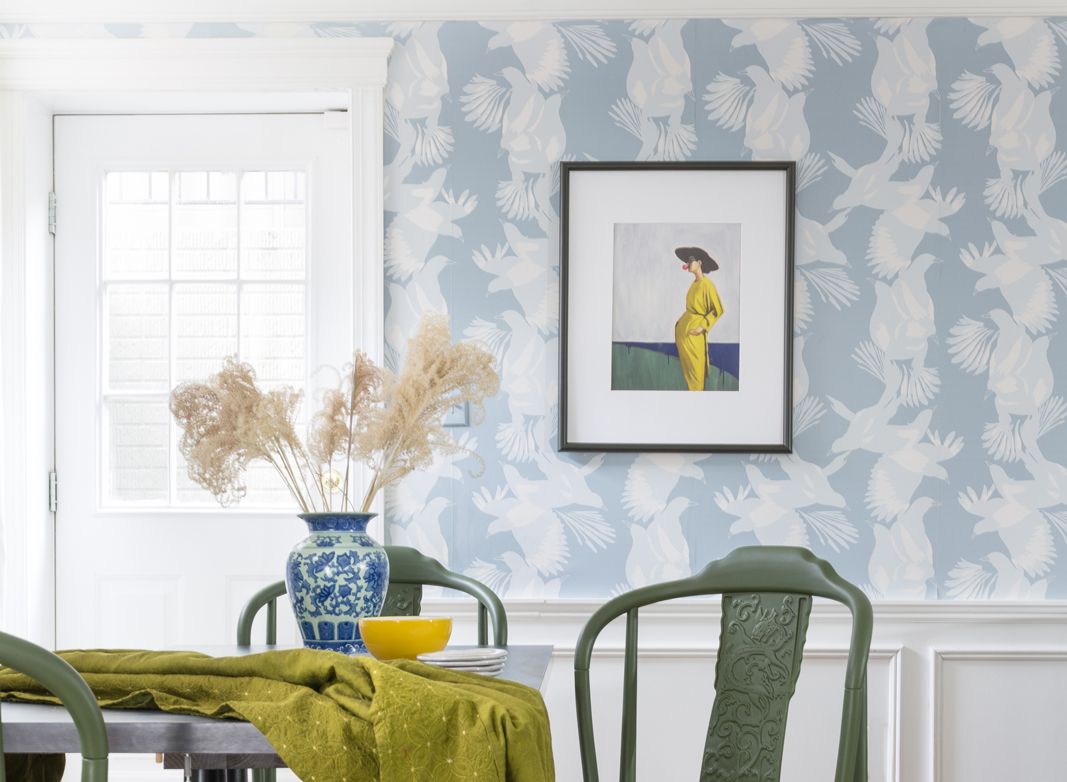 MATILDA
Matilda is a uniquely Australian wallpaper design with a stylized decorative touch, inspired by the William Morris era arts & craft movement. Matilda strikes the perfect balance between traditional inspiration and modern interpretation of iconic Australian floral and fauna, beautifully hand-illustrated by Sarah Gordon. It features colourful cockatoos and kookaburras frolicking among golden wattles and banksias. It comes in blue bell on a white background, deep blue, night, pink, plum and oceania pictured below.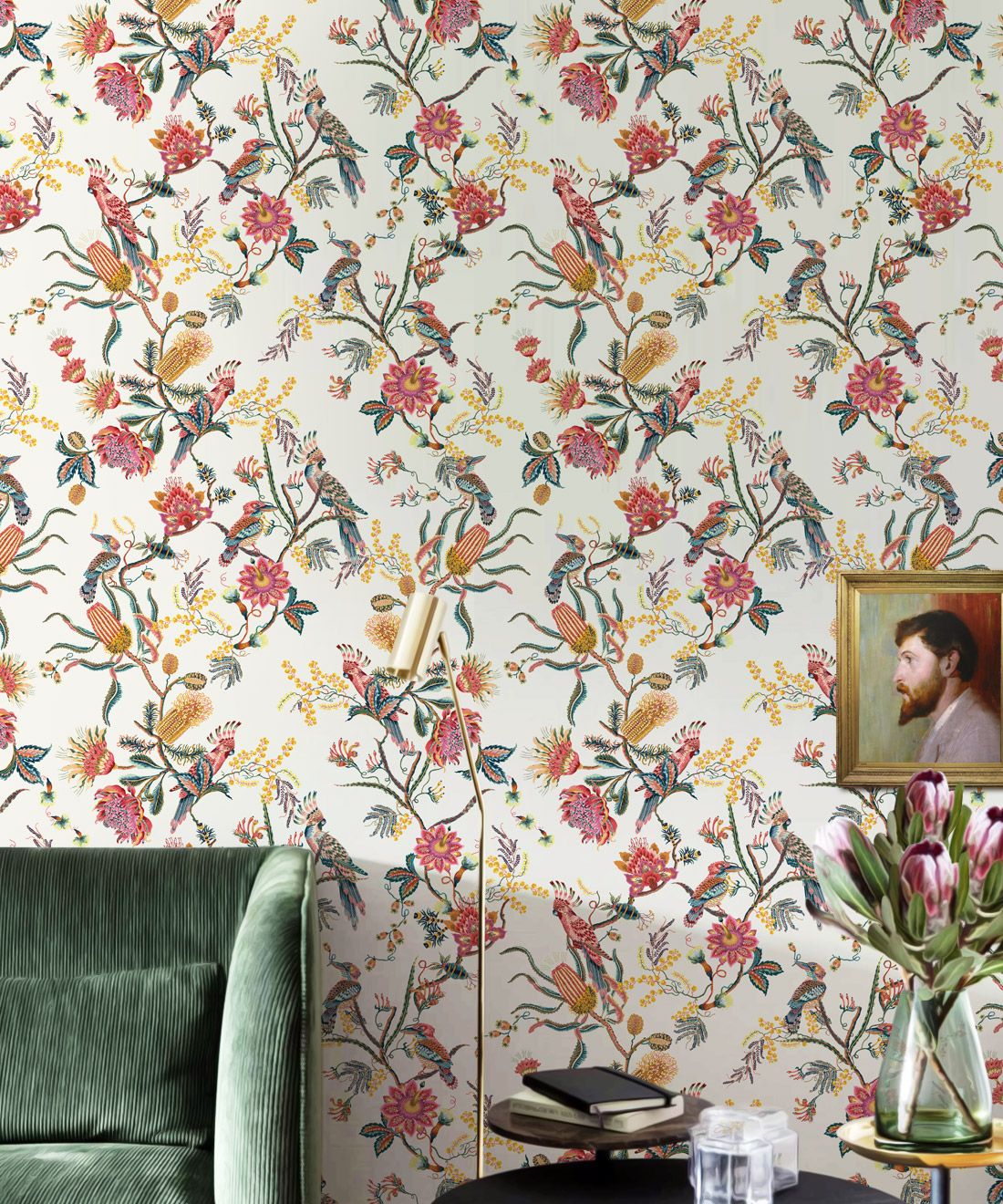 IN AUSTRALIA WE TRUST
In Australia We Trust features a twist on the country's coat of arms. This patriotic symbol features kangaroos, emus and cockatoos as well as other Australian national symbols. It is a tribute by Kingdom Home to celebrate the strength, diversity and beauty of Oz. This gorgeous damask wallpaper design offers sophistication and comes in coral, sunshine yellow, blue cockatoo and grey bondi pictured here.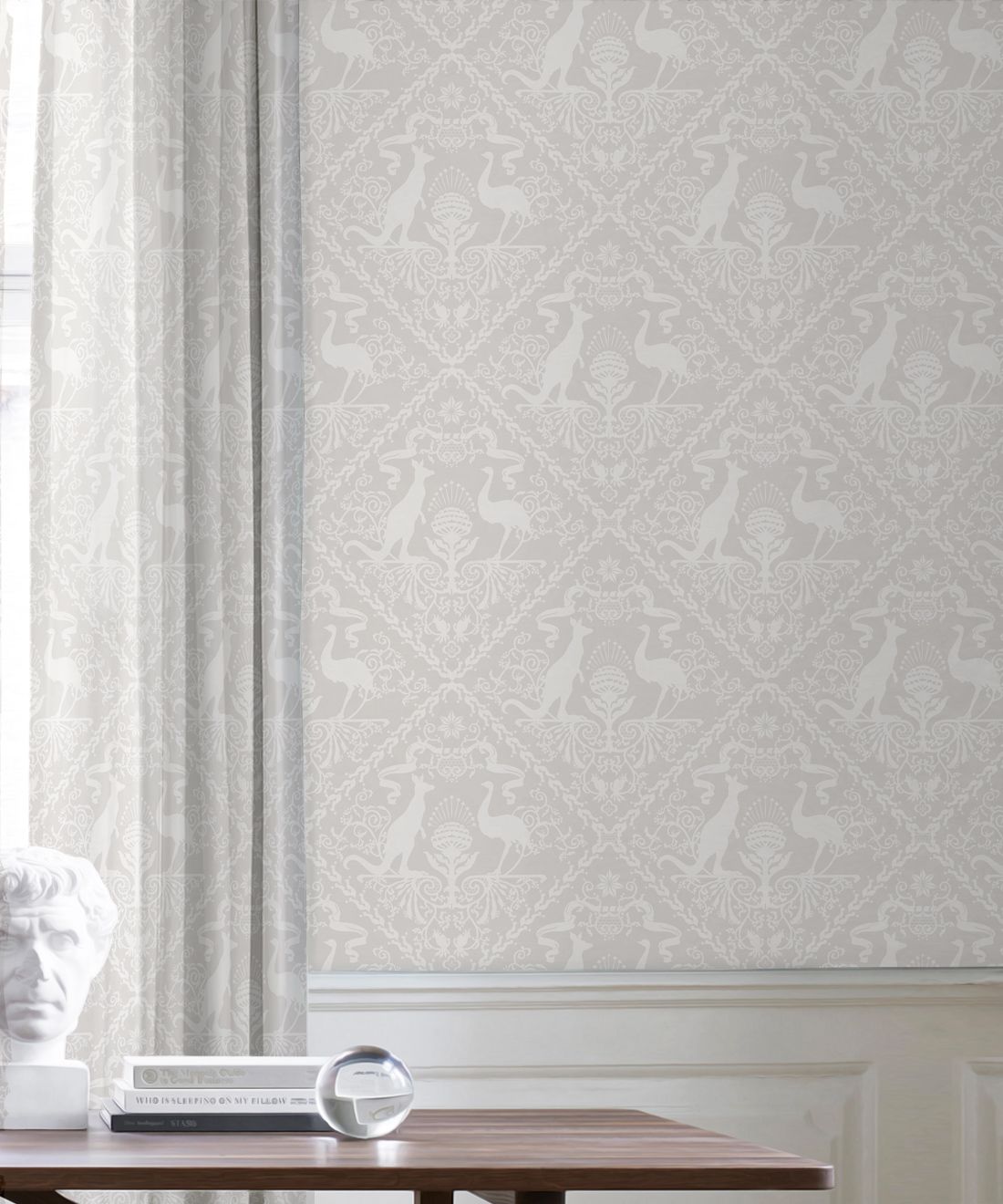 MAGPIE
An iconic and often infamous Australian identity, coated in striking black and white feathers, magpies are majestic in appearance and celebrated for their cultural significance. This creation captures the many unique appearances of this wonderful creature and presents it as a lively and engaging pattern. Magpie wallpaper comes in a black and white colourway which is true to the bird, as well as charcoal slate pictured below, light grey bondi and blue bell.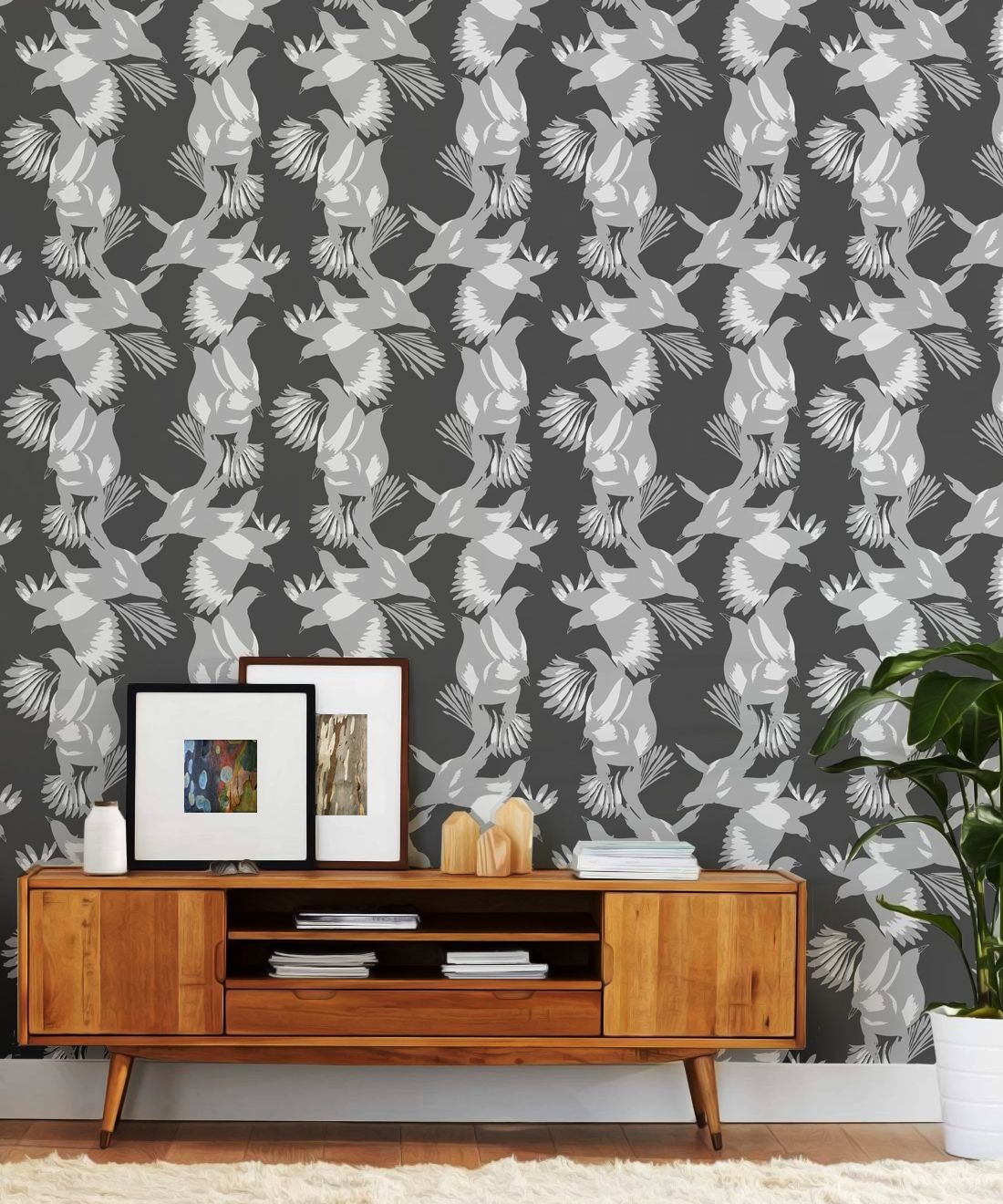 AUSTRALIA
Australia is a design inspired by the chinoiserie style often associated with heritage luxury. Each element is carefully hand-illustrated to bring out the lively and engaging flora and fauna unique to Australia and beloved around the world like parrots, cockatoos, koalas and finches. Australia wallpaper is unique to the great land down under but universal in style and substance. In addition to the powder blue colour below, it is available in pinkish coral, a deep antique green, a black night, a neutral canvas and mint jade.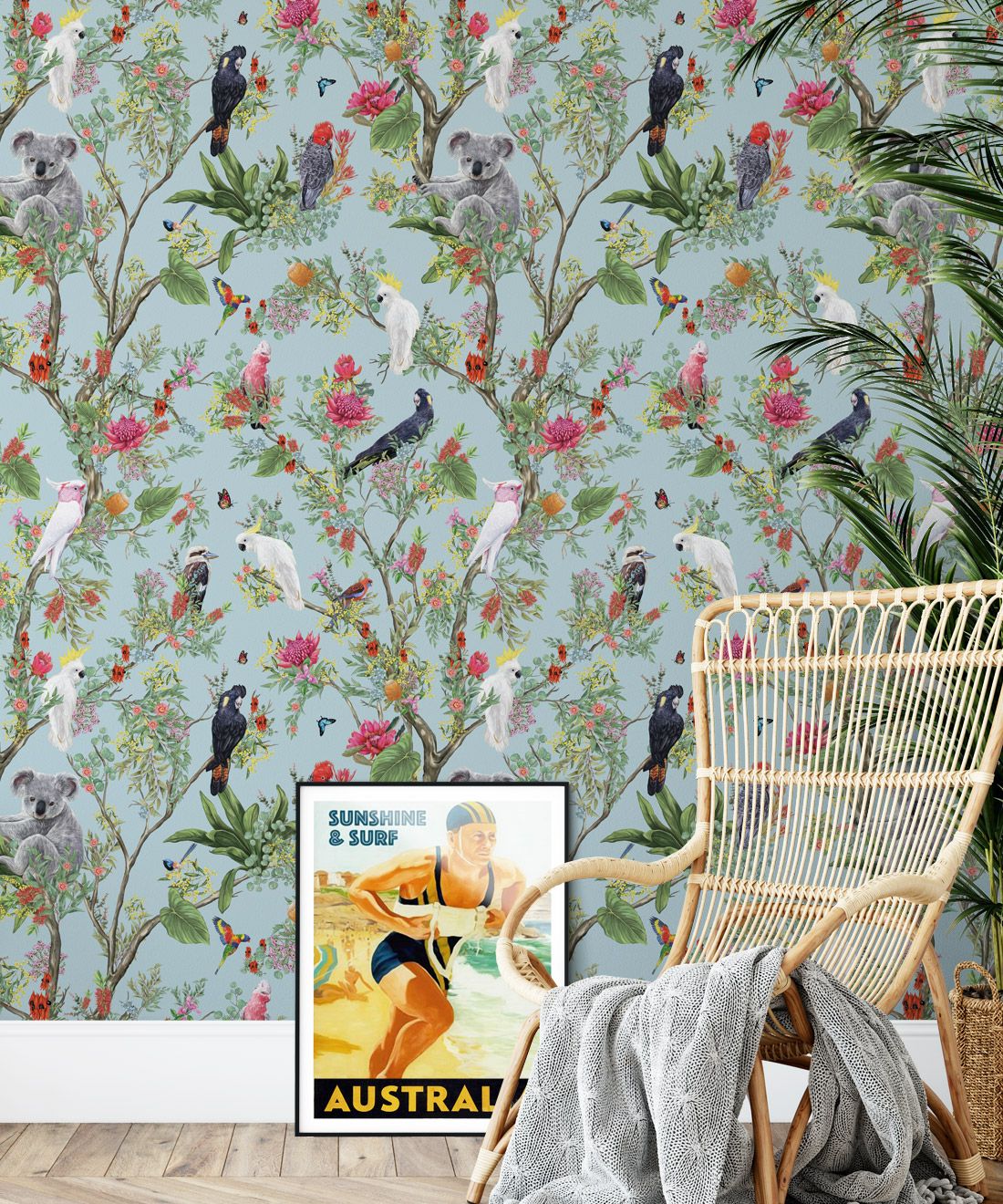 It may be a long plane ride for most of the world to visit our expansive island, but you can also bring the spirit of Australia to you. Any one of these 4 designs in their multiple color options will bring the unique character and charm of Australia to your home. So be a good mate and support your Aussie neighbours with AUSTRALIA, the new lively Australian Wallpaper collection from Kingdom Home.
---