5 Ways To Use Floral Wallpaper
With the hotter months upon us (well, if you're in America, Europe or the UK!), it's time for a change in home styling! As we mentioned previously in this blog post, floral wallpaper designs are one of the most popular ways to add that fresh and welcoming feeling to the home during the spring and summer months. Including bold colors and intricate patterns (just like the new Modern Classics collection), floral prints trigger memories of warm summer days with clear blue skies and fresh flowers blooming. However, sometimes covering the walls isn't a possibility, but that doesn't mean that you can't decorate with our extensive range of floral prints! Here are 5 ways to discover and use floral wallpaper in your home:
Artwork
If you want something a little less permanent than a full application of wallpaper but love the beautiful designs and still want to incorporate it into your home somehow, how do you feel about a framed artwork of your favorite floral wallpaper printed on canvas?  This is the perfect option if you are renting and not allowed to cover your walls with anything that is semi-permanent. This is the easiest way  to add a touch of personality and fun into a rather blank space. With so many floral wallpaper designs to choose from, there will be one for every room no matter your personal preference or style.
 Ceilings
Adding wallpaper to the ceiling is a beautiful way to incorporate some color into a room, onto a space that often gets overlooked. It adds the gorgeous texture and style that you would experience when hanging a print on the wall, just without being seen as overwhelming and obnoxious. Choosing a lighter colored wallpaper like the 'Bloom' design may even help to act as an illusion to the human eye and trick the brain into thinking the room is larger and more spacious than it actually is. This is particularly great for smaller apartments and homes where rooms can constantly appear cramped and cluttered.
Furniture
Although you could completely cover your bedside table with some gorgeous floral wallpaper, this could potentially be a bit too much for some. For a more subtle approach, we recommend wallpapering the sides of the drawers so that when you pull them out, there is a touch of color hidden inside. Also, pasting some wallpaper down to the top of a table is a great way to refresh the look and add some personality. Consider doing these subtle touches to your bedside tables, coffee tables and any other small pieces of furniture for a hint of floral that adds the finishing touch.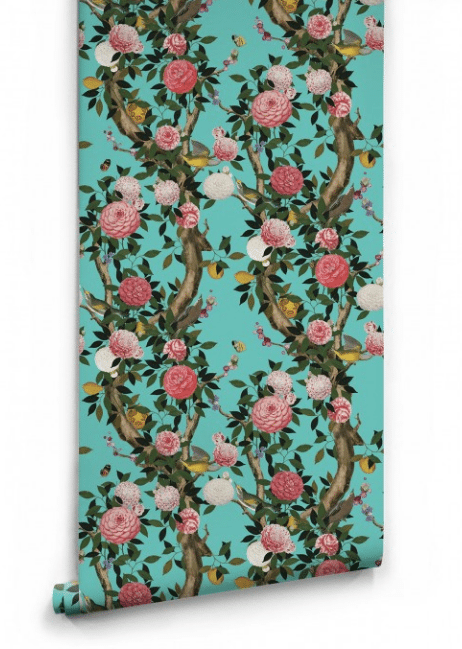 Door
Who doesn't love a beautifully decorated door? This is perfect for a hesitant wallpaper first-timer or someone who loves the boldness of a particular floral print such as 'Garden Bloom' but is a bit apprehensive when it comes to installing the pattern on a larger space, such as their walls. You can choose to cover the front and/or back depending on your personal preference, interior style and how busy your space already is.
Headboard
Having a headboard on the back of your bed is an added touch of luxury in your master bedroom, but consider wallpapering it with a captivating floral design rather than leaving it bare. A bright and fun floral headboard will draw attention to it and really add a fresh and youthful appeal, whereas a more muted, classic floral headboard will add a feel of glamour and vintage styling to your bedroom.
If you need more inspiration on how else you can add some floral wallpaper designs to your home decor without actually having to use them on your walls, have a read through these 16 Wallpaper Projects you can try out yourself!
---