5 Ways To Style Marble Wallpaper
No doubt one of our personal favorites from our entire wallpaper collection is the gorgeous "Marble" wallpaper by Kemra. This unique wallpaper makes the most of the popular trend of marble everything (there is no such thing as too much marble, right?!). We've come up with 5 ways to style marble wallpaper, from color techniques to decor choices, these ways will ensure you ace the marble trend effortlessly in your home without going OTT.
Gold Detailing
Nothing goes better with marble than luxe gold detailing. Whether it be with subtle trims of gold around the room, gold homewares or bold gold furniture, gold and marble are a match made in interior design heaven. These two materials work well together as the warmth of the gold metal helps to counteract the coldness that comes from a stone such as marble and helps to create a much more cozy feeling in the room. If gold isn't to your taste you can always opt for a different warm metal like brass, copper or rose gold, and if you want to avoid metals altogether, timber works well in its place.
White Furniture
If you love the look of the white-on-white-on-white interior trend that is everything on Pinterest right now, then you will love pairing our  stunning Marble wallpaper with some classic white furniture. To avoid a completely stark and clinical feel, accessorize your white and marble features with subtle accents of color or with a contrasting pattern or texture to create contrast and interest. White and marble with a splash of leather, fur and industrial textures are the perfect way to style your marble wallpaper.
A Pop Of Color
On the other end of the spectrum, colorful furniture works really well with marble wallpaper. As the marble wallpaper is only incorporating the colors of white and gray, it is a very neutral wall choice that can easily be styled and changed over time to cater for changing trends and tastes.  So, if you are a lover of bright pops of color, this wallpaper is perfect for you. Some of our favorite combinations that make the marble pop are pinks, teal and yellow for a fun and super fresh interior style that gives you an energy boost every time you walk through the room.
Bring In A Touch Of Glamour
Anything marble has a feel of being luxurious and high-end. Complement this by adding some plush decor items within the area. To achieve this look, a soft, fluffy rug works wonders and singular chairs in a room always ooze sophistication and style.
Pastels
If you don't want to jump headfirst into the bold colors we mentioned above, pastels are a wonderful option. Not only do you get the fresh, fun look, but pastels work very similarly to neutral tones as they are soft, delicate and often blend in nicely with a simple, chic decor. Opt for a pastel rug or lamp for a soft touch or a pastel sofa or table for more of a statement.
What would our ultimate marble wallpaper look like in a lounge room? Here is soem inspiration for our dream styling: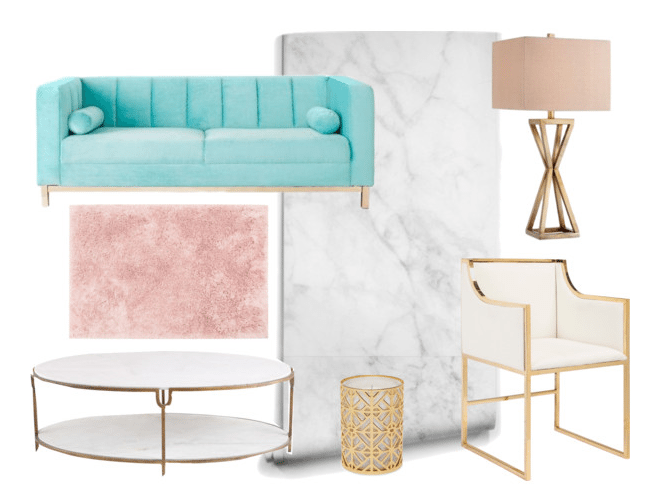 If you've been struggling to think of ways to style your a Marble wallpaper, we hope these 5 tips and tricks will help you achieve the room you've always wanted. For more inspiration, check out how Yvette from The Stylish Splash accessorizes her marble wallpaper on a weekly basis in her master bedroom here.
---