2022 Tiff Manuell Wallpaper Collection
Tiff Manuell is back again with a brand-new collection and six incredible larger-than-life designs featuring more of the stunning colors and elegant floral motifs we've come to love. The new designs are the perfect complement to the budding Summer season in the Northern Hemisphere, and will bring much needed light and warmth to those of us heading into Winter down south. We sat down with Tiff to discuss her new collection and how her vision and process has changed since her last release in early 2021. Read on for a closer look at the new designs and to hear more about how Tiff turns her ideas into reality!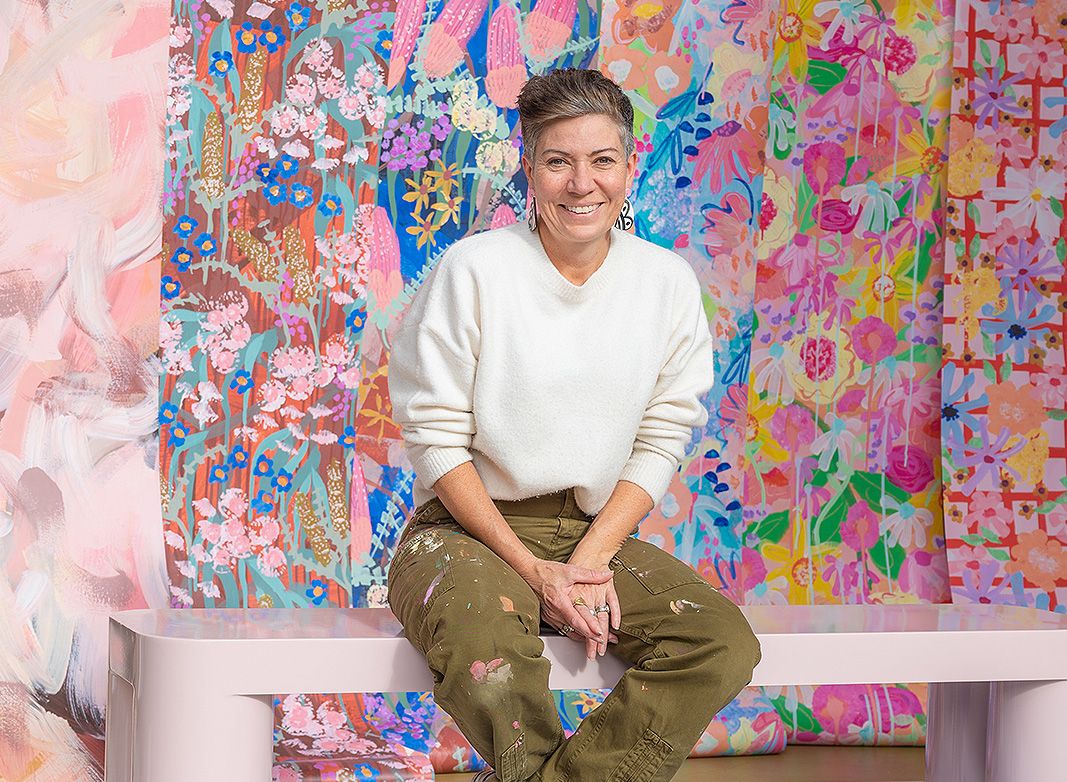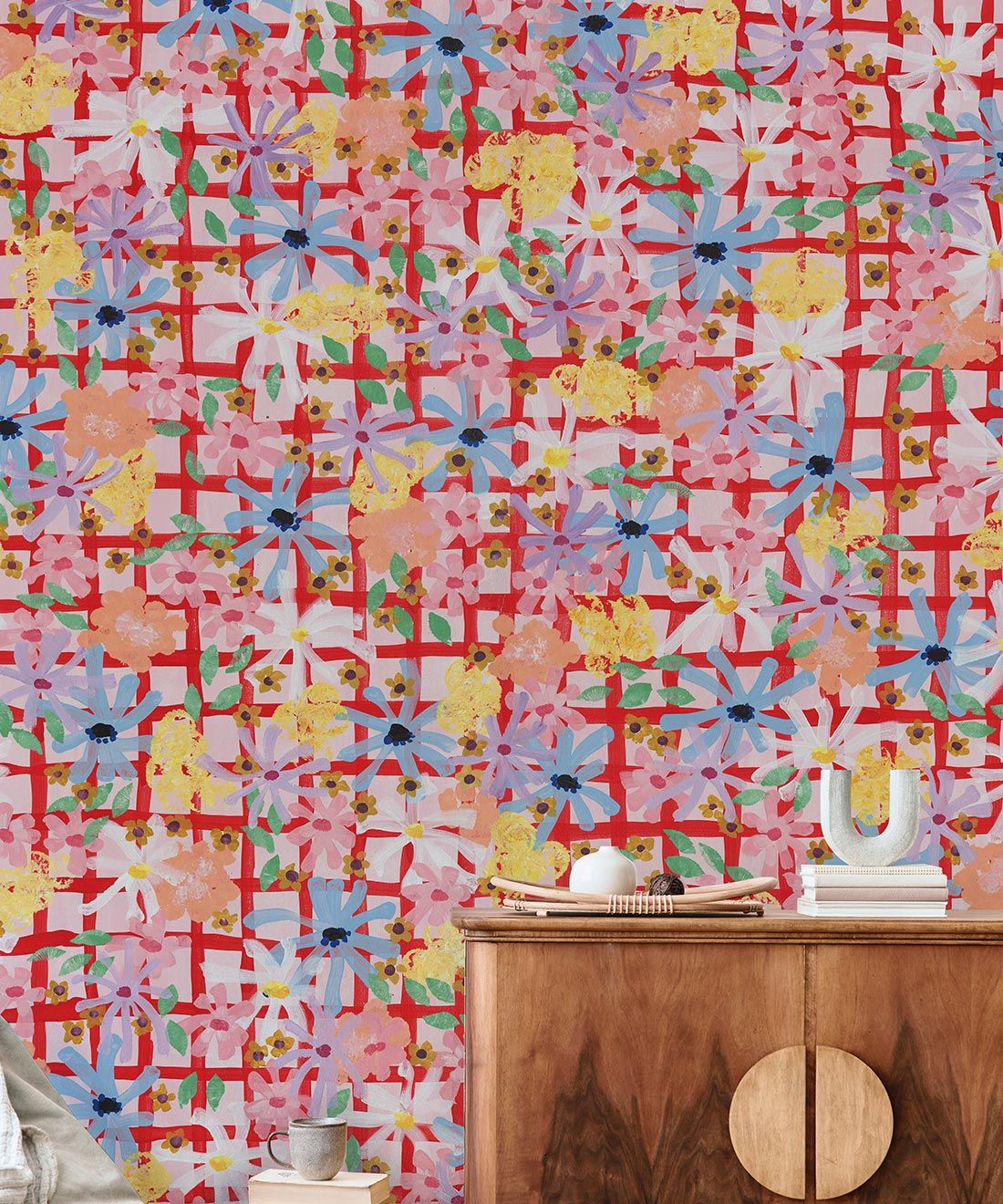 Bees Knees is modern take a very familiar classic. Featuring a geometric grid reminiscent of a homely tablecloth sprinkled with beautiful florals, it reminds us of summers in the park and Sunday lunches with family and friends. Tiff finds inspiration in bygone eras and says of her nostalgic designs, "I have a background in fashion design and a love for print, so often I find myself reflecting on interior and fashion trends of the past. Often, I recall being in my nana's house, or reflecting on houses and rooms that I have found myself in over the years. There is such a sense of fun and inspiration when reliving an era."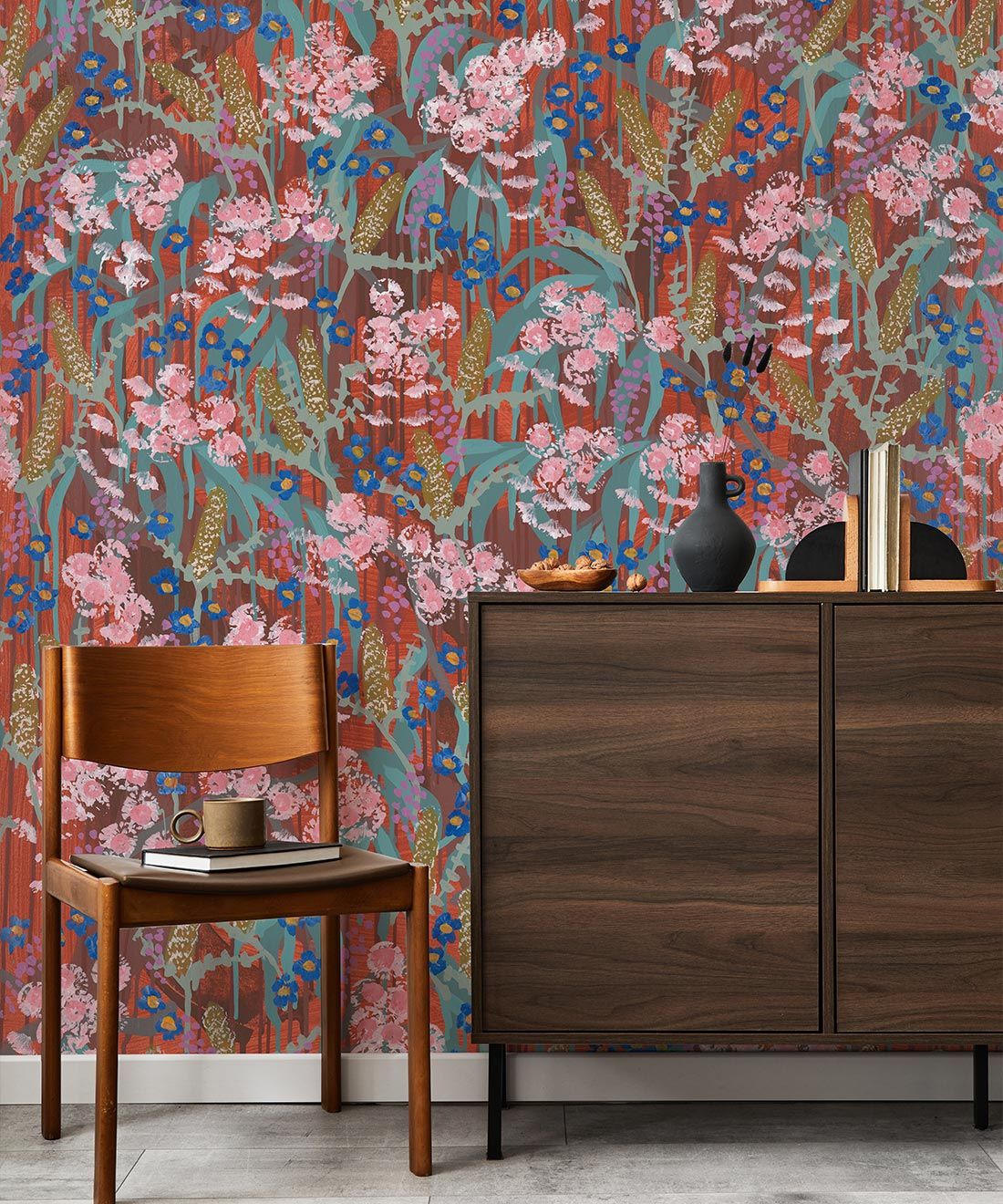 Feels Like Home is a love letter to native Australian flora. Speaking of her penchant for floral motifs, Tiff says, "I am a massive nature love. I walk in a national park that is literally on our back door a few times a week and I have my own massive garden which I thrive in." The earthy tones of Feels Like Home reflect the gorgeous, rich colors of Australian soil and plant life and contrast beautifully with the bright florals we have come to expect from Tiff.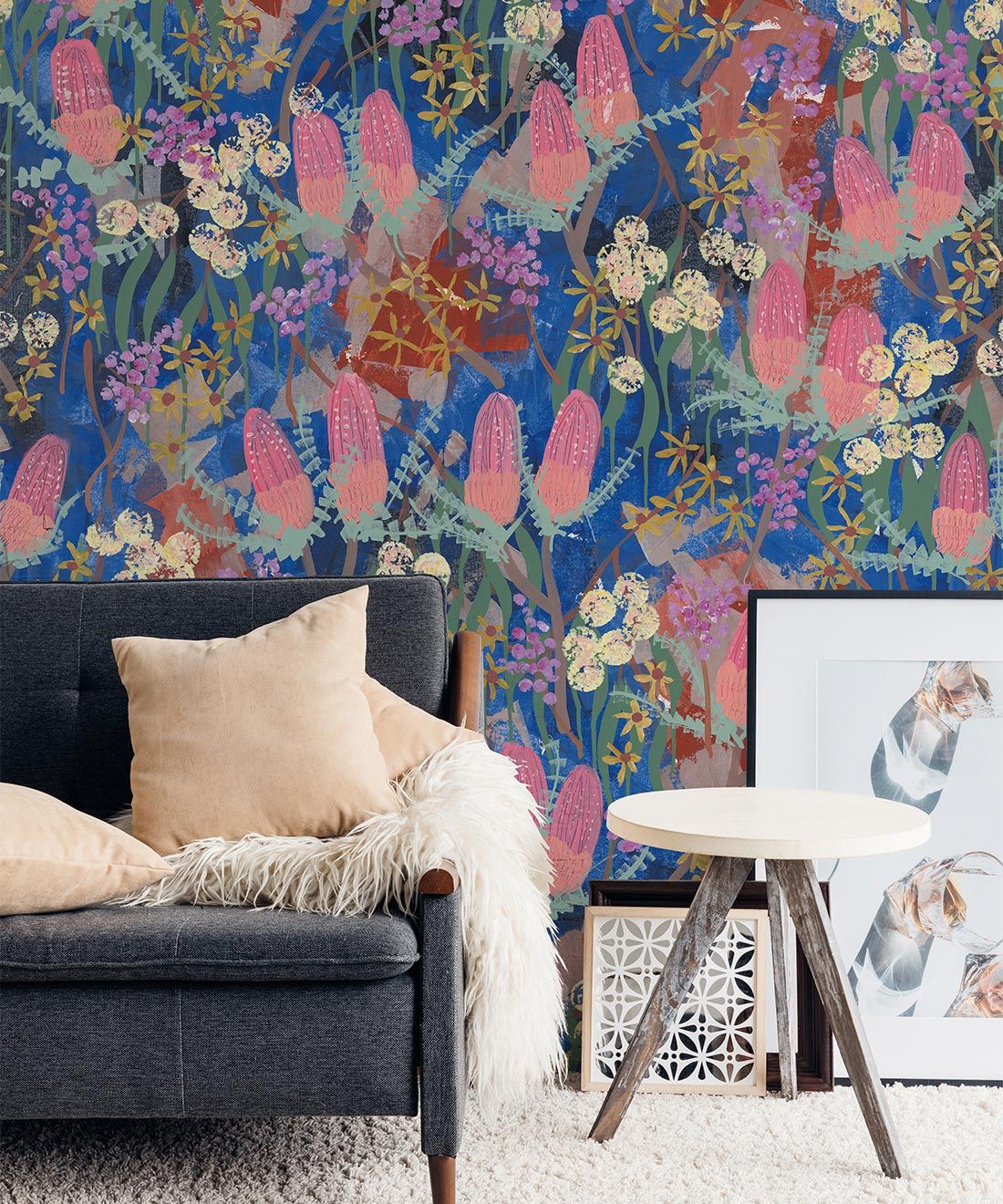 The rich blue background of Garden Song invokes a sense of elegance and calm that reminds us of Summer days in Australia. Deep navy and dark maroon hues peek from behind the daisies and banksias, and the iconic grey-green of the eucalyptus leaves make a beautiful complement to the luxurious design. We asked Tiff what inspires her designs and how she approaches new artworks in her studio. It was abundantly clear that she is a woman chock-full of ideas at any given moment. She went on to explain, "Sometimes the designs reflect the season in which I paint them, however, I tend not to deliberately work like that. To keep life interesting, I can be working on up to 4 colour palettes at one time and completely different pattern styles."  
"I am not much of a planner when it comes to my artwork," she continues. "I feel I just bank up ideas and depending on how I feel, I respond to that on the day in my studio. I do very much reflect my mood back onto my paintings."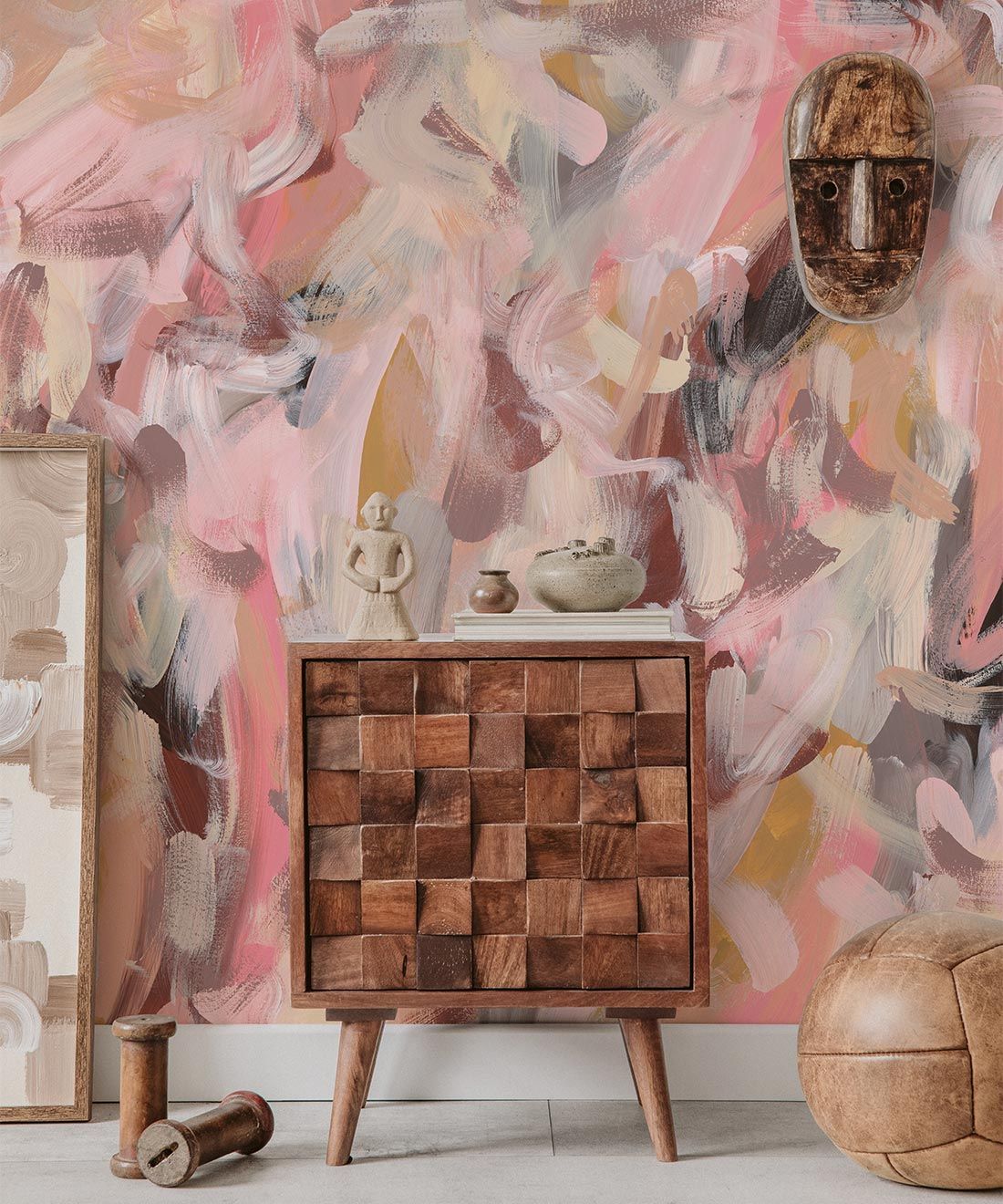 The standout design from the new collection (at least for us!) is He Said, She Said. This design instantly instills a sense of warmth and calm, and the distinct contrast of the strong, thick paint strokes and the subtle feminine colours really speaks to the dichotomy of the design. Tiff explains, "I wanted to create a warm color palette and a soft flowing design that was less literal and one that could gently coordinate with many people and environments. It is a conversation starter and I very much like the movement that it creates." We couldn't agree more!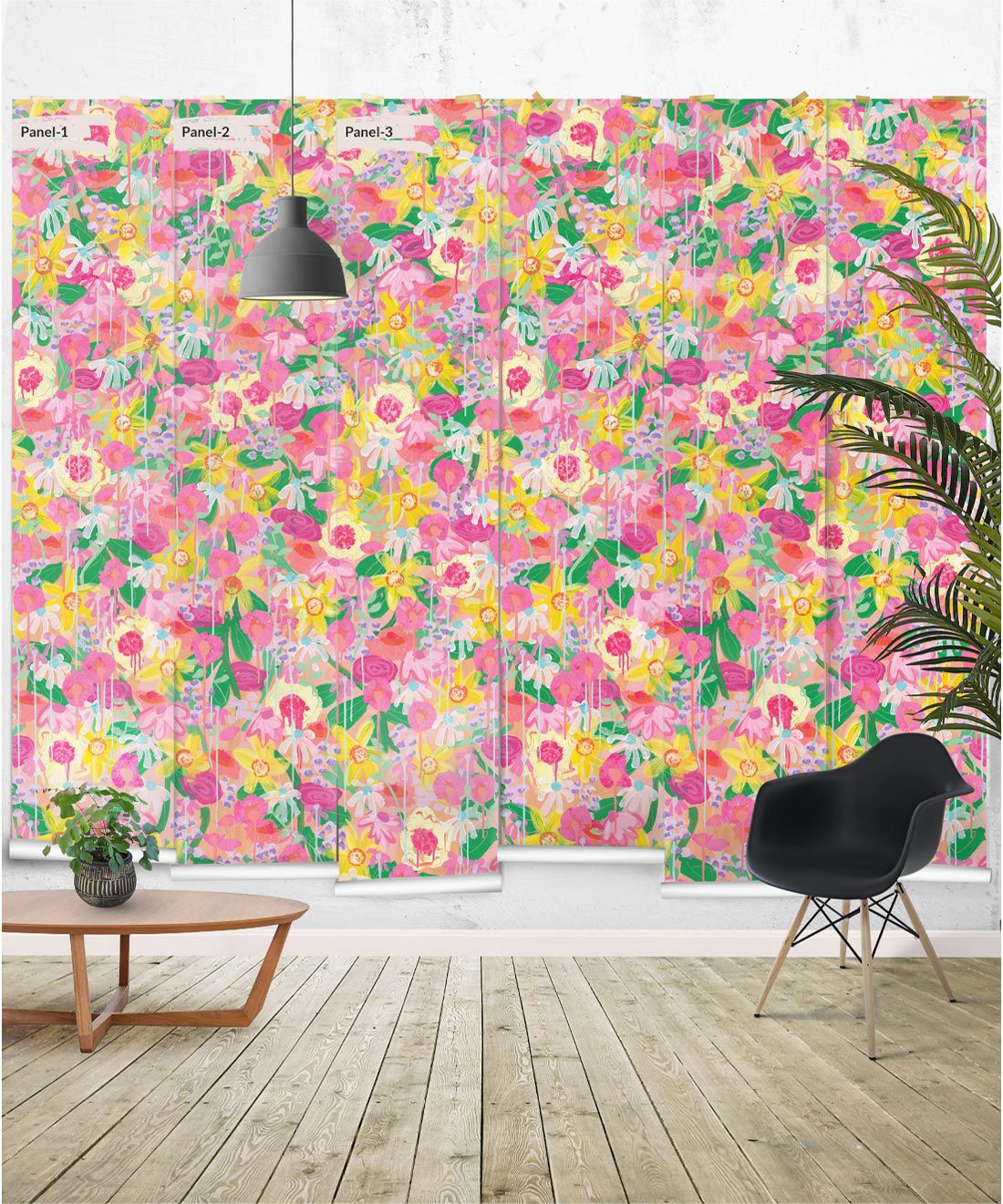 Speaking of her artwork, Tiff said, "I am naturally drawn to painting with very bold colors," and nowhere is this more obvious than the Homestead design. A bright and playful design, Homestead perfectly captures the carefree feeling of strolling through a meadow of flowers. The bright pinks and subtle yellows blend beautifully to create a soothing backdrop reminiscent of the daring colors of the 1970s.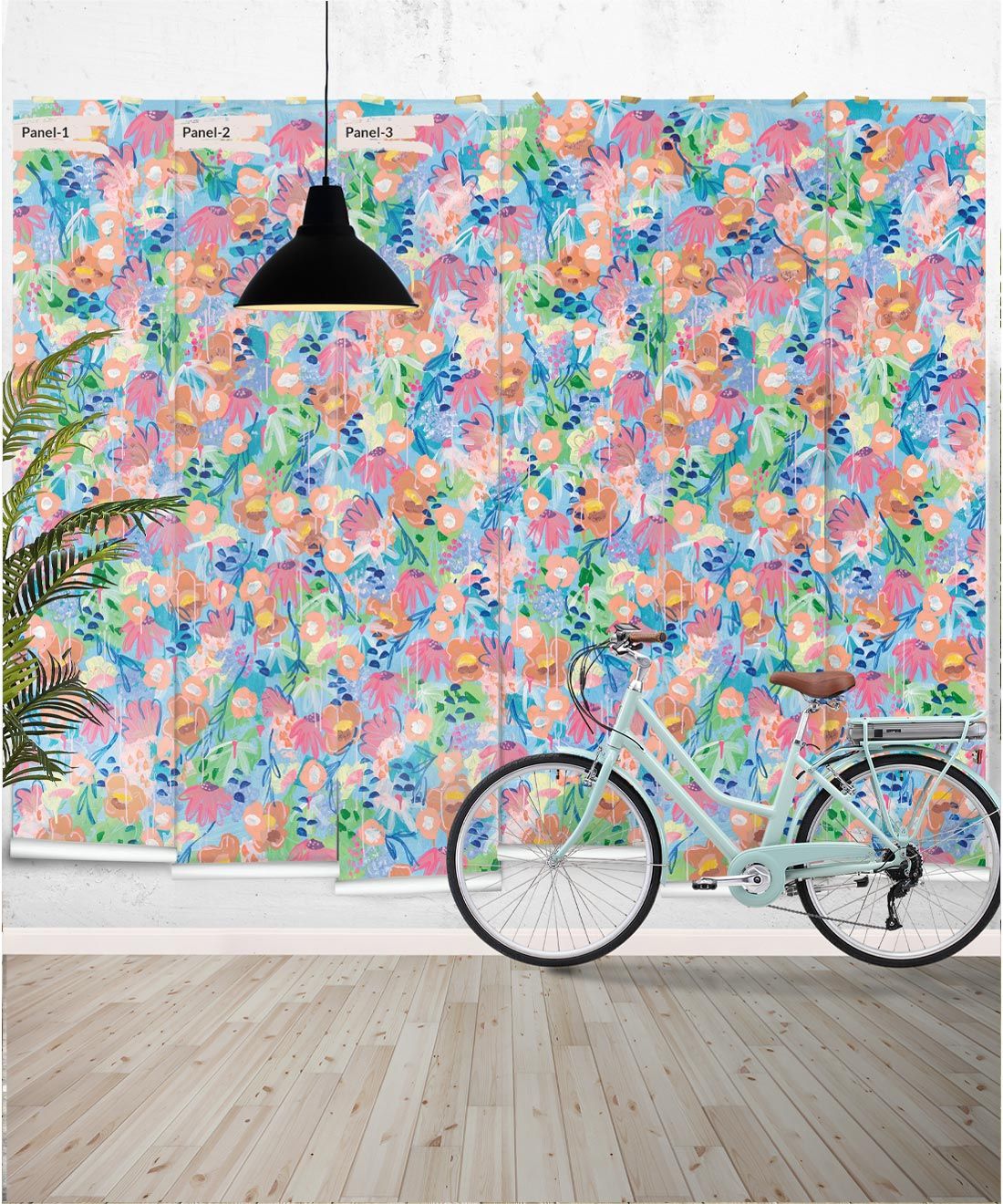 Love Club features daisies and other gorgeous florals on a bright blue background that just oozes springtime fun. Like all of Tiff's designs, Love Club is filled with details hidden in the many layers of paint. The range of textures adds extra depth and dimension to the artwork, which translate perfectly to the final wallpaper product. When asked about how she feels about her second collection with Milton & King, Tiff had this to say: "I was keen to see the florals a little more punchy this time but still in keeping with our distinct 'Tiff' feel. I am such an advocate for texture and layers, often my work has so much going on in the under layers that is often hard to achieve digitally. I really wanted to build on this aspect." We're sure we're not alone when we say she's succeeded!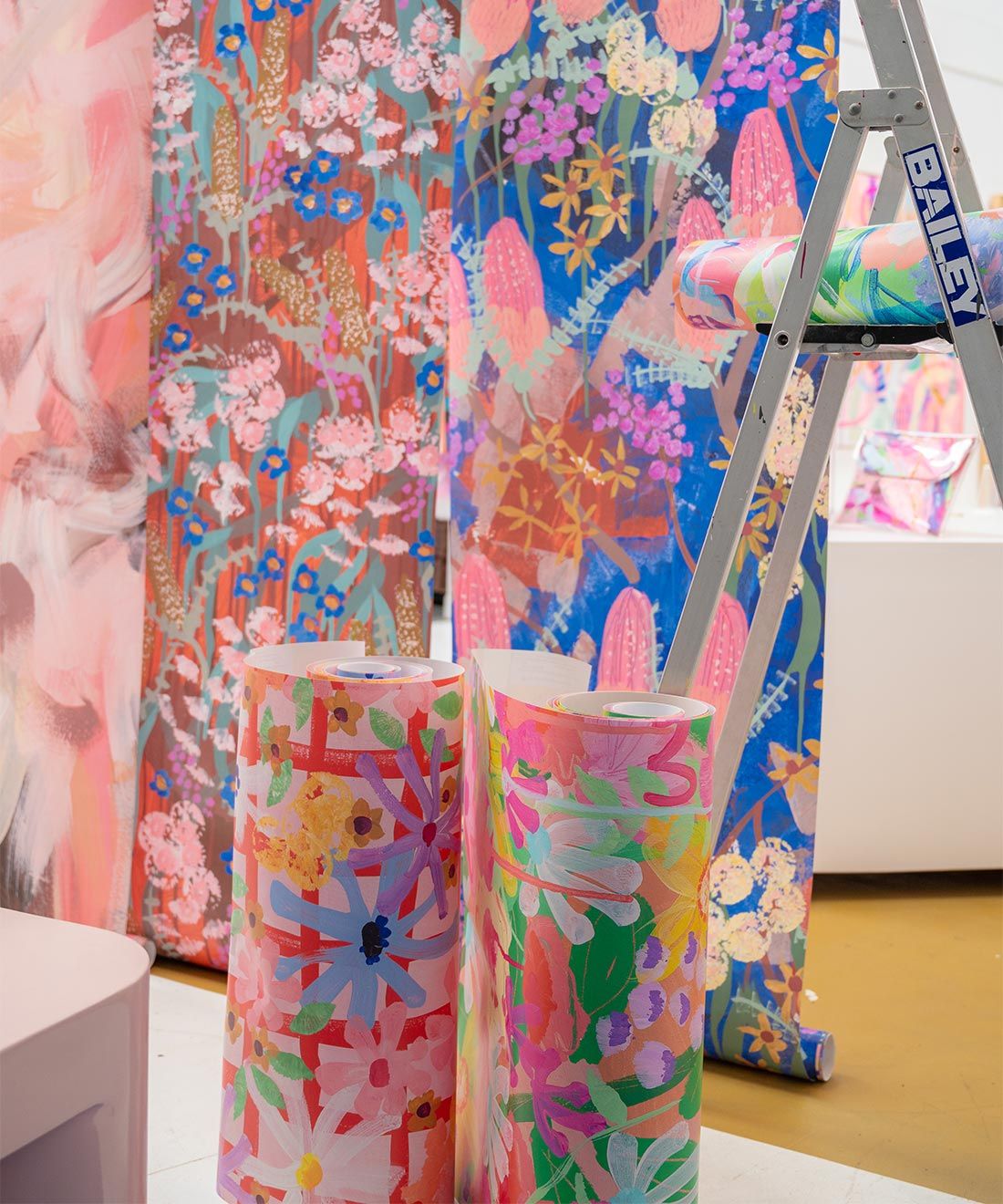 When we last spoke to Tiff, she mentioned that one of her goals was to develop a distinct style and focus more on her original art. Naturally, we had to follow up. 
M&K:  Do you feel as if you've achieved everything you hoped since your last collection launch with us? 
TM: I really have loved exploring and developing my original artwork. My story paintings have a real following and I think whilst people also adore my more fluid paintings equally these are what I feel most distinctly reflect my natural painting style. I spend weeks building up the layers and textures and translate stories via markings and shapes that often people see their own stories in. This is really such a wonderful outcome.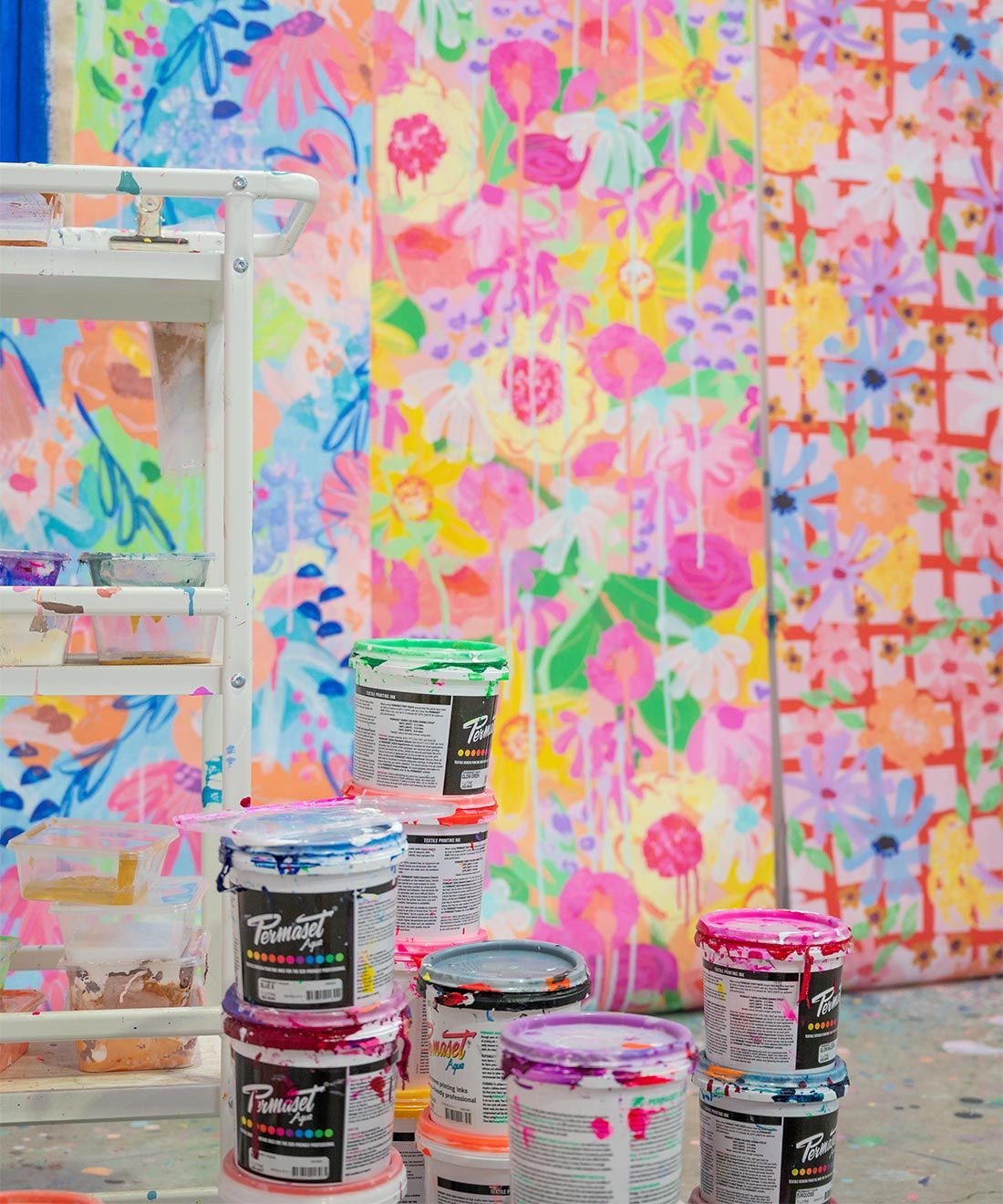 MK: And finally, What's next for Tiff Manuell? 
TM: I think naturally I am one half painter one half product designer. They have always held equal weight throughout my career. My love for fashion swings in and out of my journey as well and right now there seems to be great demand for our painted tulle skirts and so we are dipping our toe back into specialised one-off dresses, all hand painted of course specifically for brides. This helps develop my painting style and our unique approach to painting techniques on different fabrics. I will continue to develop my original art and broaden the accessory range. I must admit broadening the wallpaper range is hugely uplifting and inspiring. Seeing how others individualise their own spaces using a Tiff design is so exciting and humbling!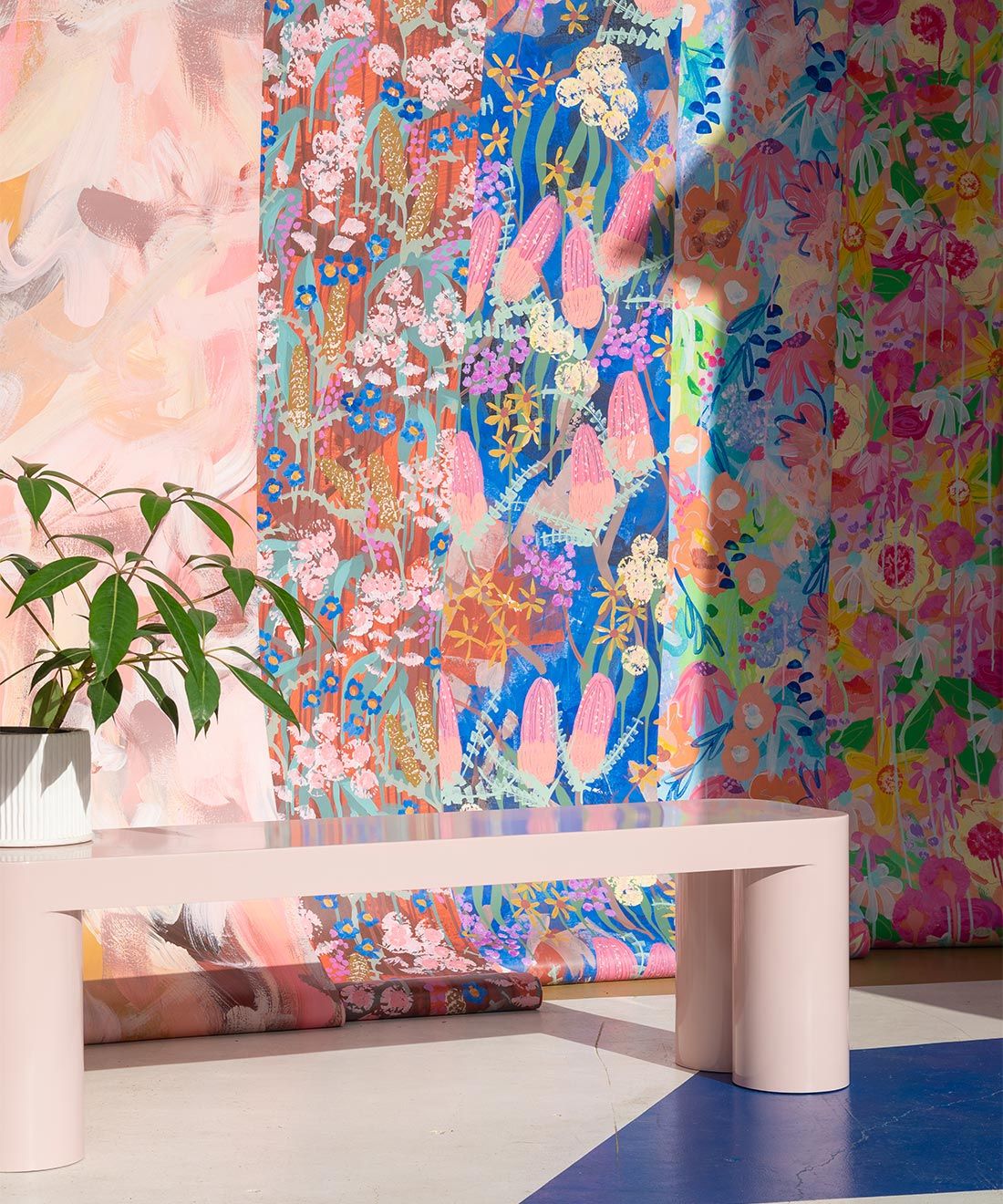 ---
Tiff Manuell 2022 Collection
Shop 2022 Collection
---