The Bespoke Letterpress Wallpaper Collection
Bespoke Letterpress is one of the world's leading traditional letterpress studios, specializing in a range of stationery and lifestyle goods. As a fellow printing business and prominent Australian brand, it was only a matter of time before Milton & King and Bespoke Letterpress started collaborating – and the time is finally here! The debut wallpaper collection features romantic, intimate, and timeless illustrations from global artists Nancy Noreth, Vivian Hasenclever, Oana Befort and Hoglet & Co, which have been transformed into sophisticated and modern designs in soft and soothing colors by Bespoke Founding Director Alischa Hermann. We had a lovely chat with Alischa to discuss the history of letterpress, her experience in the printing industry, and, of course, her collection! Keep reading to learn all about it, and see these stunning new designs for yourself.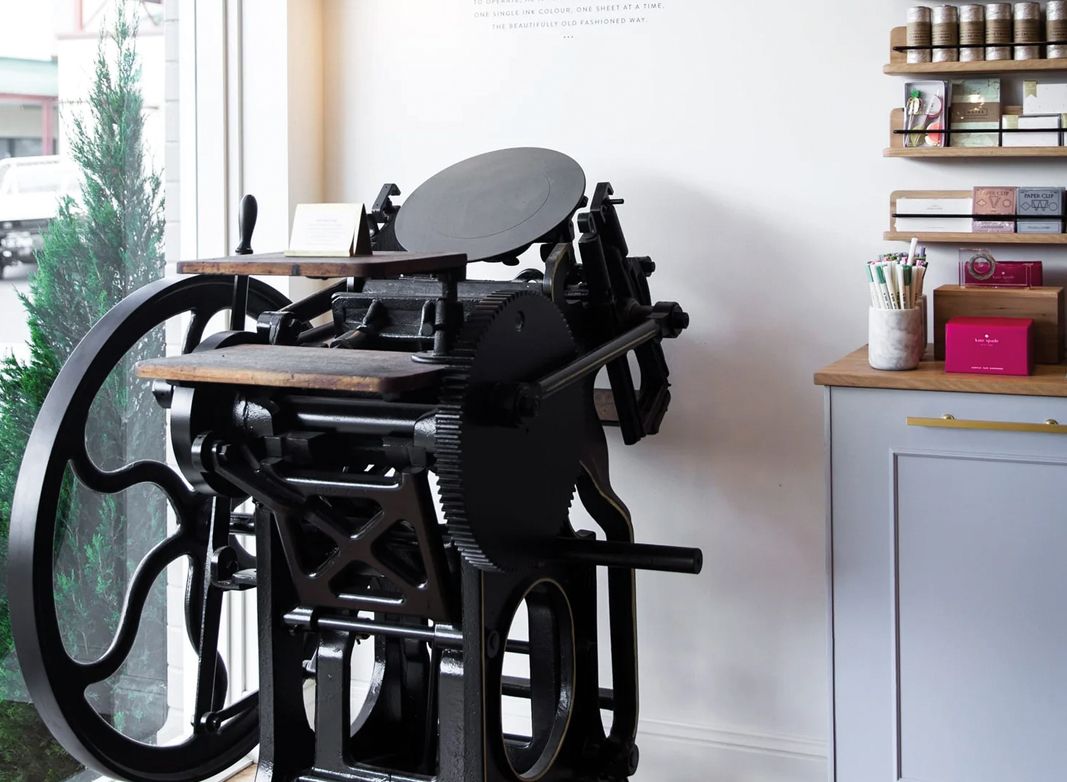 Tell us a little about your background?  Where did you grow up?
I had a wonderful childhood growing up in Sydney during the early 80s with my parents and two sisters. As a creative child, I found joy in rummaging through my box of textas and pencils to create all sorts of arts and crafts. I also developed a fascination for early computers, although I had no idea as a child that creating art on a computer could be a career option. It wasn't until I was offered a full scholarship to study Graphic Design in Year 12 that I discovered the world of design.
Attending design school was a pivotal moment for me, and I'm grateful to have found my calling so early in my career. I still have a deep passion for art, design, and technology, and it brings me immense joy to have built a career and a company centered around these passions. And, of course, with the added bonus of beautiful printing!
What is behind the name Bespoke Letterpress?
When I founded Bespoke Letterpress in 2007, the word "bespoke" was not commonly used like it is today. While the name might seem like a trendy choice now, at the time, it was a very practical decision. The word "bespoke" accurately represented our business model of creating custom-designed stationery, and the word "letterpress" referred to the antique printing presses and techniques we used to produce our products.
Although the term "bespoke" has become a bit of a fad in recent years, for us, it remains a meaningful and authentic representation of our brand's origins and values.
Do you find any limitations with the letterpress method?
When we started Bespoke Letterpress, letterpress printing was on the verge of being lost to history. By the time the 50s, 60s, and 70s rolled around, the advent of faster, more economical offset printing presses had made letterpress impractical and, unfortunately, forgotten.
When we decided to revive letterpress in 2007, it took an immense amount of creativity, hard work, love, and passion to bring these antique printing machines and techniques back to life. Letterpress is a limiting process, as it prints one color and one sheet at a time, making it very slow and costly for commercial production.
To operate a modern business using traditional letterpress techniques, we had to develop a fusion of traditional and modern printing techniques over the years. This allowed us to honour the past while still growing into the future, and to manufacture our products in an efficient and cost-effective way.
The designs you feature are illustrated by a range of artists. How do you decide who to collaborate with? Do you come to artists with a directive or choose from designs they already had?
At Bespoke Letterpress, we take pride in featuring designs that are illustrated by a variety of artists. When it comes to collaborating with artists, we typically seek out individuals who have a unique and distinct artistic style that aligns with our brand's aesthetic. We often discover new artists through social media, art exhibitions, and personal recommendations.
Once we've identified an artist we'd like to work with, we approach them with a general direction or theme for the project. However, we encourage the artists to interpret the brief in their own way and give them the creative freedom to come up with designs that showcase their individual style and voice. Sometimes we collaborate with artists who already have designs they would like to use, but more often than not, we work together to develop new concepts and illustrations specifically for our products.
Ultimately, our goal is to create a cohesive collection of stationery that reflects our brand's values while showcasing the talent and creativity of the artists we collaborate with.
The products on your website range from linens to greeting cards and puzzles, how did wallpaper come into the picture?
We are always looking for ways to expand our product offerings and bring our unique aesthetic to different areas of the home. Our customers have been asking us for years to expand our designs into wallpaper, so we are thrilled to partner with Milton & King and bring this collection to life.
Wallpaper was a natural progression for us, as it allows us to showcase our love for traditional printing techniques on a larger scale. We are able to use a combination of letterpress printing, screen printing, and digital printing to achieve the intricate details and vibrant colors of our designs. This process is similar to that of our other products, which are all crafted with a combination of traditional and modern techniques.
We take great pride in our stunningly beautiful prints, which are timeless, elegant, and bring a sense of calm and beauty to any space. Drawing inspiration from vintage textiles, botanical prints, and our own collection of antique letterpress blocks, our wallpaper designs are all created in-house. We are thrilled to expand our brand's aesthetic into new areas of the home and offer our customers even more ways to bring our unique style into their lives.
Have all the designs on the wallpapers appeared on other products previously? Or are there any designs you made specifically for the wallpaper?
Yes, some of the designs featured on our wallpaper have appeared on other products in our collection, such as greeting cards and stationery. However, we have also created new patterns specifically for our wallpaper collection, inspired by vintage textiles, botanical prints, and our love of intricate patterns. So, both yes and no!
Around The World stands out to me as much different than the rest. What is the story behind the creation of this design?
We created this design a few years ago, which was the first pattern we developed with the beautiful Hoglet & Co based in the UK. It was such a well-received print, with charming little details that our customers loved. Its success inspired us to collaborate further with Hoglet & Co, resulting in a stunning collection of prints that remain some of our all-time favourite designs in our collection.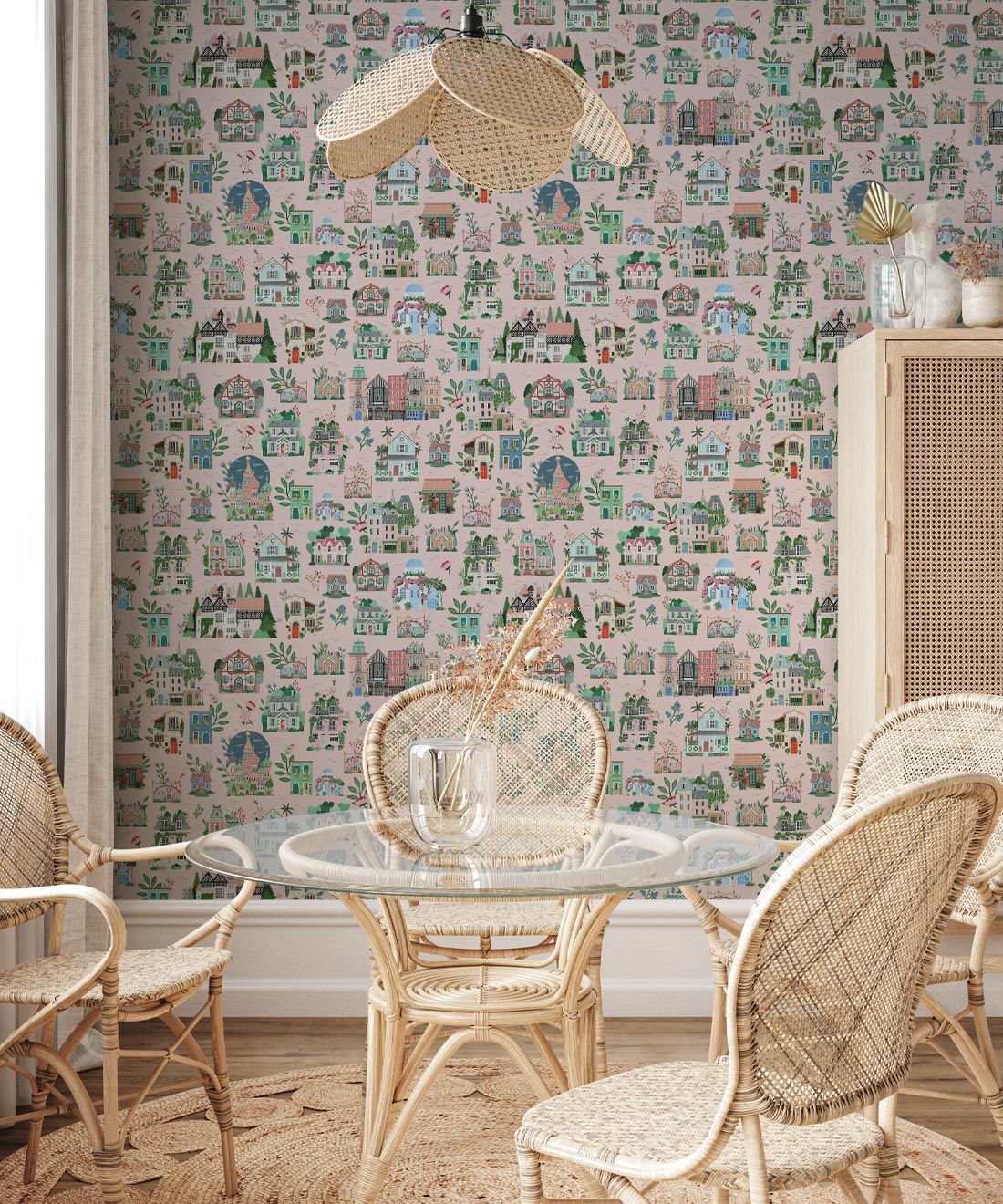 Peacock has been getting a lot of love around the M&K office. What was it like working with Vivian Hasenclever to create this beautiful design?
Isn't it a gorgeous pattern? The collaboration with Vivian in 2022 was truly an exciting one for us. We had the opportunity to work with a talented artist based in Luxembourg and develop a range of repeating patterns that perfectly embodied our aesthetic.
The pattern we created with Vivian is one of our favourites. It features sweet details, a beautiful repeat, and intricate yet calming design elements. When we first saw the pattern, we knew it would be a hit with our customers.
We take pride in our collaborations and always strive to work with designers who share our vision and values. With Vivian, we found a kindred spirit whose passion for design and attention to detail truly shone through in our collaboration.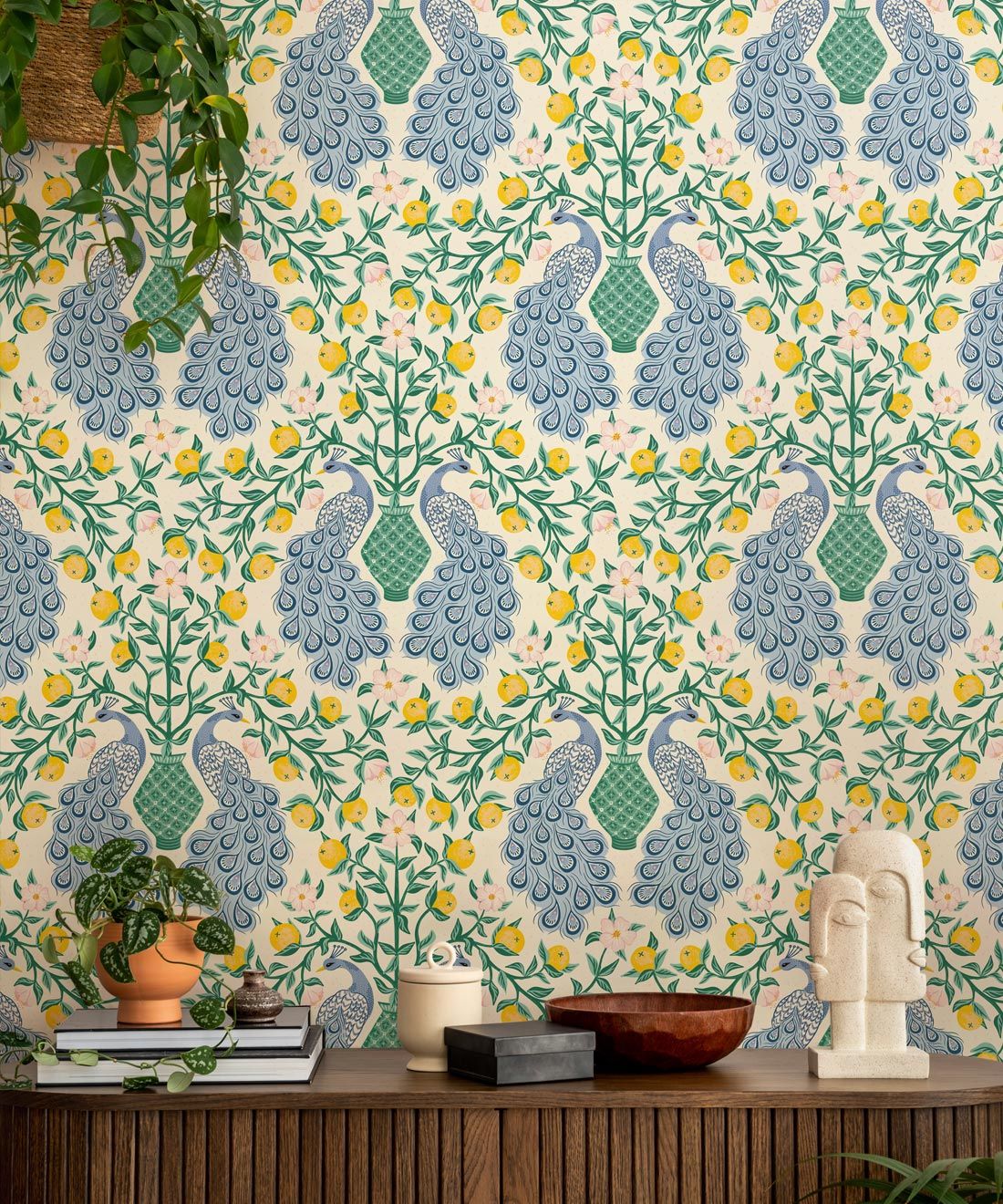 Which design is your most recent?
The Sloth design is new for us, as is Prima Ballerina Crane and Monkeys!
Is there a design you're most proud of or one that has a personal connection or story that you could share with us?
Oh gosh, we spend so much time on our prints, working on them, finessing them, and agonizing over every little detail. They all become so very special and hold a sweet little spot in my heart! We spend so much time working on each print that they all become a part of our family. I also love that all of our staff in our three retail stores, as well as our customers, become so invested in each print, its story, the artist I have worked with, and share in this journey. It is a very special process indeed!
Of all the wallpaper designs, which design and colour would we be most likely to see in your own home?
As a family of six with four children, our household is always bustling with activity, which is why we find it important to try and incorporate some calm and peace into our space! One collection that holds a special place in my heart is our collaboration with Nancy Noreth. The peaceful cranes, beautiful tropical foliage, and intricate details featured in all of her prints bring a sense of serenity to any room. Personally, I am particularly fond of the misty blue tones, which is why I am really drawn to our Prima Ballerina Crane Wallpaper in Duck Egg Blue. It is a beautiful and calming addition to any space, and we love how it would add a touch of tranquility to our busy home!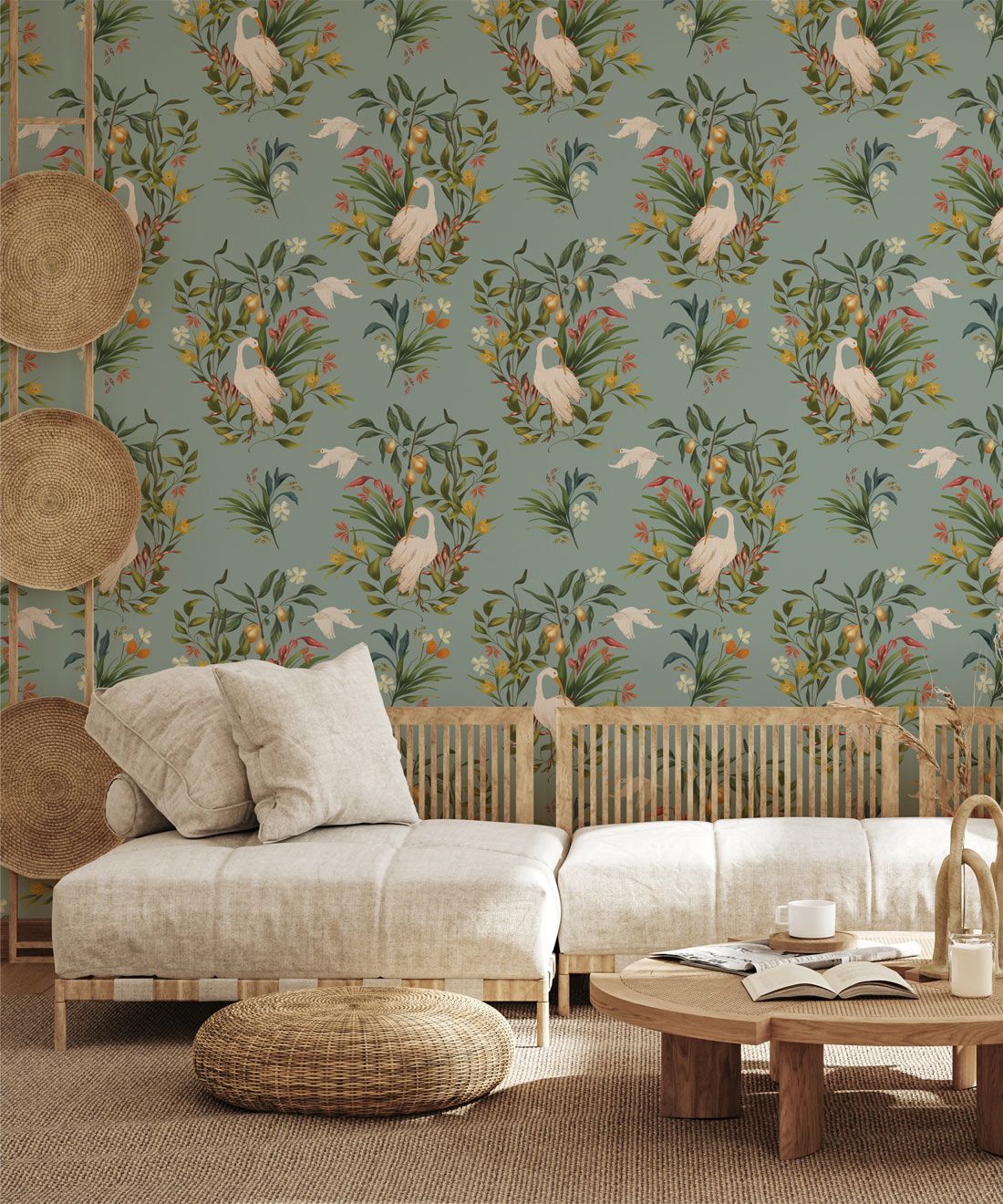 Prima Ballerina Crane Wallpaper
What's next on the horizon for Bespoke Letterpress?
We're thrilled to share that our design and print team has been hard at work creating some truly exciting stationery products! And with Christmas just around the corner, we've been focusing on enhancing our holiday collection, which is looking absolutely stunning this year. Additionally, we're working on expanding our home range with more beautiful linens, and we're currently exploring the possibility of opening new retail stores in different locations across the country. Stay tuned!
Bespoke Letterpress Collection
Shop the entire collection
---