Paula Coop McCrory for The Tastemakers Collection
 You will have heard by now that an exciting new project –
The Tastemakers Collection
– is now live in collaboration with three very special influencers, one of them being the lovely
Paula Coop McCrory
! Paula is a social media influencer and Pinterest queen, with a following of more than 4.3 million on Pinterest alone!
Paula's sharp eye for design is a credit to her background as an artist long before her pinning days, and today, she's one of three designers who make up the 11-piece capsule collection for Milton & King. We are so thrilled to have her on board for this project that has been in the works for months on end. To celebrate the launch of The Tastemakers Collection, we did a Q&A with Paula to dive into her inspirations for the four designs – A Slice, Lush Life, Happy Camper and With Fins – and ask her what the entire process has been like.
MK: What inspired your designs for The Tastemakers Collection?
P: I was inspired by what makes me happy. Bright colour, capturing story paired with moments that define a memory – are all ideas I tried to infuse within the designs. 
MK: How did you find the design process, or what was involved in the design process for you both? Did you always have a clear idea of what you wanted to create?

P: I love anything to do with design. I turned to my sketchbook and watercolours. I began by sketching and just allowing myself to explore. The ideas began to define themselves. One of the first designs that came to life for me was 'Fin.' I knew I wanted to capture something to do with the ocean. To me, the ocean is one of the most healing and calming spaces in the world. From there I drew on my love of diving and 'Fin' came to life. 
MK. Do you have a favorite design from the collection, or which one are you most excited to see in people's homes and why?

P: All four of my designs mean something special to me. 'Happy Camper' connects to my sons and the want to install a love of life and travel within them. 'Lush Life,' ties to my curiosity around all things small. I enlarged drawings of micro greens to create the print. 'Fin' is about exploration and the beauty of water. 'Slice' represents the care and love I received while injured in Ocho Rios, Jamaica. I am so excited to see what people respond to and how they use this series within their lives. 
MK: What are your top interior and design trends for 2017?
P: We just moved into a new home and are in the middle of renovations. I am so drawn to soft fabrics – like velvet, against the play of whimsical wallpapers and accents that connect to who we are as people and a family. I believe in investing in visual art – hanging a mixture of personal photographs along side fine art pieces – I see as timeless. I will be sharing this journey as it all unfolds on my social channels.
A Slice
by Paula Coop McCrory for The Tastemakers Collection – Bright, bold and reminiscent of summer, watermelon is synonymous with happiness, laughter and fun. The fruit instantly transports Paula back to her childhood and this wallpaper is all about preserving these sweet memories while also bringing bold color and amusement to your space.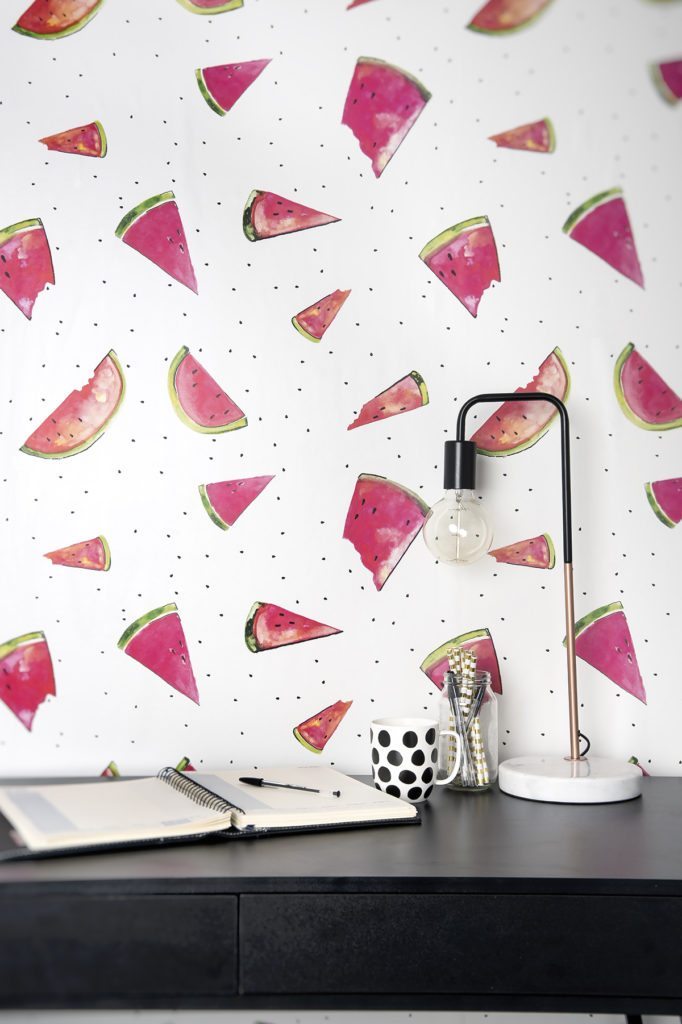 Happy Camper
by Paula Coop McCrory for The Tastemakers Collection – This wallpaper was inspired by Paula Coop McCrory's children, who are also known as her 'happy campers'. Inspired to preserve their childlike sense of adventure, she designed Happy Camper to add color and fun to your home. This design is all about finding happiness within and hanging on to the wonder of youth and travel.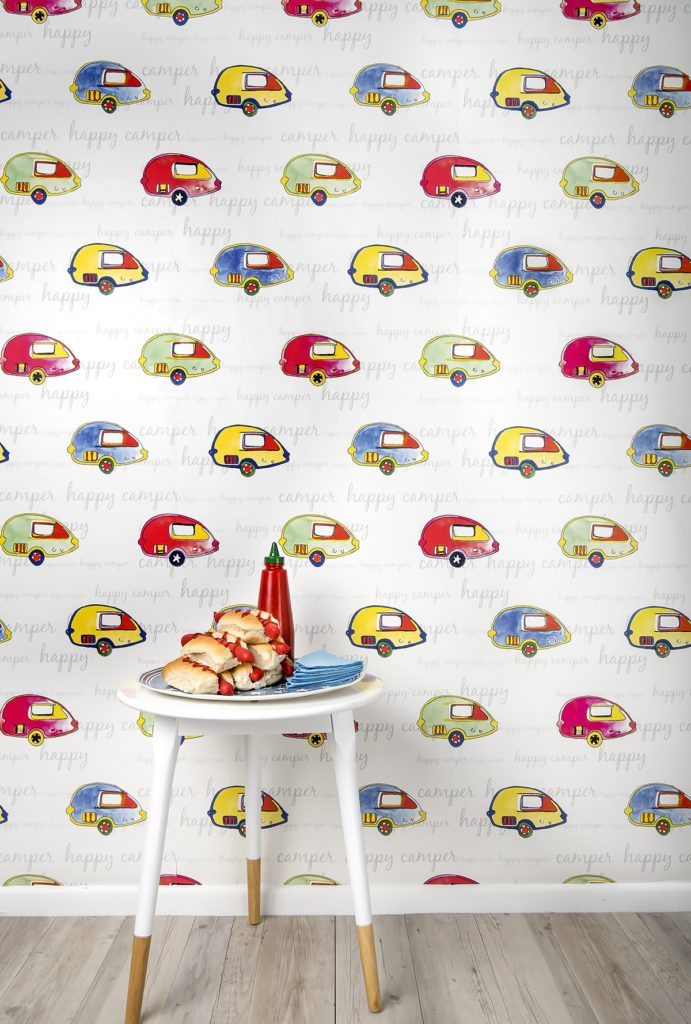 Lush Life
by Paula Coop McCrory for The Tastemakers Collection – As a child Paula Coop McCrory was fascinated by the wallpaper in her kitchen, which was covered in tiny fruits and vegetables. Drawing on this memory, she has enlarged the smallest of vegetables – microgreens – and given them a whimsical pink color treatment. This versatile print is her homage to imagination, memory and curiosity.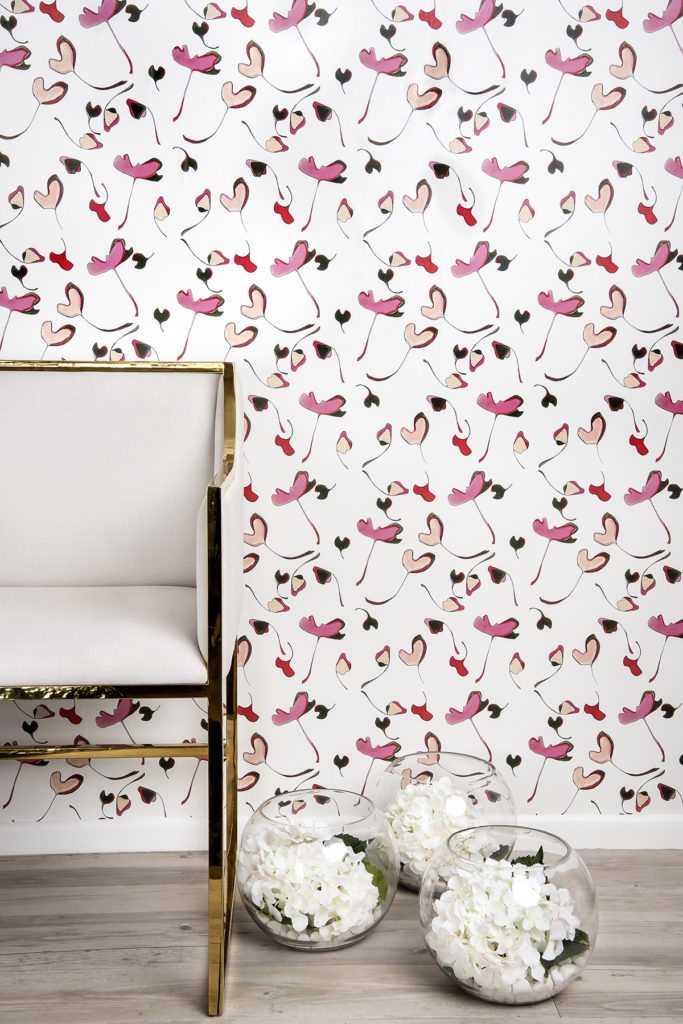 With Fins
by Paula Coop McCrory for The Tastemakers Collection – With Fins brings together two of Paula Coop McCrory's great loves – design and the sea. This wall covering is inspired by the serenity of the ocean and the simultaneous sense of adventure it invokes. Adding life to any room, this design captures the color of the sea and the solitude you experience whilst snorkelling.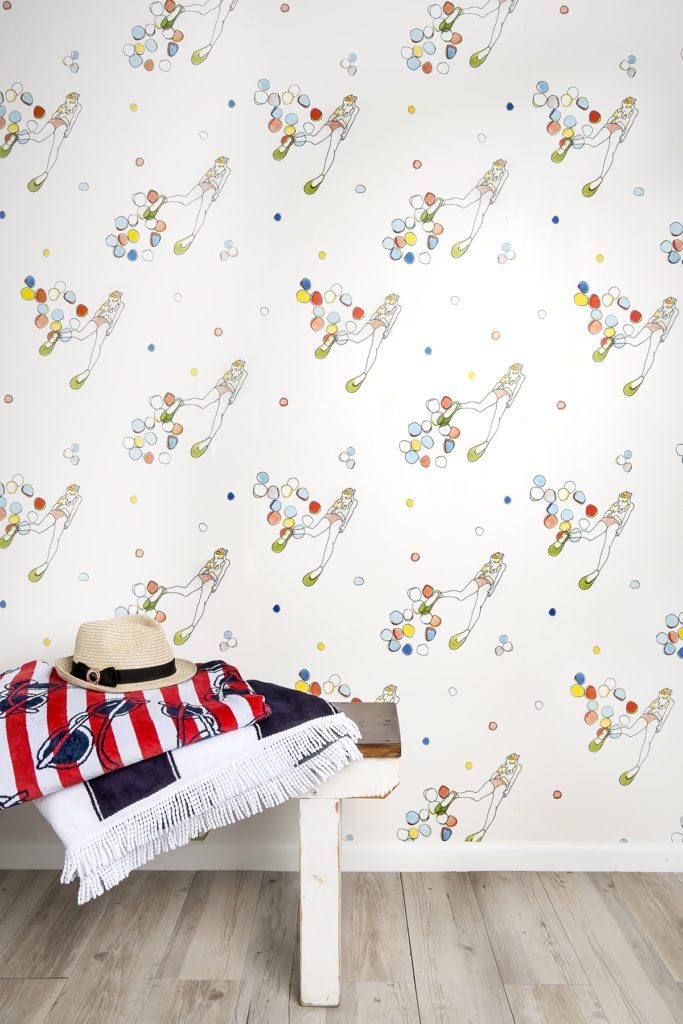 ---